I recently transitioned into a new daypack/SAR pack: the Mystery Ranch Scree 32. The Scree 32 is a mid-sized, Goldilocks-size pack. It's on the large size for a day pack and the small size for all but the skimpiest of overnight trips, but it's just right for my uses. Let's take a look!
This article contains affiliate links.
Mystery Ranch Scree 32
Mystery Ranch was a common name throughout my military career. OK, that isn't exactly true – Mystery Ranch rucksacks were like unicorns. They were so expensive and elusive they almost seemed mythical. I was first introduced to the Scree 32 a couple of years ago when I saw one in Mast General Store in Knoxville. The name caught my eye; I hadn't realized Mystery Ranch was now in the civilian outdoor market.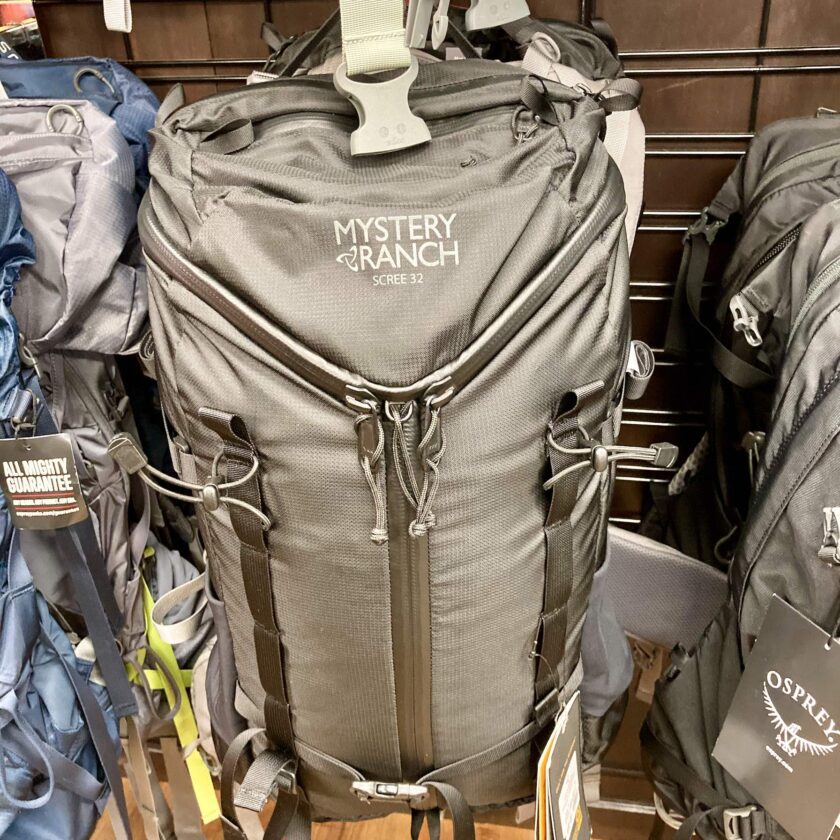 Even though I liked the looks of the Scree 32 I didn't break down and buy one until about a year and a half later. I saw several of them start appearing on the SAR team, on the backs of a couple SRT cops, and in use by some of my fellow special operations medics. When my buddy bought one and raved about it I decided this was the next pack for me. I picked one up with this year's REI dividend.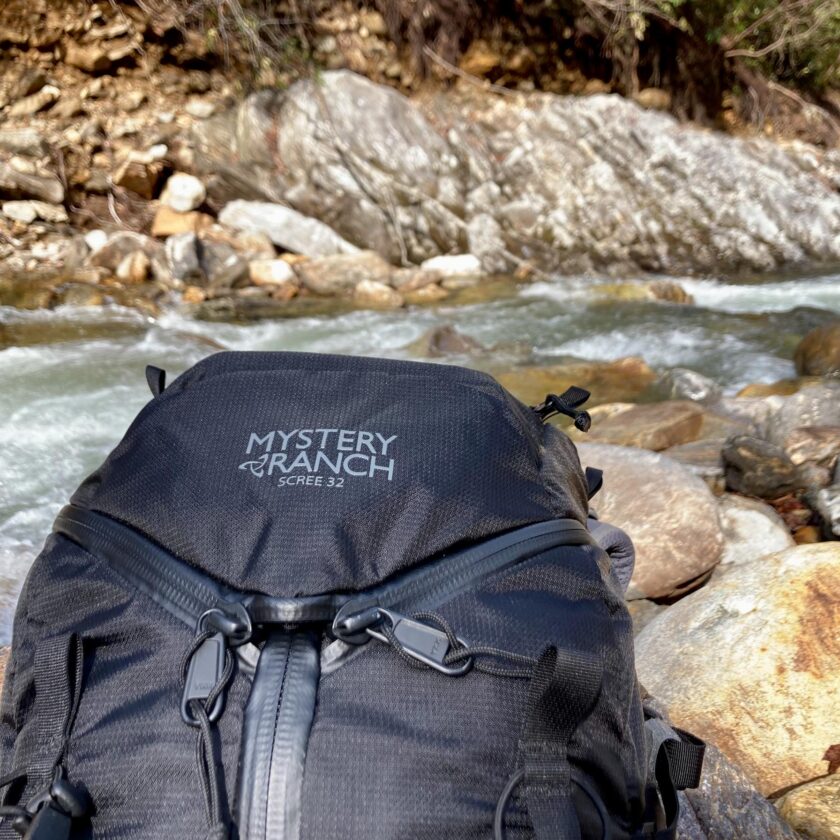 Full Disclosure: I reached out to Mystery Ranch who declined to send me a pack. So, about a eighteen months later, still interested in the Scree 32, I purchased this pack out-of-pocket. OK, I actually used REI dividends, but it wasn't given to me and I owe Mystery Ranch nothing. This review is my unfiltered, unvarnished opinion.
Pack Layout
As I mentioned the Scree 32 is a mid-sized pack. At 32 liters/1,950 cubic inches of capacity it's right between a day pack and a backpacking pack. You could look at this one of two ways: it's not ideal for anything, or its decent for a lot of things. I choose the latter.  As much capacity as the pack has it carries like a smaller pack. It is narrow without being too long and tall. It's very sleek, and overall a great design.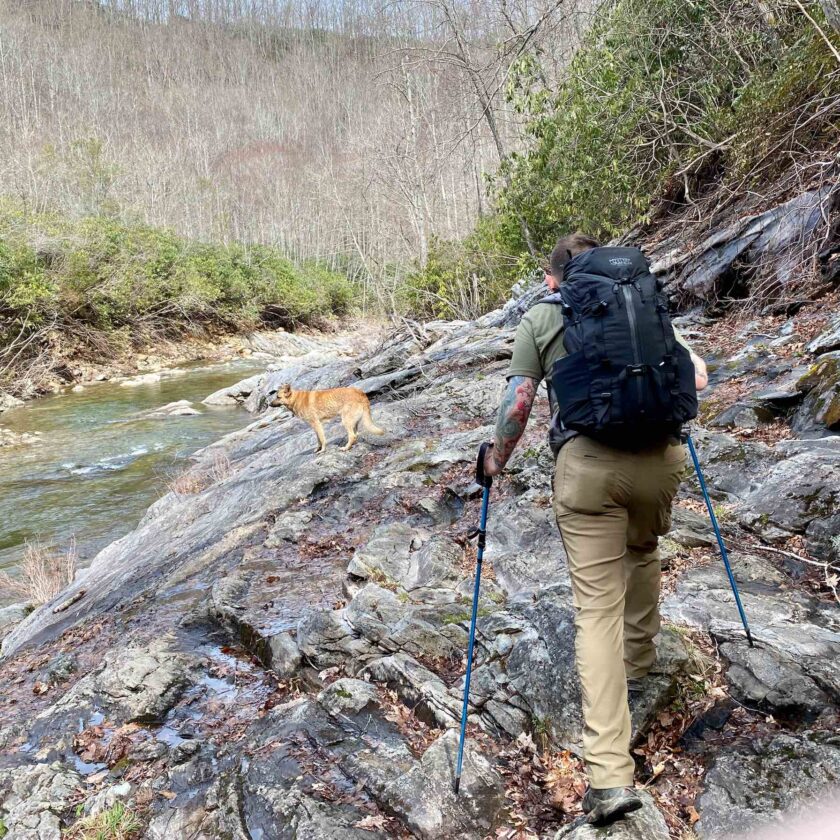 The Mystery Ranch Scree 32 is centered around one main compartment. This compartment is accessed via three, intersecting zippers. Two diagonal zippers allow the top lid to peel back. This is helpful at allowing you to pull out a snack or access something from the top of the bag, for when you don't want to have a yard sale.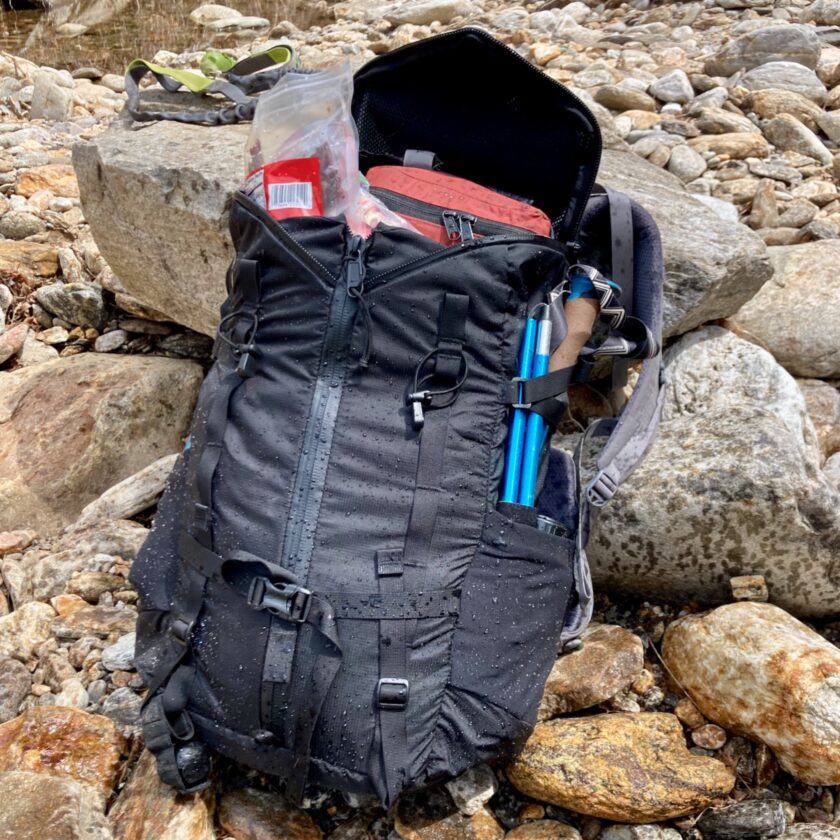 One long, central zipper allows access to the bag from top to bottom. This middle zipper is awesome, allowing you to really lay the bag open for packing or unpacking, or just accessing something out of the bottom. This gives you the benefits of a top loader and a clam shell design.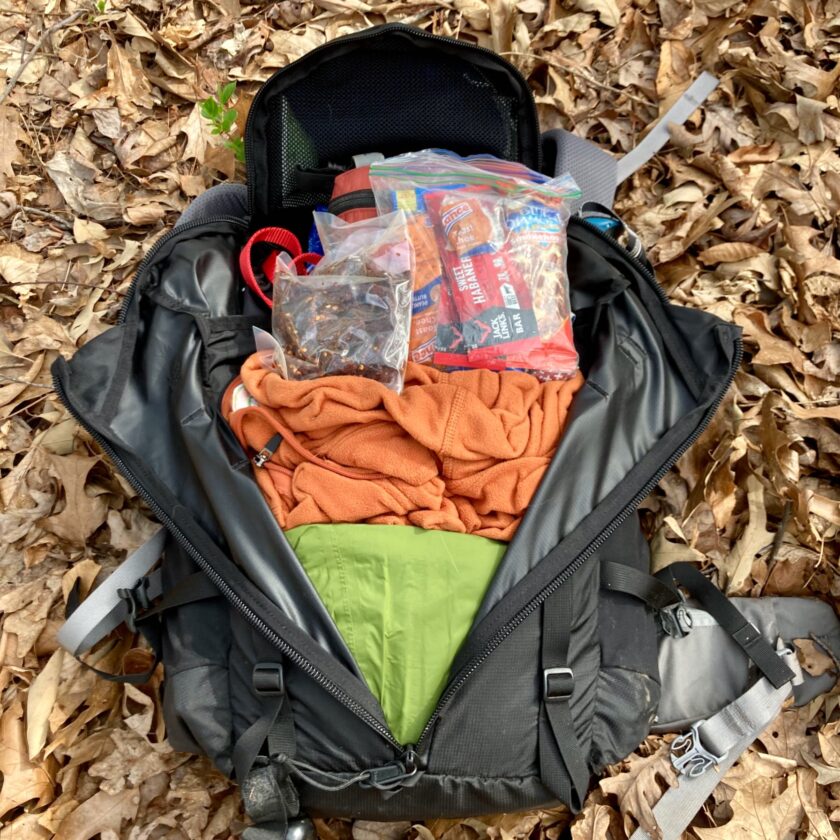 Other Pockets
The Mystery Ranch Scree 32 also has several organizational pockets for smaller items and/or quick access. The top lid has two pockets that are access from the back of the pack. The upper pocket is flat and ideal for maps, map pens, and similar items. The lower of the two is more capacious and I use it for things like a hat and pair of gloves.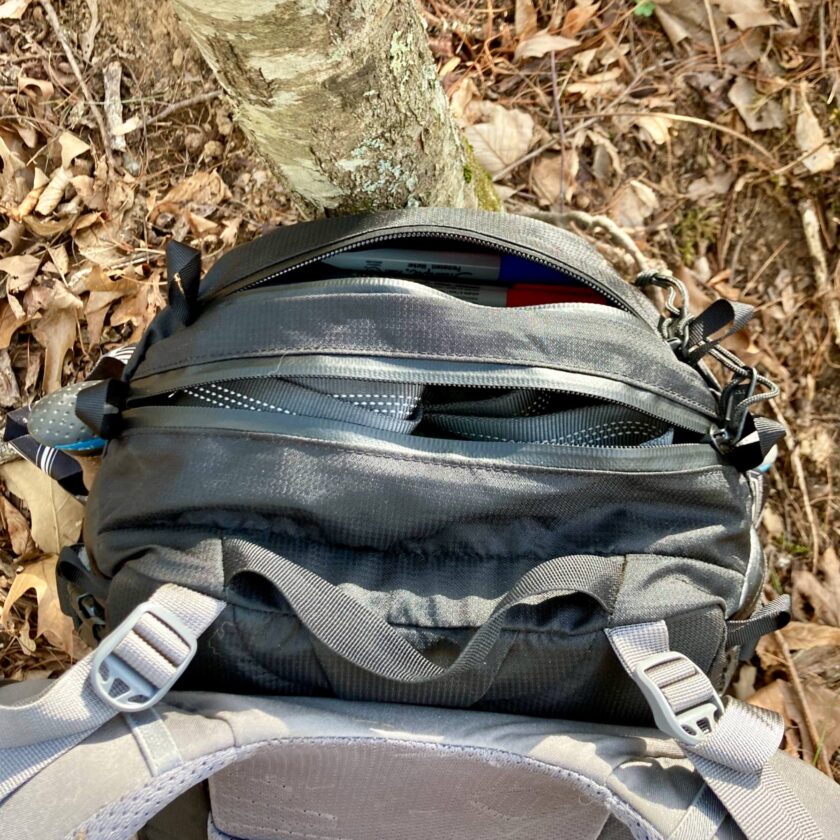 The waist belt also has two small pockets, one on each side. I find myself wishing these pockets were just a tad bigger. They aren't really big enough for a snack and they won't hold your phone. I use the right pocket for my compass, which I access often. The other contains a spare key to my car (dummy-corded, of course) and a multi-tool.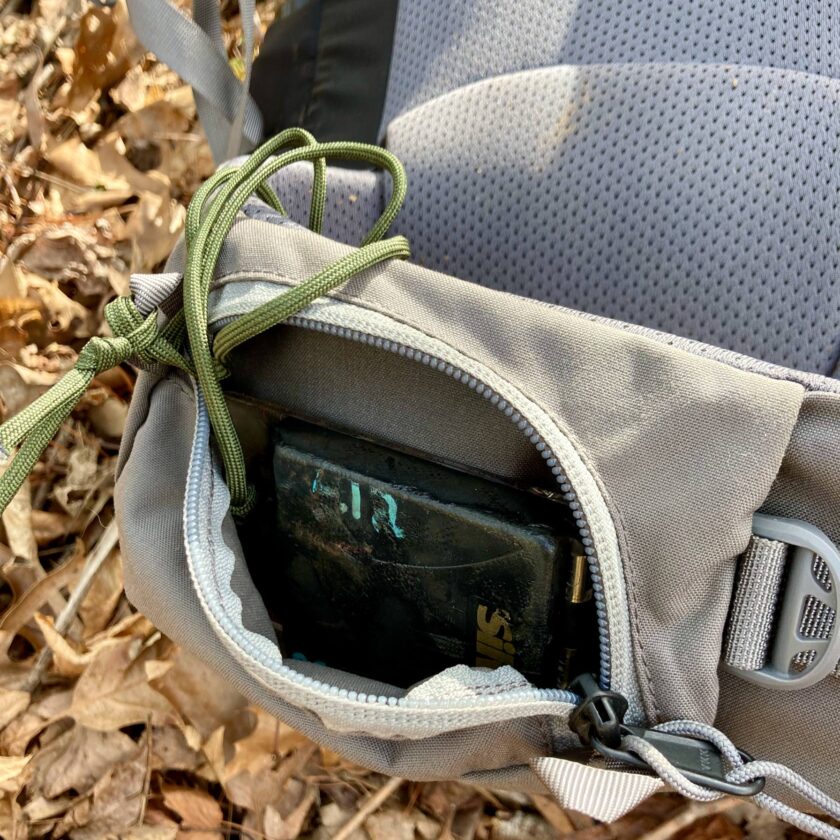 Maybe my favorite feature of the Mystery Ranch Scree 32 is the water bottle pockets. I love good, external water bottle pockets. I hate having to open my pack to drink water. The Scree's water bottle pockets don't close , but they are deep and have a nice elastic band at the top. They make retrieving and replacing a water bottle easy, and hold it securely. I've also found that my trekking poles slip nicely down into these pockets for storage.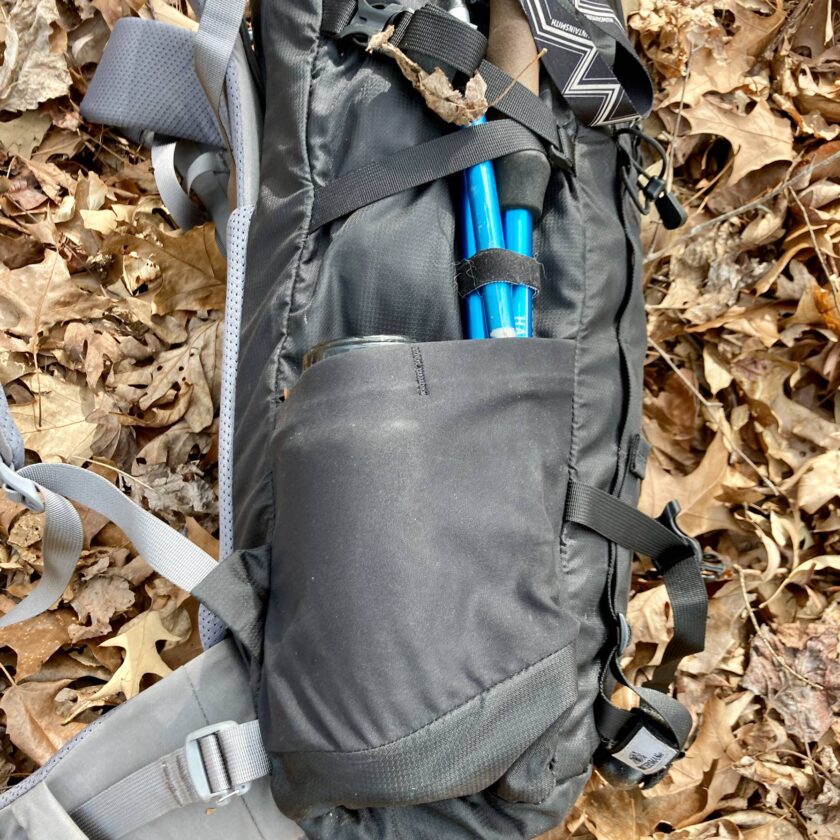 Harnessing
First and foremost, The Mystery Ranch Scree 32 comes in two sizes: S/M, and L/XL. The pack bag is the same on both packs, it's only the harnessing system that changes. That's pretty important as there's no loss of size or capacity by going with the S/M pack. The sizes have to do with the range of adjustability of the frame for different torso lengths.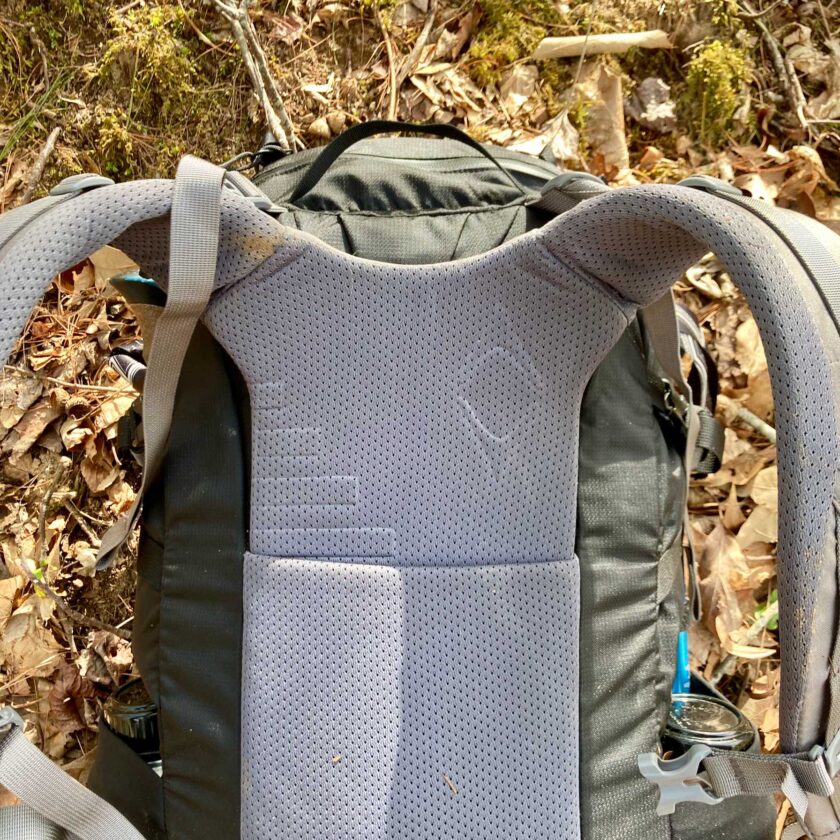 Adjusting the frame length involves removing the frame sheet from the pack, using it to separate two sides of Velcro, then making length adjustments. Once the appropriate adjustment is reached the frame sheet is removed and replaced in its internal pocket. If this sounds complicated it's not, and the included instructions explain it well.
The shoulder straps are wide, comfortable, and easily adjusted from top and bottom. The bottom adjustment shorts the strap and the top adjustment tightens the pack bag. The shoulder straps are held together nicely with a sternum strap.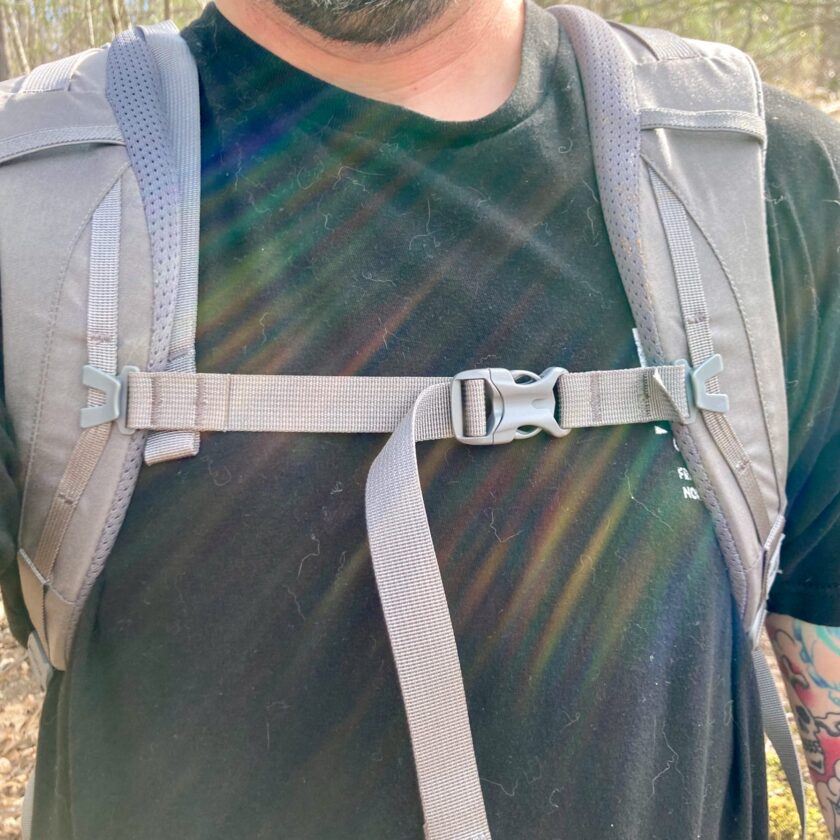 This is the first daypack upon which I've really care about the waistband. I nearly always take the waistband off and just use the straps. On this pack, though, I've really enjoyed the waistband and found it useful. Like a waistband is supposed to do, it supports the load and takes weight off the shoulders. It is well-padded but not so much as to be bulky.
My Use of the Mystery Ranch Scree 32
I have put some miles on this pack. Most of this has been in personal hiking. Since buying this pack in February I have put a little over 37 miles on it, mostly in smaller, 4-6 mile increments. The biggest miles I've done in a single day is 7.3…so far. Most of my walking has been over Class 2 trails with decent elevation change, but a few miles have even been on a paved path around a local lake. The Mystery Ranch Scree 32 has been exceptionally comfortable for all of this.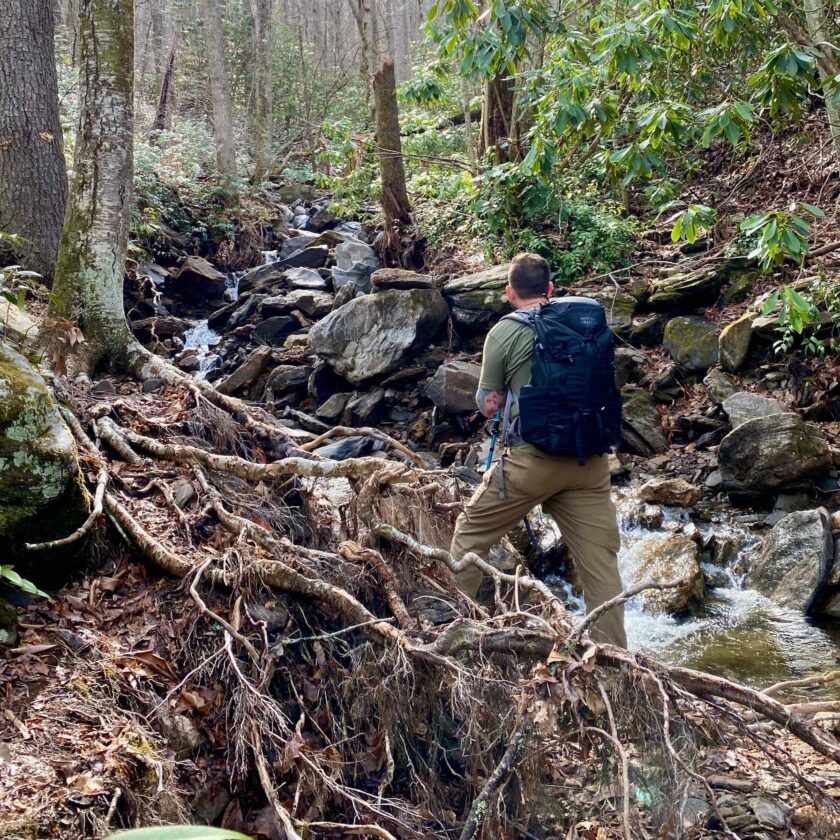 I have done one significant EMS/SAR exercise out of this pack. This was an overnight exercise, with the pack used only for the scenario (i.e. I wasn't camping out of it). This exercise required about five miles of movement, much of it off-trail with big elevation changes. It also required getting on rope and performing a performing a high-angle rescue with a live human "patient." The pack never came off my back and performed beautifully during this event.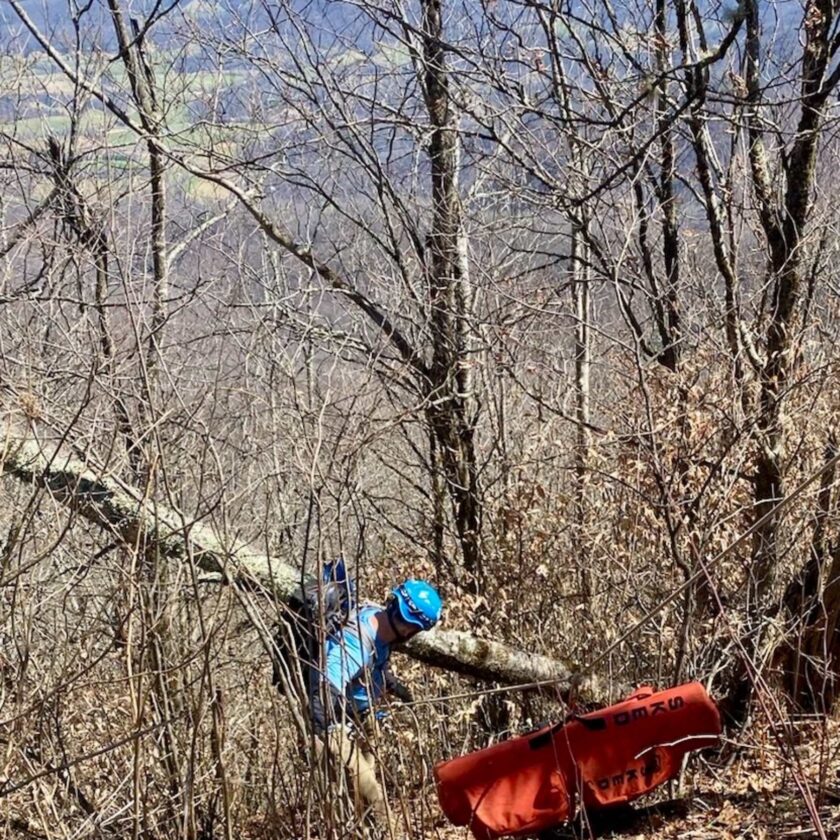 I don't mean to overstate; use for EMS/SAR is much, much less frequent than personal hiking use. I have many, many more hiking miles ahead on the Mystery Ranch Scree 32.
Complaints
I do have two complaints about the Mystery Ranch Scree 32. First, it doesn't come with a rain cover and second, there are no attachment straps on the bottom. Honestly, at this point I think every backpack mean for the outdoors and costing over $150 should come with a rain cover, standard. Though it may cost a little more that just seems like good, basic business for a pack with an MSRP north of two bills. Instead they'll upsell you on their Pack Fly for another $35. And yes, I'll probably buy one.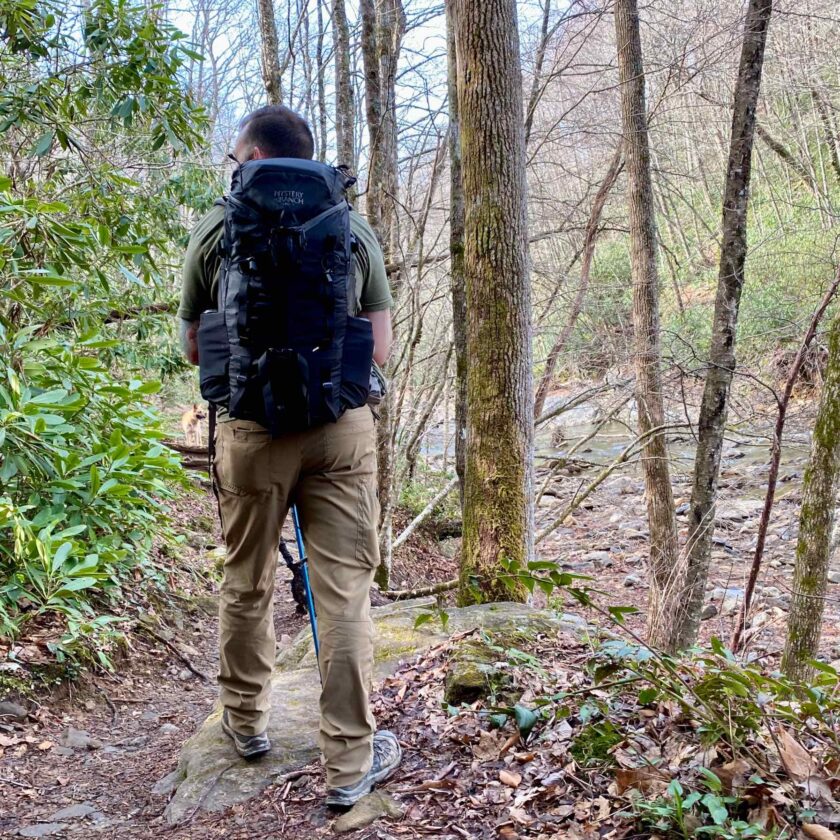 This pack should also have some straps on the bottom. Mystery Ranch advertises this as a pack for "austere overnighters," so it would be really cool to have a way to attach a bulky item like a sleeping bag or pad. Obviously this isn't a deal-breaker for me, but it seems like an inexpensive, easy way to make the pack more versatile without impacting its sleek design much.
And it's a bigger deal than it might seem. On a SAR operation my pack is pretty much packed. I'm loaded up with extra medical gear and rope equipment. If it's cold out I am not wearing a coat while walking, but want one for when we are stopped. With no place to put it in the pack, I'd like to be able to strap it to the bottom. C'mon, Mystery Ranch – what pack doesn't have straps on the bottom?
Admin Details
The Mystery Ranch Scree 32 has an MSRP of $209. I have found it going for closer to $180 in stores, and I've seen it carried in several outdoor stores including Mast General and REI. You shouldn't have a problem tracking this pack down if you want one – it's prolific. As I mentioned earlier it's available in two sizes: S/M and L/XL. Sizing is determined by measuring your torso as described on Mystery Ranch's website.  The Scree 32 also comes in four colors. I opted for basic black, but it also comes in Copper (orange), Del Mar (blue) and Lizard (sort of a greenish brown).
Closing Thoughts
My last pack was a Triple Aught Design FastPACK EDC. This pack was really meant as a multi-use pack, and it shined for that purpose. Now I am doing so much hiking (>100 miles/year) that a dedicated hiking pack makes sense. Though my TAD backpack is still around and in daily APEC use, the Mystery Ranch Scree 32 is my new hiking/SAR bag.
The Scree 32 is lightweight, durable, and capacious. It's bigger than it looks. I was worried all the stuff from my FastPACK wouldn't fit in the Scree, but it did, with room to spare. The Scree 32 is also comfortable. The adjustable back panel allowed me to size the bag pretty precisely to my body. The suspension is springy and makes the pack feel lighter than it is.
There is some room to improve the Mystery Ranch Scree 32: namely bottom straps and an included rain cover (with its own pocket, please?). Even with my complaints this is still a fantastic pack and I'm very satisfied with my purchase. This isn't pack review site but I spend enough time with a pack on my back to say that this is a really awesome pack and I hope to be using it for a long time.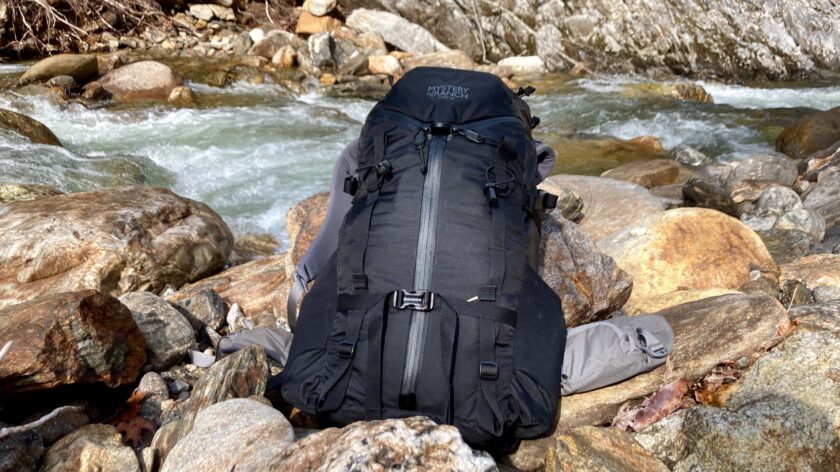 ---