The AR-15 is about as common a rifle as you'll find in this country. If you don't own an AR-15 you might want to think about it. Few other firearms give you the same defensive capability. The AR platform is extremely easy to operate, infinitely customizable, reliable, and easy for most people to use. Whether you plan to purchase one in the future or already own one, you may want to know about defensive AR-15 setup.
This article contains affiliate links.
Customizing the Defensive AR-15
The AR-15 enjoys such massive popularity because it is extremely customizable. You can literally upgrade every single part in the gun. You can add any accessory your heart desires. You can make your AR into whatever you want it to be. Provided money is not an issue you can turn any AR lower into exactly the AR you desire.
Because of this, it is extremely easy to over-customize your rifle. I am a big believer in keeping my rifle as lightweight and as streamlined as possible. I'm going to recommend what I think you need on a defensive rifle. You might not agree with me and that's cool. I would caution against putting a ton of crap on your gun.
Also: I started this article as a one-and-done setup of the defensive AR. It should have been a real simple piece to write: get some sights, get a light, think about a sling. Turns out I had way, way more to say about sights than I thought I did…so I'll be back soon with a follow up to this. I hate turning everything into a series but apparently I'm a verbose dude (then again the next article might be 500 words…).
Priority #1: Sights
Many ARs sold nowadays have no sights at all. The front sight post is a thing of the past for many an AR shooter. And for good reason, I guess – it makes it easier to free-float the barrel, a lot of people are turning to optics, it's easier to have a long gas system, etc. You absolutely need some sort of sighting system, so that means you'll probably want to go out and buy something.
There are a couple schools of thought there. The first is the "irons first" camp that says you should buy irons and learn to use them before spending money on an optic. The second camp says optics are better, but you still need irons in case the optic fails. The third camp says optics are so good irons are obsolete and you don't need them on your rifle.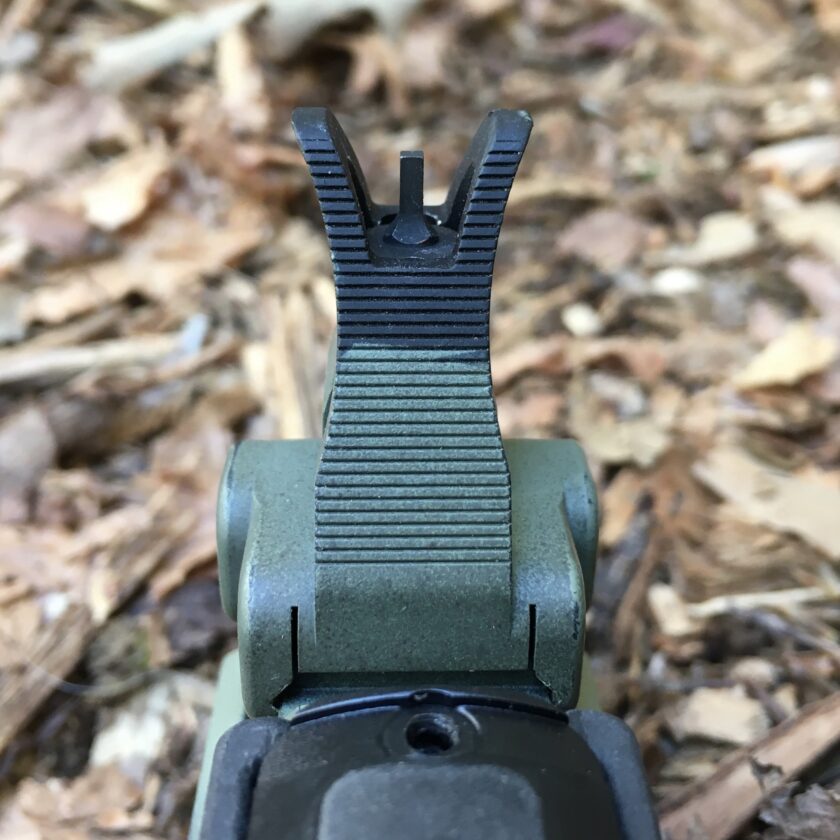 I can understand where each of these groups is coming from. If you suck it up and learn to use irons (which are objectively more difficult to learn and harder to use) you can switch to anything with relative ease. And when you do switch you'll have that hard-won knowledge that you can fall back on. The irons + optics camp is probably where I actually fall, but I'll elaborate on that more in a second. And final the optics-only camp. If you're like most people and your rifle rarely leaves your house you're probably good with a modern, rugged, higher-end optic.
I have issues with the "irons first" model because irons do take time to learn and become proficient. During that time you are probably going to be less effective than you would with an optic. Irons are also harder to work with (though not impossible) in the dark than it is to work with some sort of illuminated reticle. I think you should get some irons and begin to chip away at learning them…but to forsake the massive advanced in technology we have made would be foolhardy. I also take issue with the "optics only" school of thought because it makes the rifle completely dependent on batteries (at worst) or a aluminum tube with glass in each end (at best). Personally, I'd prefer a redundancy for something as critical as being able to shoot your rifle accurately.
Iron Sight Recommendations
I have quite a bit of experience with a variety of AR iron sights. I was initially trained on the M16A2 carrying handle rear sight. I deployed to combat twice with A.R.M.S. folding iron sights, and many more times with various other backup irons. I don't think any of those are ideal, so here are some things I've used that I would recommend.
I have used a rifle with a front sight post in combination with the LMT rear sight assembly (this is a non-affiliate link to LMT's website. You can find cheaper versions of this on Amazon, but if it costs 1/7th the price of the LMT product there's probably a reason). This is a big, (relatively) heavy, expensive rear sight, but it gives you 100% of the adjustability of the M16 rear sight (which is a phenomenally good sight). If you anticipate shooting at long range this might be one to consider. My only beef with it was that it interfered with mounting some optics. It was so long I couldn't get some EOTech's far enough to the rear to be completely on the rail and not splitting the gap between the receiver rail and the rail over the barrel. With many of your optics (especially the smaller ones like the Aimpoint T1/T2 and the single-CR123 EOTechs) this won't be an issue, nor would it be a problem with uppers with an uninterrupted rail between the receiver and the handguard.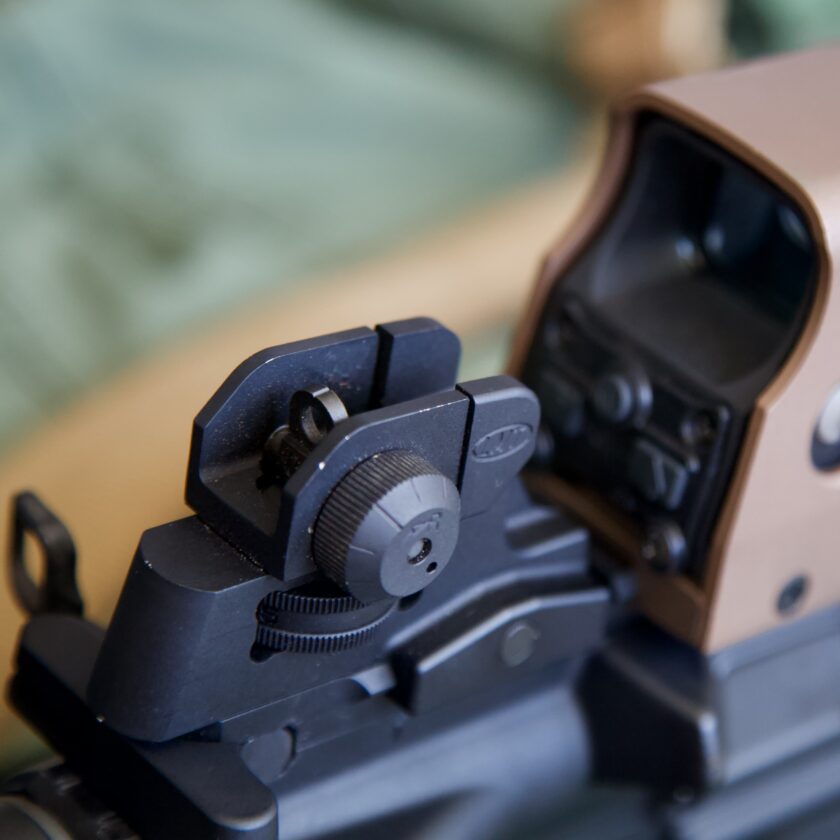 The best minimalist option is probably the MAGPUL MBUS. This option is affordable, lightweight, and folds out of the way when not in use. Even though I haven't worked with them personally, enough of these things are in circulation that I have high confidence in them. For those of you that simply plan to fold your sights out of the way until the day you need this, this is probably your best option.
Currently I split the difference between the full-on LMT and the minimalist MBUS sights. I use fixed Troy Battlesights. They don't fold out of the way, but they are always co-witnessed in the lower third of my optic.  They aren't as minutely and fully adjustable as the LMT rear sight base, but they do a reasonable job, and they are much lighter and smaller.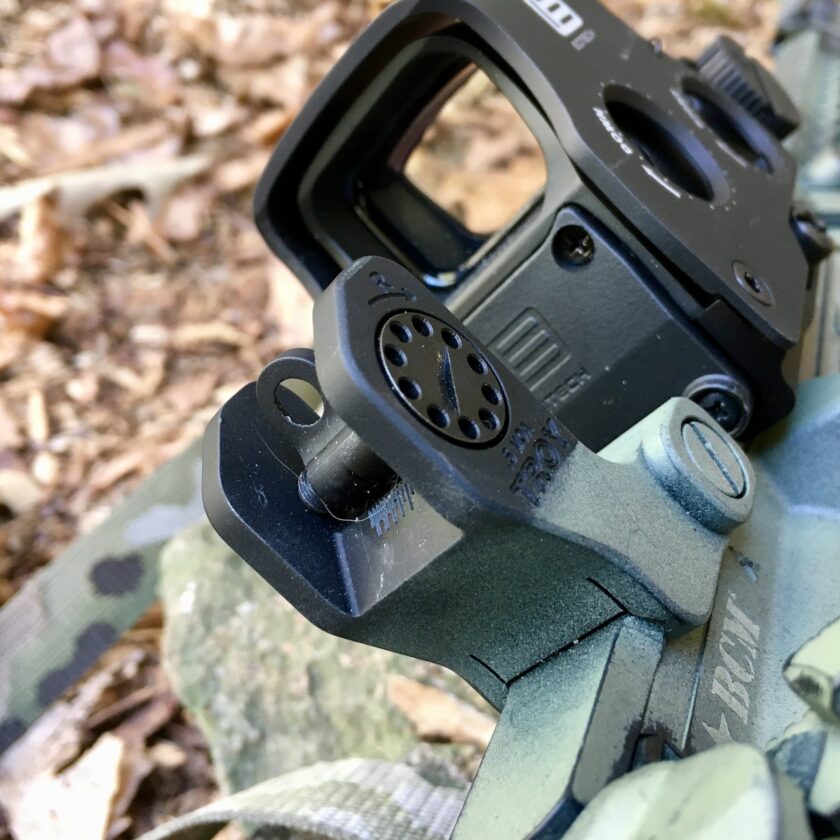 Optics Recommendations
Optics are probably the way most shooters will go. They enable you to get on target faster with more precision. Most of today's optics are rugged and extremely reliable. I am certainly not the last word in regards to optics. There are a couple of schools of thought here, too. Actually, there are way more camps than two, but I'll stick to the main two: Red dot optics and Low-Power Variable Optics (LPVO).
Red dots are zero-magnification optics with a wide field of view. These are intended for very close-range encounters out to some distance (I've taken an EOTech, successfully, out to 700 yards). They are intended for maximum speed, perhaps at the expense of some precision. There are a variety of manufacturers of these but the most prolific two are EOTech and Aimpoint. I run an EOTech EXPS-2. It is similar to the EOTech I ran in the military and as a paramilitary contractor. I love the very wide window and big, fast reticle of the EOTech.
I have some experience with the Aimpoint, as well, though considerably less. I'm somewhat loyal to EOTech because of experience, but certainly wouldn't turn my nose up at an Aimpoint. The top Aimpoint models are the Patrol Rifle Optic (PRO), and the T2. I don't think you'll go wrong with a model from either brand.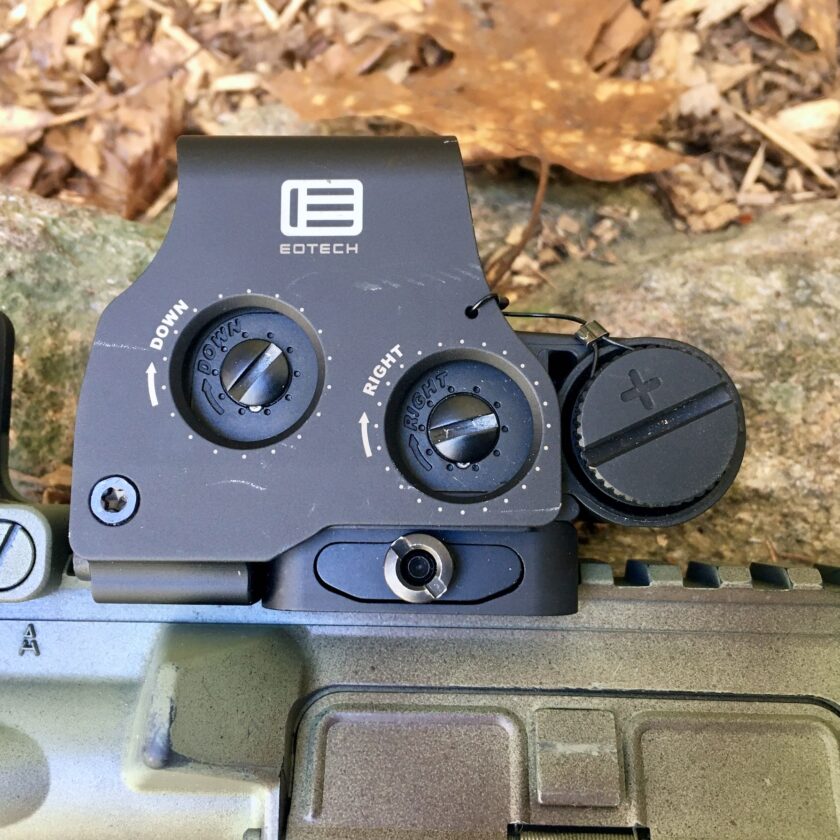 If you don't want to spend over $500 on a red dot there are some reputable brands making much more affordable sights. I have heard a lot of good things about Sig's Romeo 5 and the Vortex SPARC, but have no personal experience with them. I will probably be adding one or the other to my girlfriend's carbine soon, and I'll be sure to let you guys know when I do.
LPVOs…I'm not the man to talk to but there is plenty of information about LPVOs available out there. LPVOs look more like traditional scopes. They can be run at zero magnification with a large, sometimes illuminated reticle for up-close work, and quickly shifted to 6x or 8x for longer-range shooting or observation. I totally see the benefit and will may switch to one eventually but I'm a little behind the times.
 While maybe not quite as fast at very close distances they are much more versatile, but they are also larger and heavier than red dots. And they cost considerably more than a red dot. While you can find LPVOs for a couple hundred bucks, you'll probably spend $1,200 up to $3,000 for one you'd want to put on your gun. Which explains why I'm behind the times – dropping $2k on an optic probably isn't going to improve my shooting more than $2k spent in ammunition is, so it's just not a huge priority for me.
LPVO or Red Dot?
There is a ton of press about the LPVO…and a few hangers on that swear red dots are better. Here's the truth, though: your choice of optic matters minutely compared to your willingness to train. If you are coming from irons sights, either one will offer an immediate, significant improvement. If you are willing to train this improvement will continue to the point where the differences between the LPVO and the red dot actually become meaningful.
Simply put: the best gear in the world is reduced to the level of skill operating it.
If you do not train you will never be able to actually see those differences – you will just be reading about the advantages of LPVO online, and they will remain theoretical to you. Someone who trains modestly with his used, $300 Aimpoint will be able to easily best the guy with the $3,500 LPVO who hasn't spent the time and energy to develop skill with it. The guy with the LPVO who practices regularly will be massively faster at any distance than the dude with EOTech who has put all the wear on his gun by dragging it out of the safe for Instagram ops. Simply put: the best gear in the world is reduced to the level of skill operating it.
Mixing Optics & Irons

I have mentioned "co-witnessed" irons and optics but haven't yet explained what that means. To co-witness your iron sights and optics means that you can see both and can get a sight picture with both simultaneously. Zero-magnification red dot optics allow you to do this, giving you the dubious advantage of an instantaneously available sighting system should the optic die.
Theoretically the optic may die due to battery failure, a failure of the electronics, or physical damage like being shot. In reality red dot optics are insanely rugged and reliable, making the need for co-witnessed irons an insane outlier. Most realistically, they give you a backup sight should you forget to turn the optic on.
Ultimately the type of sights you choose are going to be at least somewhat influenced by the optic you choose. If you choose no optic, you should invest in better irons, like the LMT. If you are using a red dot you can go either way: a set of "always up," fixed backup irons that co-witness, or irons that fold out of the way. If you're running an LPVO you can't co-witness your irons, so you'll definitely want sights that fold out of the way (you also might desire a quick-detach mount so you can get the optic off in a hurry should it fail).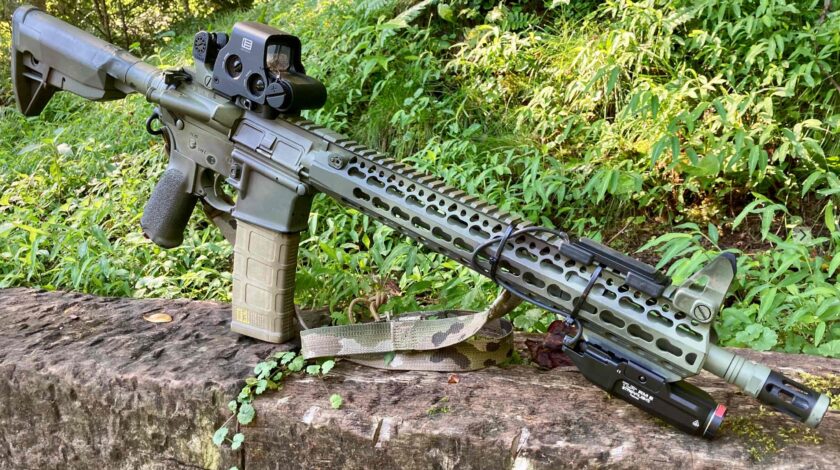 ---