Winter is my favorite time of year to hike. It comes with some hazards, not the least of which is ice on the trail. We've discovered Kahtoola MICROspikes and I'll never winter-hike without them again.
This article contains affiliate links.
Full Disclosure: I paid full price, out-of-pocket for two sets of Kahtoola MICROspikes (one each for my and my girlfriend). This is a glowing review but it is my honest opinion and was not in any way coordinated with Kahtoola.
Winter Hiking Kahtoola MICROspikes
Wintertime is my favorite time for hiking. In the winter you don't have to worry about the "Three Ts" of summer: Traffic (on roads, rails, and in parking areas), Tourists (newbies in the woods from near and far), and Ticks. Unfortunately winter comes with some hazards of its own. With credible threats of frostbite and hypothermia and trails becoming indiscernible under snow, wintertime hiking can be a bit more risky.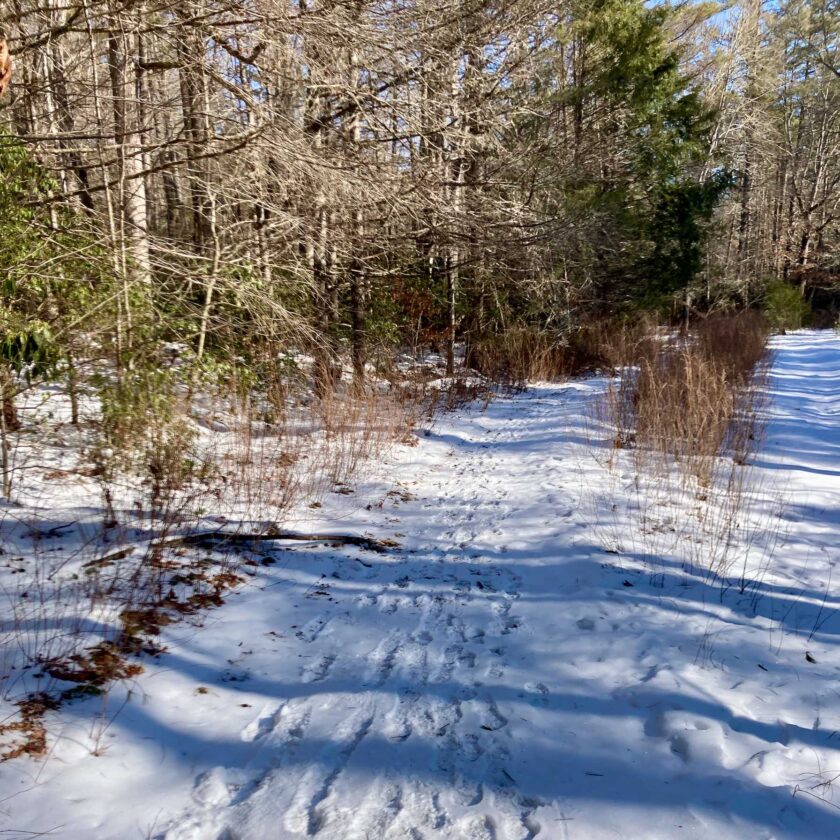 One major hazard that is really easy to overlook until it's underfoot is slick trails. Our hiking areas get covered with snow pretty early in the year. It gets packed down, and pretty soon the bottom layer turns to ice. My girlfriend and I have both busted our asses in a serious way on snow that has been packed and frozen solid.
Falling and bruising your hands and knees is rough, but a fall on ice can result in much more serious injuries. A broken bone could keep you in the woods for a long, long night (I'm aware of it happening), so staying on your feet is pretty important. We haven't fallen in a long time thanks to Kahtoola MICROspikes.
Traction-Enhancing Options
I learned about these footwear add-ons via my SAR team buddies and I've quickly become a huge fan. MICROspikes slip on over your boot and are somewhere between Yaktrax and full-on mountaineering crampons. Many of you are probably familiar with Yaktrax. They slip on over your shoe and provide enhanced traction on ice. The work really, really well in urban environments, kind of like tire chains.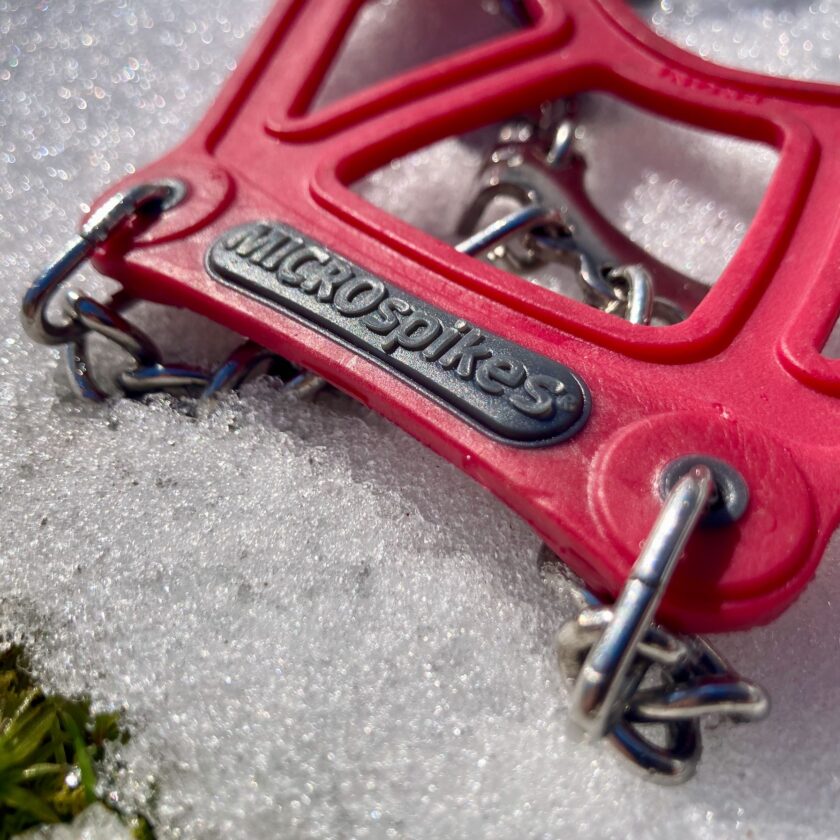 I have found that Yaktrax don't work great on snow-covered ice. Snow packs into the wires undoing most of the advantage in traction. Not to bash the brand – they are great for what they are. Full-on crampons also aren't really appropriate for hiking on mixed terrain. You really need to be on solid ice pretty much at all times, otherwise you're walking on sharp stilts.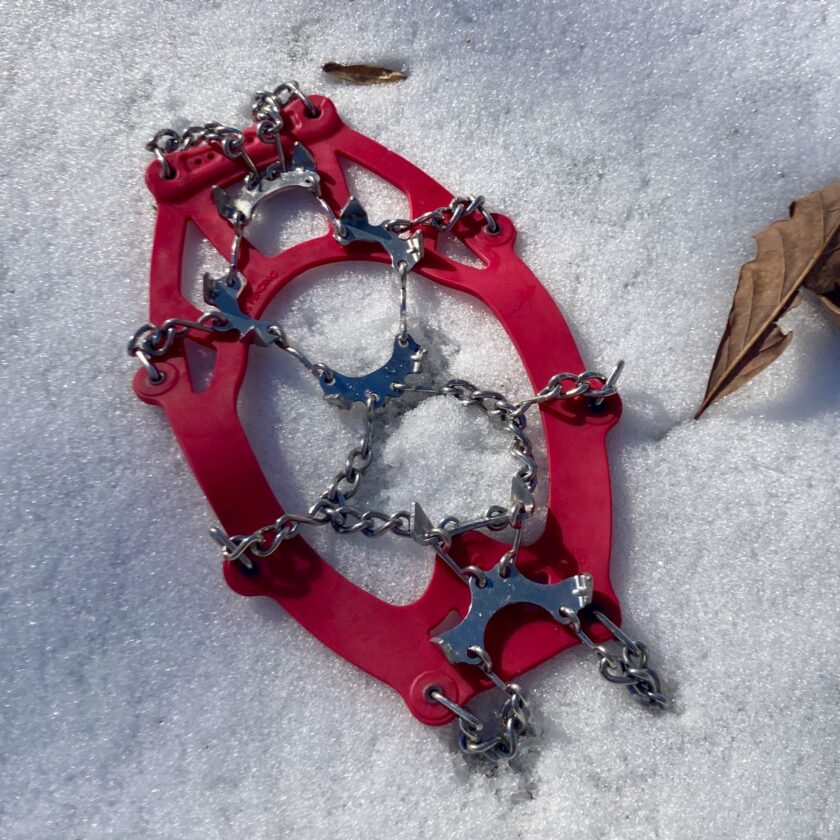 Mixed terrain is where Kahtoola MICROspikes really shine. They are essentially short crampons that bite into solid ice, but you don't have to take them off every time you hit a patch of slush, snow, or bare ground. We have put quite a few miles on our Kahtoola MICROspikes and love them. Let's take a closer look.
Kahtoola MICROspikes
These things come in a pair (obviously)  and they are sized. Sizing is Small/Med/Large/XL and is based on your shoe size. The sizing is as follows:
Small: Men's 5-9, Women's 6-9
Medium: Men's 8-11, Women's 9-12
Large: Men's 11-14, Women's 12+
XL: Men's 14+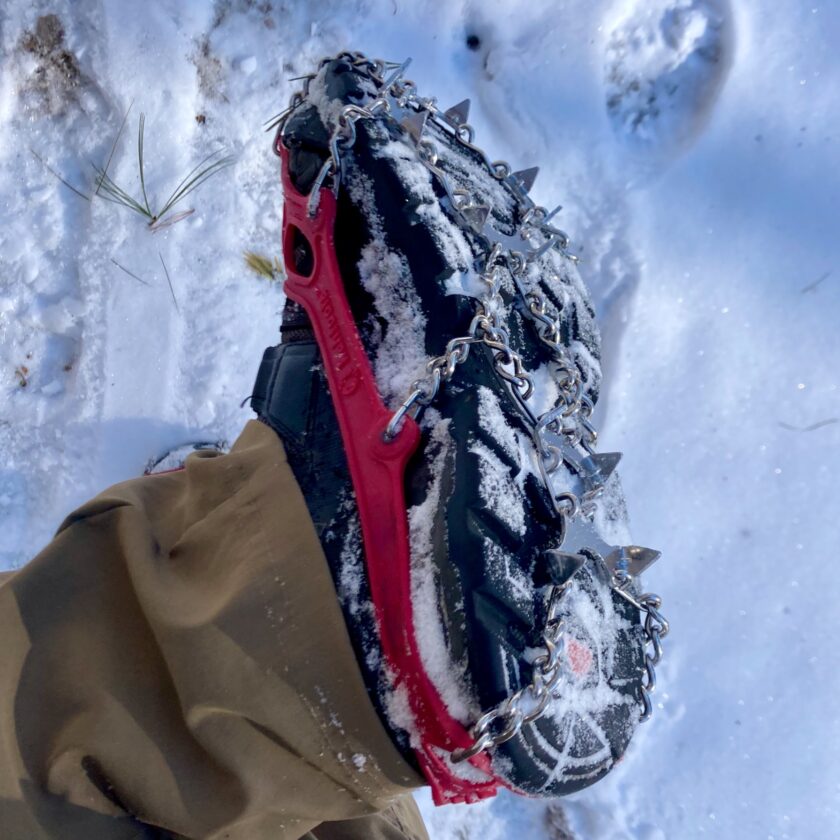 There is no left/right. Either will work on either boot, but there is a front and rear. The upper consists of a stretchy, thermoplastic elastomer (TPE) upper. Slip your to into the marked front of the unit and using heel tab, pull the upper over the back of your boot. a little bit of finagling might be necessary to get them centered, but it's a quick, easy process.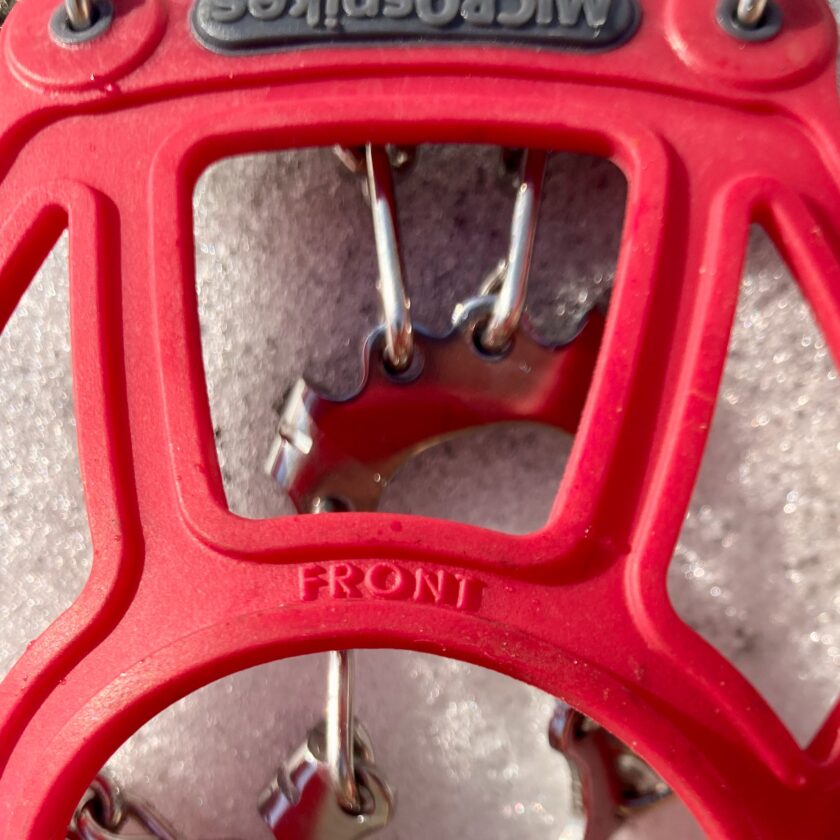 Walking in MICROspikes
Each MICROspike set provides 12 stainless steel spikes for traction. These are connected via robust, welded chains. On ice they provide amazing traction – seriously, you get a really good feeling about walking on any icy surface. Crossing creeks can be a bit challenging since the spikes may not sit evenly on a stone.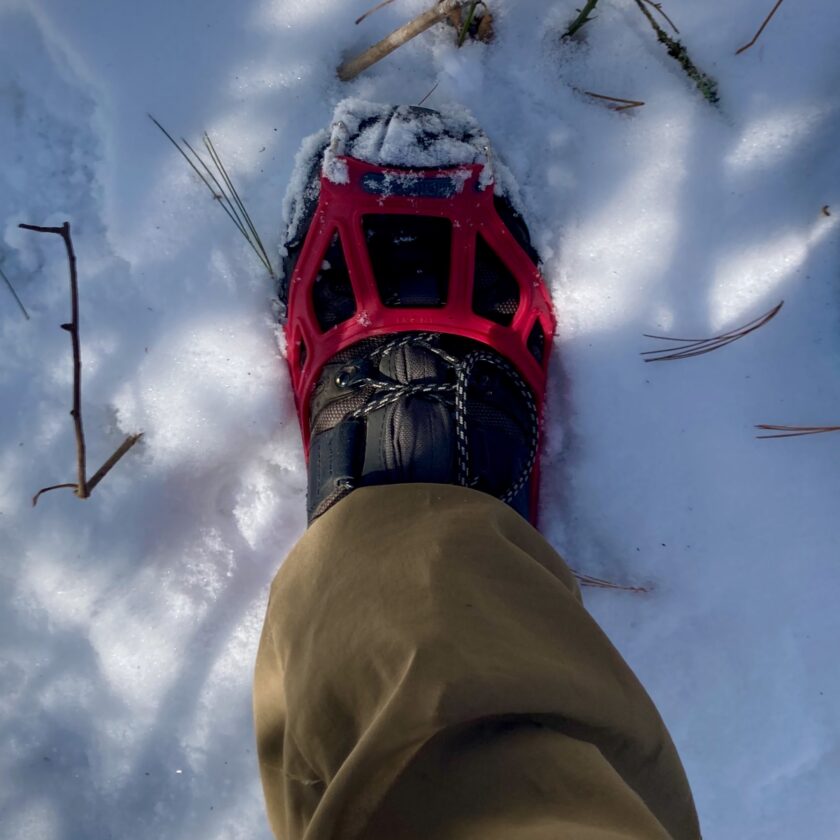 Walking on mixed surfaces can be slightly annoying. When walking through leaves the spikes tend to spear leaves. This causes buildup of snow and leaves, especially on your heels. It usually falls off after a bit, but I'm inclined to pop my MICROspikes off if I have any distance to travel over bare ground or only very light snow.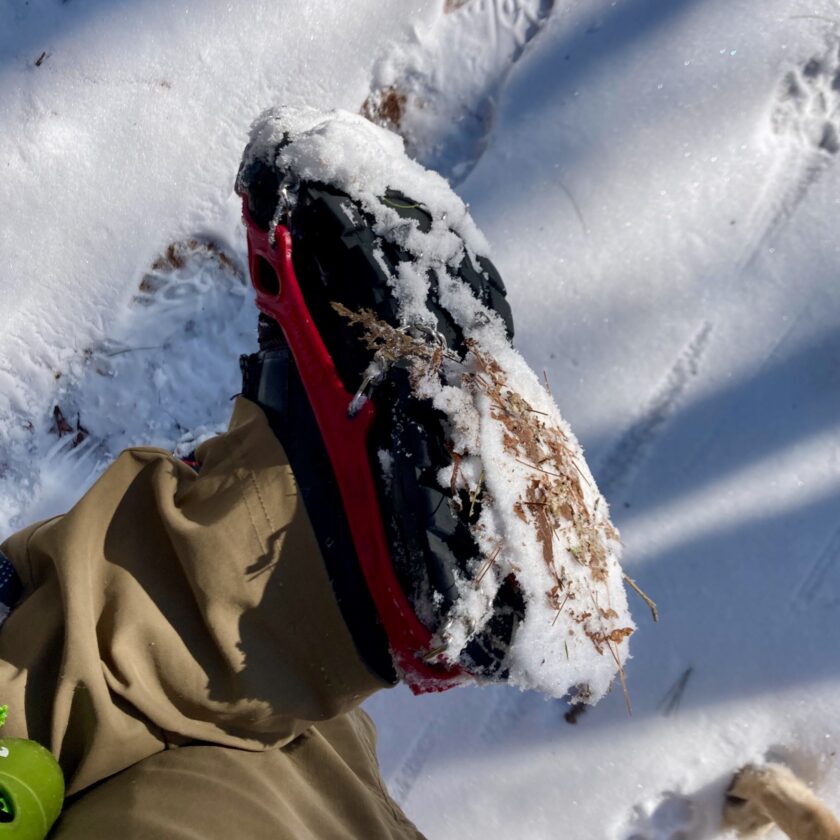 Closing Thoughts
Kahtoola MICROspikes are gear that have probably (literally) saved my tail. The name-brand Kahtoolas cost around $70 and are worth every penny. I've seen cheap imitations and this is definitely a case of getting what you pay for. If you hike in wintertime this is must-have equipment.
---