If you carry a gun, you do so because you believe you might be in a gunfight. If you knew you were going to be in a gunfight tomorrow, would you spend some time dry practicing today? We all waste countless minutes per day mindlessly scrolling social media or watching TV. Take just ten of those minutes each day and better yourself. Here is your dry practice plan for the next two weeks.
This article contains affiliate links.
Strong Hand Only
I worked on strong-hand-only (SHO) techniques during this two-week period, including SHO presentation, SHO reloads, and SHO malfunctions. I consider SHO skills to be fairly unlikely, but deserving of some amount of practice. I also made sure to maintain higher-likelihood skills during this period.
I began with some dedicated SHO presentations. Although these aren't functionally much different than two-handed presentations, I did experience some slight issues clearing concealment if I wasn't careful. After half-a-dozen days of working this skill, I did a three-day maintenance session with a day each of two-handed presentation, reloads, and malfunctions.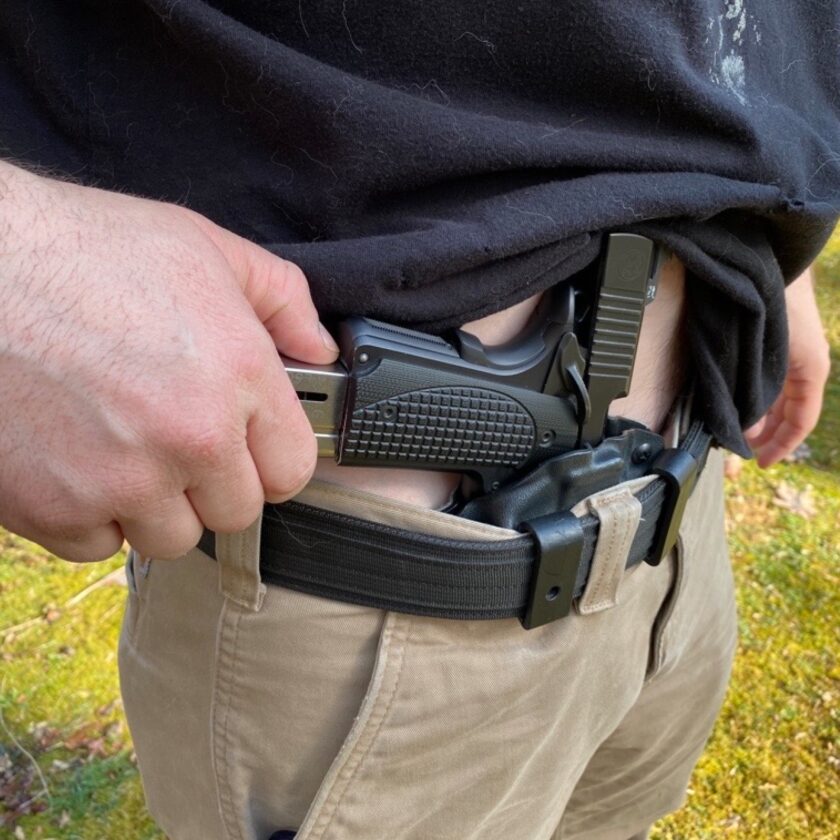 During the last six days I alternated SHO reloads and SHO malfunctions. I worked both the legacy "between the knees" technique, and by reinserting the slide-locked gun into the holster. For malfunctions I practiced tap/rack, stovepipes, and double-feed/FTEs.
Even during these sessions I maintained previously practiced skills. I begin each an every session with one minute of two-handed draw. Both the reload and malfunction sessions gave me organic opportunity to practice SHO draw. I also made sure to get at least two reps of two-handed reloads in on reload days, and one rep each of the various malfunctions on malfunction days.
During the next two week period we'll replicate this whole process with WHO.
My Results
Below are my day-by-day results of the past two weeks.

January 1 – 15: 150 minutes, January 16 – 31: 160 minutes
February 1 – 15: 150 minutes, February 16 – 29: 140 minutes
March 01: 10 minutes SHO presentation
10 minutes carbine transition to pistol
March 02: 10 minutes SHO presentation
10 minutes carbine up drills
March 03: 10 minutes SHO presentation
10 minutes carbine transition to left side
March 04: 10 minutes SHO presentation
10 minutes carbine malfunctions
March 05: 10 minutes SHO presentation
10 minutes carbine transitions
March 06: 10 minutes SHO presentation
March 07: 10 minutes presentation
March 08: 10 minutes reloads
March 09: 10 minutes malfunctions
March 10: 10 minutes SHO reloads
March 11: 10 minutes SHO malfunctions
March 12: 10 minutes SHO reloads
March 13: 10 minutes SHO malfunctions
March 14: 10 minutes SHO reloads
March 15: 10 minutes SHO malfunctions
Monthly Target: 310 minutes
Monthly Actual: 150 minutes
Cumulative Target to Date: 750 minutes
Cumulative Actual to Date: 750 minutes (12.5 hours)
Cumulative Actual w/ Carbine: 990 minutes (xx hours)
Current Streak: 75 days (85 including last 10 days of 2019)
Tobacco Free: YES
---