A huge priority for my 2023 training plan was to attend some wilderness survival training. Though I felt I had a pretty solid skillset via self-study and practice, there really is no substitute for formal, high-fidelity training. With that in mind I signed up for two classes. The first, Randall's Adventure Training's Field Survival was back in March. The second, and the subject of this after-action review, The Pathfinder School Basic Survival Course, was this past weekend.
Full Disclosure: I paid full price for this course. I received no discounts, all my gear was purchased by me, at full price (except at sales available to the public). This review was not coordinated with Dave Canterbury, The Pathfinder School, or anyone else. The thoughts here are mine and mine alone.
This article contains affiliate links to Amazon.
The Pathfinder School
The Pathfinder School is one of the more prestigious wilderness survival schools. Dave Canterbury, the co-owner and operator, has an extremely strong reputation in this space. He has a very successful Youtube presence, has written a series of books, was a co-star on Discovery's Dual Survival, and has designed a ton of outstanding survival gear. Canterbury also came up with the "10 Cs," the single best way of thinking about survival gear, at least in my non-expert opinion.
In addition to Basic Survival, Pathfinder offers a plethora of other, related classes. These including the Intermediate and Advanced Survival classes that are mandatory for Canterbury's coveted instructor rating. Also available are Bushcraft 101, Navigation Intensive, Edible/Medicinal Plants, and a bunch of other classes. I definitely plan to get back to the school for some more classes in the future.
The school is in Jackson, Ohio. As it happens I have a good friend in Columbus who offered to let me stay the nights before and after the course. Jackson was 90 minutes from Columbus, so I got up early Friday morning and drove down. The group met at a gas station, then Dave met us, took roll, and we convoyed to a nondescript road leading to the Pathfinder School.
Pathfinder School Basic Survival: Day One
After everyone was parked, there was a pack dump/gear inventory, first thing. This was mostly to make sure everyone had all the appropriate gear. I will address gear separately in its own section at the end of the review. After that we headed to the classroom to begin classes. This class covers all the stuff you need to know for surviving typical field emergencies lasting 72 hours or less. The first class was given by Dave Canterbury and covered the 10 Cs, which are broken out in to the 5 Cs of Survivability and the 5 Cs of Sustainability.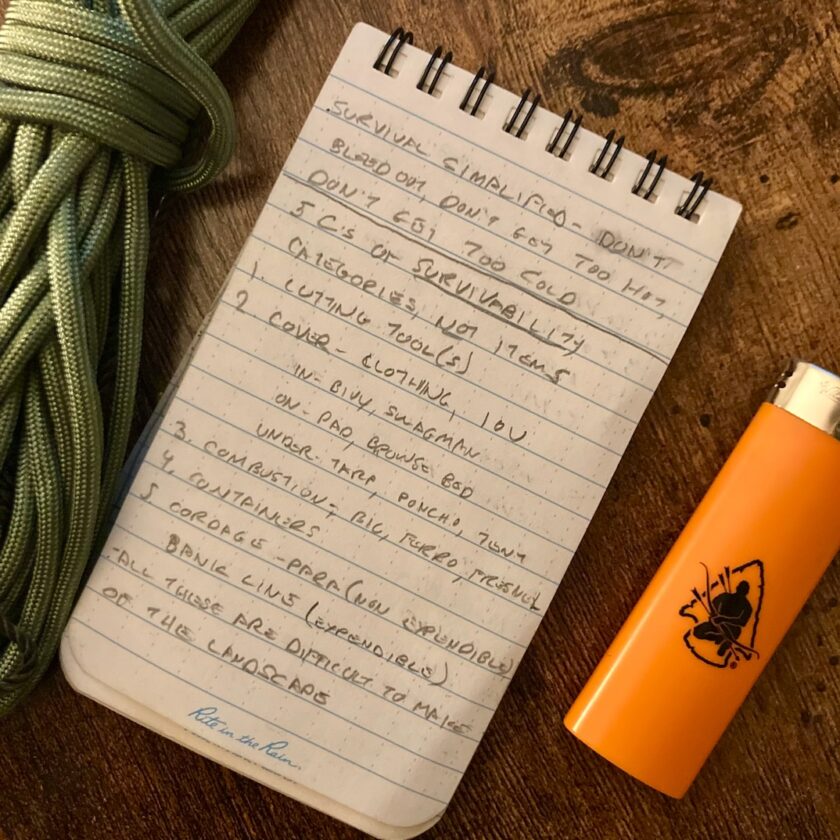 After this introduction, the next class was on first aid and self aid. This is really well-placed class, allowing the student to take care of him or herself (there was one female student the class) in an emergency, even during the class. This portion was taught by a Pathfinder instructor who spent a career as a firefighter/paramedic. Next up we got a class on knife skills, then one on fire. Fire is one of the most important priorities in survival, and it answers a lot of your immediate needs. After the lecture the instructors demo'd some different fire-starting methods.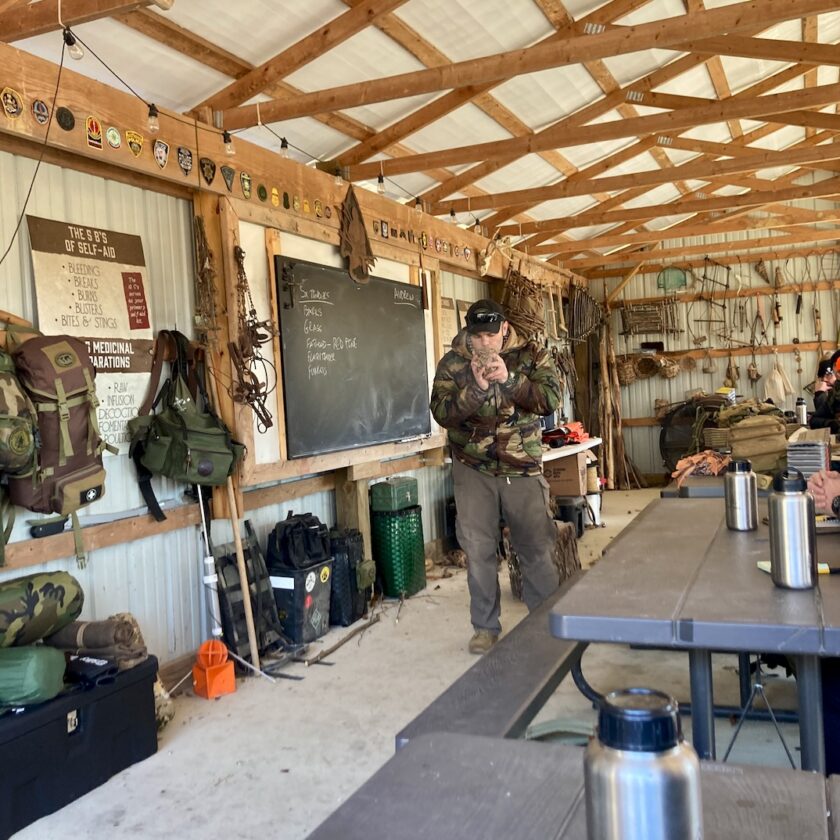 Day One Afternoon
We were given a little downtime, then hit the woods for a "resource walk." This was time to collect firewood and tinder, and some additional instruction. We were shown how to gather fatwood "off the landscape" (in Pathfinder School parlance) which is something I've never been shown before. We made our way back to camp and it was time to build some fires.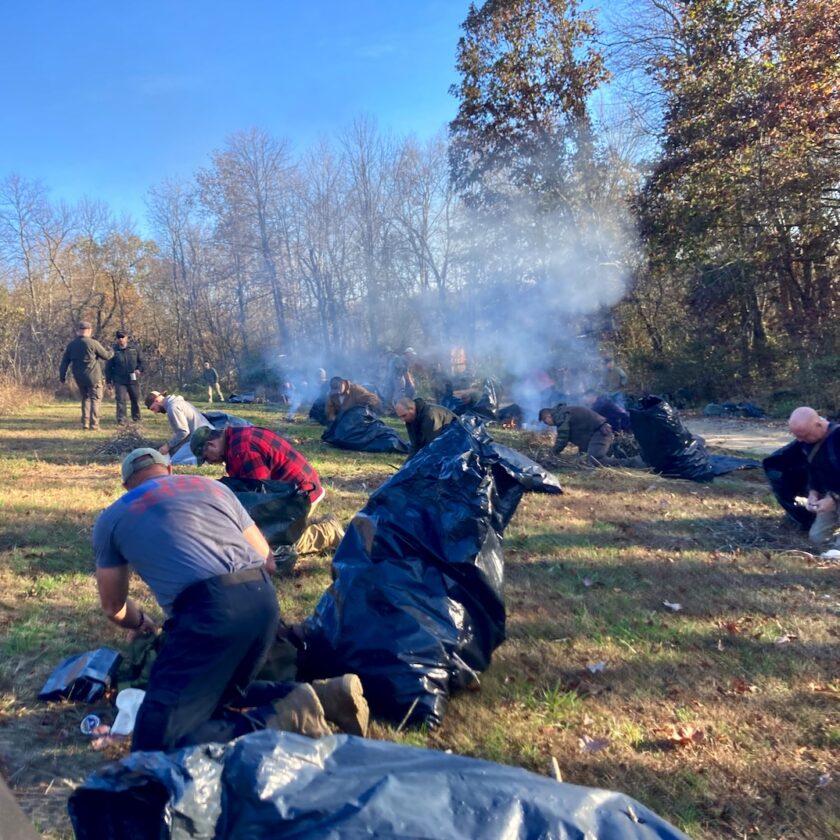 These were part of our graded, timed "deliverables." After this we were given time to eat and set up camp for the night, then we were back in the classroom for a class on knots. Day one concluded around 19:30 or so. It was a solid day of training!
Pathfinder School Basic Survival: Day Two
When Day Two began at 07:30 it was still mostly dark. We finished up the knot class from the day before and did the shelter class. Shelter is one of the touchstones of survival and the shelter class was great. After the class we left the classroom and were shown four shelter setups: the A-frame, lean-to, plow-point, and the rain fly. One thing I really like about the Pathfinder School: once you're shown something you're accountable for doing it yourself.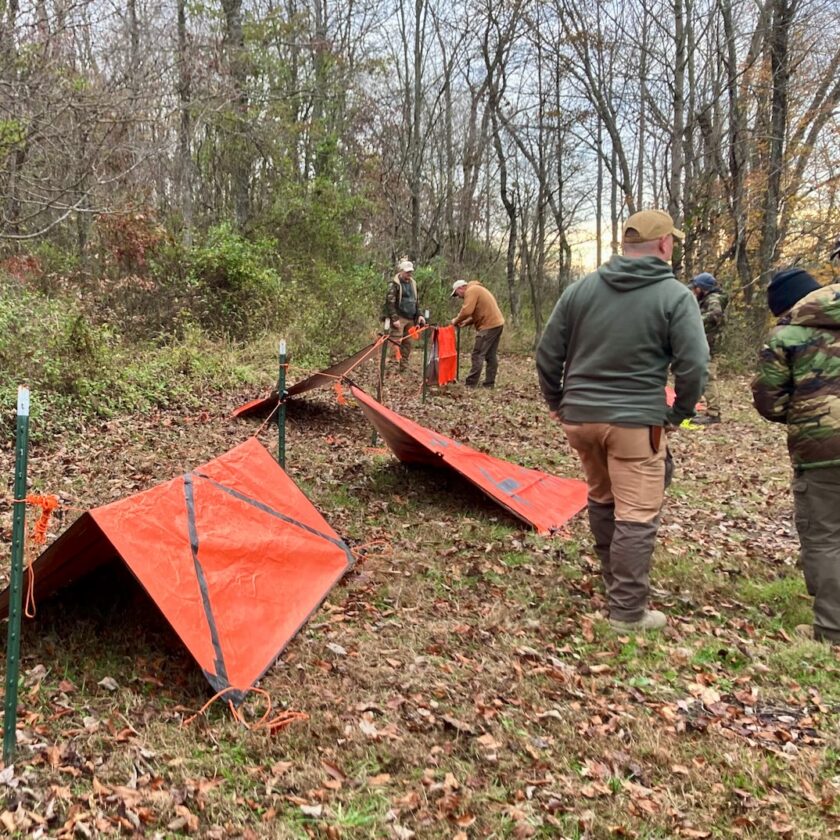 Next up was land navigation. I'm not going to go into too much detail here, but a lot of time was spent on land nav. After a class on it, we go to work, doing several land-navigation courses. We did this in pairs, and fortunately I paired up with a fantastic guy, an ER doc. We had no problems with land navigation, or anything else.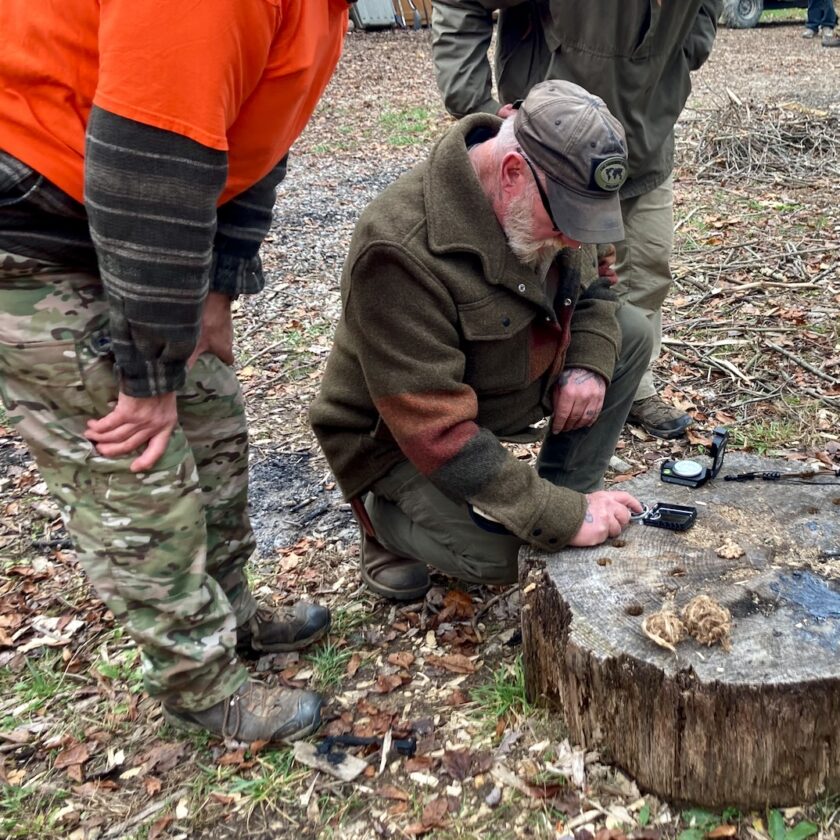 At the end of each land nav course was some sort of timed event. This might involve something along the lines of starting a fire using a given technique, demonstrating the four shelter styles, and boiling a quart of water for each person on the team. This process repeated itself several times on Saturday.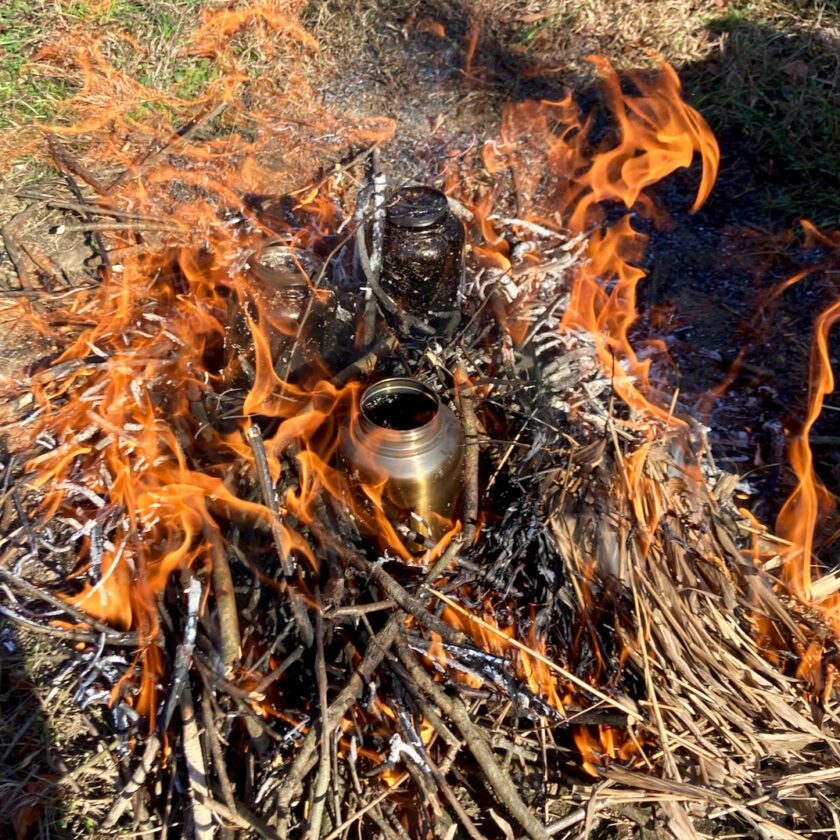 After the day portion was done, we geared up for the nighttime camp-out.
The Overnight
The overnight was a semi-dreaded portion of the course because, being November, it was pretty damn chilly. The days warmed up nicely but the nights were in the high 30s. The point of the overnight stay in the woods was to show us that our gear would work, and we could survive a night of "inconvenient camping." There were some other deliverables to complete on the way to the campsite, and we arrived around 20 or 21:00.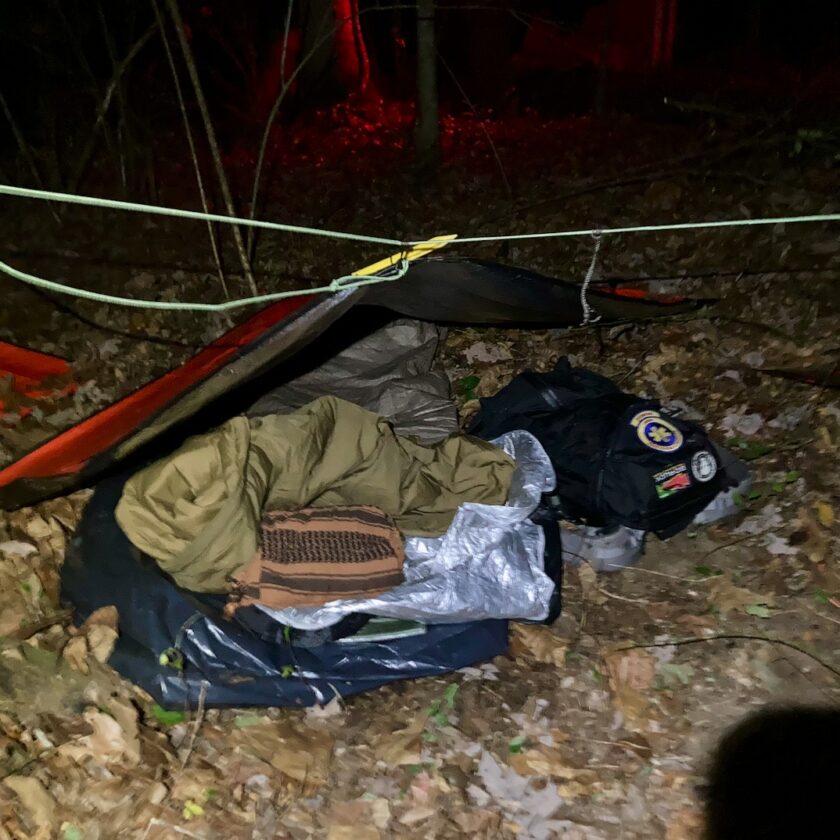 The task was simple: build a shelter, make a browse bed (a trash bag filled with leaves for insulation), and go to sleep.  I built a plow-point shelter, and put a thick browse bed under my core. Using the Swagman roll and the survival bivvy I stayed warm all night and actually managed to sleep a bit. With nine to ten hours of down time (due to darkness and the time change) it was hard to sleep this entire time, but it was nice to rest in relative comfort – the system works.
Pathfinder School Basic Survival: Day Three
Upon waking up on Sunday morning, we were ready to go. Our shelters were inspected by the cadre and we were told to pack up. There were a few more tasks – another class and some more student deliverables – before heading back to the classroom. Once back at the classroom the class was basically over. We had to pack up, account for team gear, students with rental gear had to turn that stuff in…then we were handed certificates.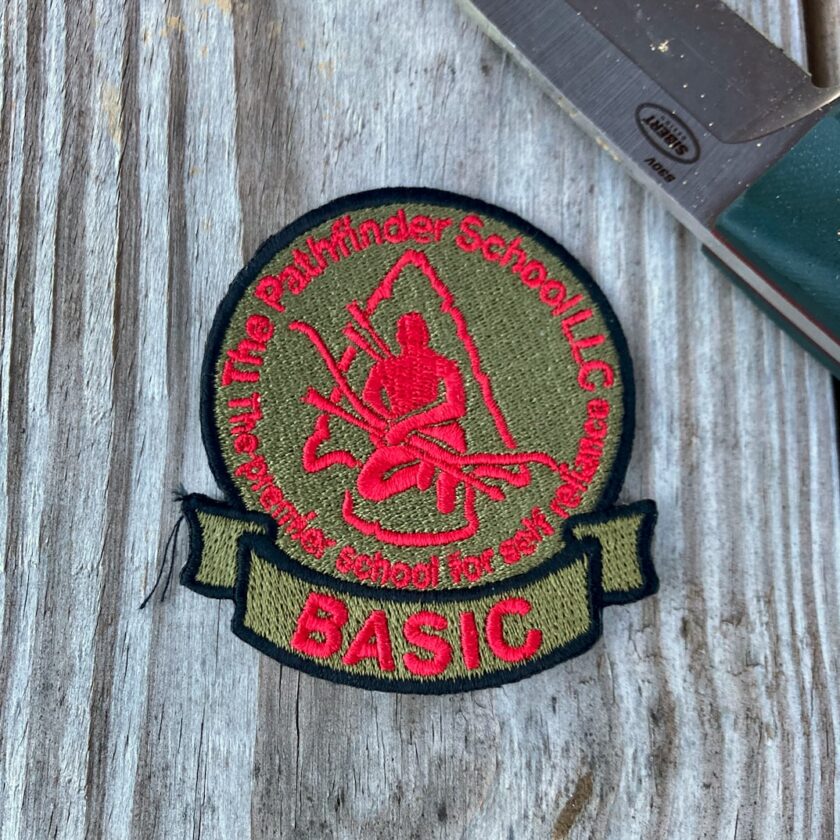 There are two ways to graduate the class. Simply completing the class earns one a certificate. Completing the class with an 80% or higher earns one the "patch." My partner and I both earned the patch. This was a large class – 29 souls. Dave said on Day One that Pathfinder School Basic Survival has about an 80% pass rate. Our class beat the average and 100% passed, with most earning the patch. And with that, our class was finished well before noon on Sunday morning!
My Overall Impression
I've described the course but want to give you my overall impression. The class was excellent. I have a pretty deep body of knowledge of wilderness survival already, having attended a couple other courses, and having deep-dived into survival self-study and "dirt time" in the past couple of years. With that said I still learned a lot! Everywhere I turned an instructor was pointing out some really cool fact, demonstrating some awesome technique, or teaching a cool knot (i.e. "the Bart knot"). The staff was professional, knowledgeable and skilled, and the classes ran very smoothly. No wasted time, no breaks that went on endlessly, just good, solid instructorship.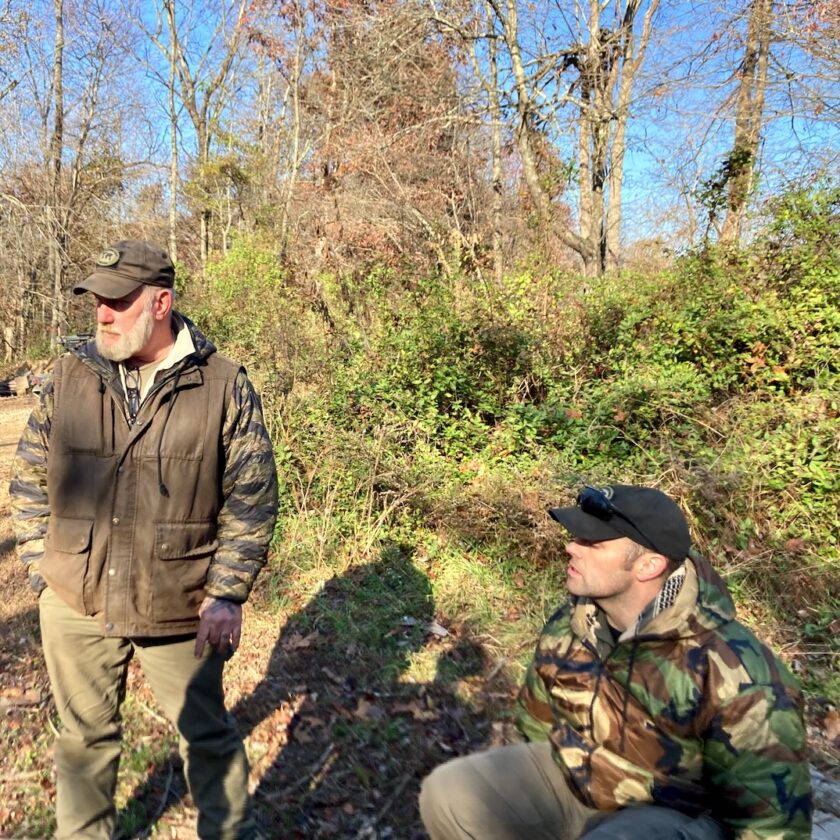 The school uses the "EDI" instructor methodology: Explain, Demonstrate, Imitate. This is very close to the Marine Corps' "Explain, Demonstrate, Imitate, Practice" model. It worked very well in this class, and frankly, its refreshing to see a school that has any kind of formalized methodology – I really appreciated that.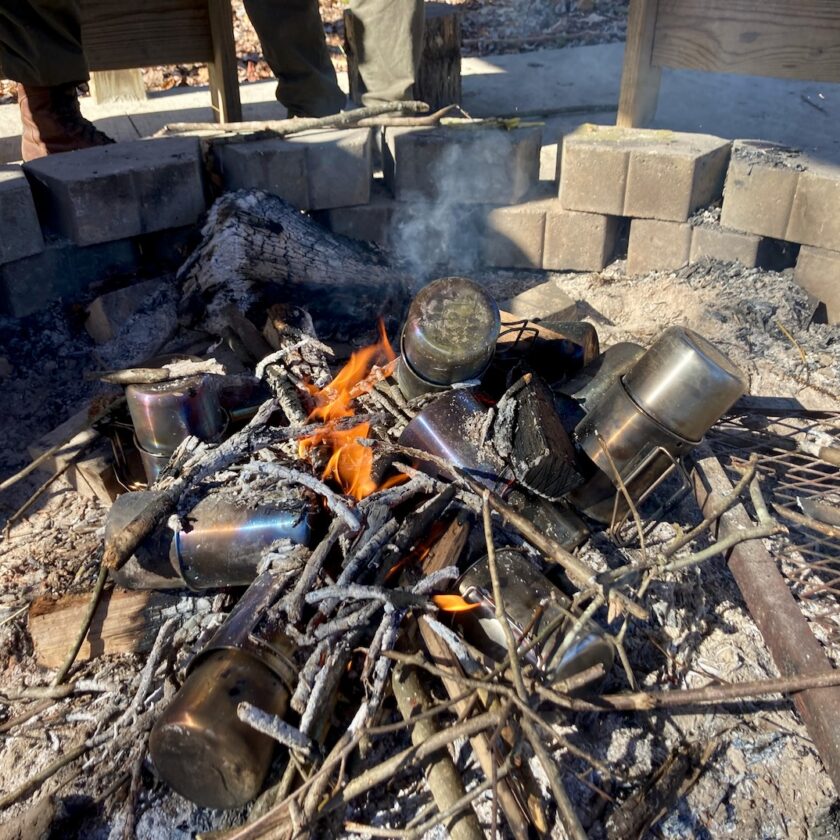 One the coolest things I learned was that you can make char cloth in a stainless water bottle. Simply remove the lid and dump the water. Next, add in your char material (100% cotton). Instead of putting the lid back on, just drop your stainless steel cup over the top of the bottle and place in the fire. This was very cool, and I built my first fire using char during the course, thanks to a lot of coaching from our team assistant instructor, Tanner.
Pathfinder School Basic Survival: Gear
Since you are a gear-oriented crowd, let's talk about gear! The gear list for this course was extensive. Below is my gear layout prior to packing for the course, and this layout even misses some items (notably a headlamp, extra batteries, and a haversack).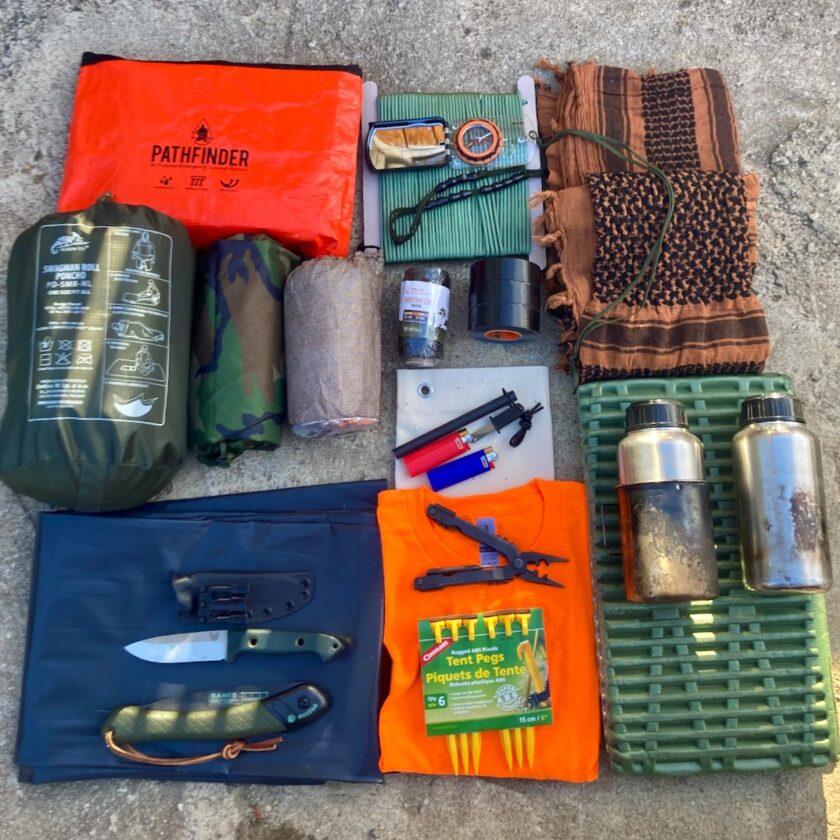 The gear list required the following items, in the following categories:
As you can see, this was a fairly gear-centric class. There were also some other items on the list: all-weather notebook, 3x pencils, haversack, analog watch, leather gloves, weather-appropriate clothing, food, hygiene items, and insect repellent (seasonal). This was very different from Field Survival, which permitted only the clothes on your back and a water bottle, knife, ferro rod, compass, and shemagh or bandana. Very different.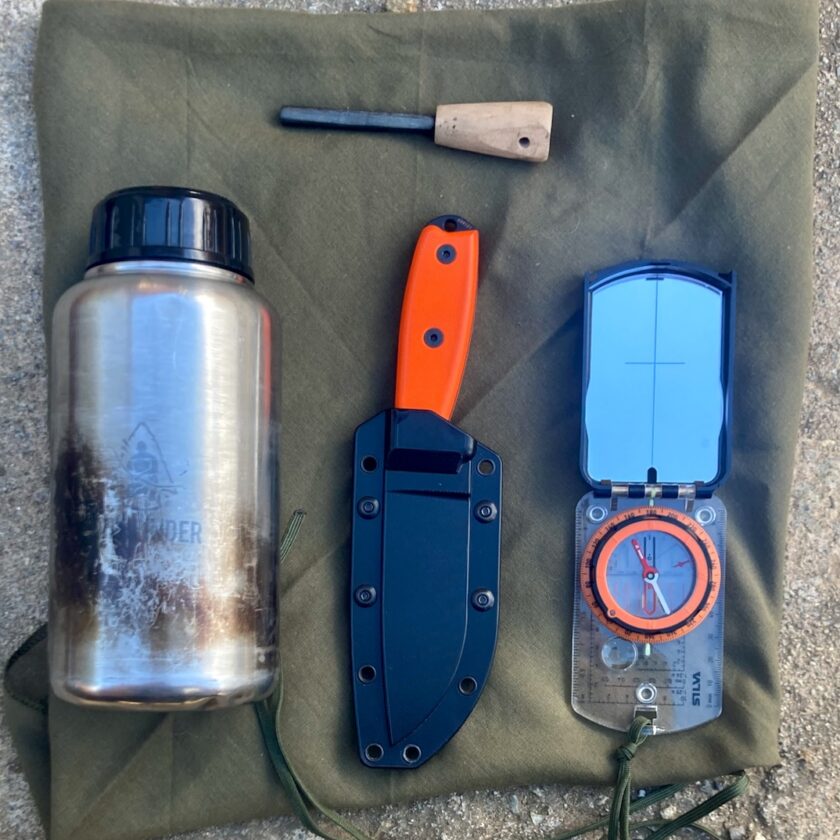 My Thoughts on Gear
The Field Survival course was an entirely different animal. I want to try to avoid comparing the two as much as possible, but Field Survival was very minimalist. It was nice to attend a course that went the other way and focused heavily on gear. Both have their downsides, however. Travel light, freeze at night – we all know that old chestnut. But here's another: buy a bunch of gear, spend a bunch of money.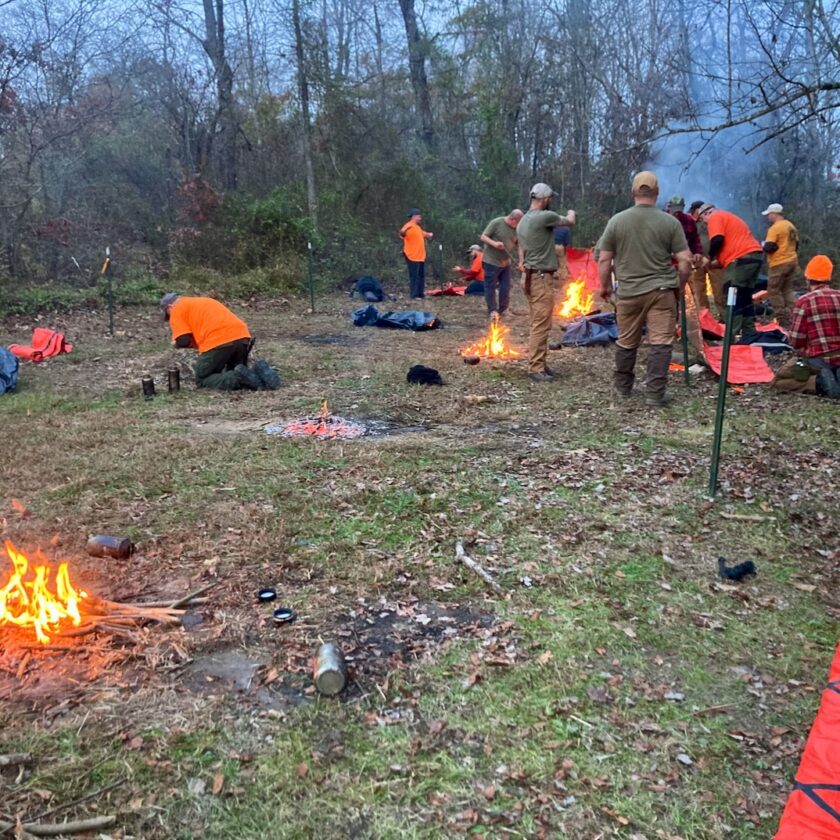 I bought all the recommended gear on this list, adding up to around $300…and I already had a bunch of this stuff. Most of the gear on the list was used to some extent, but some was used very little. I only used three feet of the bank line, I only struck my ferro rod half a dozen times and could have gotten by with a smaller one already in my inventory. My shemaghs were used only as a pillow.  The saw was only used to cut one thing, and I never used the multi-tool. Again, I appreciated the ability to learn from a gear-focused school of thought, but this class seems to go pretty far in that direction.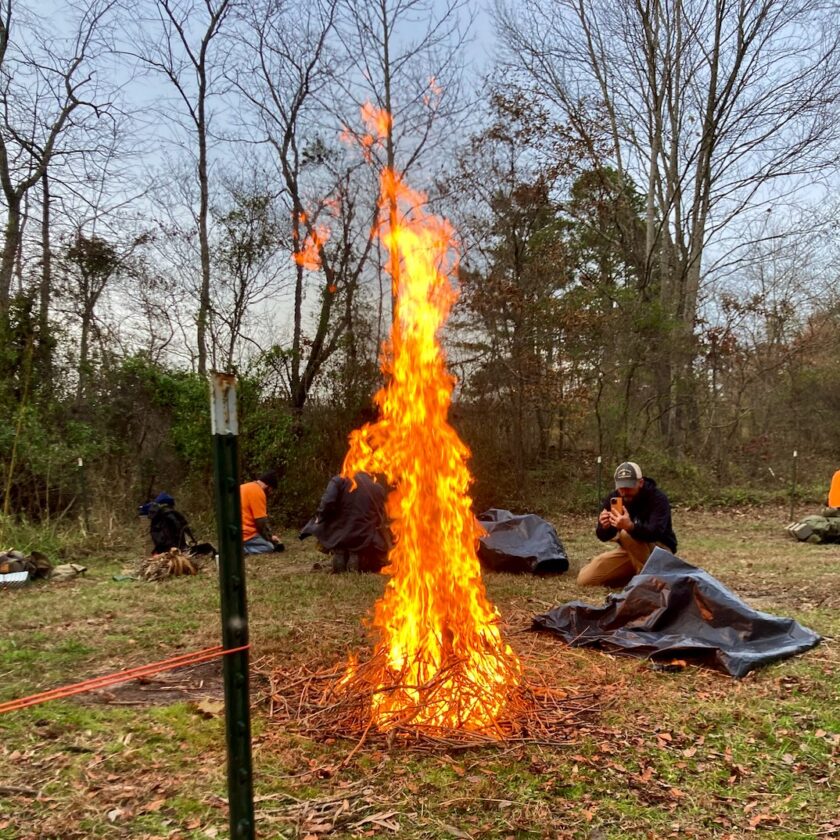 On the other hand… a lot of the gear was indispensable. I would have hated to spend the night without the Swagman roll or the bivvy. The water bottles and cup got used a LOT. Overall I would absolutely do it again, but realize that purchasing some gear should be factored into your cost of attending this class.
Backpack
Each student is also responsible for bringing a backpack to carry all this stuff in. I brought my Mystery Ranch Scree 32. This pack has probably 250 miles on it at this point and it did very well in this class. If I have one thing to complain about it is is size. Again, this class called for a LOT of gear. The 32-liter Scree handled all the gear, but if I took my coat or sweater off (see next section) I had nowhere to put it).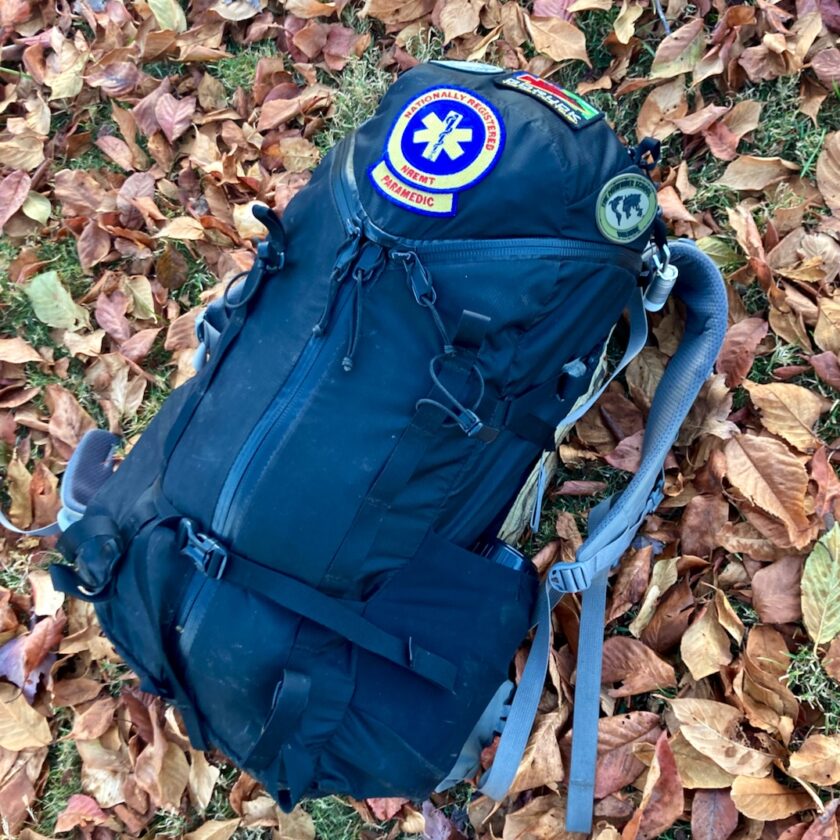 I really wish the Scree 32 had bedroll straps or side straps for carrying additional gear. I may have someone put those on for me because I feel like they would be a huge value-add. Otherwise I still LOVE this pack and use it regularly for SAR callouts.
Clothing
I will talk just a bit about clothing. First, it was cold when I arrived. On Friday morning the temp was 25 degrees. This is not cold to the Michiganders in the class, but it was frigid to me. In any other season you will have a different challenge: ticks. I did find one tick on me, but apparently they are terrible spring through fall. If I were attending a spring/summer/fall class I would treat all my gear with permethrin prior to attending. But this was a winter class, and it was chilly!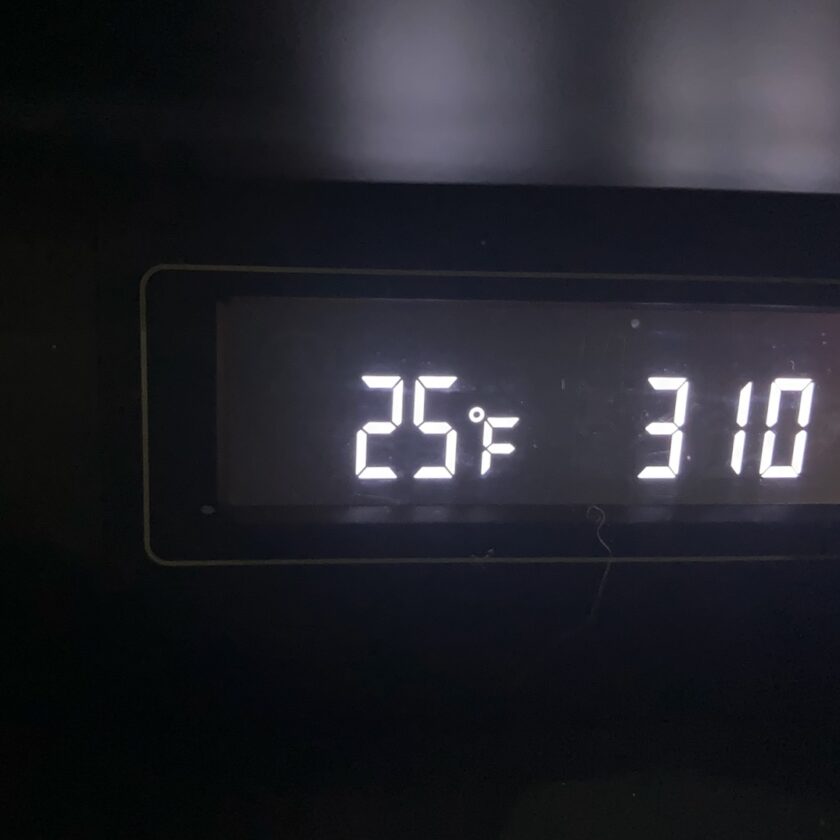 I wore a Merino wool base layer (top and bottom) from REI, a heavy, Prana wool sweater, and on top of that a North Face Gore-Tex shell. This kept me insulated and the shell broke the wind. The real MVP of my clothing was the cheap, lightweight, Chinese-knock-off, OD-green BDU pants I wore. These cheap BDUs have survived Field Survival, the GoRuck event I did in September, this course, and are still going strong! These are officially my "do hard things" pants until they finally give up on me.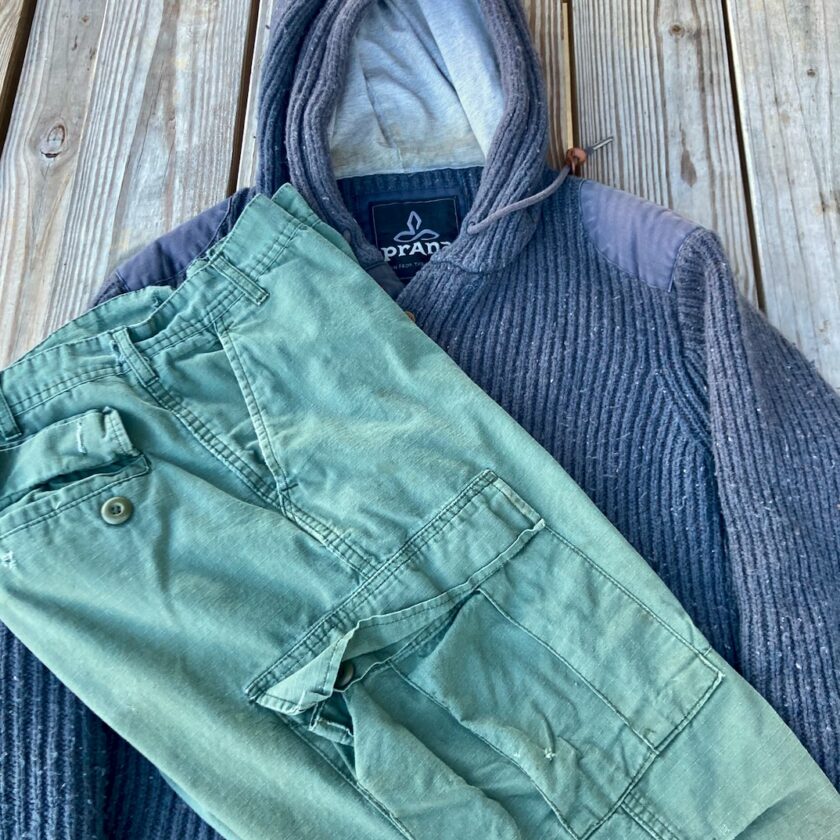 Food
Let's talk about food! I saw a lot of claims online that you wouldn't have time to heat water for freeze-dried meals or MREs. I almost bought it. At the last minute I grabbed some ramen noodles and I'm super glad I did. I planned to go into the course with three bags of food, one for each day. Each contained two packets of oatmeal, a bag of beef jerky, two granola bars, two packs of peanut butter, two Pop-Tarts, a pack of Hi-Chew, and some instant coffee. The rolled up Ziplocs beside the jerky are homemade oral rehydration solution.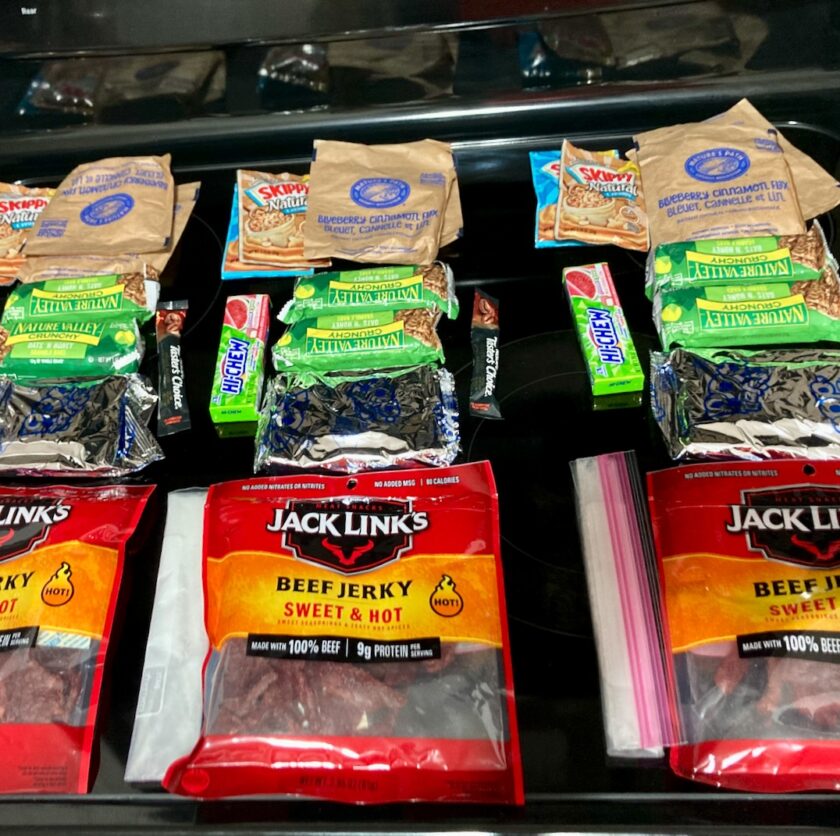 This seems light but was a total of 1,900 calories per day – not bad at all. When I got home I still had almost half of this stuff remaining. The one thing I misjudged horribly though, was the sweet-to-salty ratio. By the end of the first day I was really craving something salty. Those ramen noodles really came in handy! Additionally a lot of people were eating just-add-hot-water backpacker meals. I can't guarantee how your class will go, but in our class there was plenty of time to feed yourself without limiting yourself to zero-prep, cold foods.
Closing Thoughts
The Pathfinder School Basic Survival Course is an outstanding class for anyone interested in improving their ability to survive in the woods. The course covers everything you need to survive: equipment, self-aid/first-aid, knife skills, fire, shelter, water, signalling, and knots. Everything is taught in a clear, concise manner. There is ample instructor:student ratio, and all the instructors are knowledgeable and friendly.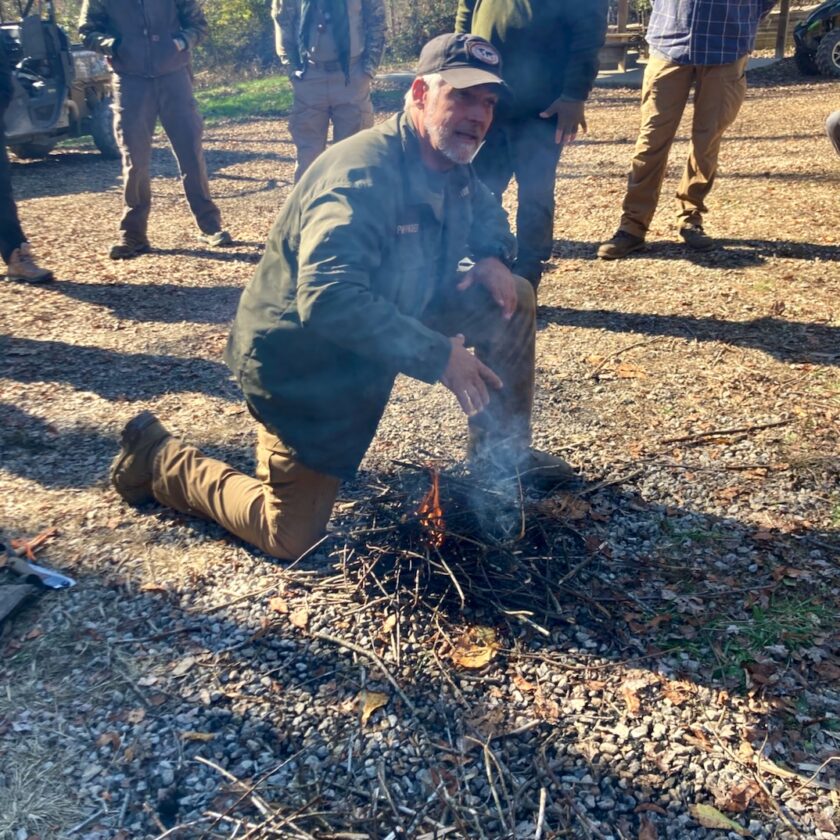 Not only are you taught, but you are also expected to perform, reinforcing the lessons taught. And even though this review has been pretty thorough in terms of timeline, I have only scratched the surface of things you will be taught. I can't say enough good things about the Basic Survival Class, and recommend it without reservation!
---