In early 2000 I was a fresh, young, non-rate Devil Dog. Stationed in the isolated, pre-war, high-desert town of Twentynine Palms, CA, That place and time was a bad-decision factory, and I made my share of them†. I also made one really good one, though: I purchased a CRKT Stiff KISS. I wish I could make this decision again and again because this is undoubtedly one of the coolest inexpensive knives ever.
This article contains affiliate links.
The CRKT Stiff KISS
Before we get too deep in, you can't buy this knife. Well, you can find used ones on eBay and places like that, but you can't buy a new one. I'm really sorry to report that, but the Columbia River Knife and Tool (CRKT) Stiff KISS is long discontinued. Why was it discontinued? I have no idea because it still enjoys a small cult-following. I have to imagine it was a decent seller with fairly low overhead, too. Let's take a look at it.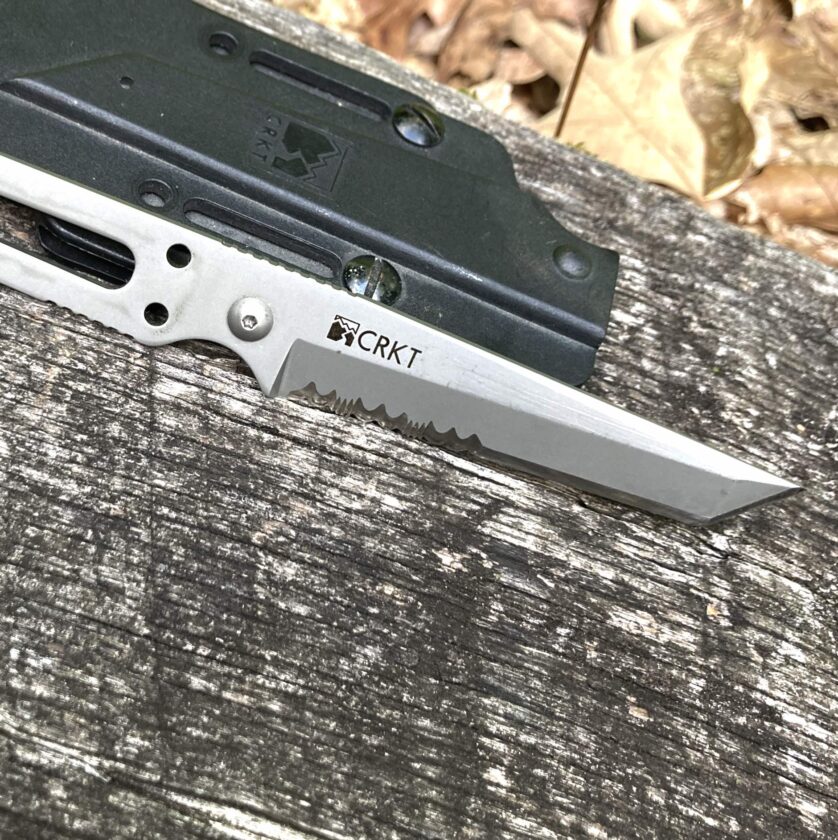 The Stiff KISS (KISS is an acronym for "Keep It Super Simple") is a fixed-blade version of the minimalist CRKT KISS. The folding KISS is still available today and is a very cool knife in its own right. In my opinion, though, CRKT discontinued the wrong blade. The Stiff KISS is a very utilitarian, all-go/no-show design. it is a single piece of metal with no scales. It's right at 7″ long with 3 1/4″ of cutting edge and has a tanto design. Weight of the whole package (knife, sheath, paracord handle wrap) is only 4.3 ounces.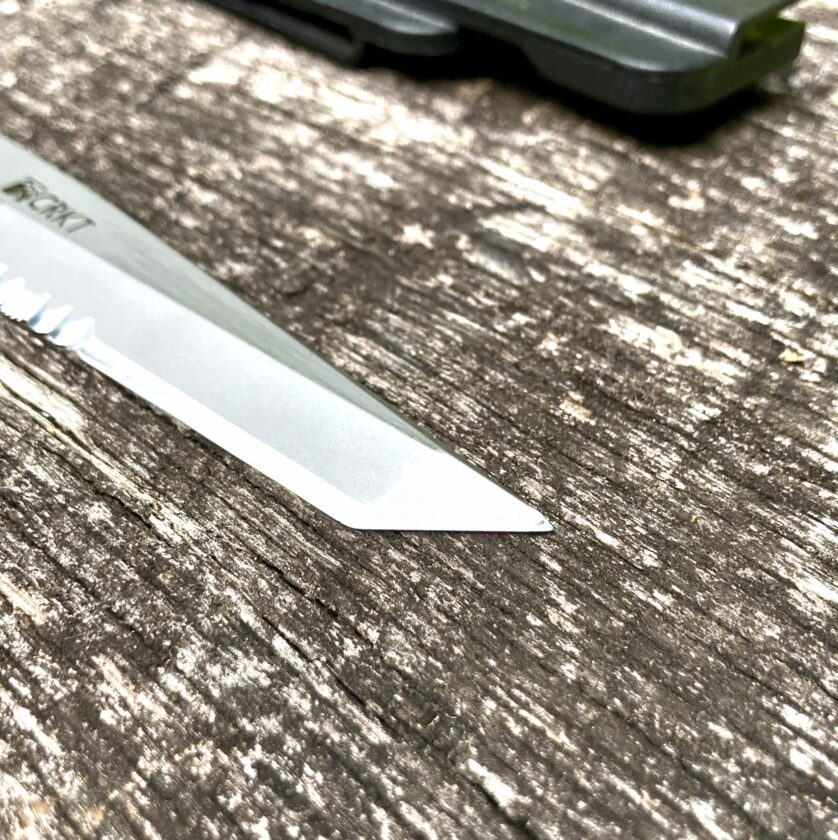 The CRKT Stiff KISS came with a serrated edge. All of the ones I see online have a serrated edge; I don't know if a plain edge was available but a plain edge would have made a good knife a great knife. The fixed-blade KISS retailed for about $30, if memory serves. That was a long time ago (let's say May or June of 2000) and I remember it being a splurge for me at the time. Adjusted for inflation I still think this would be a pretty decent value at $45-50. Hell, I'd probably pay $60 for a new production Stiff KISS!
The Sheath
In addition to being a great knife, the CRKT Stiff KISS came with an excellent sheath. The plastic sheath featured really nice construction and held the knife securely. Retention was via a rounded screwhead on the side of the knife. This fit into a molded detent in the sheath and does a great job of holding the knife. Holding the sheath upside down it takes some serious force to get the knife to fall free.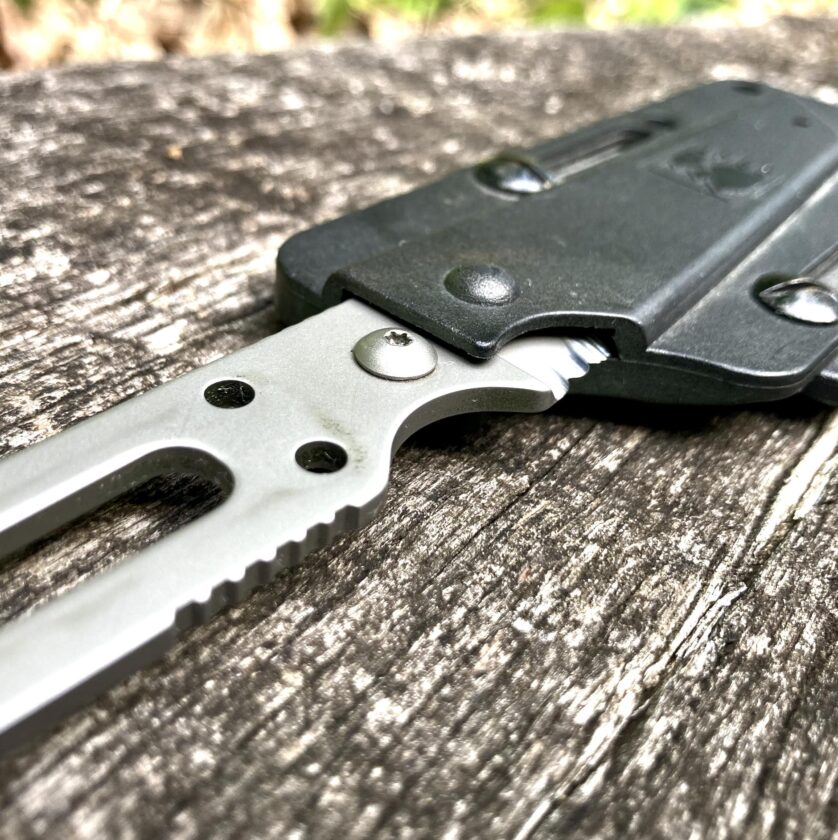 The sheath can be worn in a variety of positions. The belt loop fits 1.5″ belts, and is removable and can be configured for horizontal or vertical carry. Lanyard holes on the bottom of the sheath also allow the Stiff KISS to be carried as a neck knife.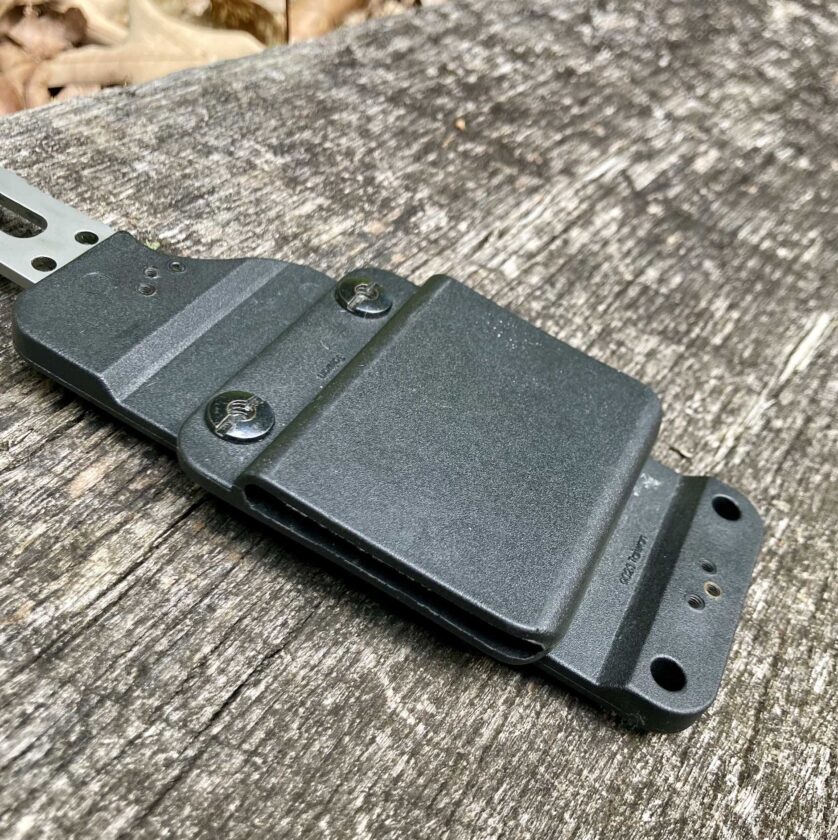 If you wish, the sheath can be equipped with a pocket clip via pre-drilled holes at the top or bottom. I have long, long since lost the pocket clip, never having actually used it. The sheath also has slots along the sides that allow to be directly attached to gear. Man, this is a really thoughtfully designed, versatile sheath!
The (non) Handle
Obviously this minimalist knife doesn't have any handle. I think this might have come wrapped with cord, but it's also possible that it came naked (I don't remember). Fortunately it is easy enough to wrap with paracord. I chose to wrap it with blaze orange cord so I won't lose it.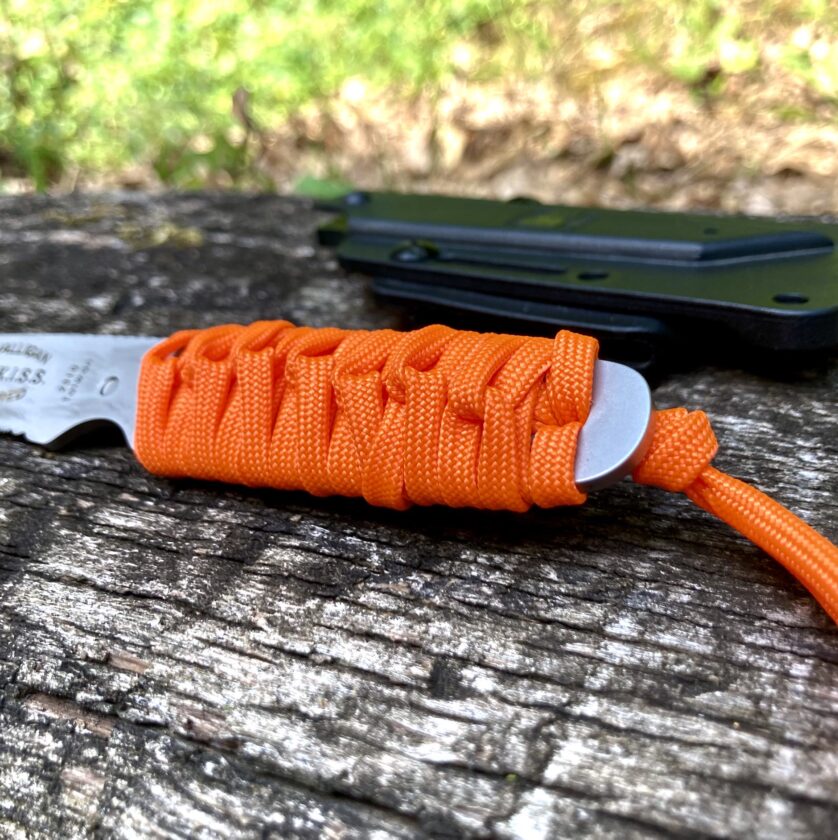 The wrap offers some purchase and fills the hand better than the flat, metal tang. Using an instructional post from ITS Tactical, I wrapped the handle in a Strider-style paracord wrap. In the interest of keeping the handle proportional to the rest of the knife I used gutted 550 cord.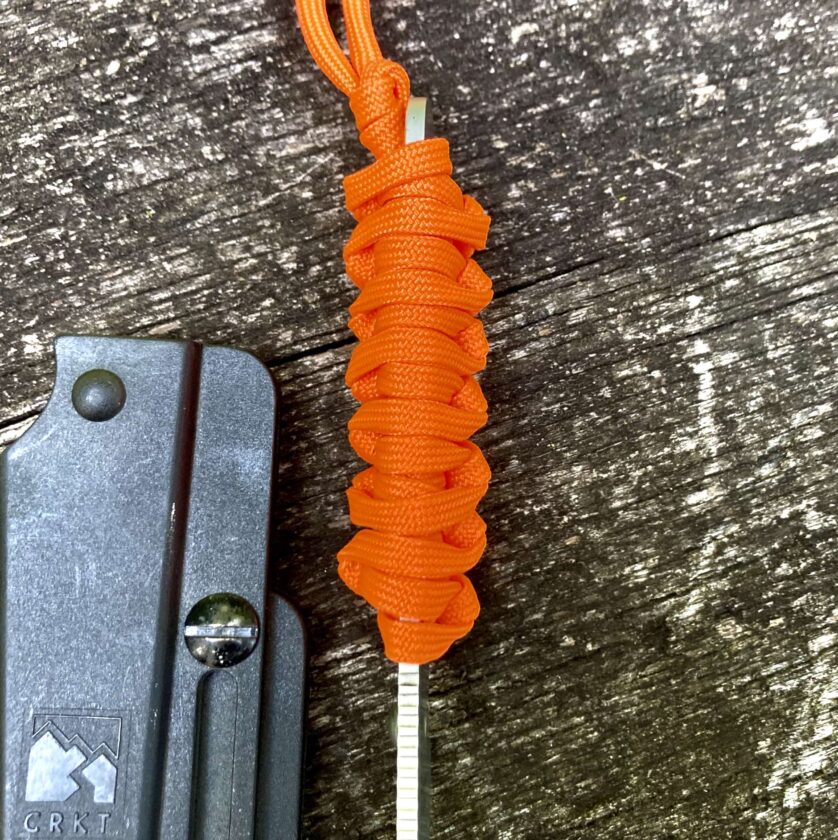 This isn't the prettiest job, and I'll likely go back and redo it. But it's functional after about 10 minutes of effort. It gives a nice, palm-filling swell and provides excellent purchase.
Closing Thoughts
And that's it – there's not much more to this article than wishing this knife would come back. Maybe in a better steel – not a crazy expensive super-steel, just something decent like, say 154CM or 1095. And maybe offer it with a plain edge. This is an incredibly cool knife and I would really love to see it back in production. Rant out!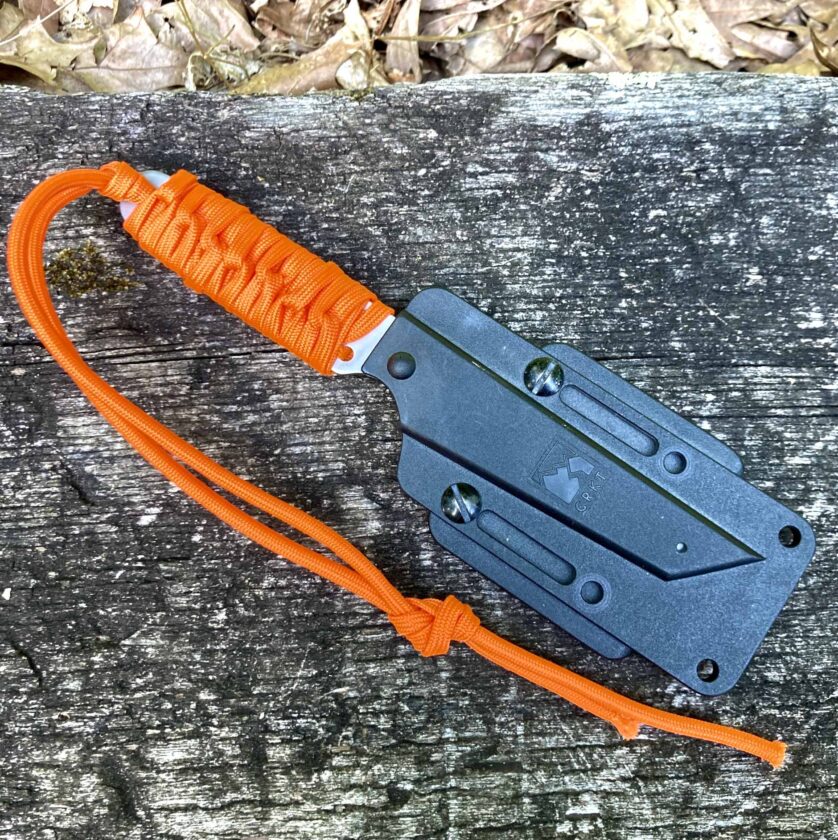 †I wish I had photos from back in the day, but all those photos were on paper and lost in a move. It's really a damn shame.
---