The Becker BK-10 "Crewman" is a very common survival/bushcraft knife and there's nothing special about most of them. I'm sure I'm the one-millionth person to write a blog post about the Becker BK-10, however, mine is a little special. That's partially why I'm going to write this article; the other part is just because I want to.
This post contains affiliate links. I paid out-of-pocket for all the stuff in this article.
My Becker BK10
So like I said, the BK-10 is super common, and to tell the truth, there's really nothing special about mine. Except where I got it, which probably makes it special only to me. I didn't buy my BK10, it was given to me. Back in 2007 I was aboard the USS Bataan, en route to continent of Africa. While we were on the ship, the Marines' air crew had received new survival knives. They asked us if we wanted the old ones and ["FREE KNIVES!!!"] of course we did.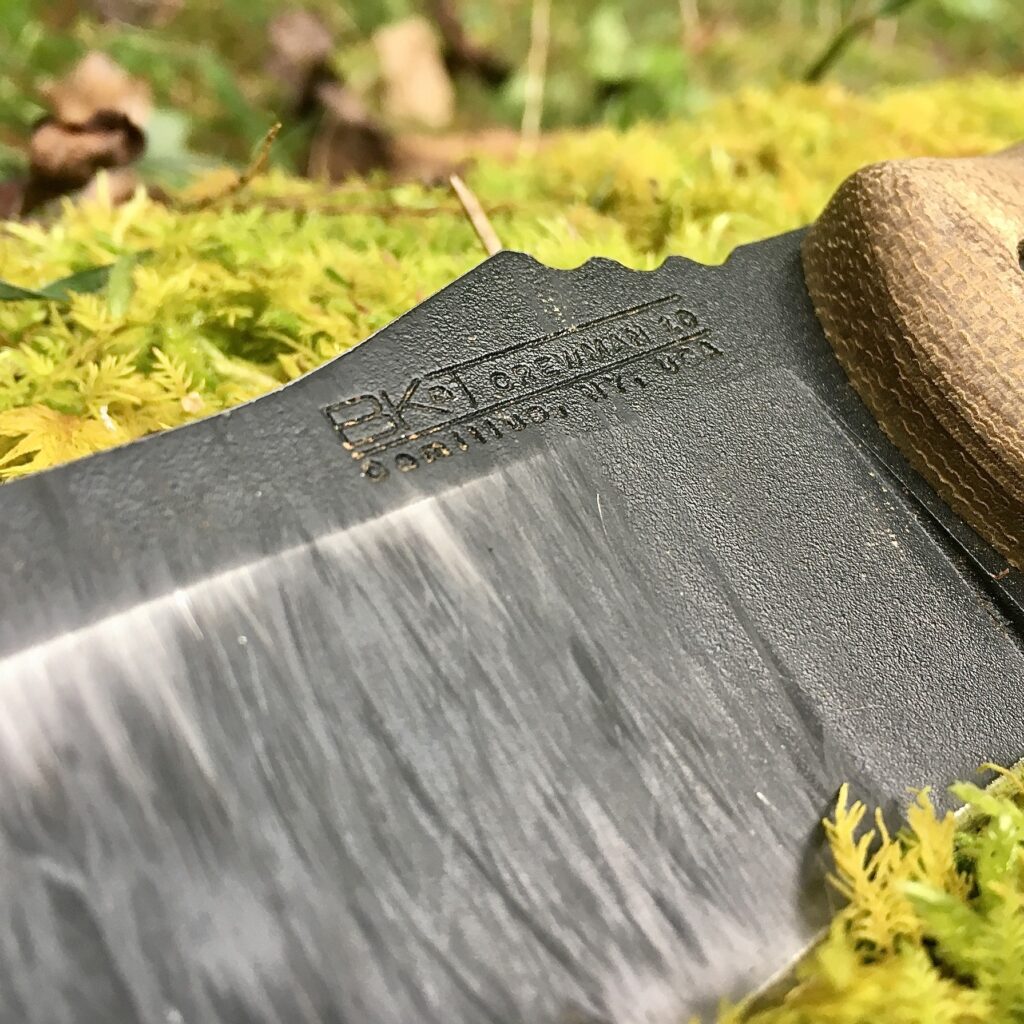 So, I ended up with the this Camillus-era BK-10 Crewman with a crappy sheath. The sheath was really bad, some soft cloth military thing that had a flap to cover the entire handle. I threw it away a long time ago. There's some other weirdness about this knife, too. You'll notice that the extended tang has been ground down and is now rounded, (almost) flush with the scales.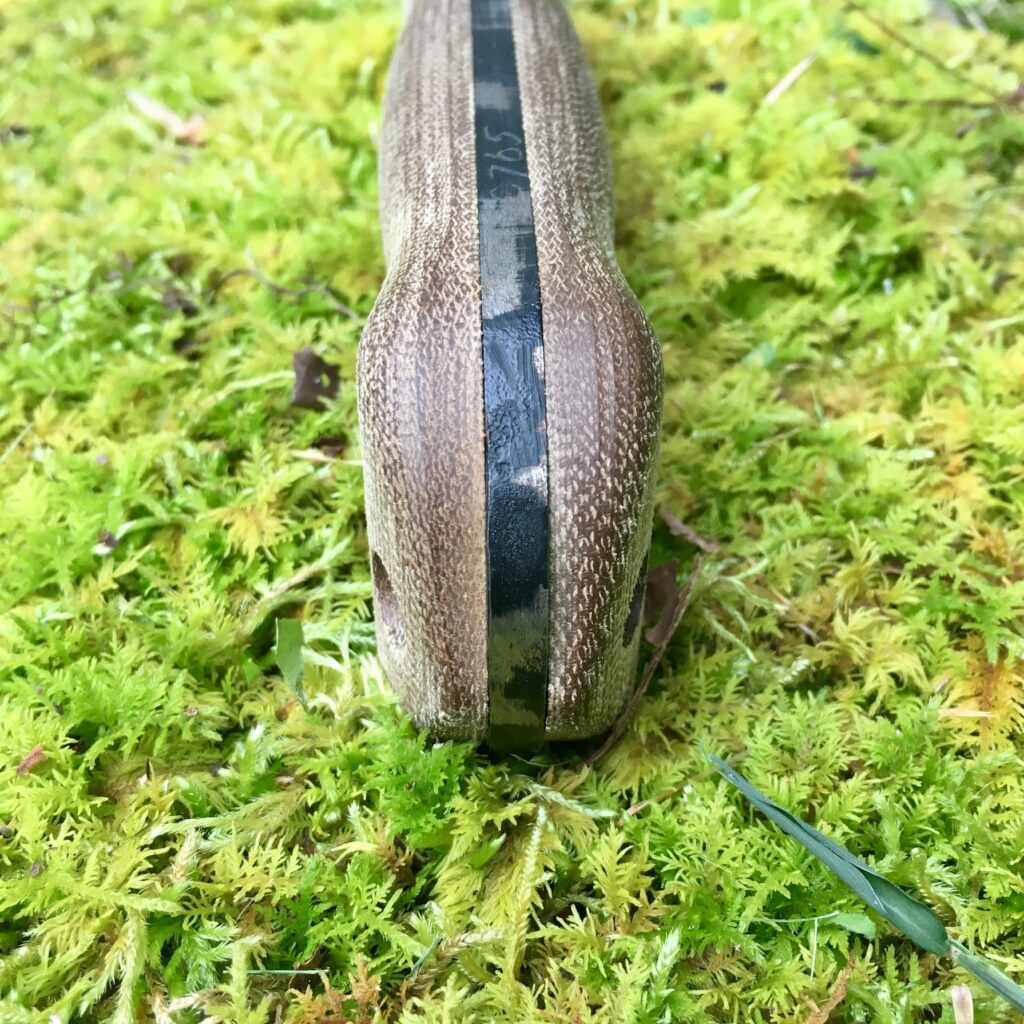 There is also a really rough serial number engraved into the back of the tang, doubtlessly done in the name of military accountability.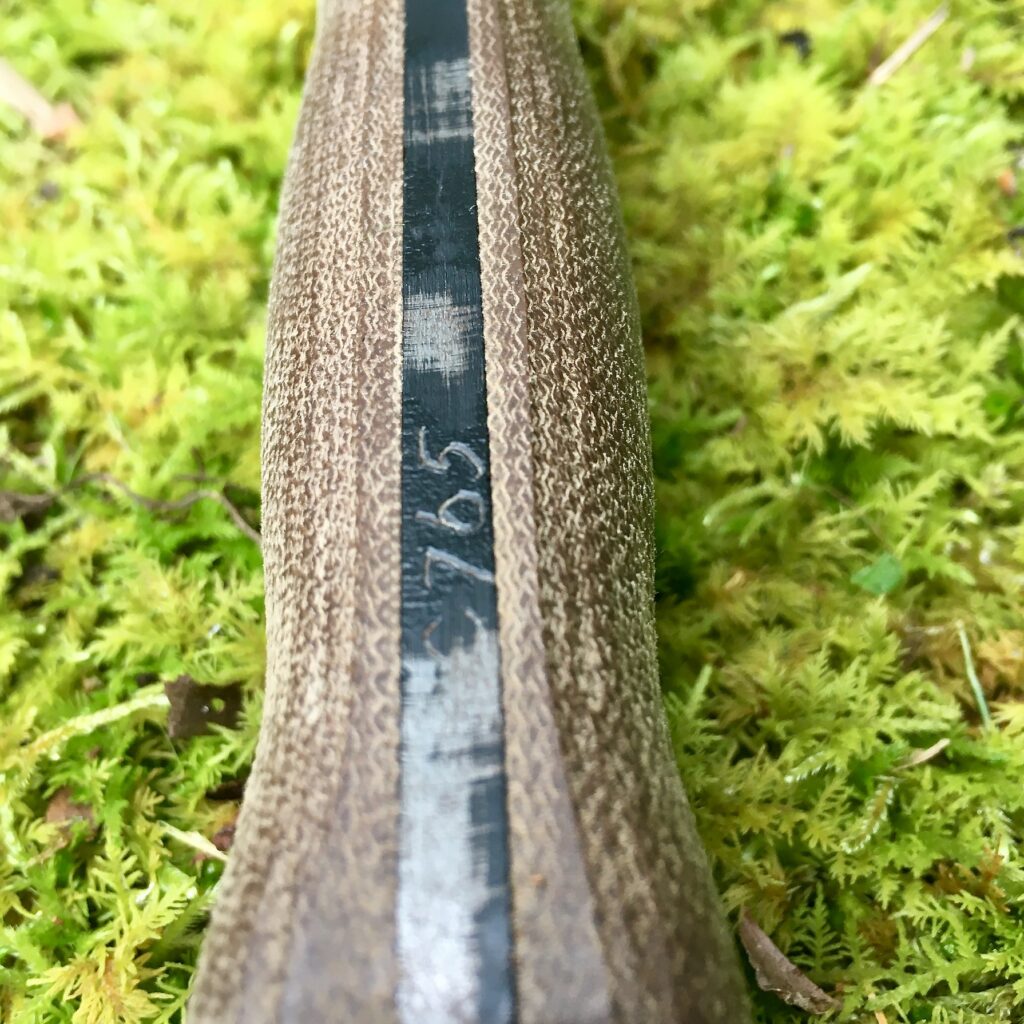 I didn't do much with this knife for a long time. It mostly sat in storage, getting moved around from house to house. I've purged a lot of stuff from my life since 2007 but for some reason I've always hung on to this knife. In more recent years I've also made a couple of upgrades to it. Now it costs more than an ESEE, and it's probably not quite as good as one, and it certainly doesn't have the ESEE warranty. . . but I really dig it.
My Modification
The first – and now that I think about it, the only – thing I changed on the knife itself was the scales. The BK10 is provided with "Grivory" plastic handles held on by nuts and bolts. There are quite a few handle options for the Becker series of knives. The Knife Connection has some really nice looking G-10 grips for the BK series in a huge array of colors. VZ Grips makes some G-10 Becker handles, too. I prefer the more cloth-like feel of Micarta over G-10 and was able to find some Micarta grips on Amazon. I don't think mine were made by Ka-Bar like the ones in the link.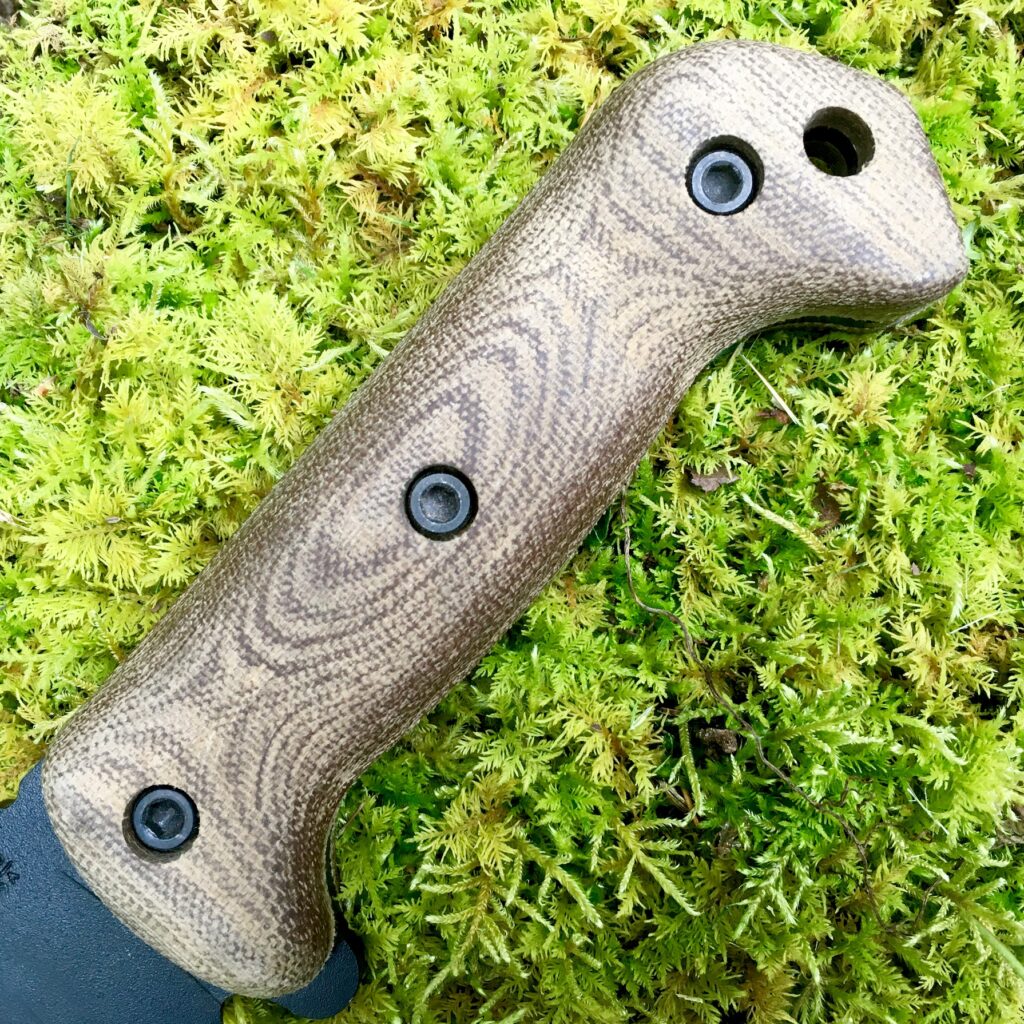 These scales are awesome. They improve the grip texture of the knife drastically over the Grivory OEM scales. While the OEM scales are semi-hollow, the Micarta handles are solid and make the knife feel more sturdy in the hand. If you care about looks (I do a little, I admit) these are an improvement, and only get better with time. The Micarta absorbs sweat and oils from your hands and darkens a bit over time.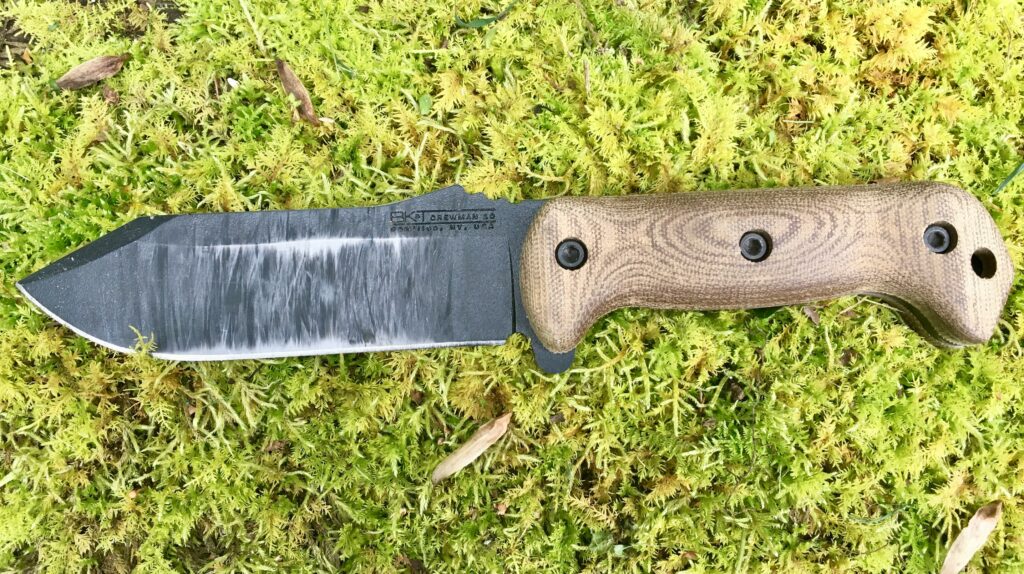 I'm very happy with these scales and would highly recommend them. Again, though, this pushes the price-point of the knife well north of $100. If you're trying to keep cost down but want more traction in the grip area, you can stipple the factory scales – something I did not try. In fact, I took the factory scales off a couple of years ago and have no idea where they are now.
Sheath
I haven't had a sheath for this knife since I've owned it. It came with a cheap fabric sheath that had MOLLE attachments on the back and a flap that snapped over the entire handle. It wasn't much good to me and I threw it away a long time ago. Several times over the past dozen years I've considered the purchase of a sheath but I never pulled the trigger. Until recently.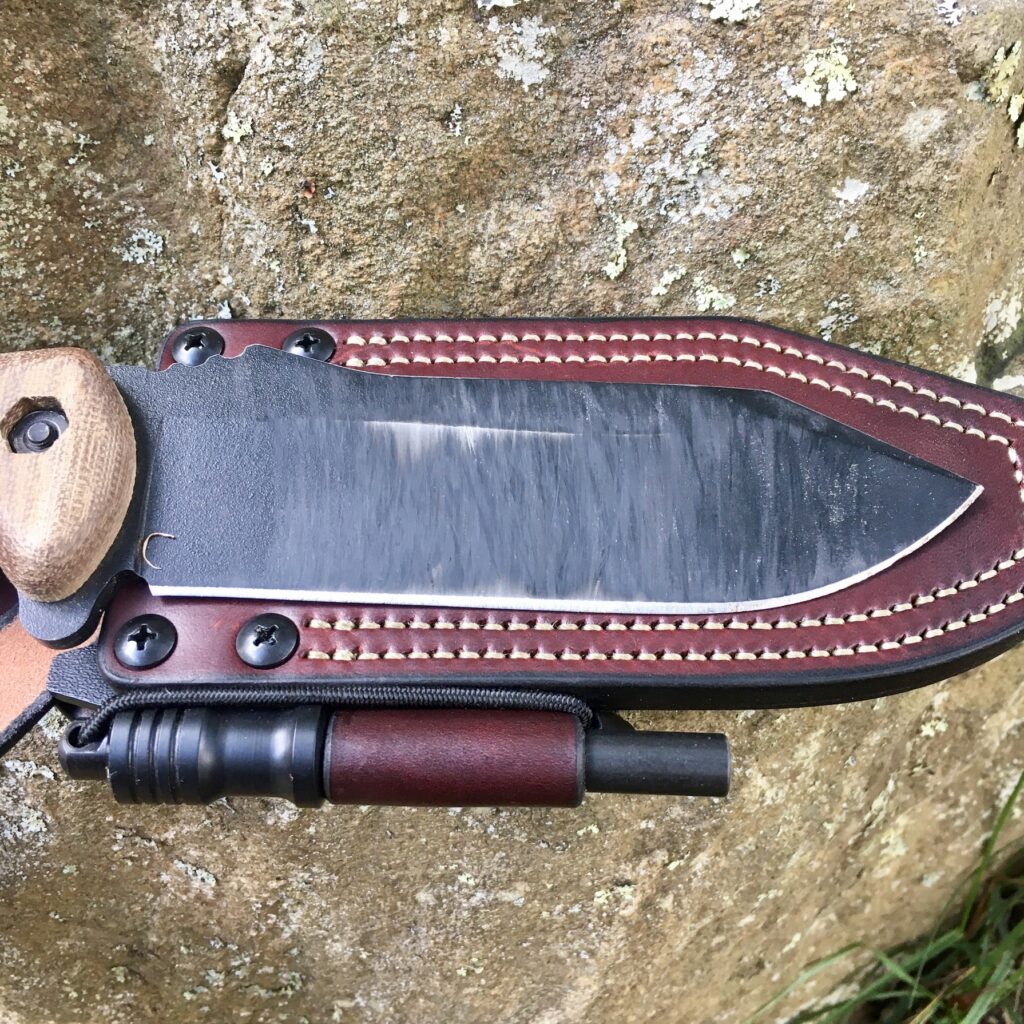 Rather than the ubiquitous Kydex sheath, I wanted leather. My searching ended up at a company called Sagewood Gear. Sagewood makes all kinds of leather gear: sheaths for over a dozen knife manufacturers, Leatherman pouches, compass pouches, and more. The leather is treated with a beeswax-based conditioner for water-resistance. All hardware is top-of-the-line black oxide from Chicago Screws.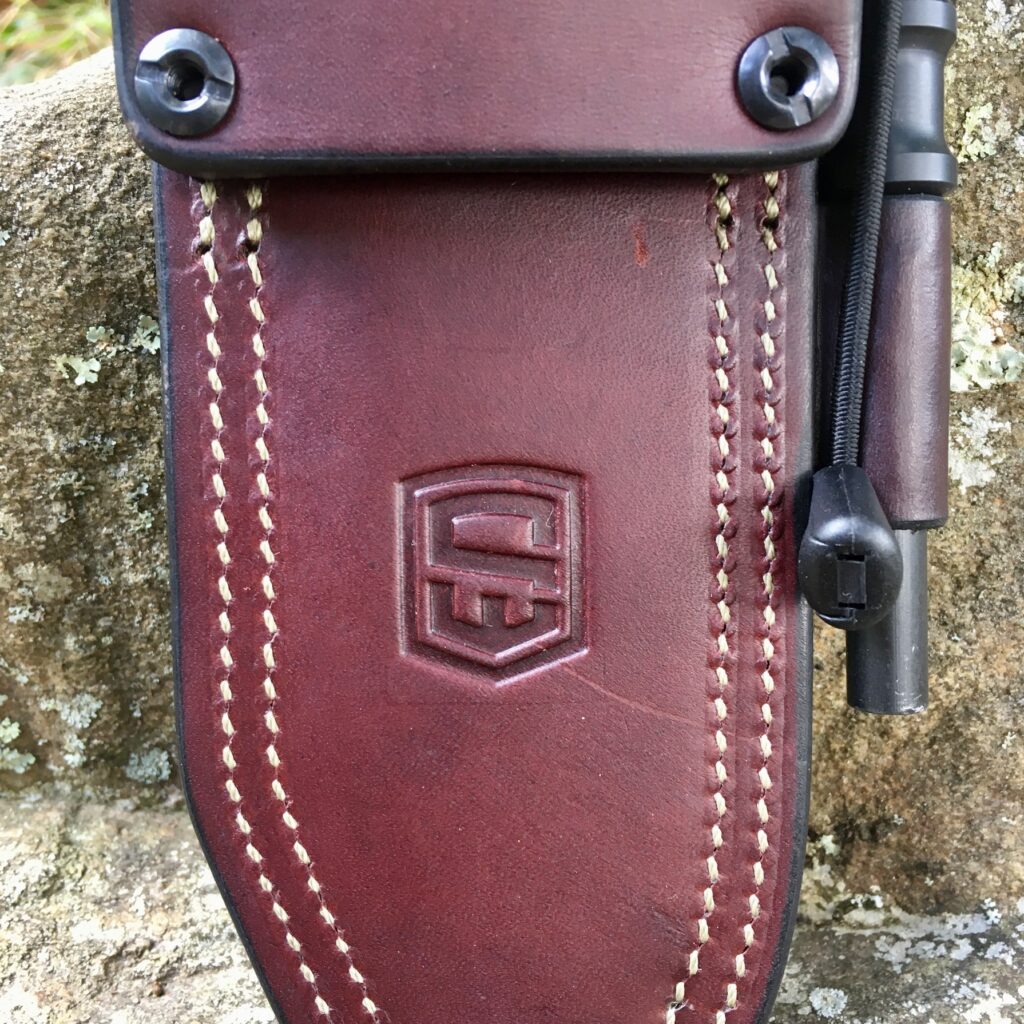 While some of Sagewood's gear is in stock and considered "quick ship" most is made to order. That was the case with this sheath. I went with the classic, simple Randall-style sheath.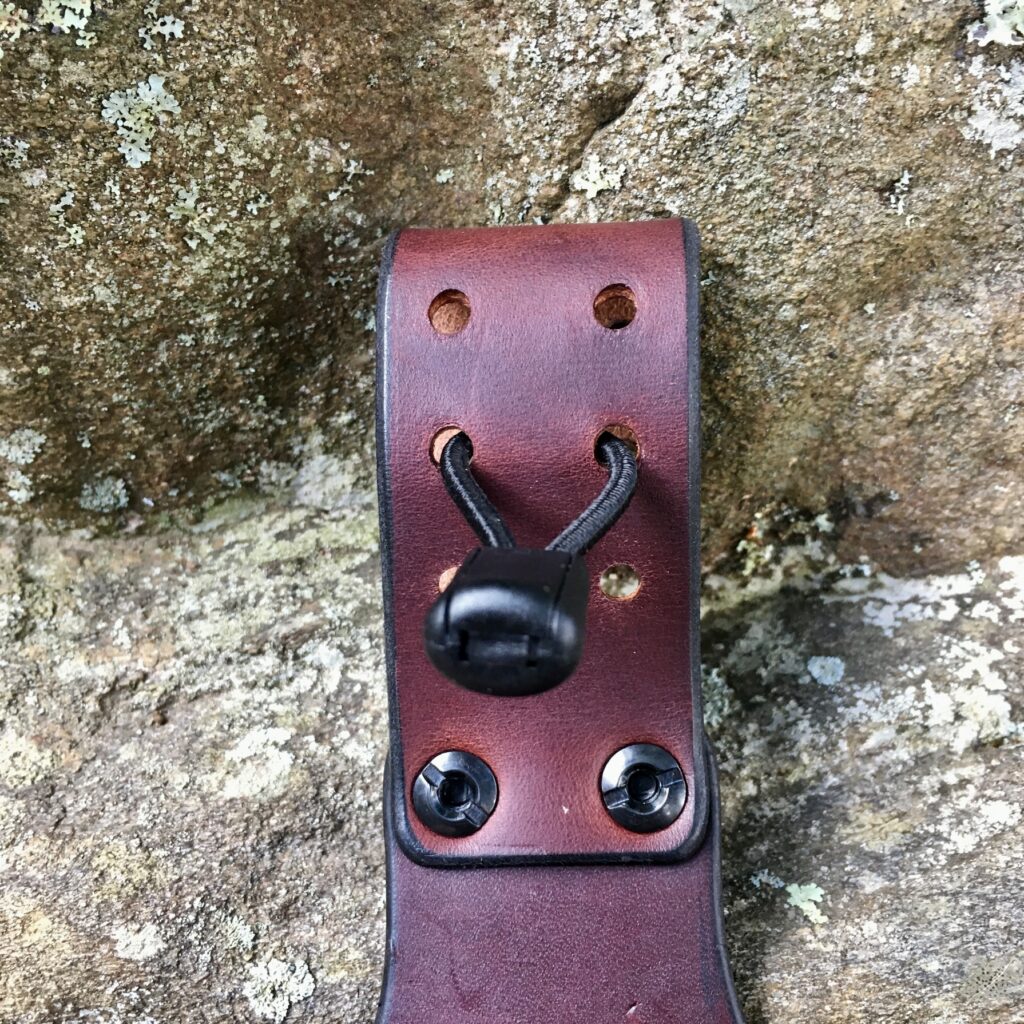 From the day of order to the day of receipt was just over nine weeks. The wait was well worth it, though. This sheath is made from Wickett & Craig's Grade A, 9-10oz, vegetable tanned, saddle skirting leather. It is a beautiful sheath. It also has some very cool features. The belt loop (pictured above) has a shock-cord loop that holds the knife rigidly against the sheath. This provides a second layer of security against losing the knife, and minimizes its movement while you are traveling.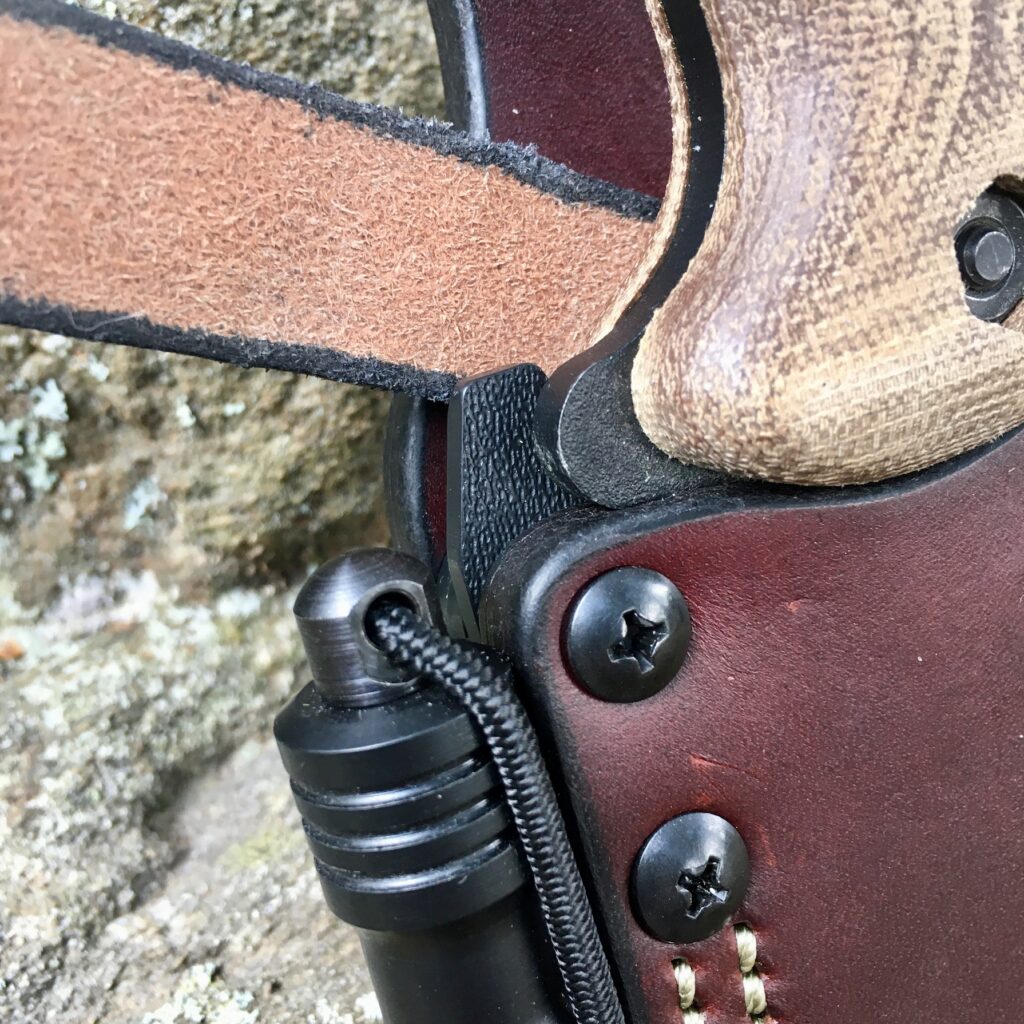 The strap (pictured above) has a very cool feature. Behind it is a Kydex insert that holds the strap back when it is opened. This prevents it from being cut as you withdraw the knife. As you have doubtlessly noticed, there is also a firesteel loop attached to the sheath.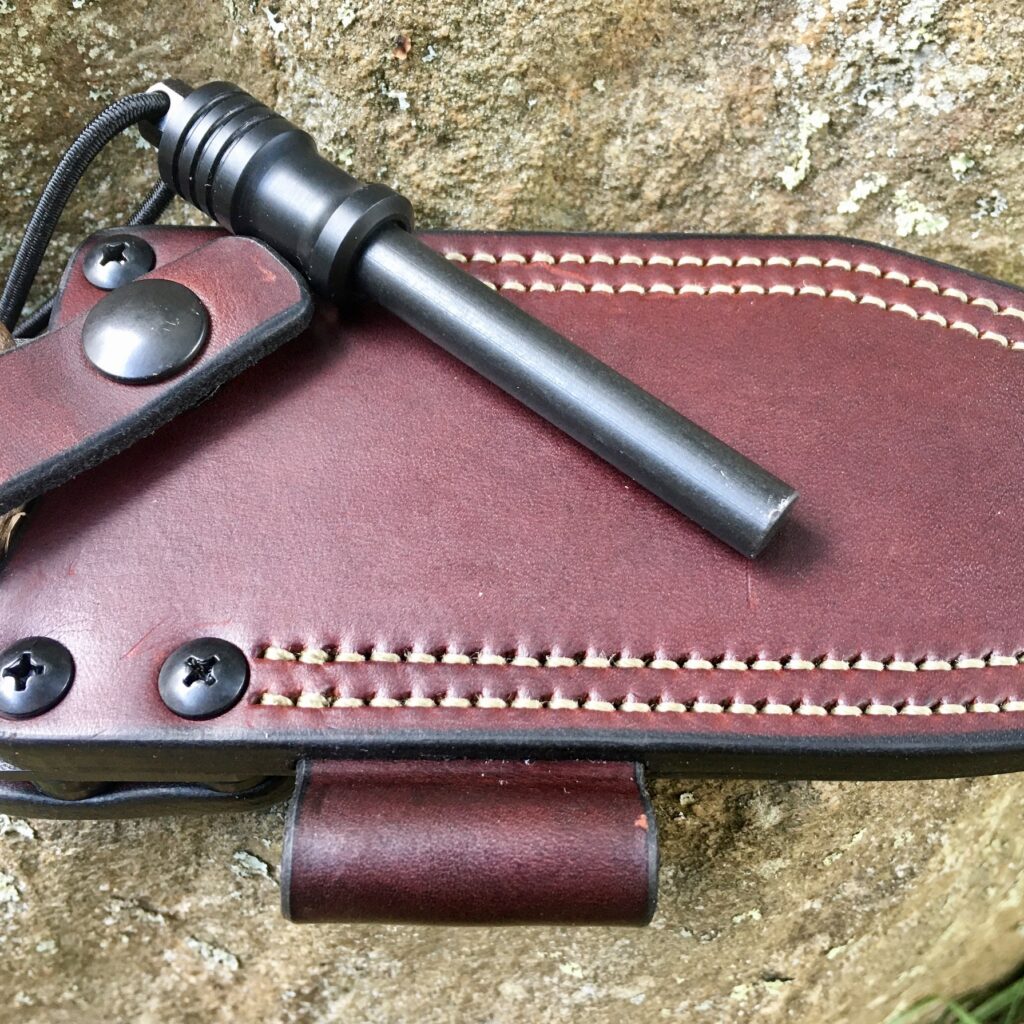 This is designed for a fairly large 3/8″ firesteel, which you can also purchase directly from Sagewood, though you could probably provision your own for less than $30. A shock-cord loop around the handle of the firesteel secures it. I like having a firesteel and knife in one package, and the placement here is nice; it protects the firesteel, and doesn't make the sheath look too busy.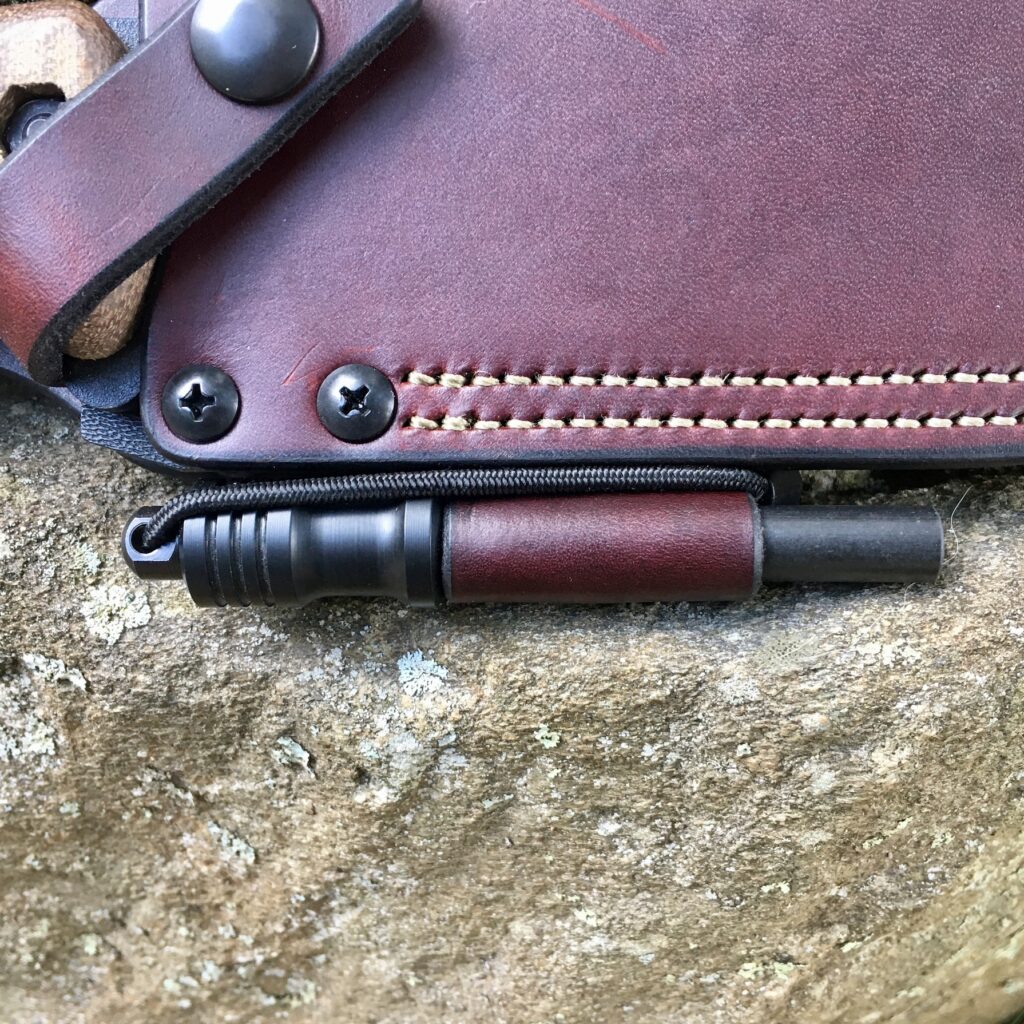 There are a number of other options available for the sheath. You can opt for a dangler-style belt loop. I kind of wish I had chose this style rather than a fixed loop, but belt loops are interchangeable and I could add one at a later date. There is also the option for leg-tie grommets, and Sagewood offers several other styles of sheaths, as well.
My Experience with the Becker/Sagewood Combo
As you can tell from looking at the knife, I've done quite a bit of batoning with the Becker. It stays close to the porch to make kindling for our wood stove. I've also found it handy for a number of little chores around the farm. Despite a good amount of use over the past three months, the edge has held up very well and my BK10 is still very sharp.
The Becker BK10 is a rugged and ready knife, and for a sale price of around $80 it is well worth it. However, the micarta handles are – in my opinion – a necessary upgrade. Though, again, this kicks the price up into ESEE territory. I don't have a ton of experience with the Sagewood Gear sheath yet. It has, however, gained a few scars since I took these pictures, and hopefully has many more to come.
---