I have reviewed a number of WMLs on this site. I recently decided to check out a weapon-mounted light from LA Police Gear, the LAPG SlideRail XWL. To be honest I didn't have terribly high expectations, but it's nice to be pleasantly surprised every now and then. Bottom line up front: this is a solid, durable light at a very budget-friendly price. Let's get into it!
This article contains affiliate links.
LAPG SlideRail XWL
The LAPG SlideRail XWL is a weapon-mounted weapon light, designed for use on handguns. The body of the light is constructed of aluminum alloy. This was the first pleasant surprise – I expected a light at this price-point to be mostly plastic. The light does have a very recognizable set of "teeth" along it's inferior aspect; I suspect this is designed as a heat sink, though it would also probably provide some desirable "bite" in a gun-grappling-type situation. Most features of this light are common and fairly recognizable to those familiar with WMLs.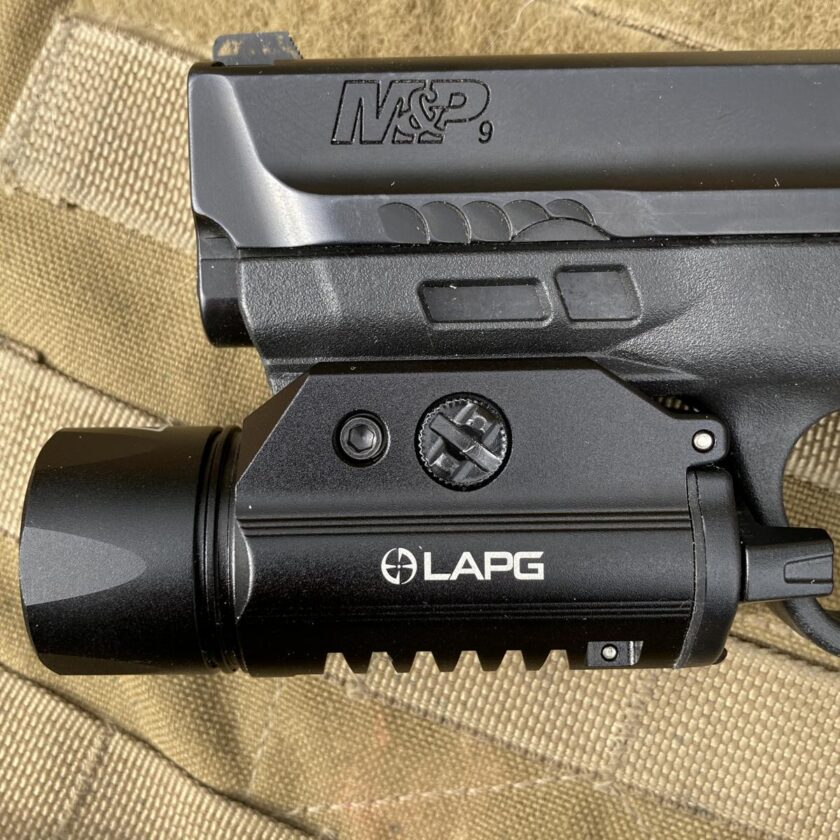 The light attaches to your handgun's rail by the typical method: a clamp, with an insert that fits into a rail notch. The insert is adjustable fore and aft to allow proper fore/aft adjustment of the light on the gun. This little sliding insert is the light's namesake part: it allows it to "slide" along your gun's "rail." Get it? Loosen the slide rail by loosening the Allen screw on the side of the light. Next, place the light on your gun, adjust it to the correct position, then tighten the Allen screw. Then to secure it, tighten down the big screw with a coin or screw driver and you're good to go!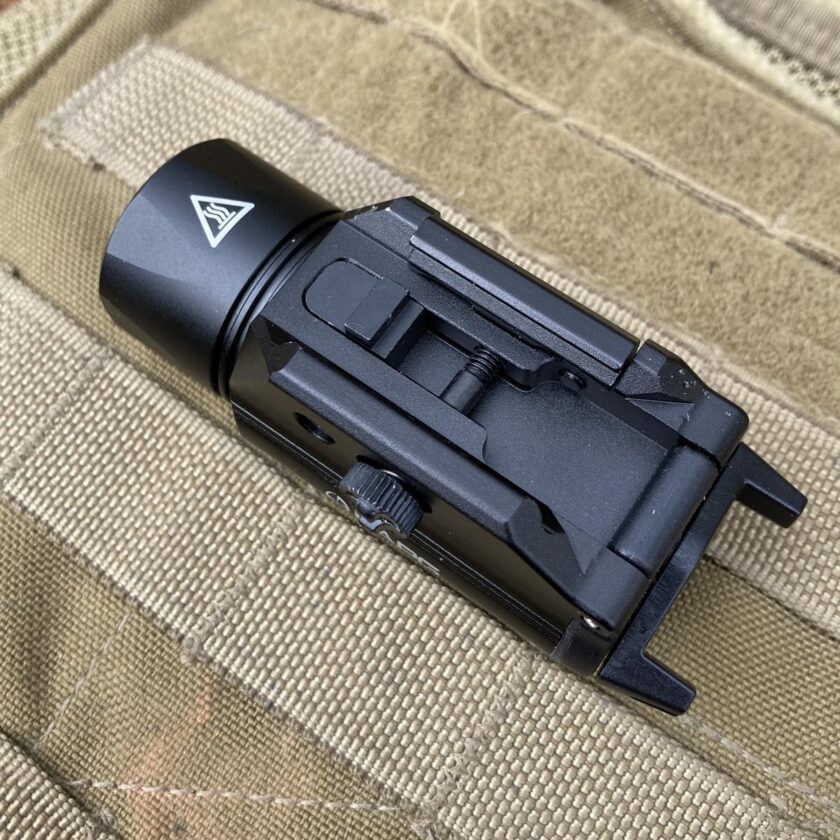 Power & Switches
The SlideRail XWL is powered by two CR123 batteries in a side-by-side arrangement. The width of CR123 batteries necessitates a fairly wide (rather than long) body, with a protruding bezel. The battery compartment is accessible only when the light is removed from the gun. A large lever on the rear, underside of the light releases the rear switch plate, allowing batteries to be removed and replaced. To be honest, I'd prefer the battery plate release be located on top of the light, against the gun, to completely avoid inadvertent release. Curious about this I found that I could release the lever while the light was attached to the gun, but only with a very deliberate effort. Even with the back plate released, the light still functioned so it's not something I'd lose sleep over.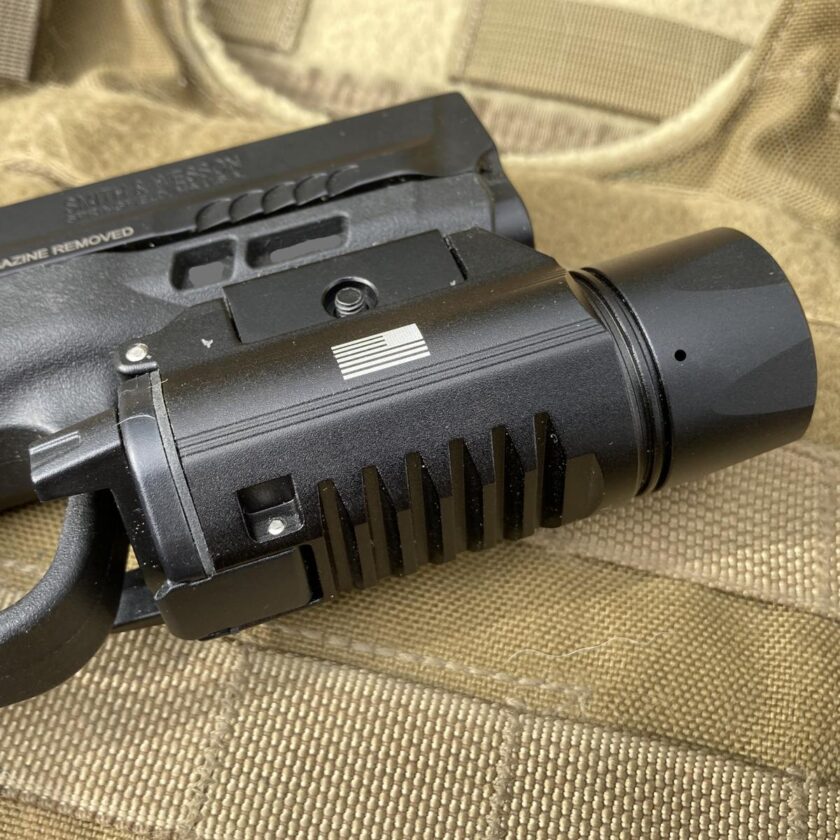 The light is actuated via a rocker switch on the rear plate. The switch is ambidextrous and meant to be actuated by the support hand thumb. For righties this means your left thumb will mess with the left-side switch. Pressing it down momentarily turns the light to constant on. Pressing it up until you feel a slight click turns the light to constant on until you turn it back off. These instructions are reversed for left-handed shooters who will use the right switch.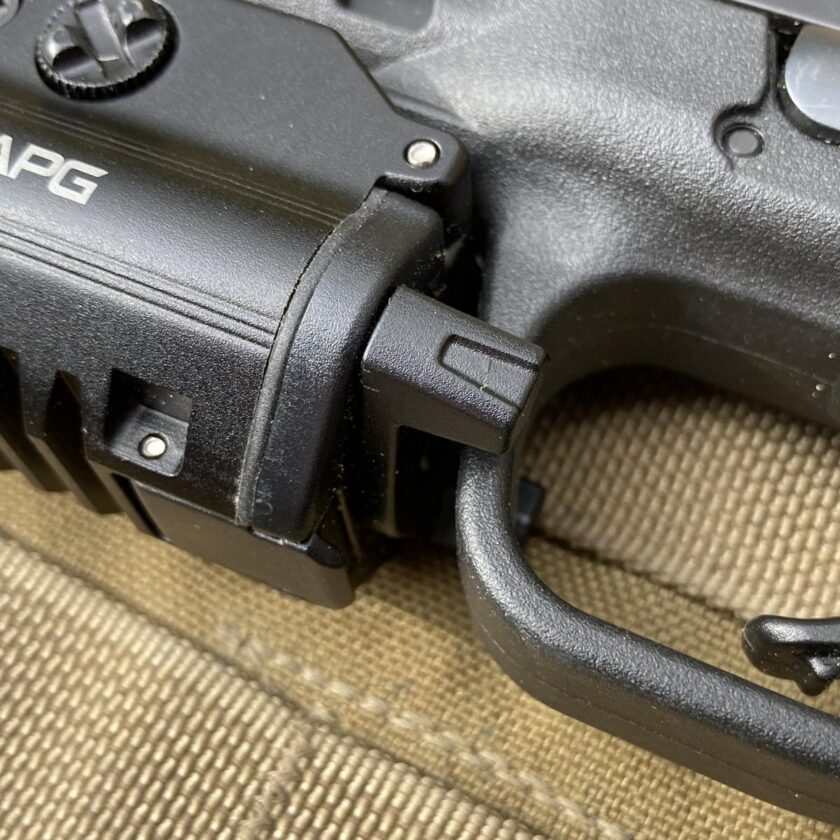 The SlideRail XWL boasts 800 lumens. That's a pretty solid lumen-count and I have no complaint with that at all. Compared to the Streamlight TLR-1 (300 lumens) that is extremely favorable. Compared to the Streamlight TLR-1 HL (1,000 lumens) it's still in the ballpark, and at around half the price.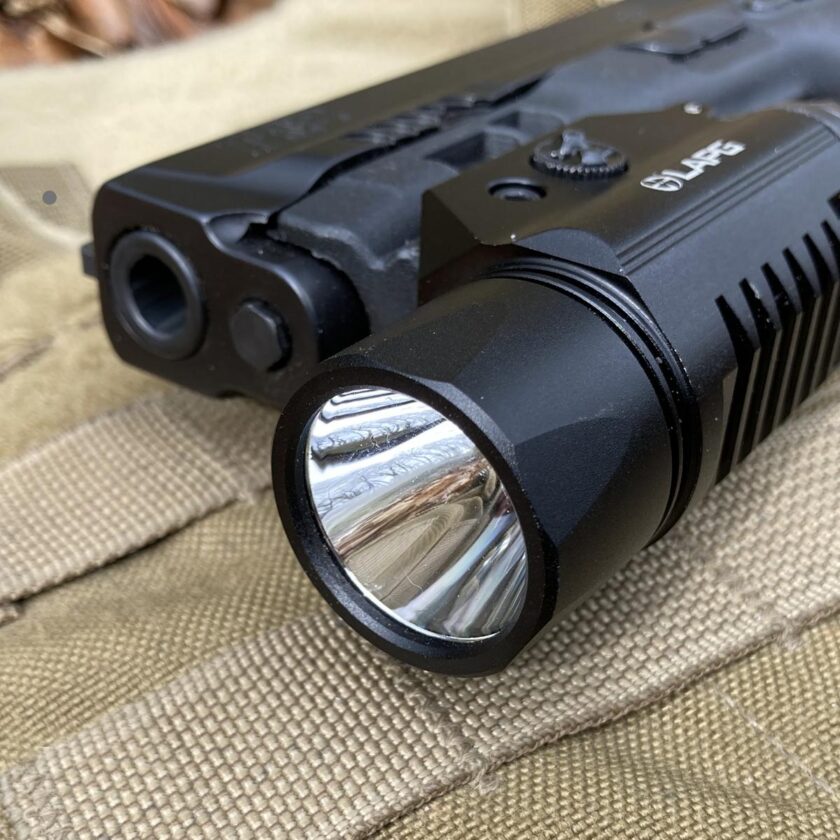 Holsters for the SlideRail XWL
The LAPG SlideRail looks an awful lot like the Streamlight TLR-1. Not totally, but enough so that I was curious enough to try it out in a TLR-1 holster. Little did I know when I tried but the similarity with Streamlight's flagship light is actually a design feature of the SlideRail, and an important one. One of the biggest issues with attaching a weapon-mounted light to your gun is finding a holster that will fit it. Rather than reinvent the wheel, LA Police Gear made a smart design decision: the LAPG SlideRail fits in most holsters designed for the Streamlight TLR-1.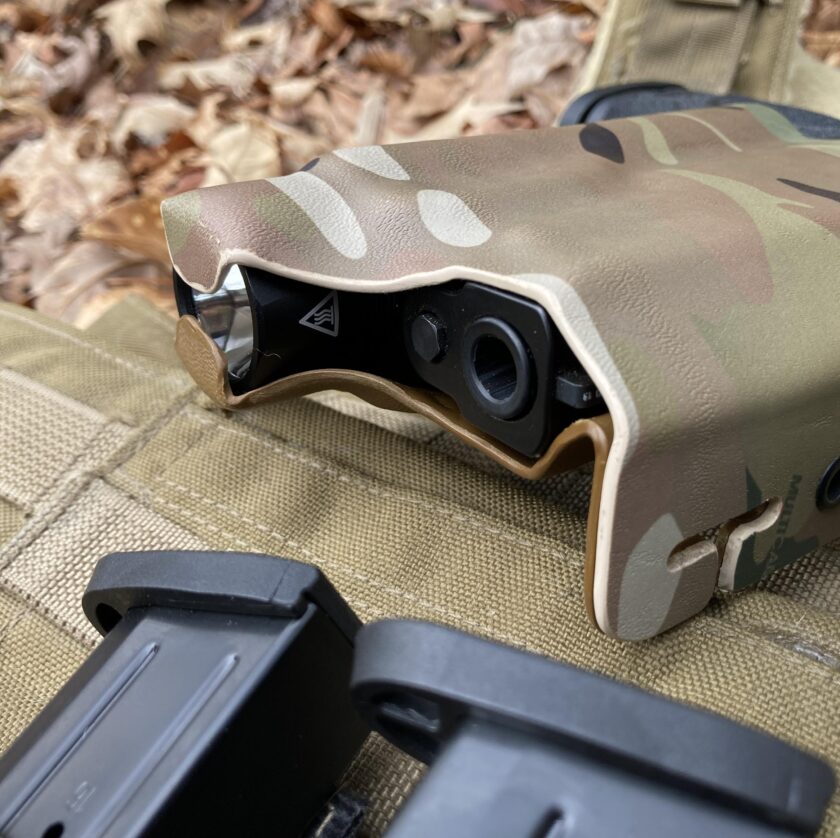 I am very impressed with this and think it will contribute greatly to the light's success. I reviewed several weapon-mounted lights last year that I really liked. Unfortunately, none of them enjoy wide market support when it comes to holsters.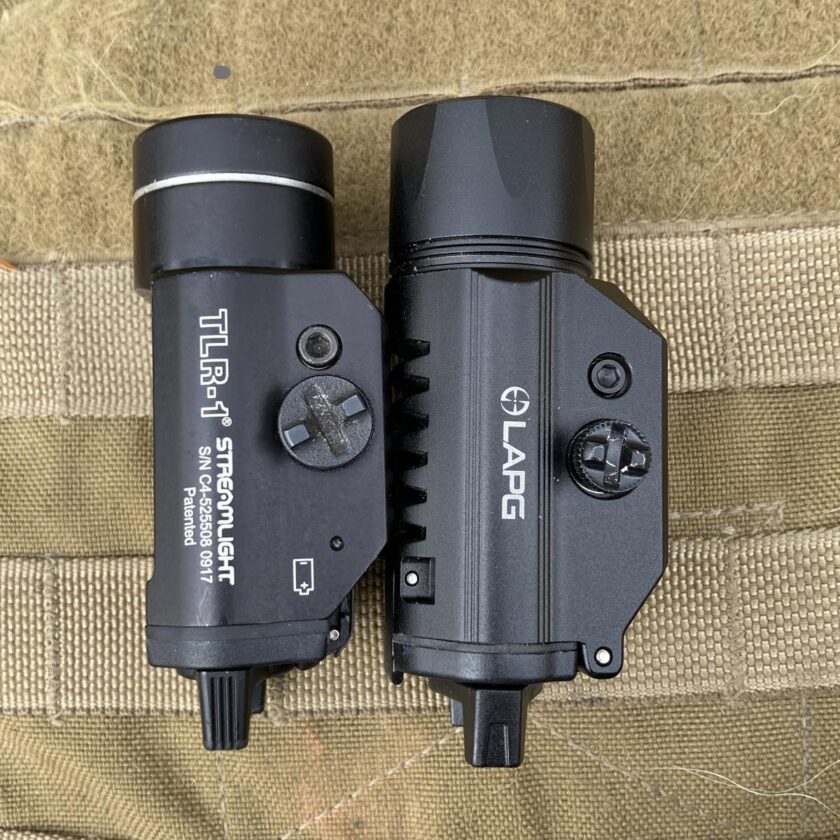 As I discussed recently in my in-depth holster article, it's not putting the cart before the horse to consider the viability of the entire system before committing to any particular component. Certainly before you spend money on a light you should know what (if any) holsters are available for it and your firearm. Designing a light around an existing (and incredibly popular) footprint is a really good idea.
Carrying the SlideRail XWL
While reviewing this light the weather was cool enough to support heavy sweaters and long jackets. This let me conceal a much larger carry rig than I typically carry, so I spent a week and change carrying a full-sized (4.25″) M&P 2.0 with the LAPG SlideRail XWL. The holster was a Kydex, OWB model from a now-defunct company. Though a tad bulky I didn't have an issue carrying or concealing this combination in chilly springtime dress.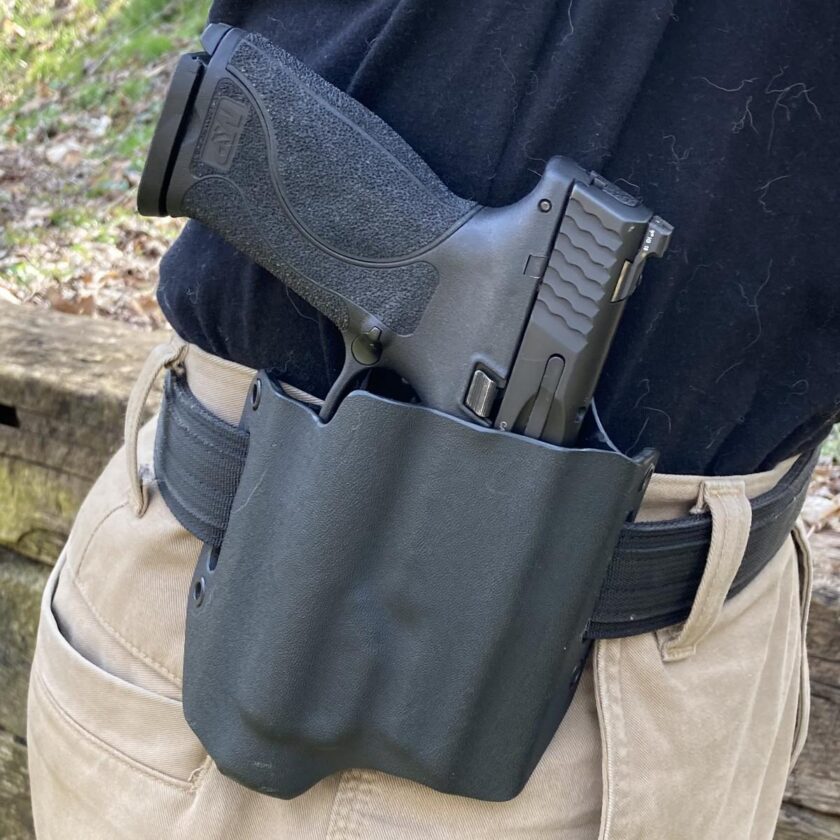 Shooting the SlideRail
I also had no issues with shooting. I fired 100 rounds with the SlideRail in place and experienced no issues at all. Unfortunately a piddling 100 rounds is hardly a test of a light's mettle, but I did want to at least confirm that it worked after being fired a little. As is typical, I enjoyed shooting with a WML attached to my pistol. The added forward weight really helps with recoil control, and there's a certain confidence in carrying a full-sized pistol with a full-sized light.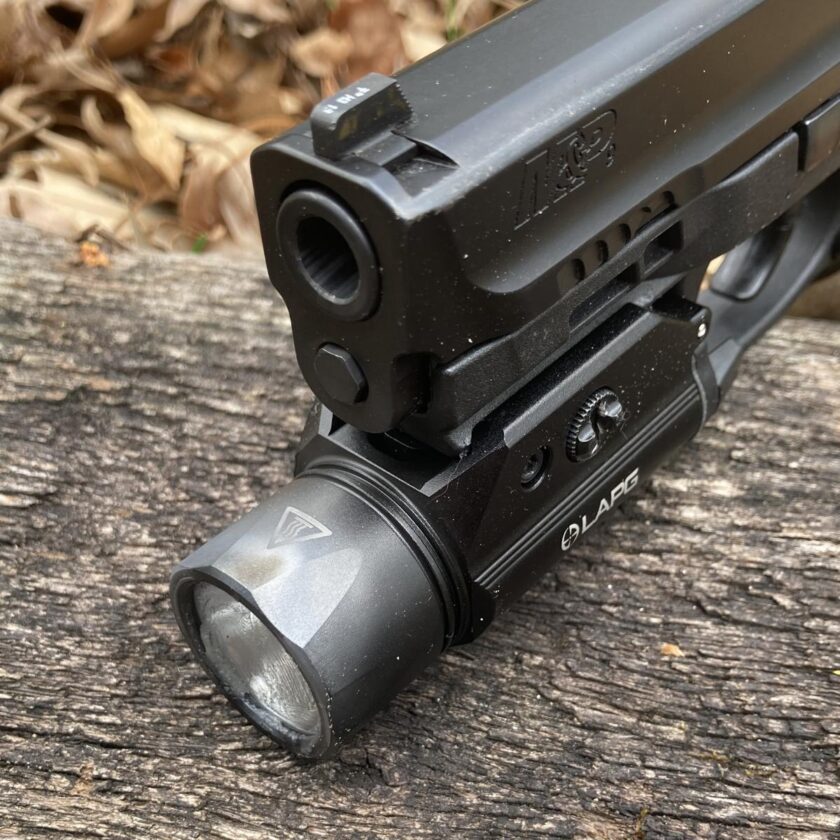 If you're wondering what the greasy smudge on the lens is, it's Chapstick. This is something I do before every session with a WML: smear a little Chapstick on the lens (in the photo it looks way thicker than it actually is). The carbon that would normally stick to the lens sticks to the Chapstick which is easily wiped away. You can do this even in low-light training; light will still pass through the Chapstick.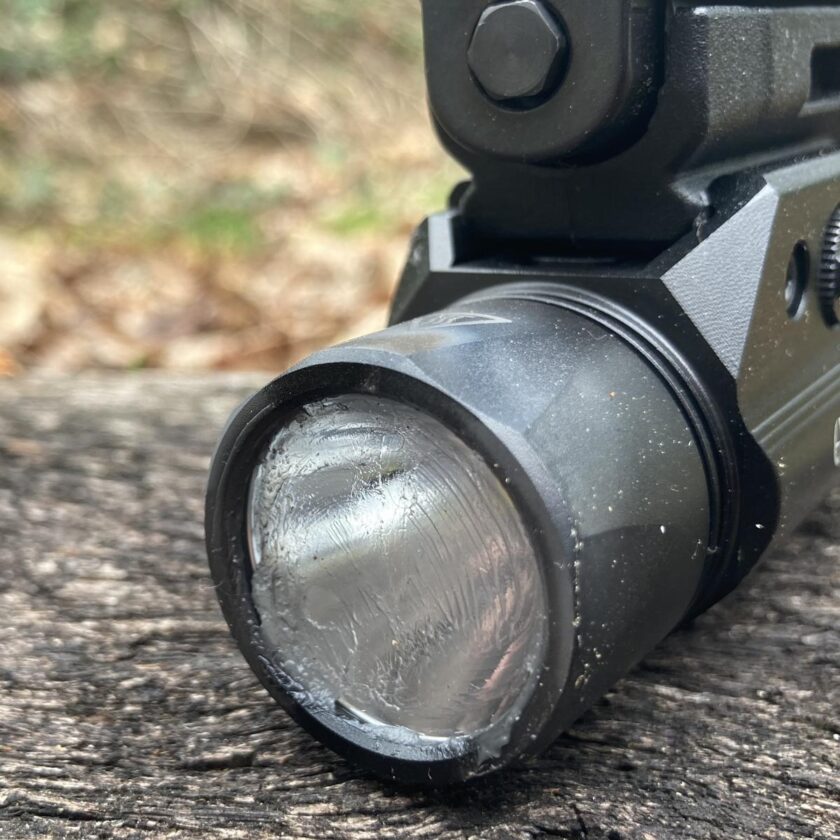 At the end of the session you simply wipe the Chapstick off. Otherwise carbon can really build up on the lens of your weapon-mounted light and be difficult to clean off. This is a real time-saver and helps preserve your expensive equipment. Credit where credit is due: I learned this from Active Response Training, and he credits it to Kyle Lamb's excellent Stay in the Fight: Warrior's Guide to the Combat Pistol.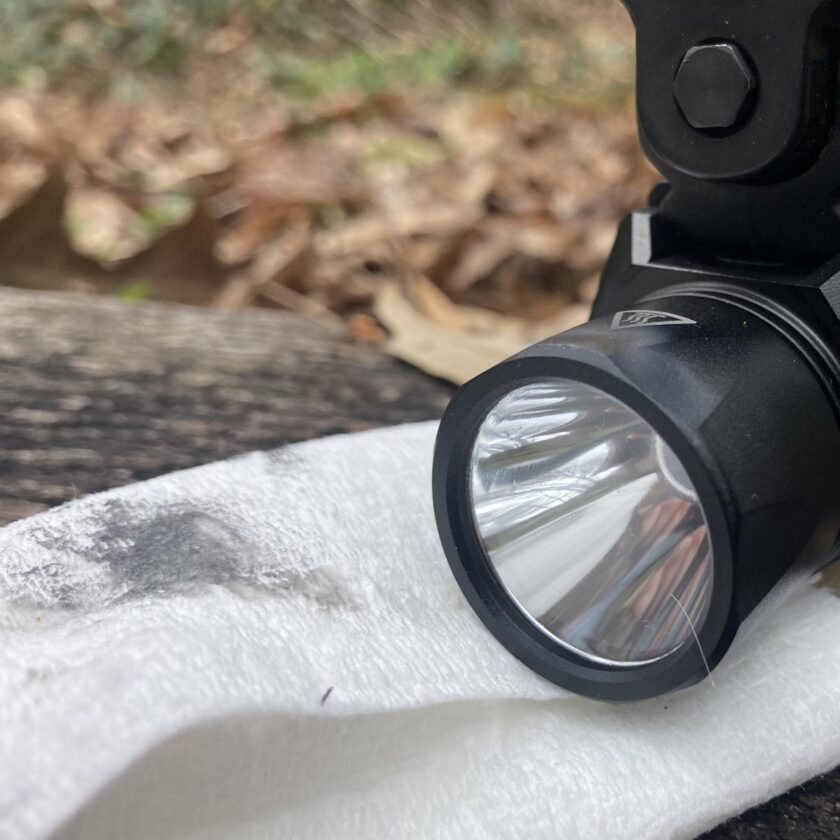 Water Resistance
I also subjected the LAPG SlideRail XWL to the submersion test that I subject all EDC flashlights to. This is the first WML I've tested in such a manner. I waited until after my range sessions were finished, then dropped this guy in the drink for five minutes. This light is rated at IPx6 (powerful jets from any direction) but survived the submersion no worse for wear.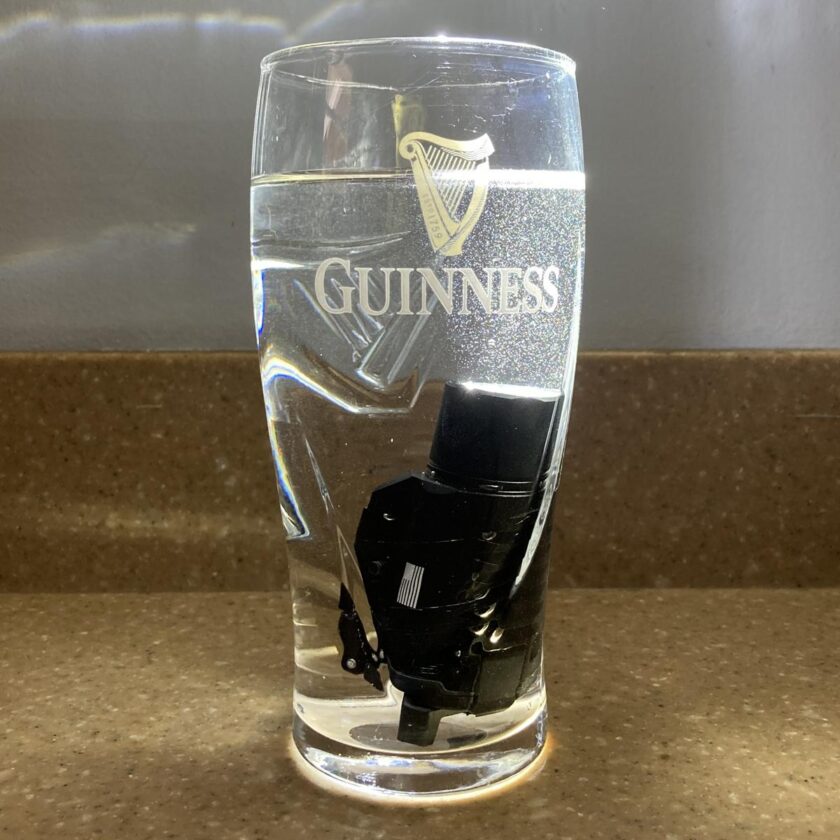 My one continued disappointment was my inability to get this light to work with my M&P 2.0 Compact. The little protrusion inside the light's mount is adjustable and permits probably 1/4″ of travel fore and aft. Pulling it to its rear-most position, though, just wasn't quite enough to get it to fall into the forward-most rail position on the smaller M&P pistol.
My Thoughts on the LAPG SlideRail XWL
When I began this review I wasn't really sure what I could say about another weapon-mounted light. As I got into it, though, I really began to see the value. First, this light shares a footprint with the venerable Streamlight TLR-1. That is huge – it's a different light but it already fits a huge proportion of light-bearing holsters out there. I can't say enough good things about this – holster fits with WMLs can be very challenging, especially when you carry anything other than a Glock 19.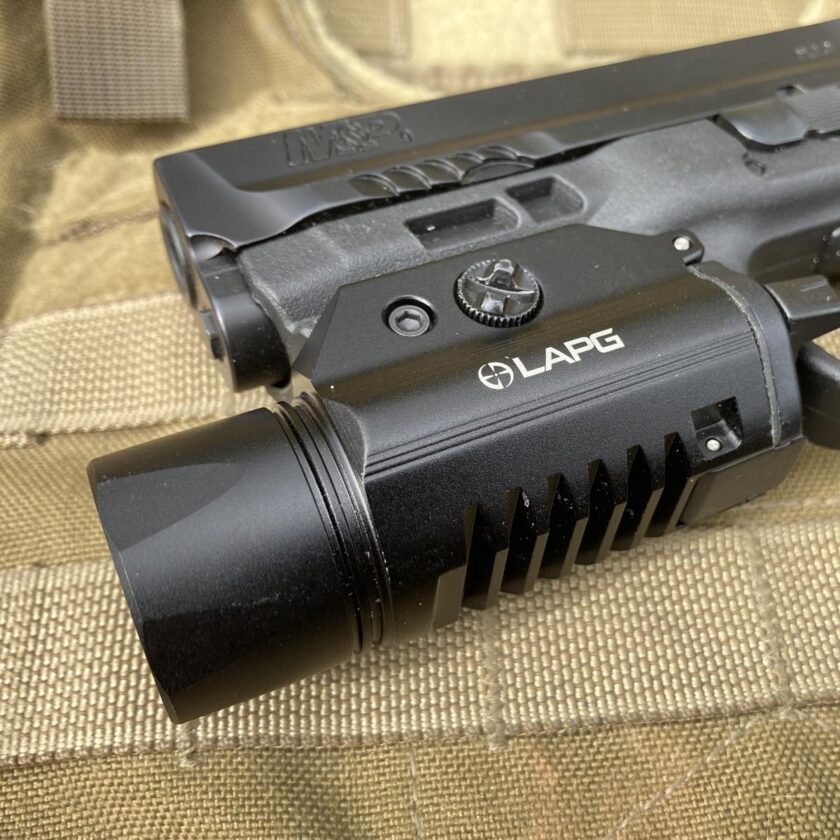 If the holster fit is such a big deal, why not just buy a Streamlight? One word: cost. The LAPG SlideRail XWL costs $64.99. That is around half the price of a TLR-1 or TLR-1 HL (LAPG, Amazon). That's a pretty outstanding value for a light that works as well as this one does.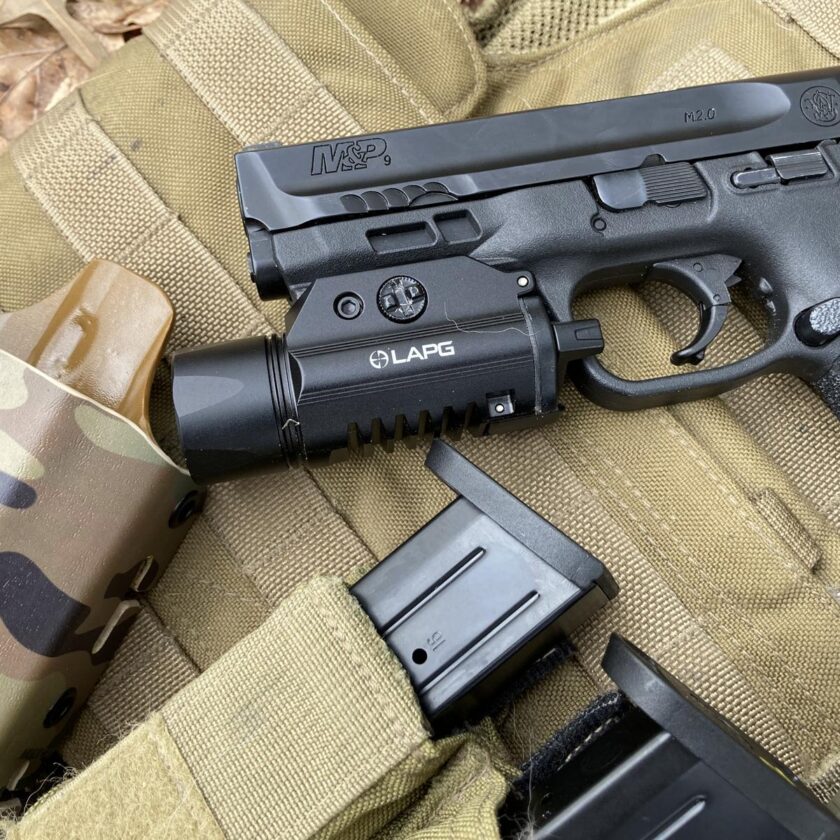 So what can I say about the LAPG SlideRail XWL? It is an extremely well-built light, and a worthy alternative to more costly, name-brand lights. My sample functioned perfectly, was finished well, was durable, and other than an inability to mount to a compact M&P, I have no complaints. I would happily purchase this light, and would have no problem recommending it for serious self-defense use. I'm going to keep this on my M&P for a while and if any problems emerge I'll let you guys know. In the meantime, if you need a light for your pistol this one is definitely worth a look.
---