It's time for another flashlight review! Today I'm going to be talking about the Fenix LD12 (2017 Edition). I may try the current edition at some point, but I'm really liking this one. This light comes probably as close as any to the ThruNite Archer that started this whole series. Actually, I take that back; it's better than the ThruNite. I've been carrying it for a month now, and it's the light that makes me want to stop right here and not try anything else. It's pretty awesome.
This post contains affiliate links. I paid for the light in this review out of pocket.
Which brings me to a point about the chart…
The Fenix LD12 (2017 Edition)
My scoring system is dumb. I thought I had designed a pretty fair system. However, this light is almost perfect but only scores an 84 on the chart. So I'm going to drop the scoring system from future reviews, beginning now. But I'm going to leave the chart in because it's a handy reference for features.
Also, since I've taken something away, I'll give something back. I've added a row to the table that includes the price (when I purchased it). And I finally figured out how to make the whole table display, so, big month!
Criteria
Y/N
Tail Switch
Yes
Instantly Access High
Yes, Memory
Momentary ON
Yes
Tail Stand
No
Single Battery
Yes, AA or 14500
High Mode 200-300+ lumens
Yes, 320 lumens (14500)
No, 150 lumens (AA)
Low Mode 20-30 lumens
Yes, 30 lumens
Firefly Mode < 1 lumen
No, 5 lumens
No/Removable Strobe
Must be deliberately accessed
Method of Accessing Modes
Bezel Switch
Form Factor: Size
Length: 4.04 inches
Dia: 0.81 inches
Form Factor: Weight
2.4 oz, with lithium AA battery
Form Factor: Pocket Clip
Yes
Form Factor: Reversible Pocket Clip
Yes
Form Factor: Knurling/Grip
Yes
Form Factor: Anti-Roll Flats
Yes
Durablility/Water Resistance
IP68
Price (Amazon.com)
$50.15
Category 1: Tail Switch
Tail switch actuation is one of the most important factors to me. I find the tail switch easier to operate than bezel switches and twist-tops, and certainly more positive than twist-tops. My preferred "ice pick" grip also works well with a tail switch. Let's go through all the factors that contribute to a good tail switch.
Tail Switch: The tail switch on this light is excellent. It sits even with just a hair above the protective ears and the button is perfectly sized for my thumb. It's nice and stiff, and makes actuating the light in momentary mode easy, without accidentally clicking the light all the way ON.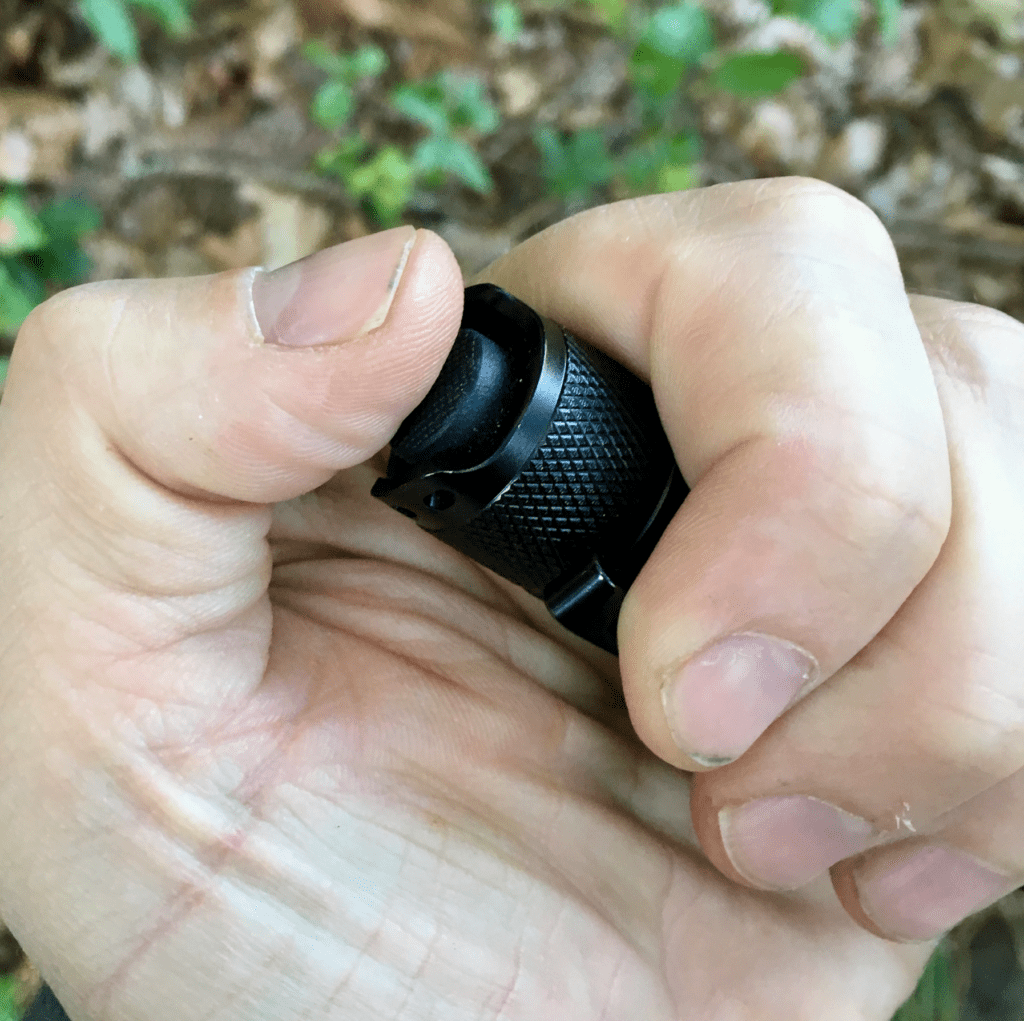 Instant Access to HIGH: There is an instant access, but it's via memory of the last setting accessed. This isn't ideal, but it isn't a deal breaker, either. I've found that I can work with this, and the light is always on HIGH when I pull it out and turn it on. Not bad.
Momentary ON: Yep. And it's really, really good. The switch is nice and stiff and there is a good deal of travel before the switch breaks.
Tail Stand: Well, something had to be missing, so I guess this is it. There are two protective ears around the switch, and they are fairly…modest. Making matters worse, the switch itself protrudes out just a tiny bit beyond the ears.. This light won't tail-stand even on the most level of surfaces. Disappointing, but I can live with it in light of everything else the Fenix LD12 offers.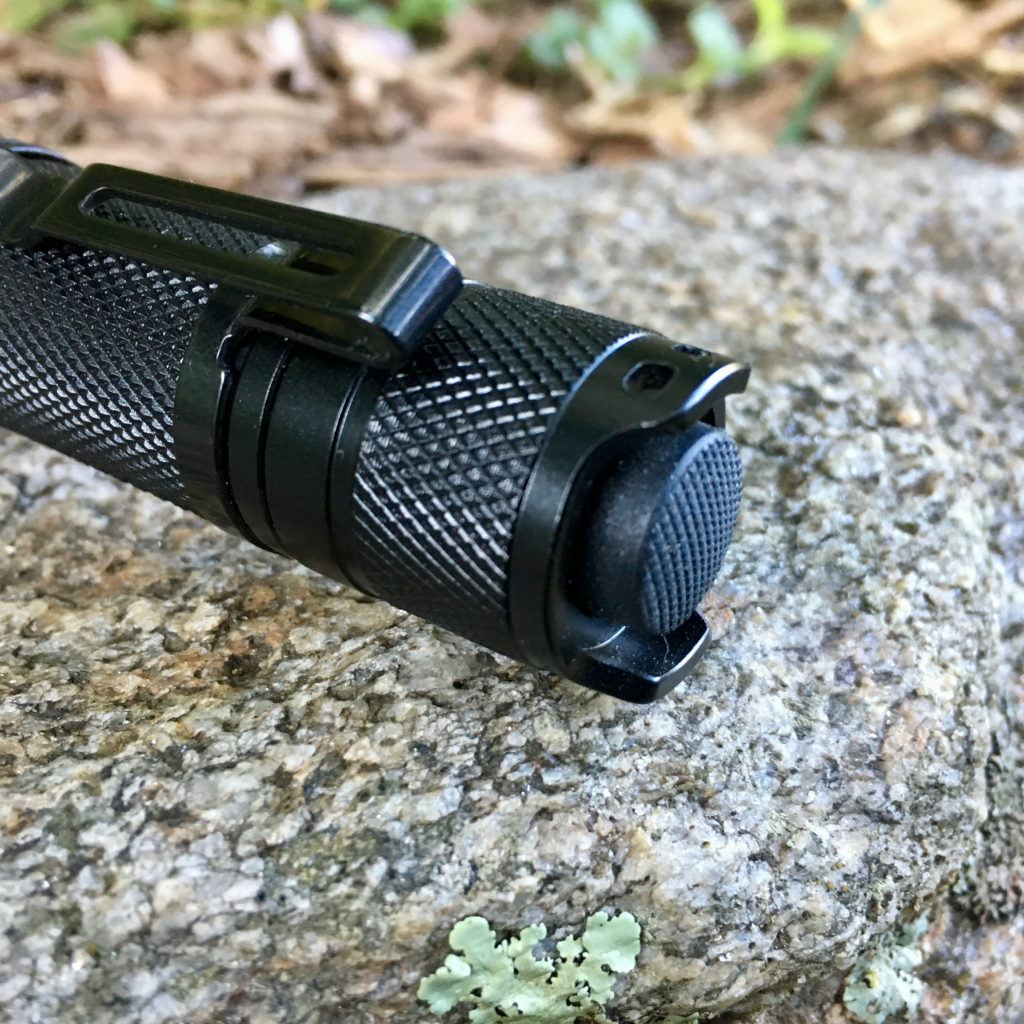 Category 2: Powered by a Single Battery

Yes, and it's AA. This light also takes 14500 rechargeable batteries, and the outputs are higher with the 14500. Much higher.. I haven't yet delved into the world of rechargeables but I will soon and discuss the differences and pros/cons here. In the meantime – yes, this light will work with a single AA battery.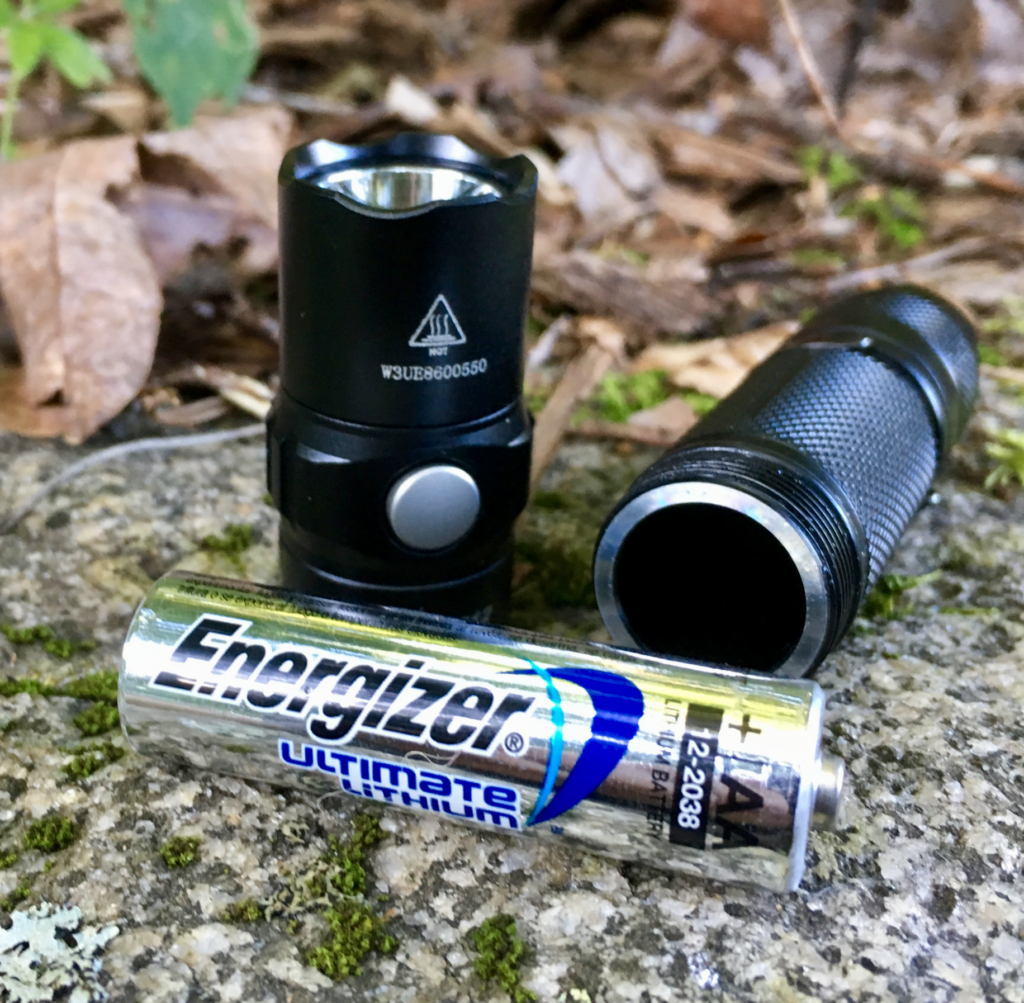 Category 3: Modes

The modes one the LD12 are fairly straightforward. They are Low, Medium, High, and Turbo. The tail switch turns the light on, and the bezel switch toggles between the modes. When turning the light on, it defaults to the last mode used. Overall I really like this setup. The outputs of the various modes are:
HIGH (actually "Turbo"): 320 lumens (14500 battery)/150 lumens (AA battery)
LOW (listed as "medium" by Fenix): 30 lumens
FIREFLY: No, lowest mode is 5 lumens
NO/REMOVABLE STROBE: No, but the strobe has to be deliberately accessed by holding the bezel switch for two seconds while the light is on.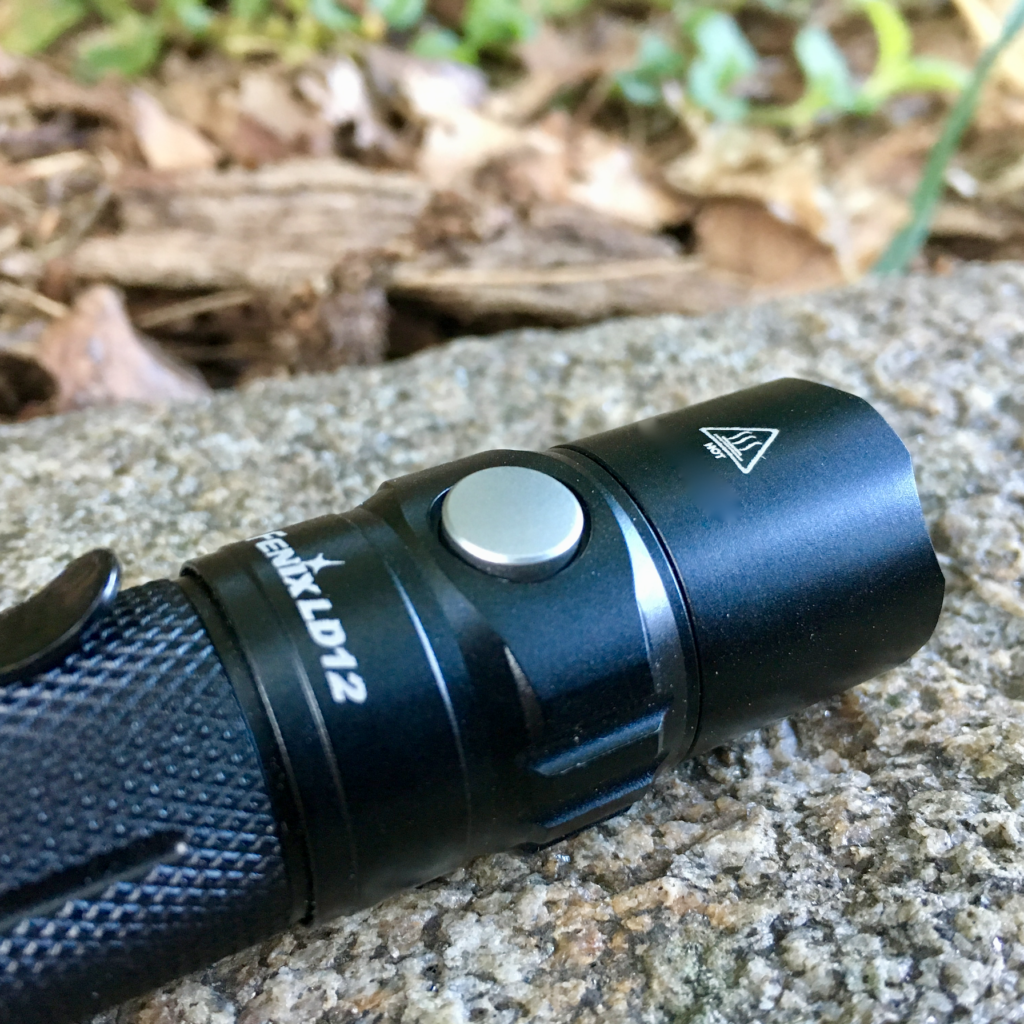 Mode Switching: The LD12, like the ThruNite Archer, has a tail switch and a secondary mode switch on the bezel. The tail switch turns the light on, and the button the head of the light toggles through the modes.
Criteria 4: Form Factor
The form factor of the Fenix LD12 is decent. It's a bit thicker than the ThruNite but it's also a bit shorter. The machining is good looking and precise, and it has almost all the features I want in a light. Let's dive into these features.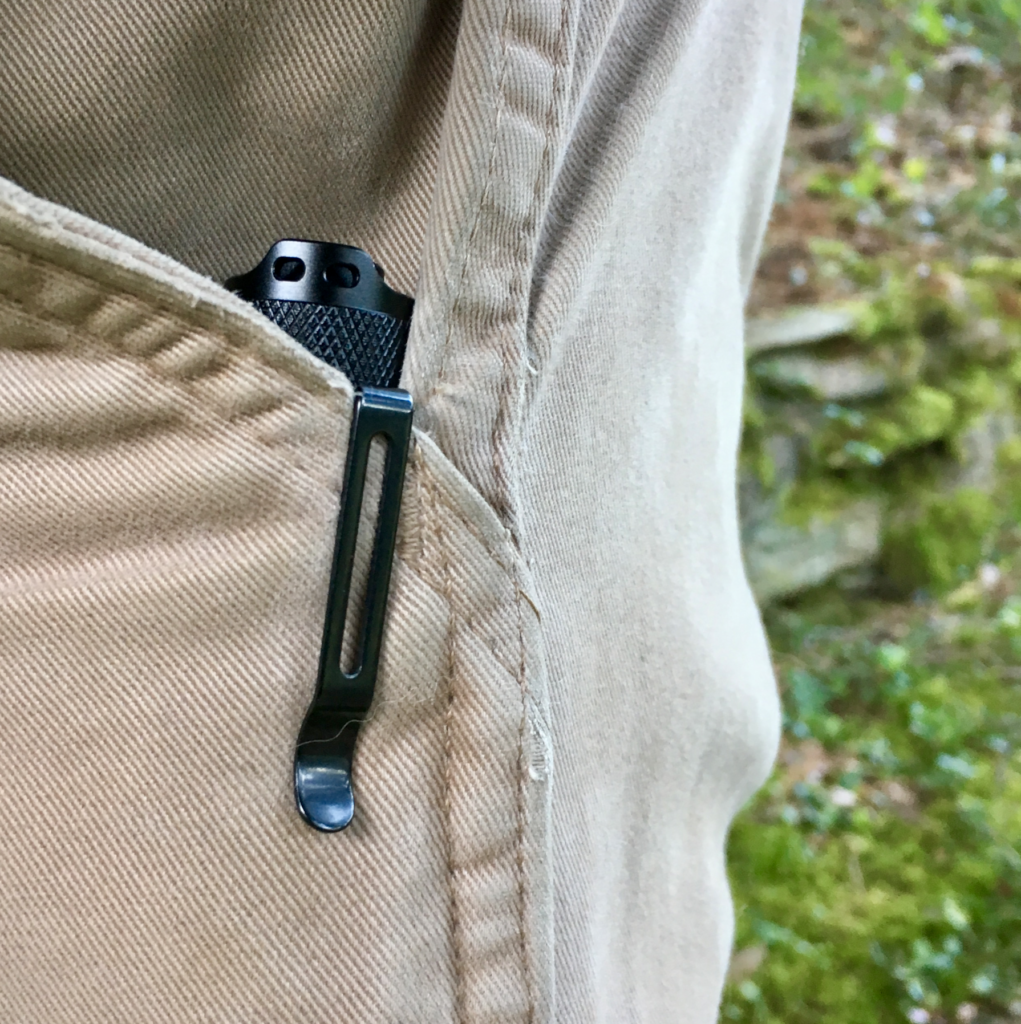 Size: This light is a bit shorter than the ThruNite Archer at 4.04″. And at 0.81″ it's only 3/100ths of an inch thicker than the Archer. The one complaint I do have here is the shape of the bezel. When viewed head-on it's slightly oval shaped, and a bit wider than it probably needs to be. This extra material might be a heat sink, or might be aesthetic. If it's aesthetic, shame on you, Fenix.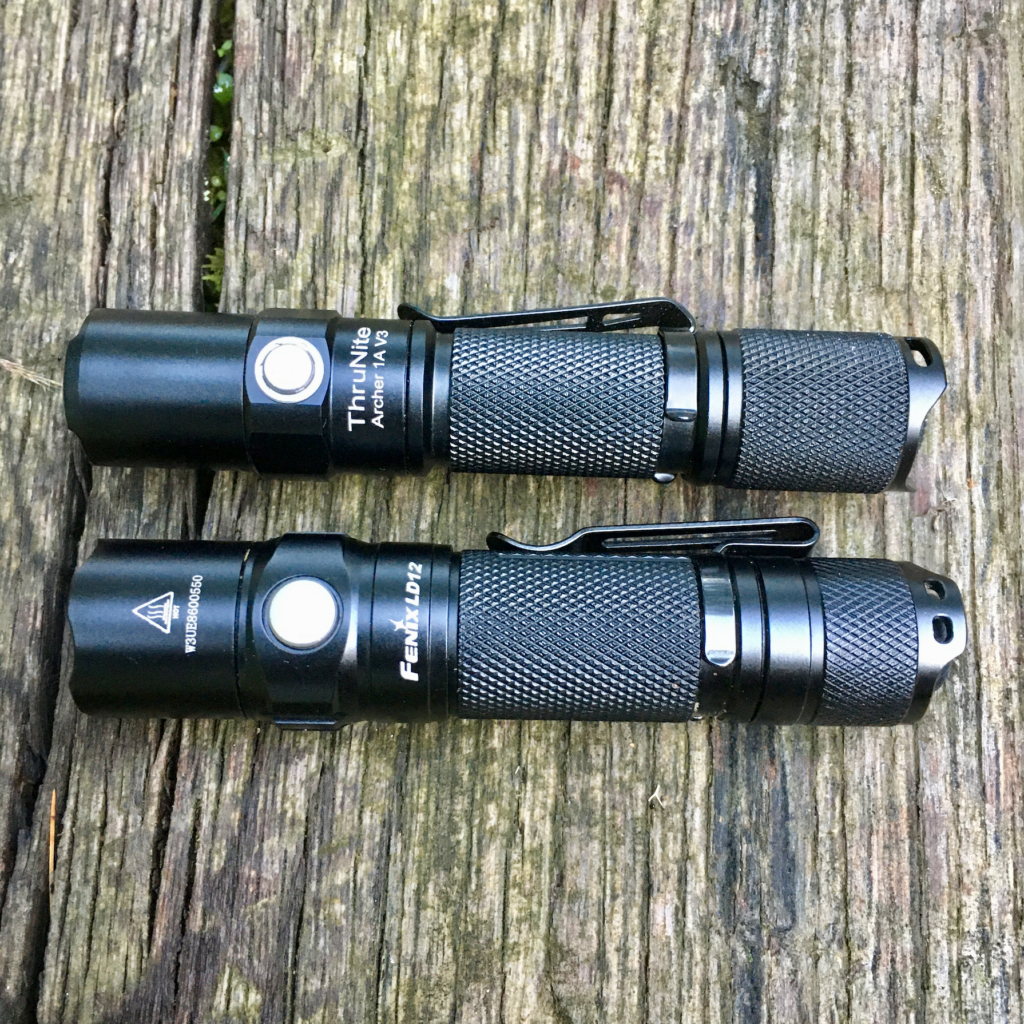 The ThruNite actually feels a lot smaller than the Fenix LD12, but the two aren't that far apart. I think this is largely due to the ThruNite's narrow barrel. Even though the bezel and tail cap of the Archer are real close to the same diameter as the LD12, the Archer manages to seem a lot thinner. I'm perfectly happy with the length, but wouldn't be upset if the Fenix LD12 were just a tad thinner; it does feel thick.
Weight: Fenix lists the weight of the LD12 at 1.98 ounces without a battery. On my kitchen scale it came in at 2.4 ounces with lithium AA battery. Bottom line: the Fenix LD12 is real heavy for a light in this category. It's barely under my max of 2.5 ounces, but I guess that's one of the trade-offs you make.
Pocket Clip: The pocket clip is fantastic. It's nice and sringy, has space to allow some fabric at the hem of  the pocket, and it's fairly small and unobtrusive. The clip has enough of an outward bias to allow it to slip easily over the pocket, but not so much that it's apt to get caught on stuff. It holds the light well, and this is the lowest-riding light I've reviewed so far. Again – fantastic clip!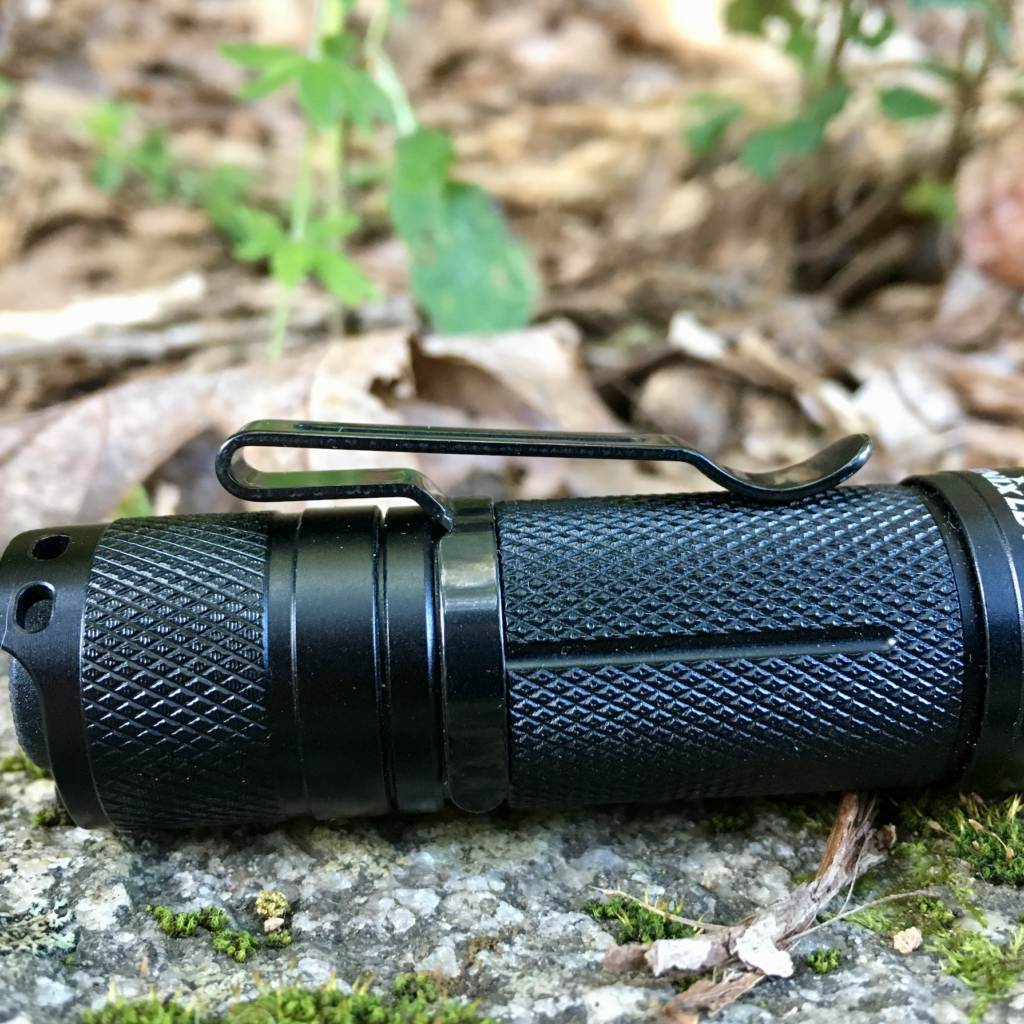 Reversible Pocket Clip: Yes, yes it does! Reversing the pocket clip requires taking it off the light, turning it around then popping it back on. Unfortunately this puts the clip over the tail cap, and puts all of the weight forward on the brim of the cap. It's better than nothing and I'll take it, but it would be cool if there was a milled ring forward on the barrel for mounting the clip in reverse.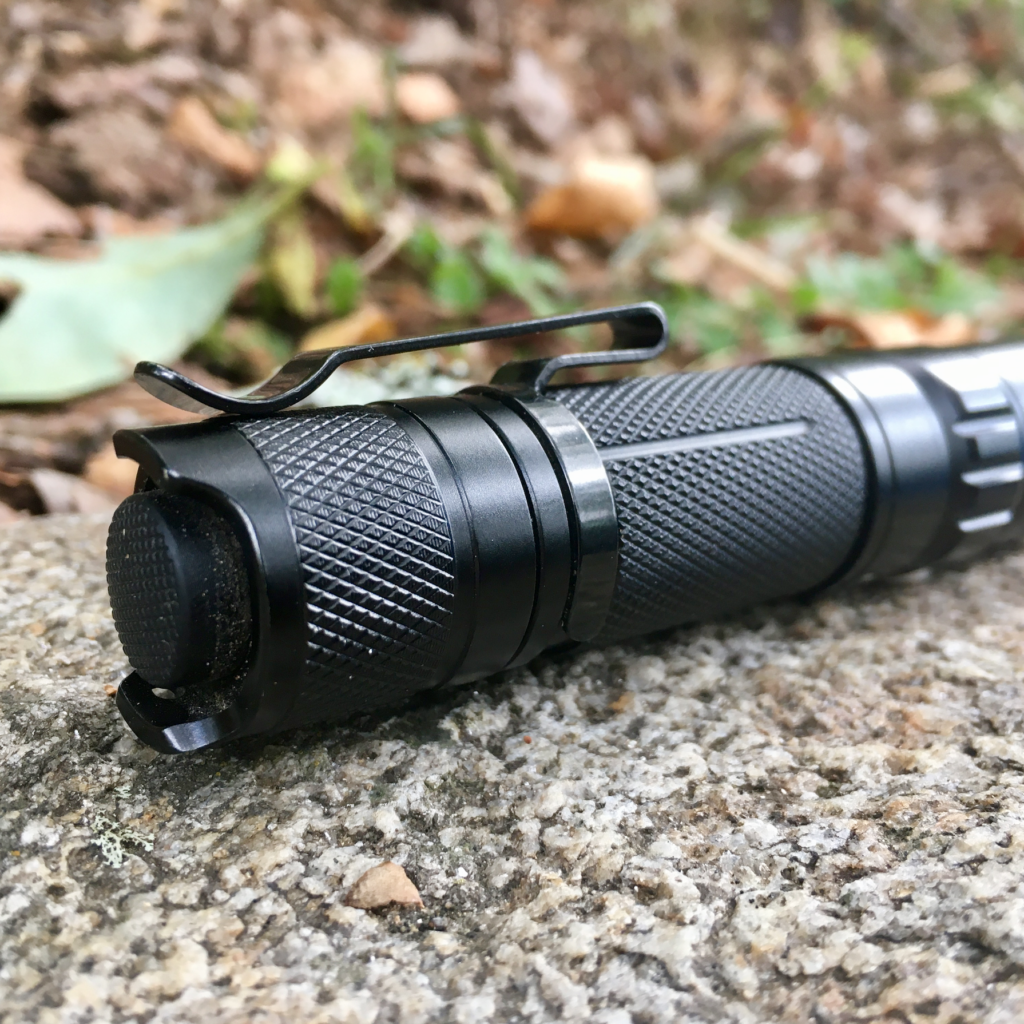 Knurling/Grip Texture: The knurling on this light is fine, sharp, and even. Its coverage is sufficient, without knurling anything that doesn't need to be knurled.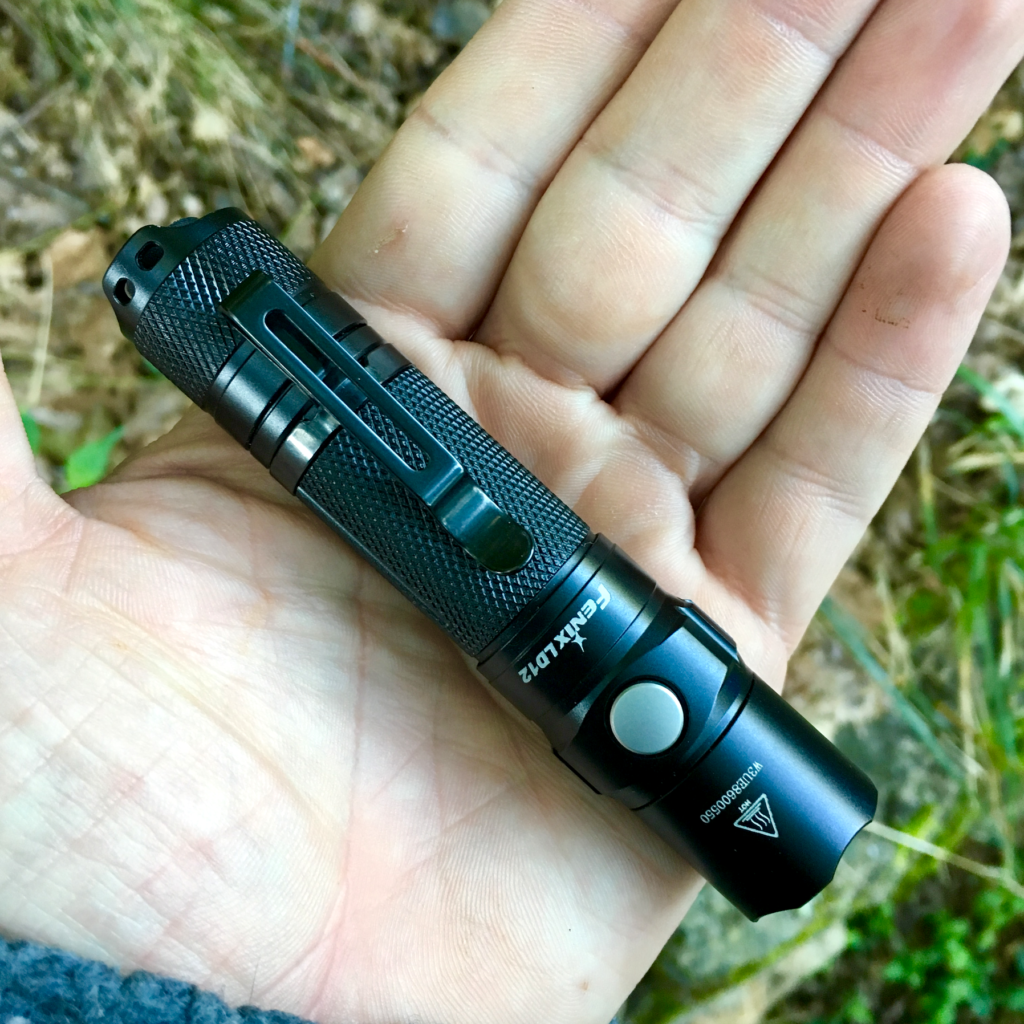 Anti-Roll Flats: Yes, on the underside of the bezel.
Criteria 5: Durability & Water Resistance
I can't speak definitively to this, and 21% of reviews on Amazon indicate it might have some problems. However, I did carry the light in my pocket for an entire month. During this month I dropped it a bunch, but other than that it wasn't subjected to anything crazy.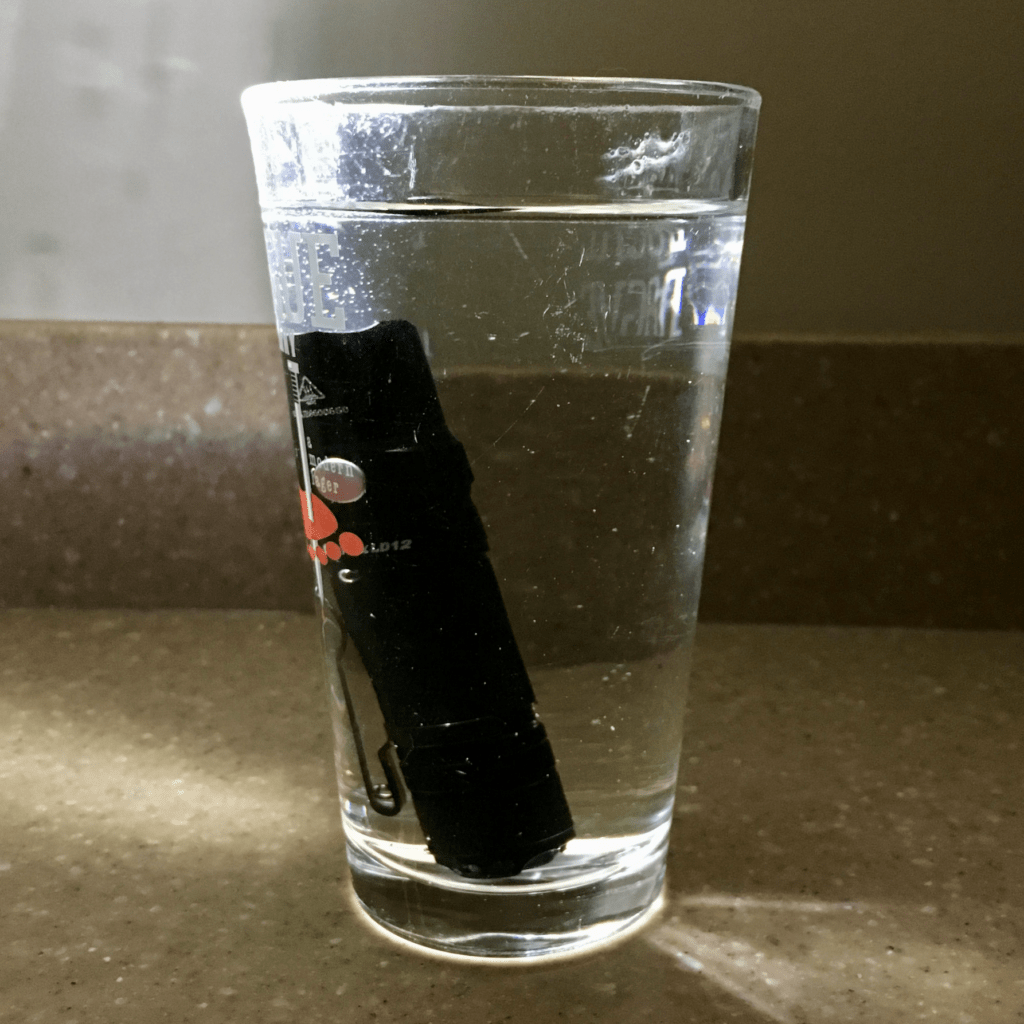 It was submerged in water once, for five minutes, but that was just for my own personal interest…and a photo for this article. The light does have an IP68 rating. That means it's dust-tight, and submersible to >1 meter; Fenix's website says up to 2M.
The Final Tally
Again the Fenix LD12 (2017 Edition) is the light I don't want to put down so I can review other lights (don't worry, I will. I've already bought them). The size is great, the features are great, and it's well-constructed. If you're looking for a great light, check this one out. I have the one I bought for this review, and I imagine rotating back to it as soon as I review a few more lights. And…I've bought a couple more for upcoming birthday and Christmas gifts for friends.
---