OK, I swear this is not a flashlight review site. But flashlights are where my head is these days, and overall that's probably a pretty good insight into the future ebb and flow of this site. I tend to get fixate on something for a while, go down a huge rabbit hole, but I promise, I'll come back out of it. Today I'm looking at a competitor to the ThruNite Archer 1A V3 I reviewed a couple weeks ago: the Streamlight ProTac 1L-1AA.
This post contains affiliate links. I paid for the light in this review out of pocket.
Streamlight ProTac 1L-1AA
Criteria
Y/N
Score
Tail Switch
Yes
10/10
Instantly Access High
Yes, Programmable
5/5
Momentary ON
Yes
5/5
Tail Stand
Yes
5/5
Single Battery
Yes, AA or CR-123
10/10
High Mode 200-300+ lumens
Yes, 350 lumens (CR-123)
No, 150 lumens (AA)
3/3
Low Mode 20-30 lumens
No, 40 lumens
1/3
Firefly Mode < 1 lumen
No
0/3
No/Removable Strobe
Sort of
1/3
Method of Accessing Modes
Tail switch toggle; programming
5/10
Form Factor: Size
Length: 4.25 inches
Dia: 0.95 inches
3/5
Form Factor: Weight
2.5 oz, with CR-123 battery
5/5
Form Factor: Pocket Clip
Yes
10/10
Form Factor: Reversible Pocket Clip
Yes
5/5
Form Factor: Knurling/Grip
No
0/5
Form Factor: Anti-Roll Flats
Yes
3/3
Durablility/Water Resistance
IPX7
10/10
Total:
82/100
Category 1: Tail Switch
Tail Switch: Streamlight makes pretty good tail switches. This one is large, easy to hit, and protected. The switch seems durable and turning on and off is extremely positive. The throw of the switch is a little long, and if you grasp the light a little too far back in your hand, your thumb might not have the leverage needed to fully actuate the switch. I found this happened several times during my dry practice sessions. 10/10.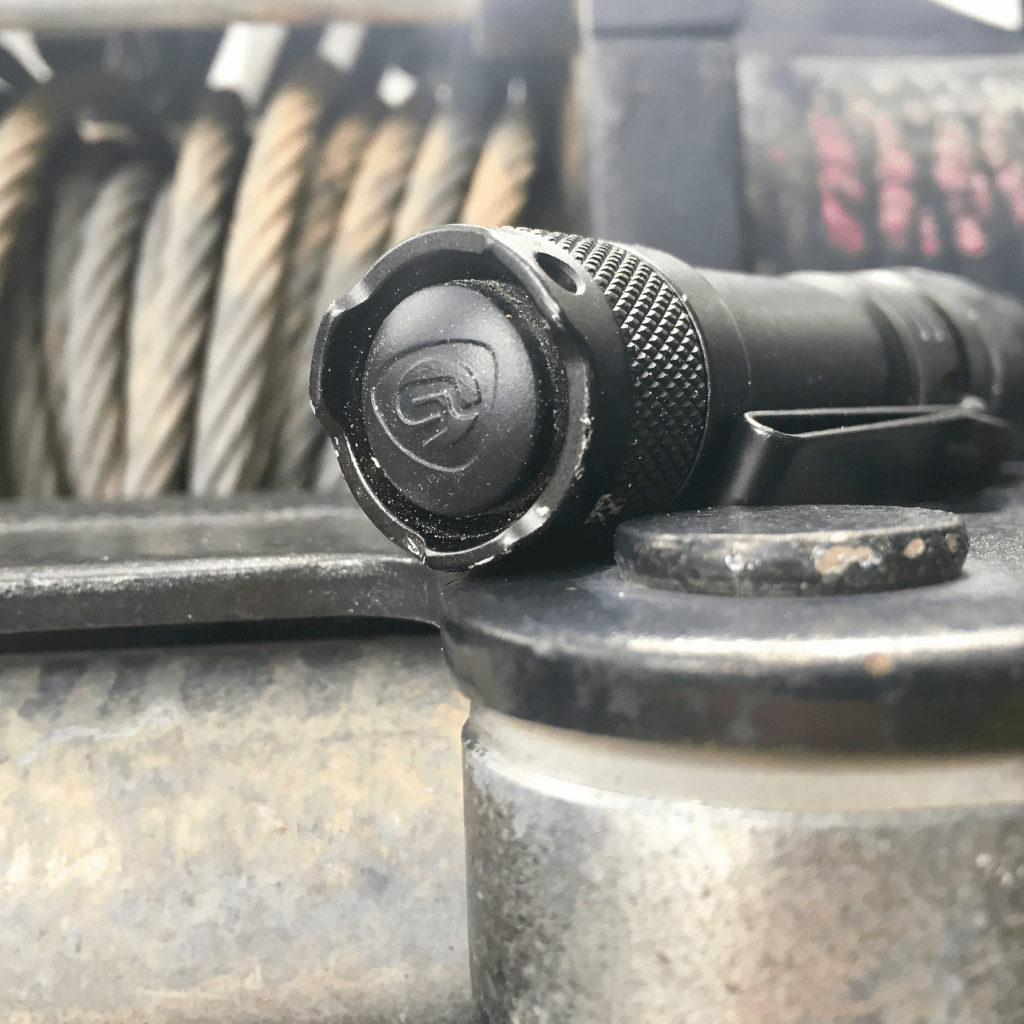 Instant Access to HIGH: In some modes, which I will discuss later. 3/5.
Momentary ON: This light does offer a good momentary ON. The length of travel that I complained about earlier is a good thing here: if you only want a momentary ON, it's hard to accidentally click it all the way on.  5/5.
Tail Stand: Three protective ears around the tail switch do allow this light to tail-stand. There is a delicate balance created by offering protection/tail-standing ability around the tail switch. Too much protection and the switch can be difficult to actuate. The ProTac 1L-1AA has enough protection to protect it, and to tail stand, but only on a perfectly level surface. The weight of the bezel and the smaller protective ears will put this thing on its side in a hurry. 4/5.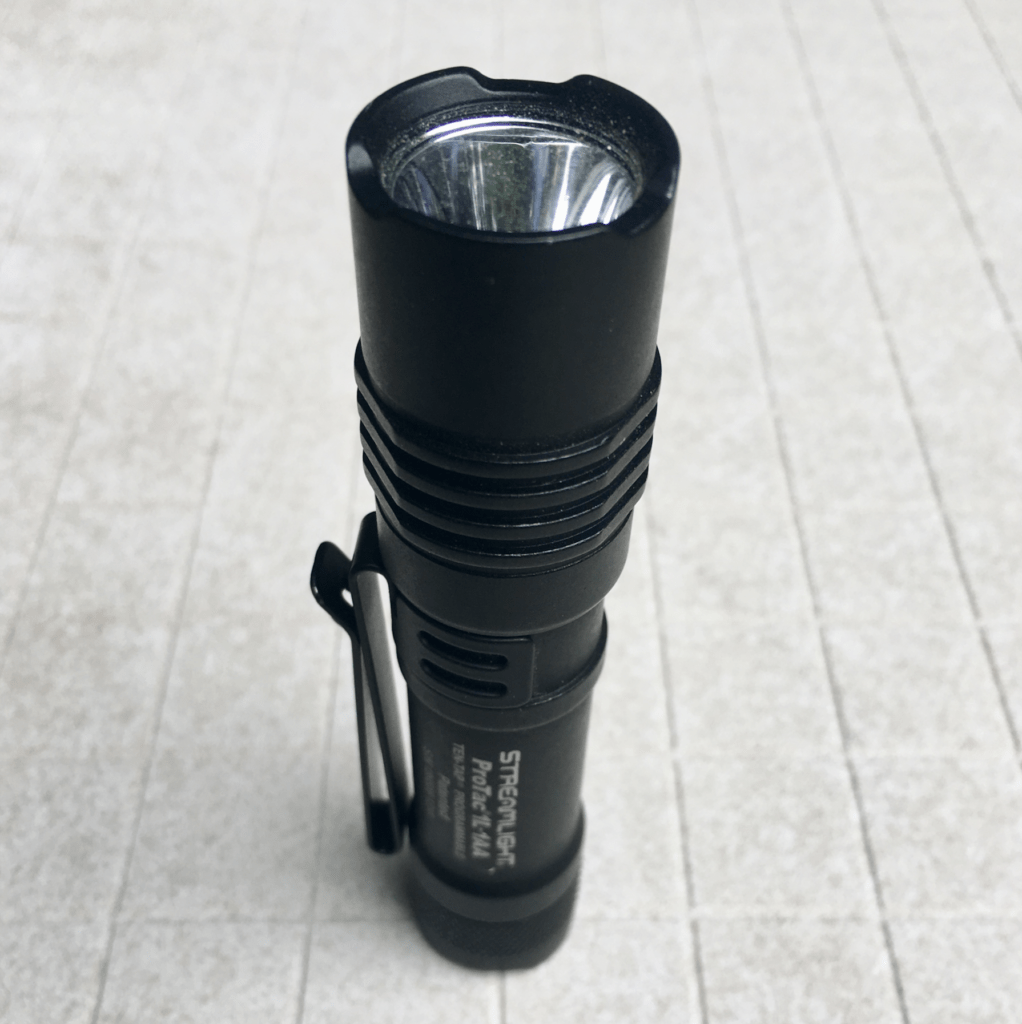 Category 2: Powered by a Single Battery

The Streamlight ProTac 1L-1AA is a "dual fuel" flashlight. Dual fuel means you can power it with multiple types of batteries, in this case AAs, or (preferably) CR123s. This is without a doubt the coolest feature of this light. However, because it can accommodate the fatter CR123 and the longer AA, it loses the benefit of being a single-cell light: size. I'll get into size in a minute, but this is a big light. 10/10.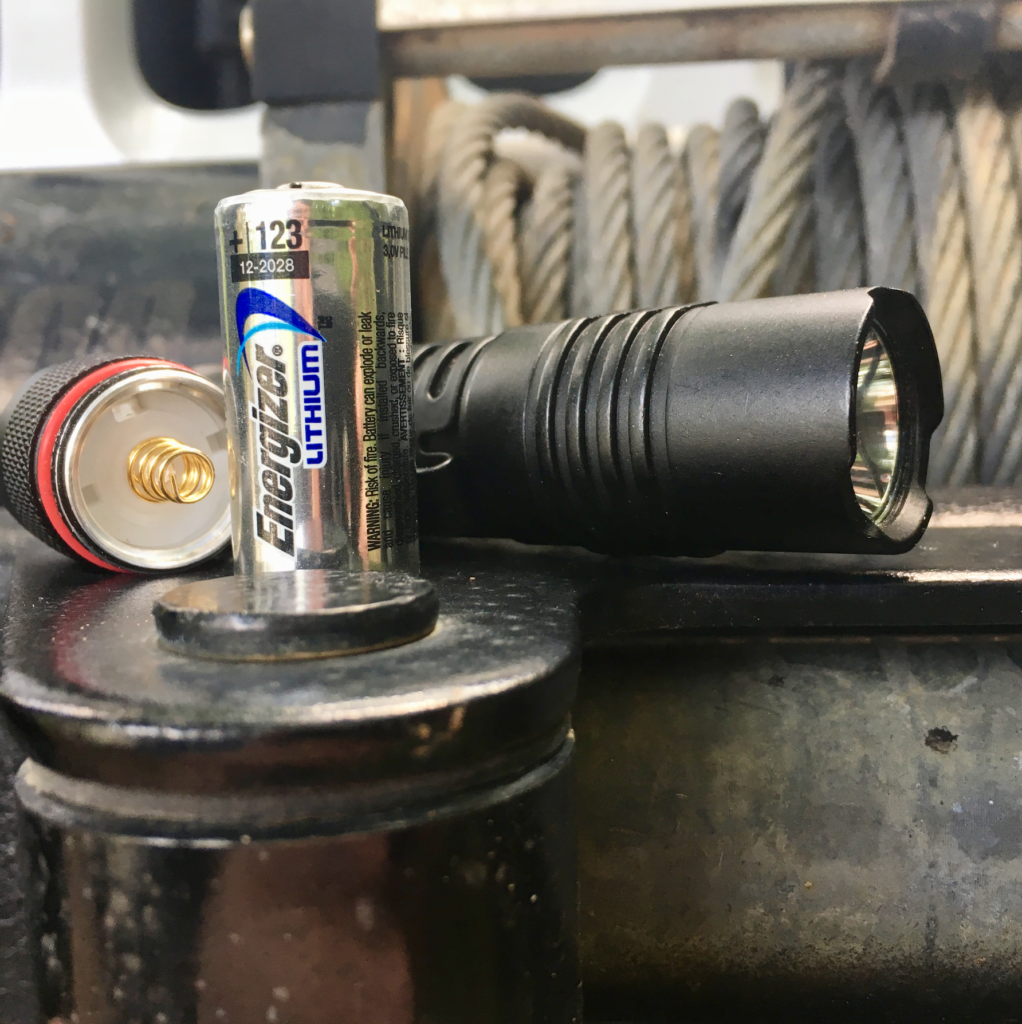 Category 3: Modes & Programs

Streamlight has a patented, "Ten-Tap Programmable" feature that is incorporated into this light. By tapping the tail switch 10 times in quick succession, you can switch the light into different groups (or "programs") of modes. The three programs on the ProTac 1L-1AA are HIGH>STROBE>LOW, HIGH only, or LOW>HIGH. I think Streamlight could have thought this through a little better.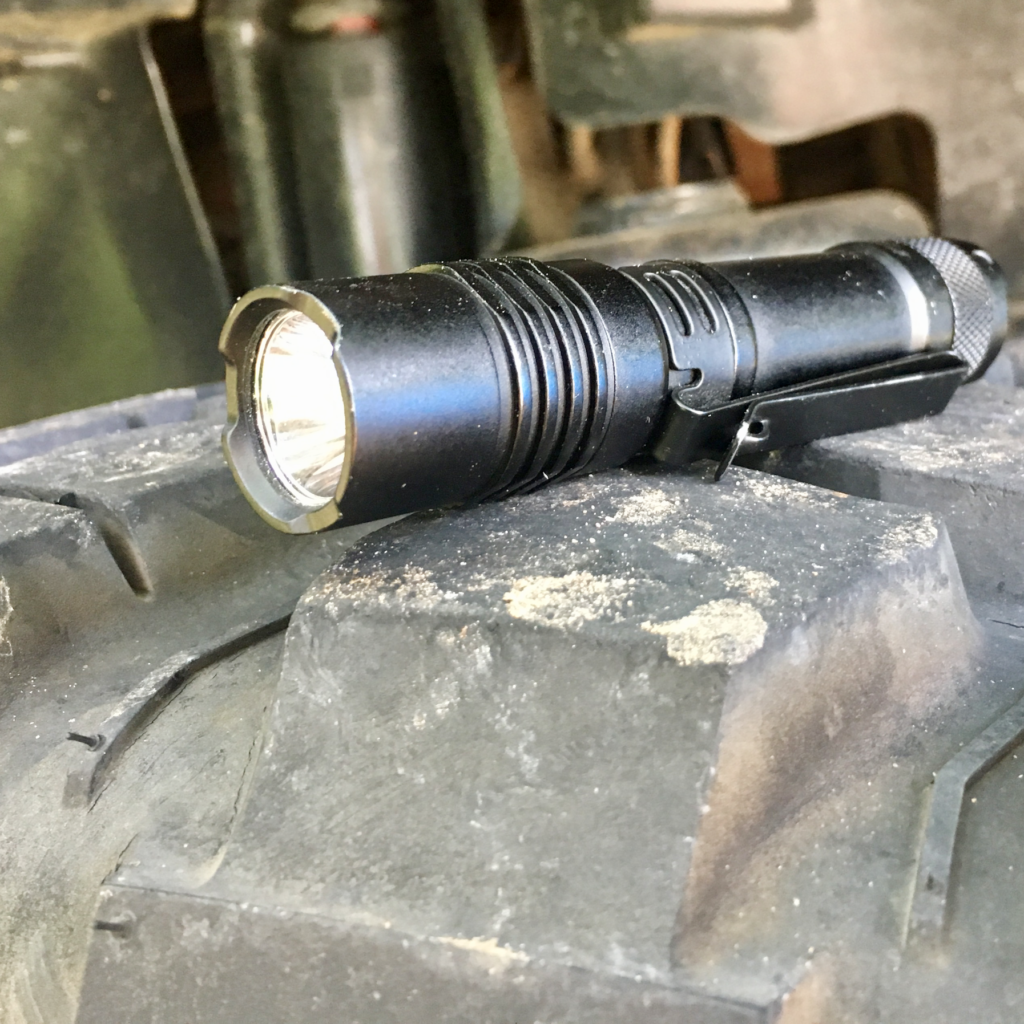 Let's start with the default program, HIGH>STROBE>LOW. Well, the problem here is obvious: it has a strobe. If we cycle to the next program, we lose the stupid STROBE function, but we also lose LOW, and the light is now HIGH-only. Finally, the third option provides the only two modes I care about on this light: HIGH and LOW. Unfortunately it gives them to me in the wrong order LOW>HIGH). So, if I want the light to default to HIGH I have to accept STROBE, or give up LOW. Come, on, Streamlight!
OK, let's talk about the modes themselves. The high is a very bright by my standards at a very cool 350 lumens. The low is a little too bright for a low in my opinion, at 40 lumens. And that's it – there's no medium or firefly mode on this light. Scores for the various modes:
HIGH: 3/3
LOW: 1/3
FIREFLY: 0/3
NO/REMOVABLE STROBE: 1/3. While yes, it is removable, I also can't remove it without losing something else.
Switching between modes on the Streamlight Protac 1L-1AA is done via the tail switch.  5/10.
Criteria 4: Form Factor
This light is big. It's definitely the biggest light I'm willing to pocket carry. Actually, it's too big for me to pocket carry, but I was willing to carry it for a month. The ProTac's dimensions don't seem drastically larger than the ThruNite Archer, but it feels substantially bigger, both in the hand and the pocket.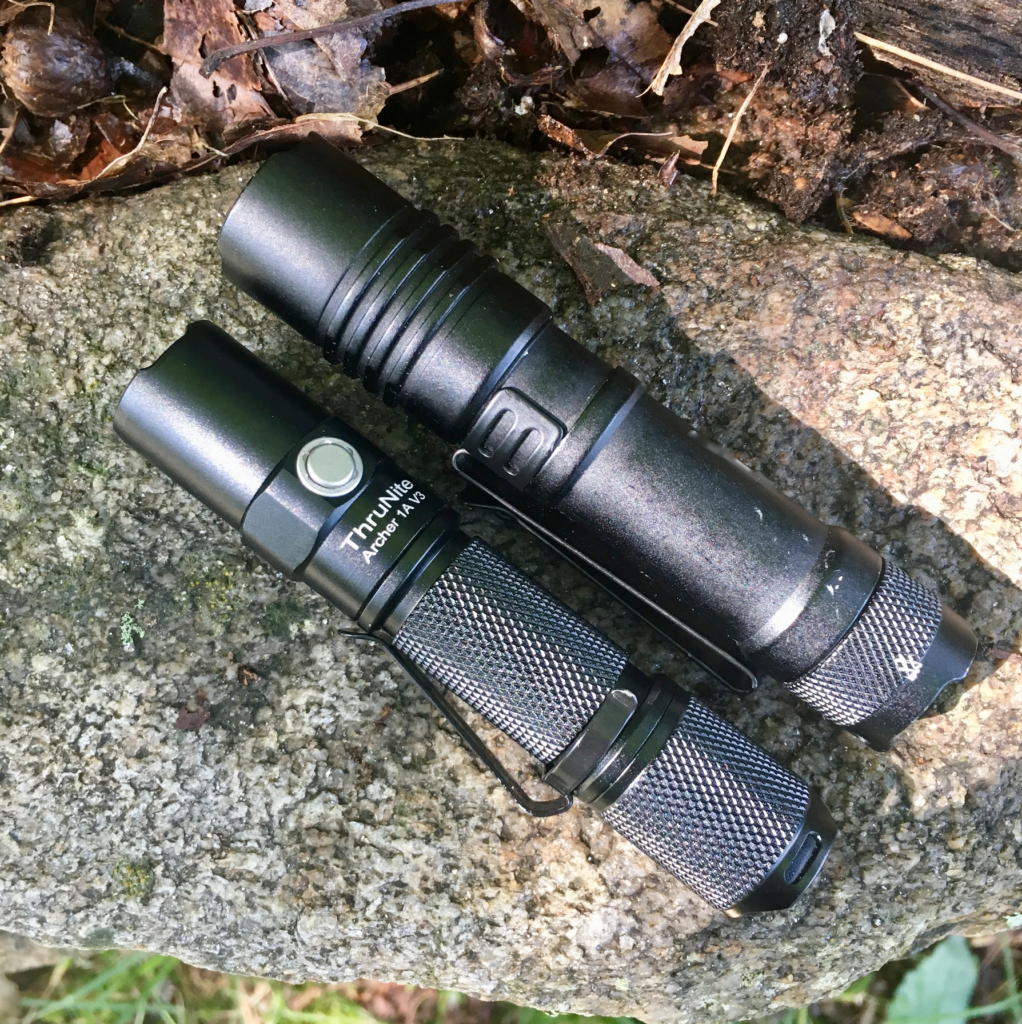 Size: The length of this light is just a tad longer than the ThruNite, which is odd because the advertised lengths put the Thrunite at .05″ longer (4.3″ vs 4.25″). The diameter is definitely bigger, at .95″. Most of that is in the bezel, which is substantially wider than the rest of the body.  0/5.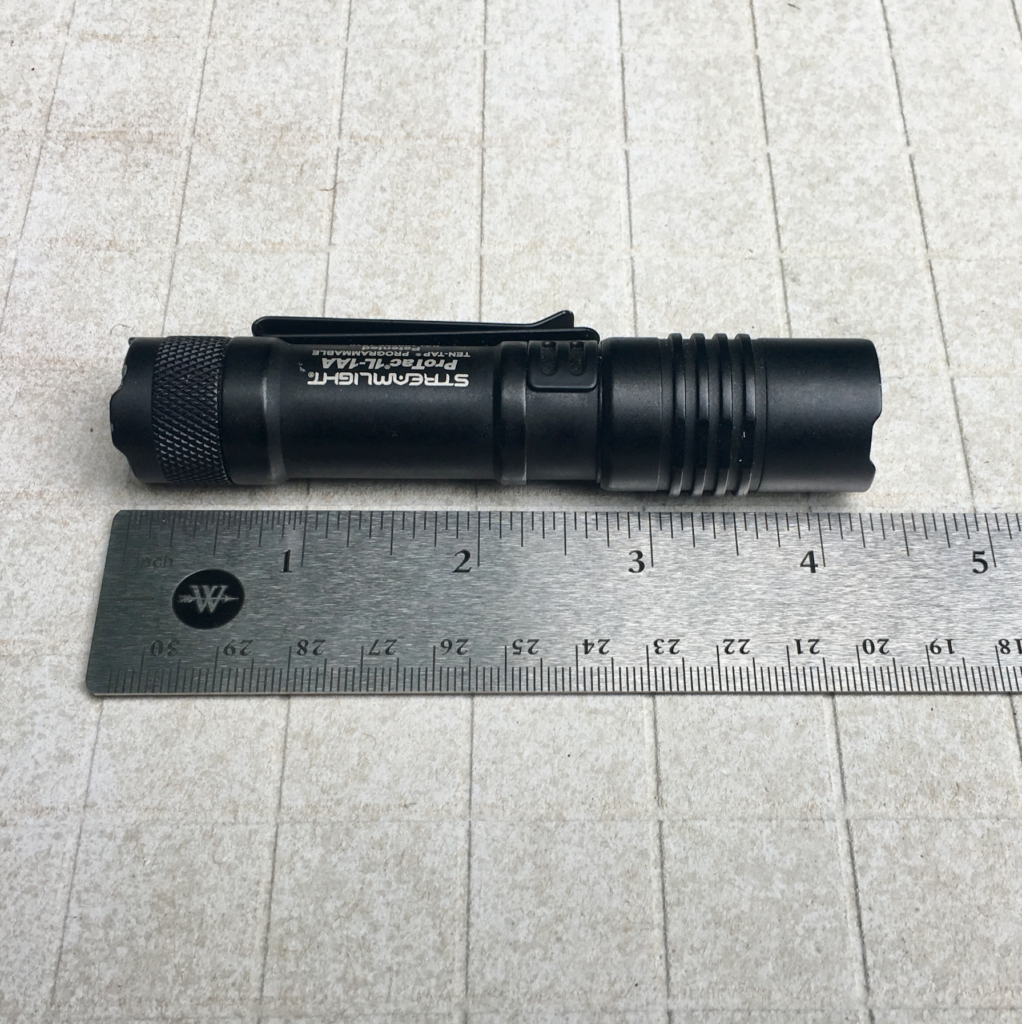 Weight: Streamlight advertises this light at 2.8 ounces with a CR123 battery. I actually weighed it on my kitchen scale at 2.5 ounces. I like it when a company occasionally under-promises and over-delivers. Or the guy writing the spec sheet makes a typo that works in my favor. Or whatever. 5/5.
Pocket Clip: The pocket clip is pretty good. It allows the light to ride pretty deep in the pocket. It is springy, and holds the light securely. The tip has a slight outward bias, allowing it to slip over the edge of the pocket. I do wish there was a bit more space at the top of the clip, where it bends back over on itself. The hem of my pocket is just a bit thicker than this clip wants to slide over. You can get it on there, but it sometimes takes two hands. If you look closely at the photo below you can see the hem getting bunched up by the clip. This is a minor complain, though, and the ProTac's clip is really good. 10/10.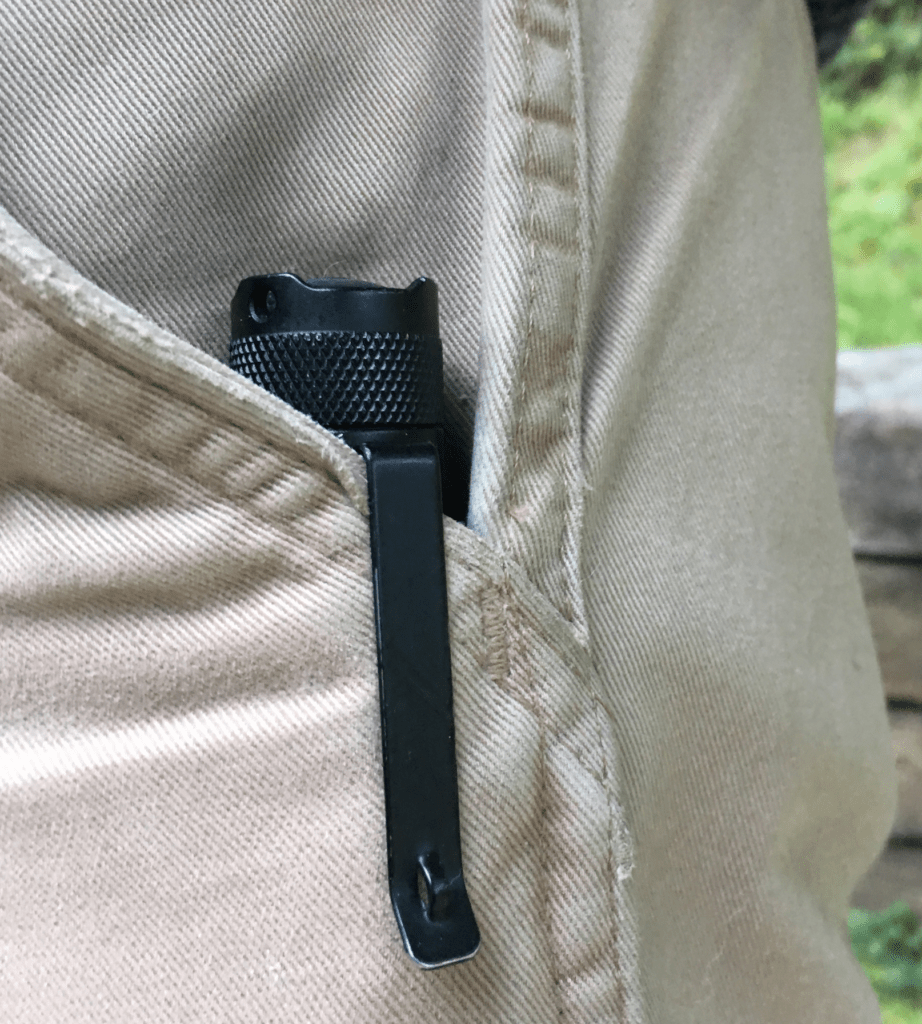 Reversible Pocket Clip: Yup! Actually, this is one of the first lights I owned with a reversible pocket clip. While I don't use this as a headlamp really ever, it's a nice capability to have. This one works really well, too. It's loose enough that it will fit over the brim of a baseball hat easily but still hold the light on. I do find this light a big heavy for prolonged use as a headlamp. 5/5.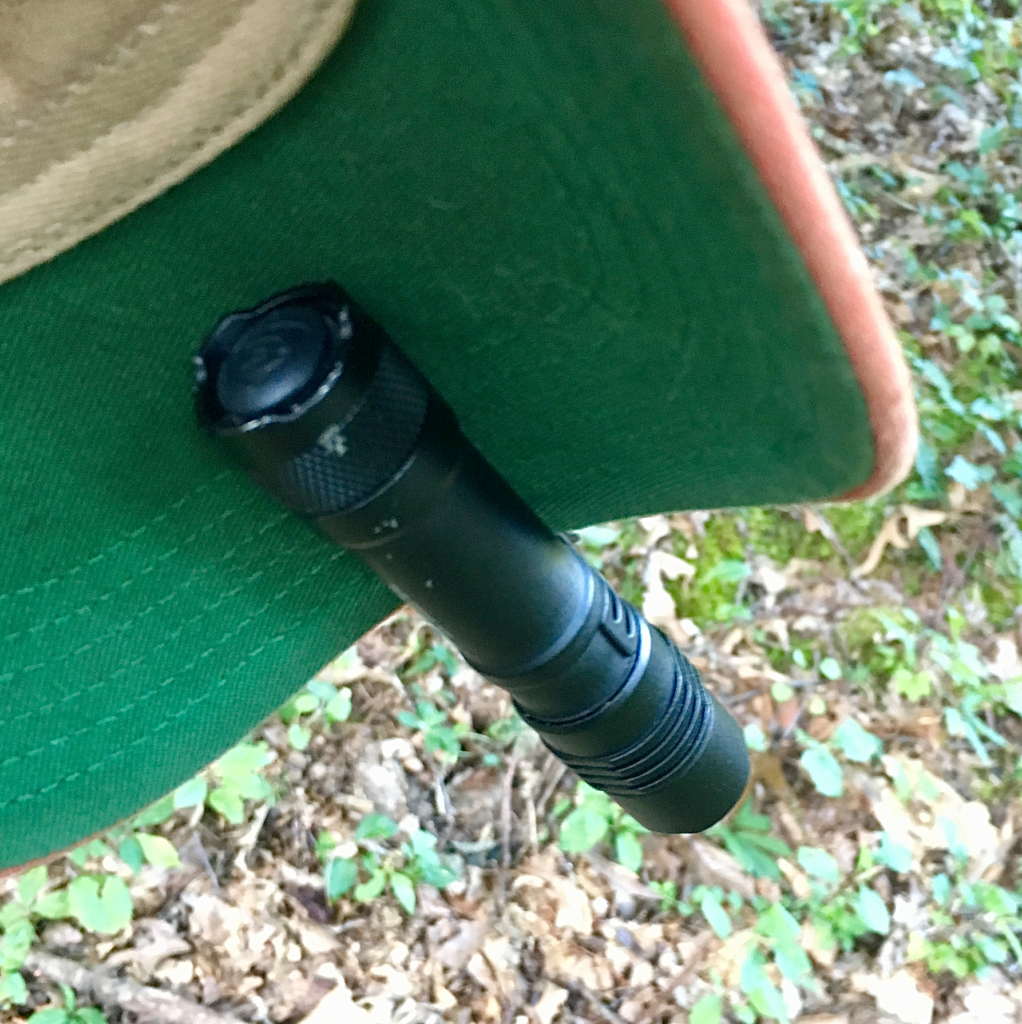 Knurling/Grip Texture: This is my single biggest beef with this light. While clearly marketed as a "tactical" light, with all the other features of a tactical light (like the fucking strobe), Streamlight chose not to provide any sort of texturing at all. This light is crazy slick. I think I would understand if this was a budget light, but in the $40-50 range, this light should have some texturing. 0/5.
Anti-Roll Flats: Yes, it has some. 3/3.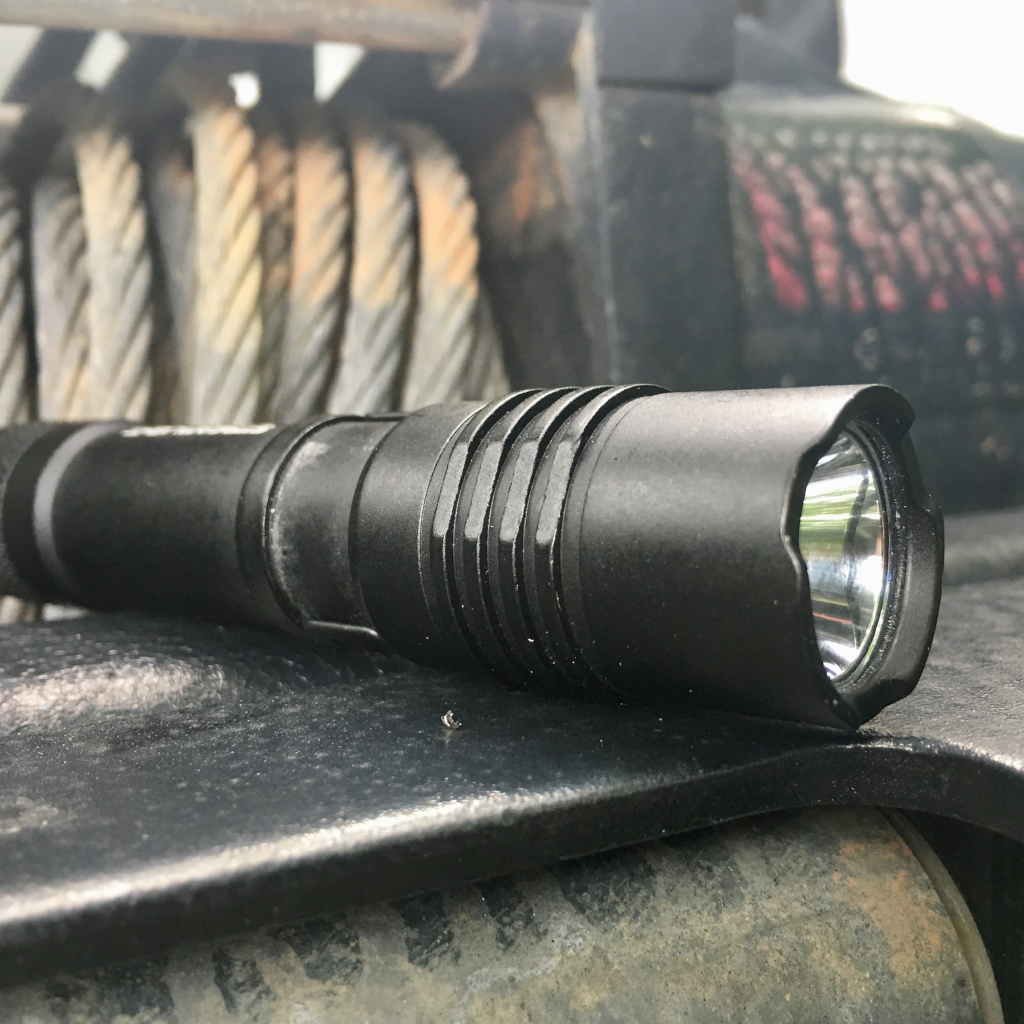 Criteria 5: Durability & Water Resistance
I can't speak definitively to this, but I did carry the light in my pocket for an entire month.  During the month I carried it it got tile mortar on it,  dropped from heights of 3 to 5′ at least a dozen times. It was submerged in water once, for five minutes, but that was just for my own personal interest.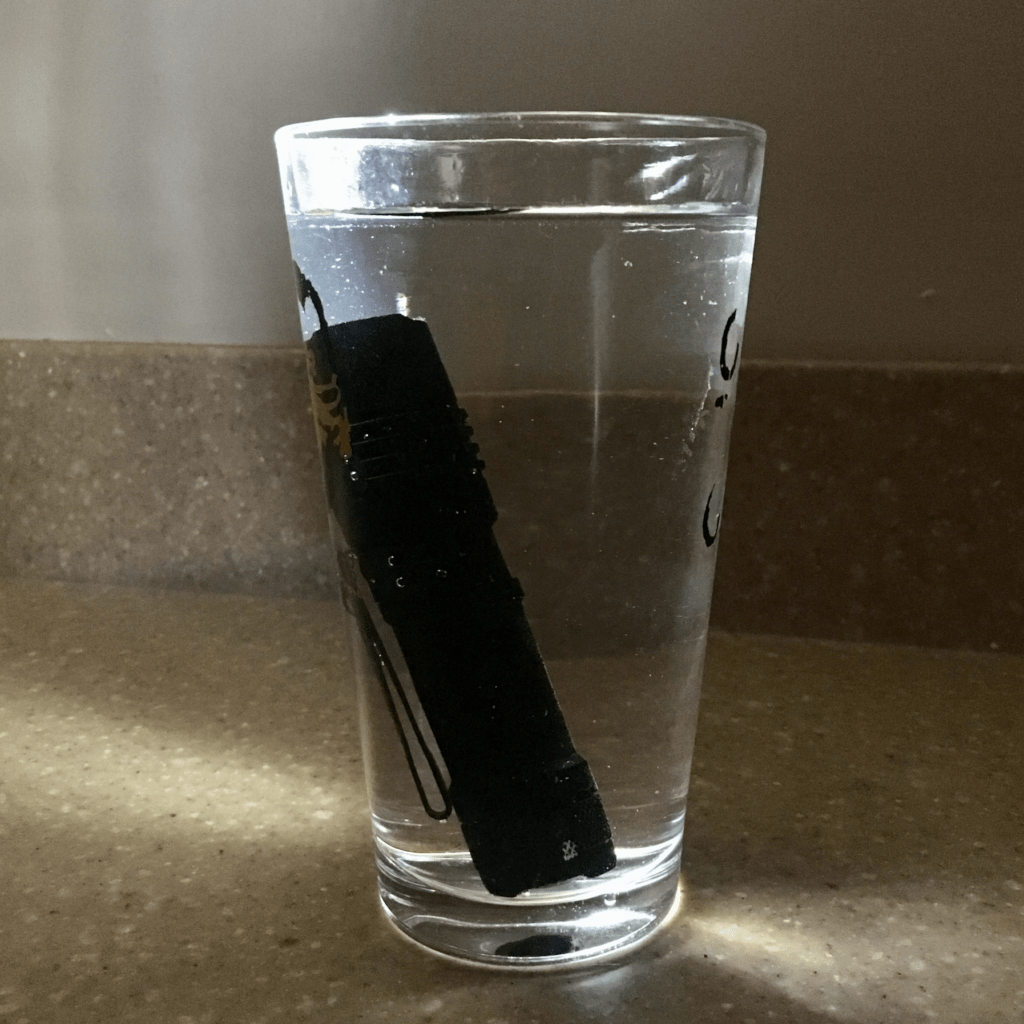 Less ambiguously, this light is IPX7 rated for water resistance (1 meter for up to 30 minutes). More ambiguously, Streamlight's website states this light is "2m impact resistance tested." Anyway, this light seems pretty tough, and outside of some minor finish wear, is still working and in great shape. 10/10.
The Final Tally
The Streamlight ProTac 1L-1AA scored better than I expected with a total of 81/100. It seemed like there would be a lot of strikes against this light including its size, limited modes, and the strobe. But this score indicated what I ended up feeling about this light: despite its shortcomings its still pretty good. I'm not going to pocket carry this light. I have half a dozen more lights in the hopper that I'm going to review here. Hopefully one of them is the EDC light for me.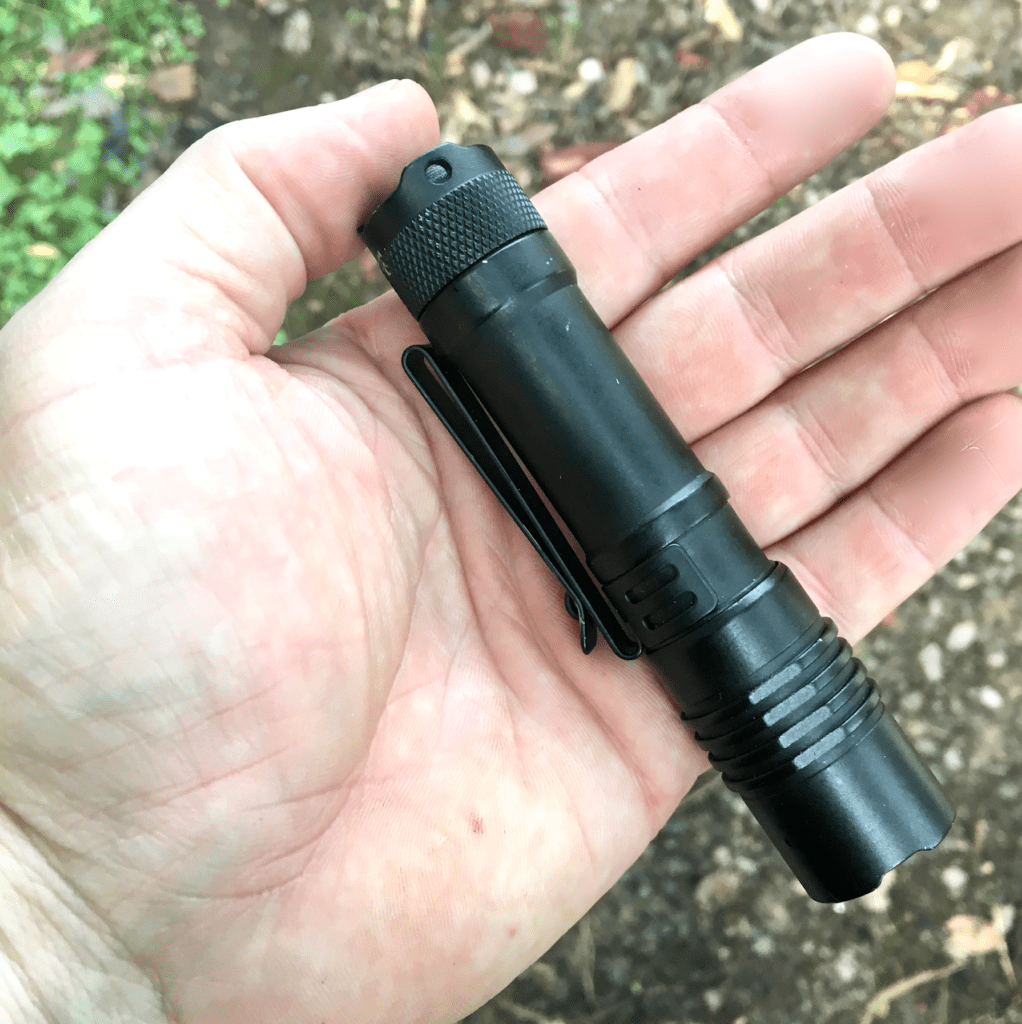 But I am going to use The Streamlight ProTac 1L-1AA; it's just too good to relegate to an emergency light in a drawer somewhere. The dual-fuel feature makes this light incredibly useful and I'll keep it for that reason alone. This light will go in my EDC bag, which I will eventually right about here. Stay tuned!
---