My recent rediscovery of the Mountainsmith Tour sparked some curiosity about the lumbar pack market. The lumbar pack is exceedingly appealing to me, but I've only ever worn one brand. Curious about other offerings I set about looking for other companies that made similar products. The first one I landed on was Oregon Pack Works' Lumbar Pack.
This article contains affiliate links.
Disclaimer
I went through a rather unique process to be able to review this product, so I want to make sure that information is available to you.
Relationship with Oregon Pack Works: I was provided nothing for free by Oregon Pack Works. I participated in their demo program which required a deposit of the full purchase price ($300), shipping ($18), return shipping at my own cost, plus a $25 service fee that was deducted from my deposit. I paid all of this out-of-pocket. I have no affiliate relationship with Oregon Pack Works, receive no compensation of any sort from the sale of their products, and you can believe my review here reflects exactly what I think of this pack. This review does contain Amazon affiliate links, but not to this pack (which is not available on Amazon).
I did share several back-and-forth emails with Karl, the owner and co-founder of Oregon Pack Works, prior to the publication of this review. Usually those were to verify a technical detail prior to putting it in print. I did not, however, share the contents of this review prior to its publication and again, the thoughts here are mine and mine alone.
Secondly, due to a compressed evaluation period with this pack I photographed it, hiked with it, returned it, then wrote about it, in that order. Some of my photos below reflect incorrect configuration of the pack. Unfortunately my schedule did not allow me the time I would have liked to work with this pack and to to back and reshoot photos. I try to denote faulty configurations in the photos where applicable. With housekeeping out of the way, let's get into it.
Oregon Pack Works' Suspension System
I learned of Oregon Pack Works via Google. I was searching for lumbar packs and almost everything was coming back to the Mountainsmith series of lumbar packs that I recently covered. I resorted to a Google Image search and landed on a pic that looked interesting. I followed the link and found Oregon Pack Works (OPW). I reached out, not expecting too much but the owner got back in touch with me almost immediately – definitely not something that happens every day. He agreed to work with me in testing the OPW Lumbar Pack via the company's demo program.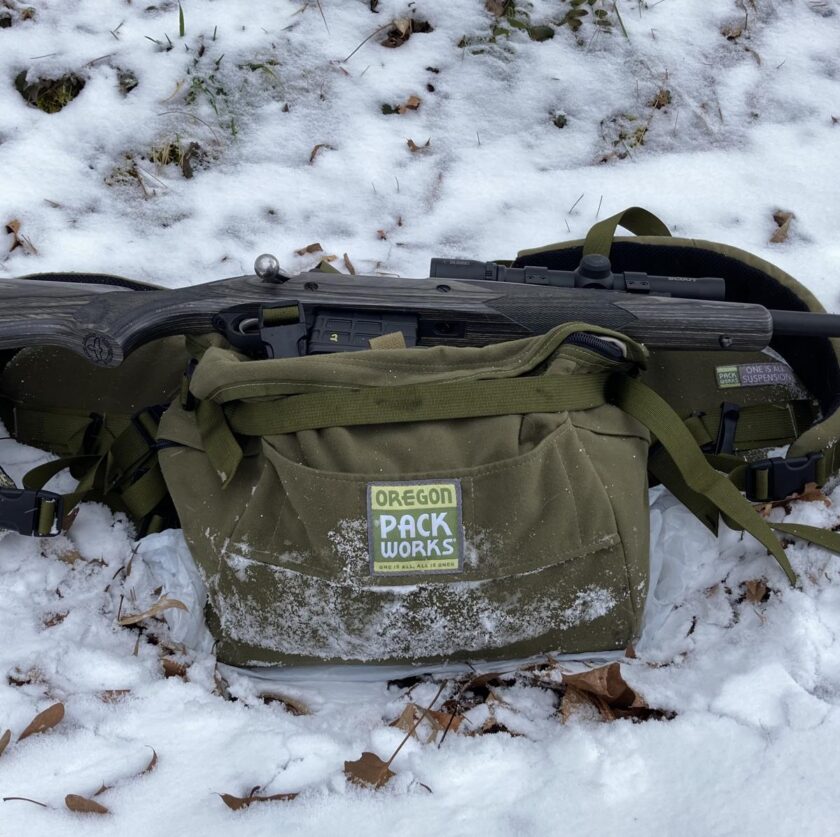 The Oregon Pack Works Lumbar Pack was not designed to be used simply as a lumbar pack. The core of this pack is its suspension system – the straps and waistband known as the "One is All®" system. This suspension system is designed to fit any of Oregon Pack Works' line of packs (ranging from daypacks to multi-day excursion packs), and serves as a common chassis for a very adaptable, modular system. Even the lumbar pack itself can be attached to the top of a larger backpack to extend its capacity, then once at base camp taken off and used as a lumbar pack for shorter excursions from camp.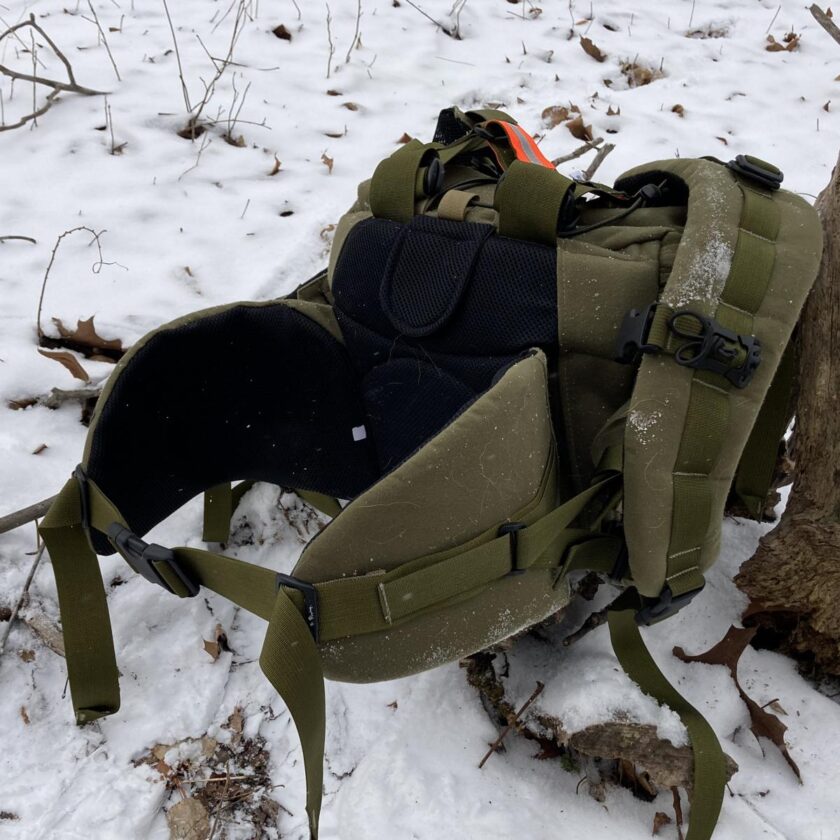 Owing to its roots as a chassis for a large backpack system, the suspension system is robust to say the least. The waistband and shoulder straps are very wide and strongly engineered, and clearly capable of carrying much more than the lumbar pack. Of note, the suspension system is sized and not infinitely adjustable.  The shoulder straps are sold in small, standard, and large, and the waistband is sold according to waist size (Small: 27″ and less, Standard: 28-33″, and Large: 34″ and up). I'll be honest, this induced a bit of stress when ordering. I'm just below the upper end of the "Standard" waist size (32) in street clothes. In winter outdoor gear, and with a pistol or revolver on my hip that can rapidly expand by a couple of inches, putting me in the low end of Large. I went with the Medium and fortunately found this to be a non-issue. The pack was able to work with the full range of my clothing, and with a handgun on my hip.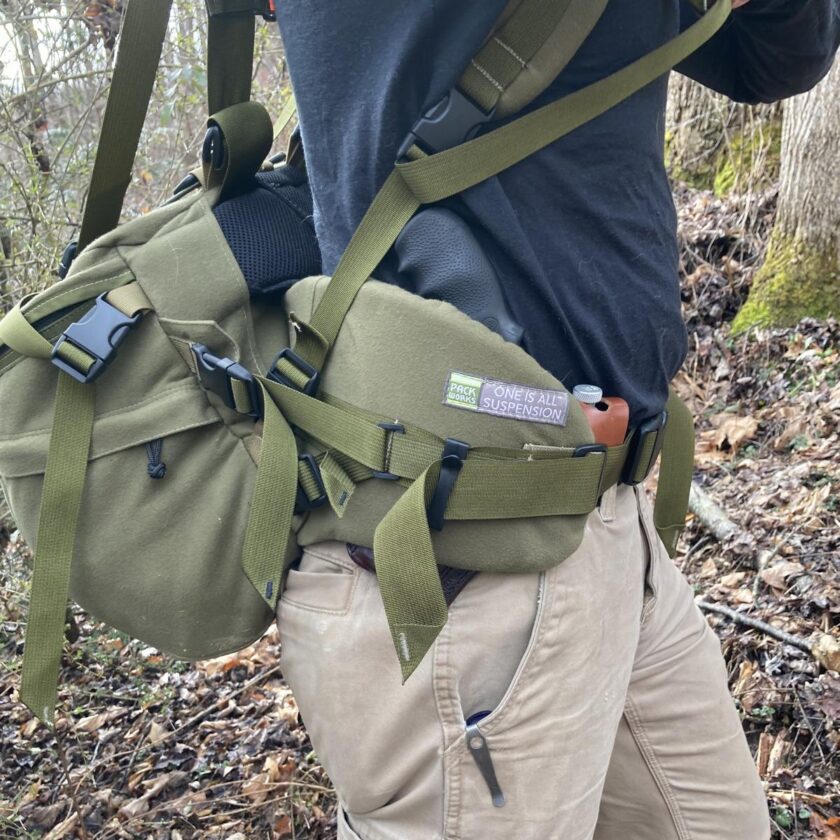 The OPW Lumbar is designed with a curve to truly fit in the lumbar region rather than ride as a "fanny" pack. If found this to be comfortable and as Karl pointed out, it also allows the lumbar to be worn on horseback without contacting the saddle. The photo above shows the pack just a tad lower than recommended ride height.
The Lumbar Pack
The pack is constructed out of a rather unique fabric and this is an area in which the pack really shines. Allow me to backstory just a bit. When I contacted OPW I was informed that their packs did not require a rain cover because they were already waterproof. But when I opened the box I was somewhat confused; the pack felt slightly fuzzy and soft. Had I been mistaken about hearing "waterproof"? Turns out, I wasn't. The fabric used in all OPW packs is soft, quiet, and waterproof. This is accomplished by using dual layers.  The first is "polytricot PVC," which is backed by 200-denier ripstop nylon. This combination is very tough, water-resistant, yet somehow still very soft and quiet. All Oregon Pack Works packs are available in several colors including OD Green (I'm told OD is on backorder at time of writing), Predator Deception Brown, and Open Range. Multi-Cam is also available, but it is a propriety fabric and is not waterproof.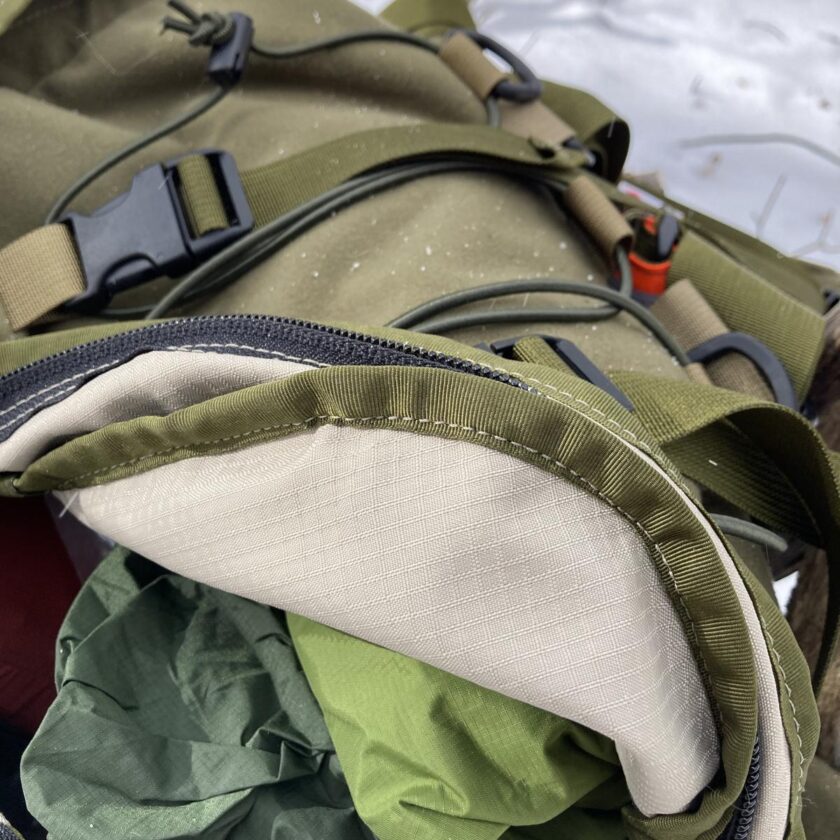 Construction of the lumbar pack centers around one large, main body. And it is quite large; the Mountainsmith Tour I reviewed recently could fit entirely inside the OPW bag with plenty of room to spare. I was able to pack all my normal hiking/survival gear into the OPW pack, as well as a jacket (normally strapped to the bottom of my Mountainsmith) and my water bottles (normally in external water bottle pockets), and still had some room to spare. Though I eventually came to appreciate the OPW pack, I never found it fully ideal. I found that putting that much stuff in a single, large compartment caused stuff to shift around. The obvious solution is to pack multiple, smaller pouches containing sets of items using the inception-packing methodology.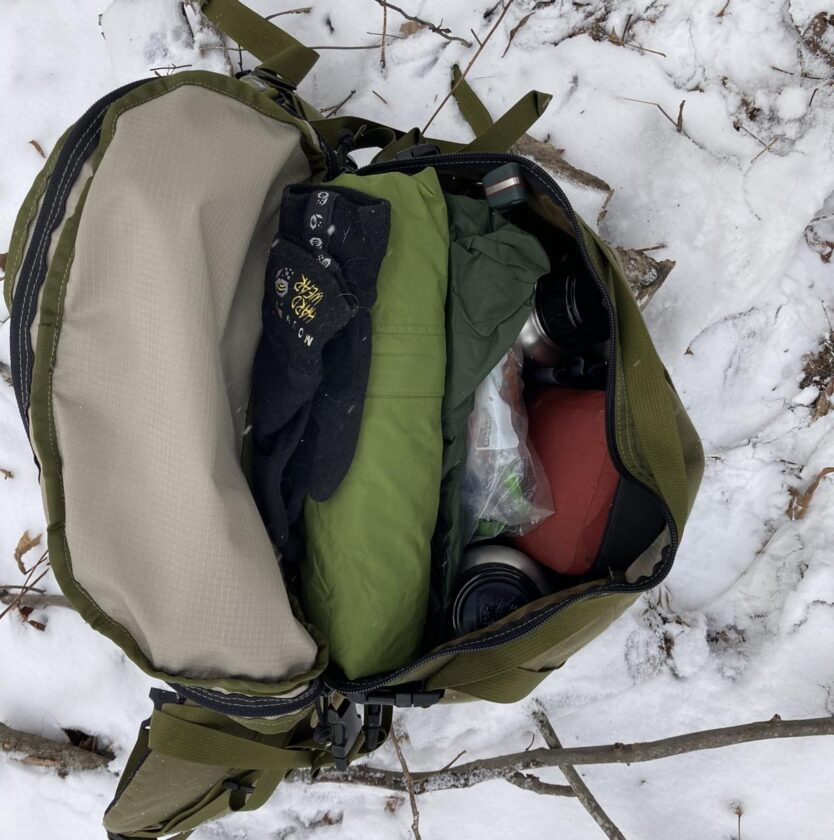 The size is a good thing on this pack as there are no exterior water bottle pockets. Karl, the owner of OPW, declines to include water bottle pockets because his products are primary geared toward hunters; water bottles may make undesirable noise. There are two slash pockets, one on each side of the pack body.  These are very flat pockets and might be handy for keeping small, easily-misplaced items handy. Because they open into the main pack body they don't really offer any additional space and I didn't end up using them.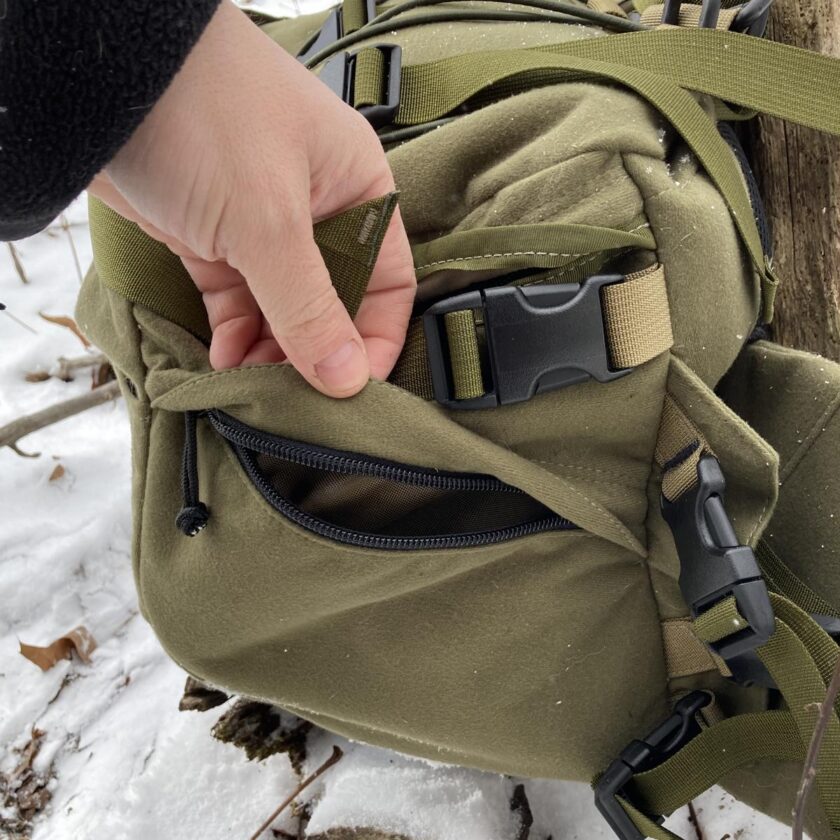 The top of the pack features a criss-crossed set of shock cord for lashing down soft items like a coat or sweater, or a bulkier item like a tarp or even a ground pad. I think this is a very useful feature for trips that push the limits of the lumbar's capacity. Strapping stuff on the bottom of a lumbar pack works, but increases the vertical profile of the pack. Placing items on top places them within the profile of the wearer's back. I like this feature even though I didn't use it.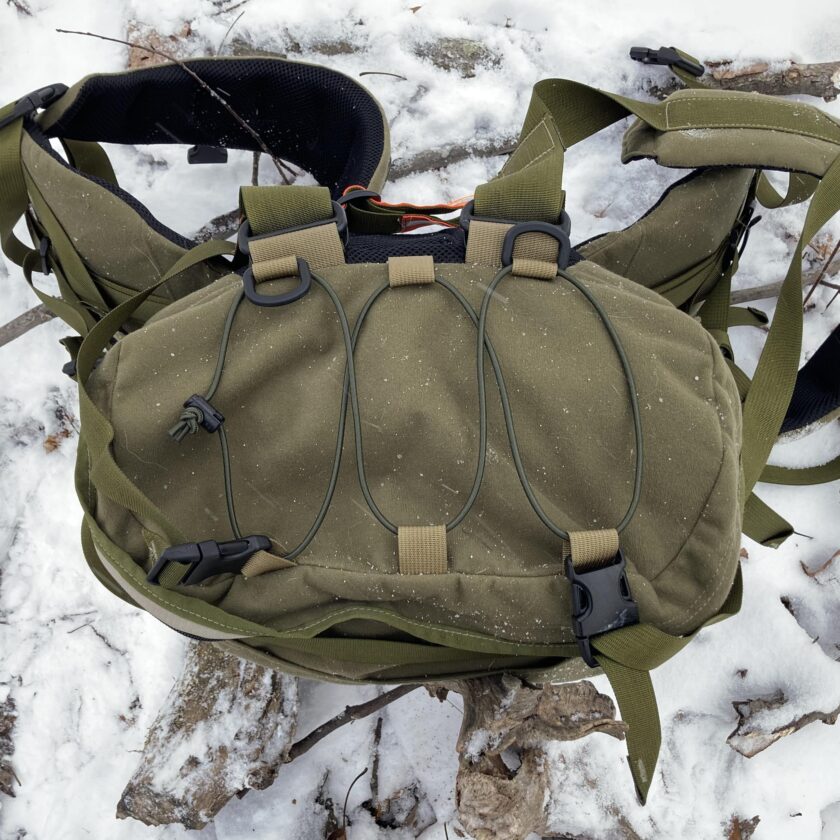 My Experience with the OPW Lumbar Pack
I didn't get as much time with this pack as I had hoped. The demo program rules specify two weeks, and further clarify "two weekends" to test gear. I'm sure Karl would have worked with me, but I wanted to abide by the rules of the program that everyone else would get. Unfortunately I lost the first weekend due to class (8 to 5 Saturday) and work (7A Sunday to 7A Monday). The second Saturday was lost to work, so I was left with a Sunday – the last Sunday before it was due. I managed to get in a decent 7-miler with the OPW lumbar pack, loaded with my normal compliment of outdoor survival gear.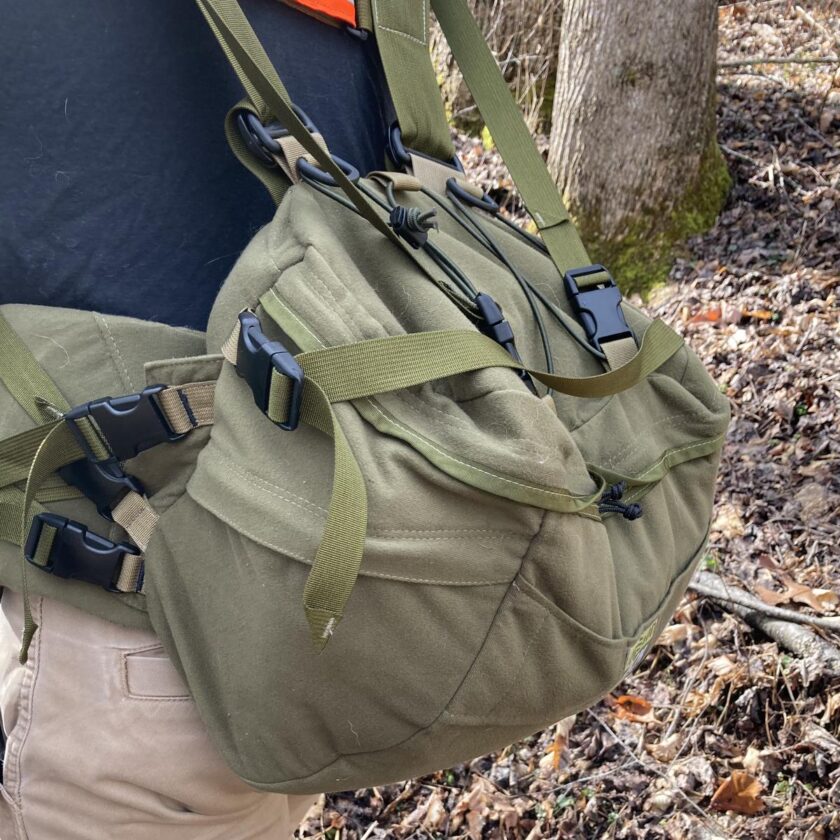 During that two-week period I did keep the OPW Lumbar Pack packed, and used it as my car pack, carrying it back and forth to the car whenever I left the house. I developed something of an affinity for it during that time. I definitely came to appreciate the pack's larger size and quiet fabric. On the hike, however, I discovered that this pack was not for me. At this point I'm going to issue another disclaimer: I had issues with the suspension system. This could be a fitment issue unique to me. However, I can wear most packs built for average-sized adults without issue.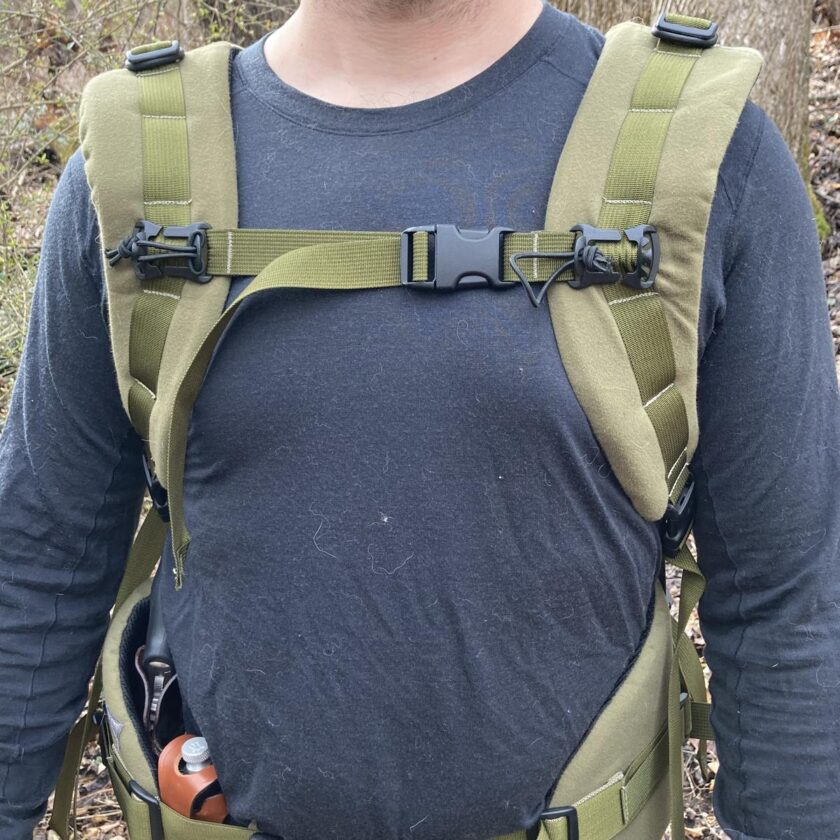 I found that I was somewhat uncomfortable when carrying this pack. The shoulder straps were set just a bit wide for my frame. While the width and heavy padding were comfortable, the straps did two things I didn't like. First, they sat on the lateral (outboard) aspect of my shoulders. No amount of adjusting could get them up on the meat of my traps, where I'd like them to sit, giving the feeling that they were constantly about to slip off my shoulders. I think I'm preferential to the "X" arrangement on the Mountainsmith strapettes, or the "Y" arrangement on legacy military "web" gear (which, in tandem with a butt pack might be the original lumbar pack) for this reason.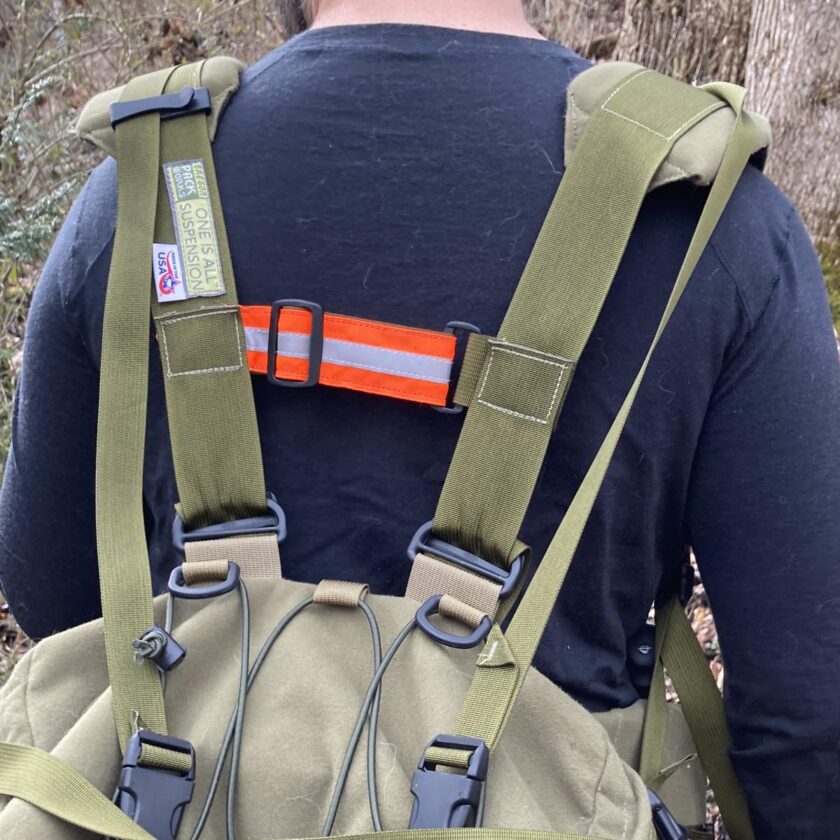 Second, when I tried to correct this by tightening the sternum strap, the shoulder straps tended to bow inward and not sit flat on my shoulders. The photo above gives a good idea of what I'm talking about. The outboard portion of the strap isn't in contact with anything.  This definitely created some comfort issues, and even had I had the opportunity to carry the pack more I doubt I would have wanted to.
Closing Thoughts
Aside from the suspension issue, I really came to like the OPW Lumbar Pack. I also really came to like Oregon Pack Works. Oregon Pack Works is American-owned, and all their packs are made in the USA. Co-founder and owner Karl is a retired firefighter/paramedic, so naturally he and I have a little common ground there. Karl personally answers emails and will work to make sure you get exactly what you need. As I mentioned, OPW also offers a demo program that lets you see if their gear works for you. In my opinion this should be a standard feature of very expensive equipment.
Another reason for my fondness for OPW is that the equipment is built to last. Oregon Pack Works has an limited, lifetime warranty. As Karl explained to me, warranty service is extremely costly and has been the death of more than a few American companies. To cut down on warranty service costs, OPW builds their gear right the first time. Warranty service also drives some design decisions, such as the use of high-quality fabric, and eschewing some high-wear fabric like mesh. You can trust that you are getting a good piece of kit when you order from Oregon Pack Works. The OPW Lumbar pack itself is an outstanding pack.
That said, this still wasn't the lumbar pack for me. The fitment issue just wasn't quite to my liking  – I just couldn't get it adjusted to a position that worked for me. Again, keep mind that my experience with this pack is unique to me. It might work for you, it might not, as fitment is an incredibly individual-sensitive facet of a pack.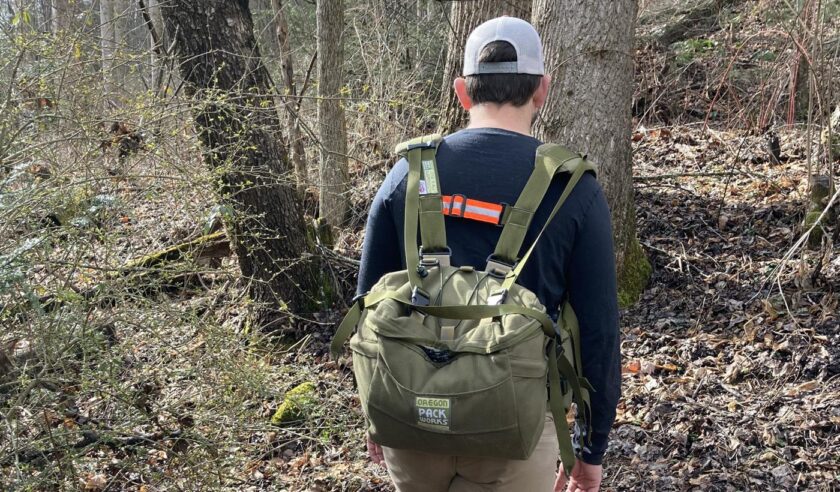 ---