Today I am reviewing a new EDC Flashlight from LA Police Gear, the LAPG EDC Operator.
LAPG EDC Operator
This review marks the first since affiliating with LA Police Gear. Since becoming an affiliate I have access to most of the gear that LAPG carries and will review some of it here, honestly and fairly. My privacy policy has been updated to indicate this new affiliate relationship, and in the future articles on the site may contain affiliate links to LA Police Gear. I receive a small commission when you purchase something via these links in exchange for referring you.
Updates to the Chart
This review also marks a change to the flashlight review table and a slight change to my overall review format. I have added a feature to the table, and combined two categories to make for a smoother flow. First, I have added a line in "Form Factor" for a crenelated bezel. These are often known as "strike" bezels but they offer an additional function, as well (detailed in the review below).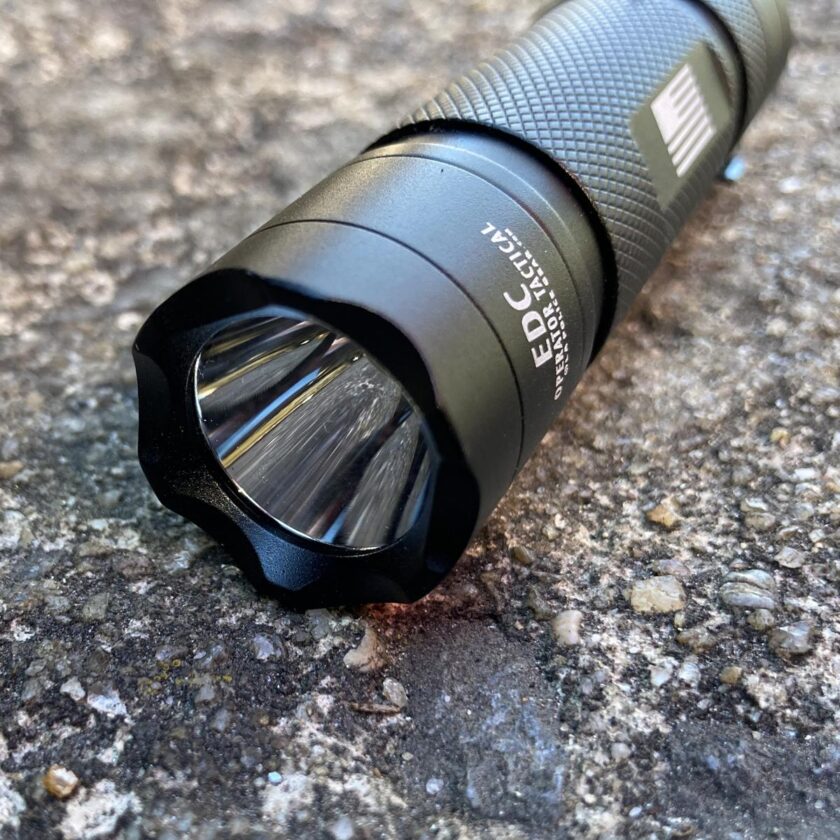 Next, I have combined Categories II (Powered by a Single Battery) and III (Modes) into a single category called, "Power and Modes." The original format was based on my criteria (at the time) for an EDC flashlight. Currently I find myself reviewing a broader array of lights and want to make the review format a bit more adaptable.  With that said, let's get into it! Here are the LAPG Operator's features in a table:
Criteria
Y/N
Tail Switch
Yes
Instantly Access High
Yes
Momentary ON
NO
Tail Stand
Yes
Single Battery
Yes, CR123
High Mode 200-300+ lumens
Yes, 330
Low Mode 20-30 lumens
NO, 55
Firefly Mode < 1 lumen
NO
No/Unobtrusive Strobe
NO
Method of Accessing Modes
Half-pressing tail switch while in ON
Form Factor: Size
Length: 3.66 inches
Dia: 0.88 inches
Form Factor: Weight
2.4 oz, with alkaline CR123 battery
Form Factor: Pocket Clip
Yes
Form Factor: Reversible Pocket Clip
NO
Form Factor: Crenelated Bezel
Yes
Form Factor: Knurling/Grip
Yes
Form Factor: Anti-Roll Flats
NO
Durablility/Water Resistance
IPx4, Splashing Water.
Price (LAPG)
$34.99
Category 1: Tail Switch
Tail switch actuation is one of the most important factors to me. I find the tail switch easier and faster to operate than bezel switches, certainly more positive than twist-tops, and easier than both to operate in the dark. If there's one thing you might need to know how to work in the dark, it's your flashlight. My preferred "ice pick" grip also works well with a tail switch. Let's go through all the factors that contribute to a good tail switch.
Tail Switch: The tail switch's design is outstanding on this light. A beneficial side effect of the light's extra diameter is the ability to equip it with a good-sized tail switch. It's large, protected by ears, textured, and rigid enough to earn very, very high marks from me.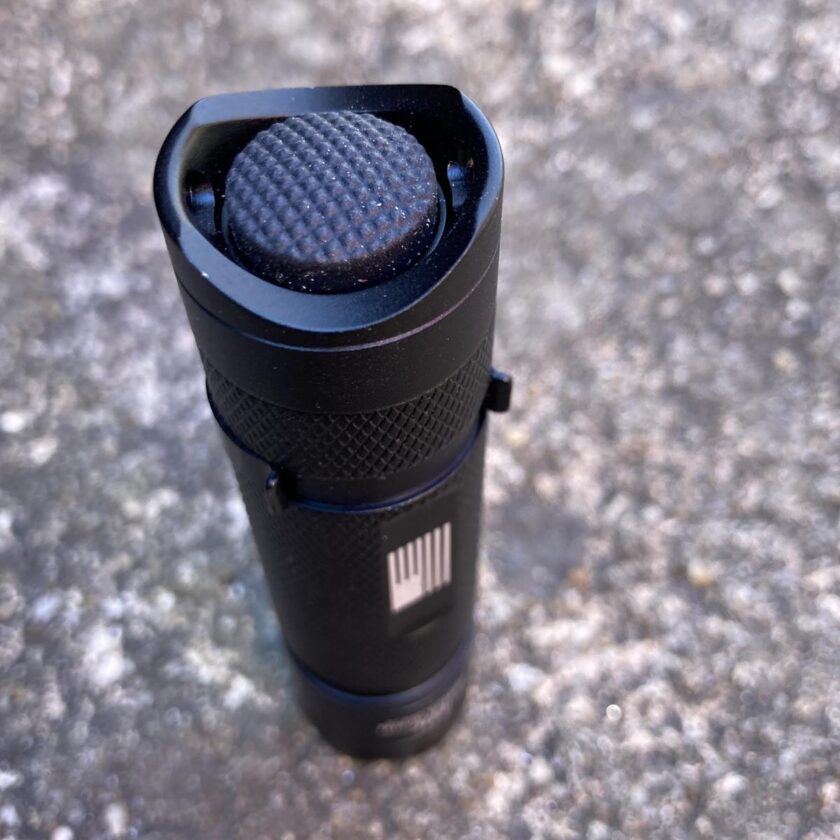 Instant Access to HIGH: Yes, and this is one of the better programming features of this light: it always comes back on in the highest brightness setting. This is true in all but one exception: if you turn the light on very quickly after turning it off, it will advance to the next setting in order (High, Medium, Low, and Strobe).
Momentary ON: No, and this is a big strike against this light. Sometimes I'm willing to give this a pass on AA- and AAA-powered lights. I realize that with the minimal space to work with in tiny AAA lights, the mechanics of a momentary-ON switch might be challenging. In a light of this size it should be a total non-issue, though. Honestly, this is maybe one of the biggest deal breakers with this light – otherwise it is pretty damn decent for the price and size.
Tail Stand: Yes, this light will stand on its tail, allowing you to light an entire room by bouncing nice, diffuse light off the ceiling.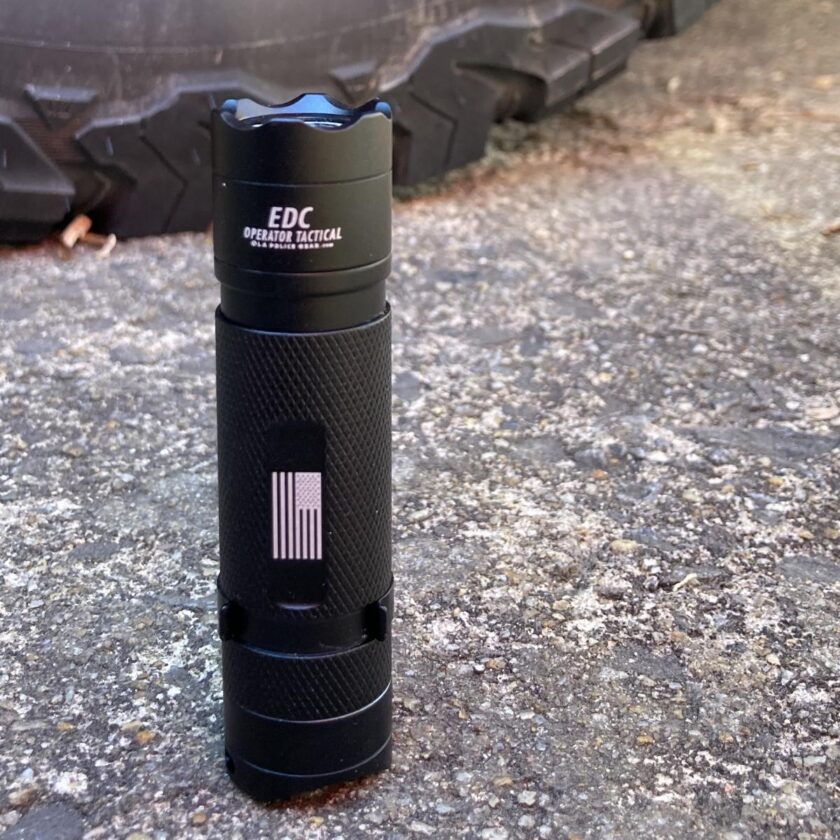 Category 2: Power & Modes

The LAPG EDC Operator is powered by a single CR123 battery. This makes it a bit larger than the AA flashlights I am typically fond of carrying, but not excessively so. Let's take a look at the modes available on the LAPG EDC Operator.
High: 330 lumens. That's not bad – this is a reasonably bright light for its size. The light has an advertised run time of 55 minutes on high.
Medium: 170 lumens. The light has an advertised run time of 90 minutes on medium.
Low: 55 lumens. This is a decent low. Honestly I'd rather this be the medium, and the light have a firefly setting…but that's probably just me. This light will run for an advertised 10 hours on low.
Firefly: N/A
No/Removable Strobe: No, the strobe must be toggled through if toggling through all the modes. I don't mind having a strobe should I need it for something like signalling in a wilderness environment, but I'd prefer to never see unless I need it.
Mode Switching: Mode switching is accomplished by half-pressing the tail switch. I don't think this is ideal (at least for me) but since the light always comes on in high I can live with it.
Category 3: Form Factor
Size
The size of this light is a mixed bag; it's quite a bit larger in diameter than even large AA lights. On the other hand, it's fairly short – shorter than my beloved Fenix LD12. I found that after a week of daily carry this just became "my light" and I rarely noticed I was carrying something other than my LD12. If you want a fairly short light this one might be your huckleberry; if you want a very thin light, this one probably ain't for you.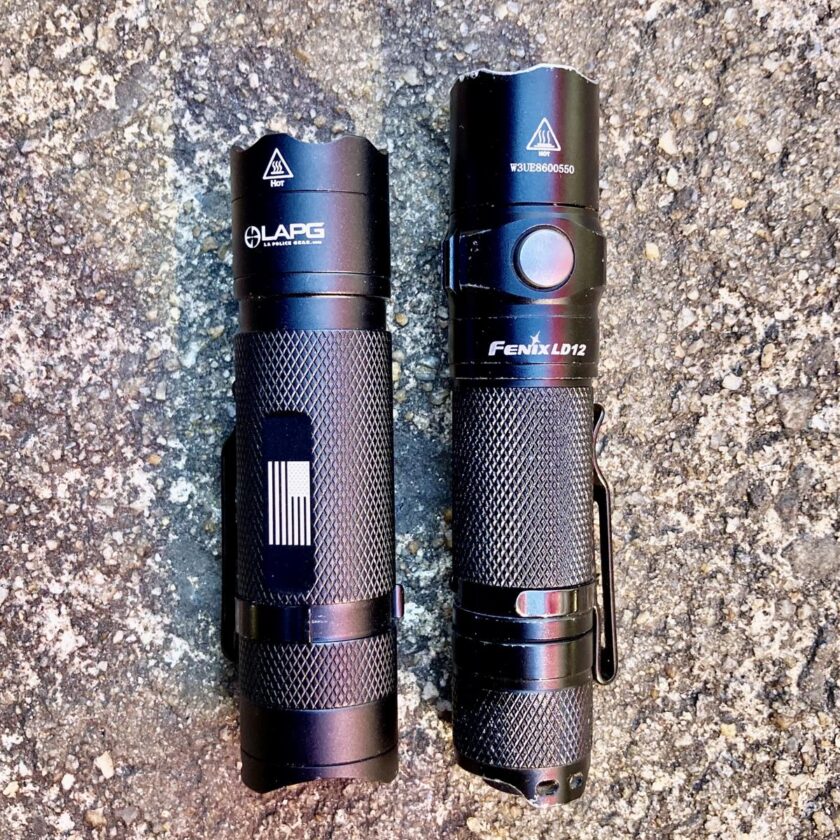 Weight
The EDC Operator weights 2.4 ounces with one, alkaline CR123 battery installed. That's the same weight as my Fenix LD12, which is a very comfortable weight – light enough to forget it's there.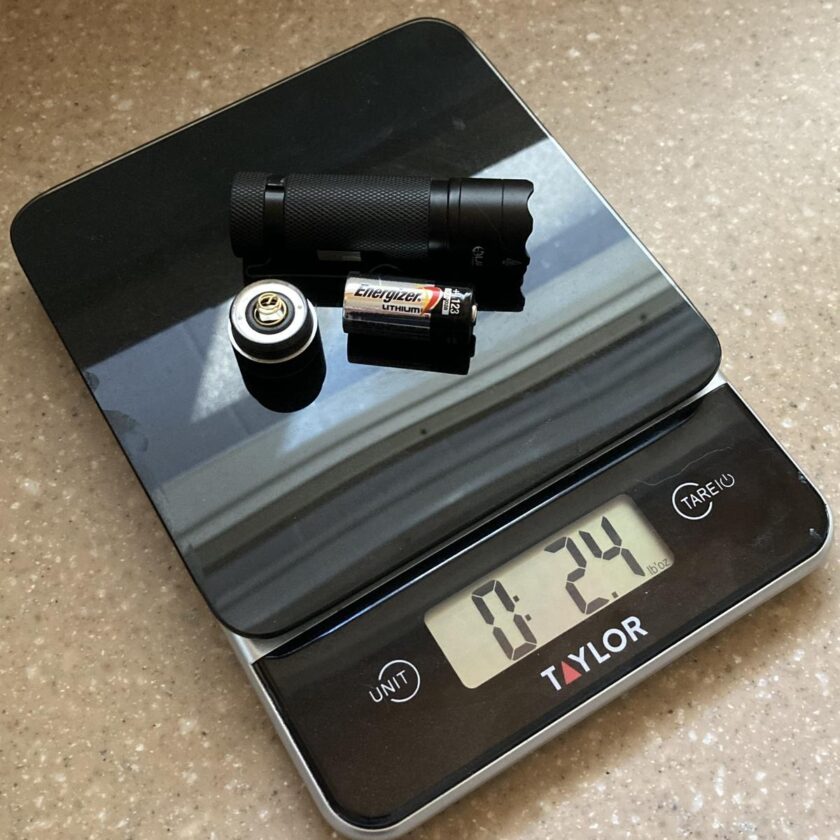 Pocket Clip
Initially I didn't love this pocket clip but I've come around to it. First, it has enough of a flare to slip easily over the hem of your pocket when putting it away. This is a very welcome feature. The clip is about the perfect rigidity to hold the light firmly in place but releases it smoothly and easily.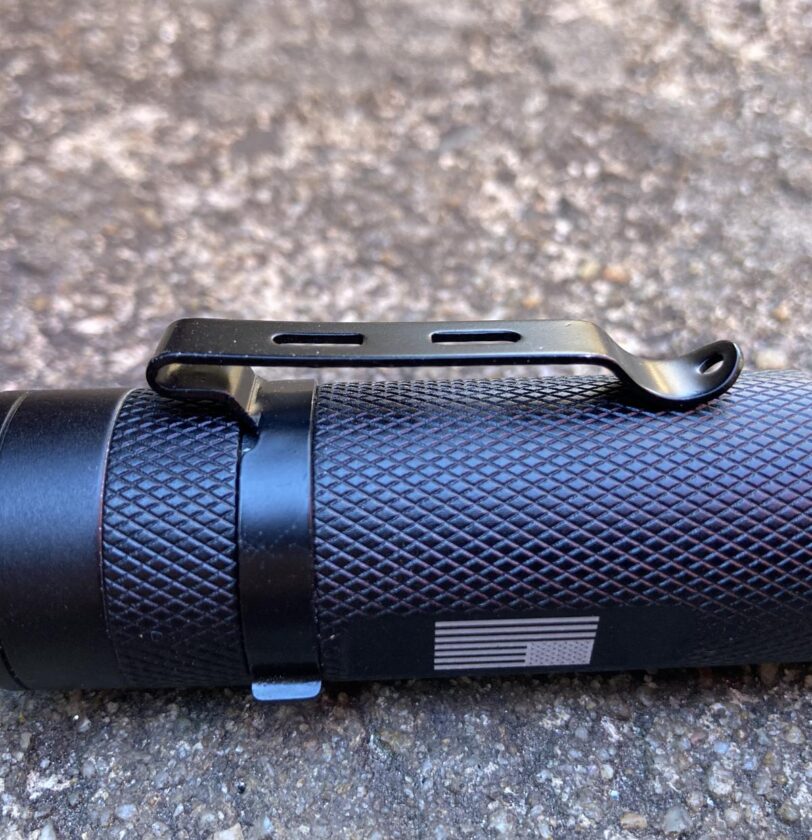 The light rides fairly deeply in the pocket. A half-inch or so protrudes above the top of the pocket which isn't a lot by flashlight standards, and enough is left up that it's pretty easy to get a purchase on the light. Again, the clip is very well done.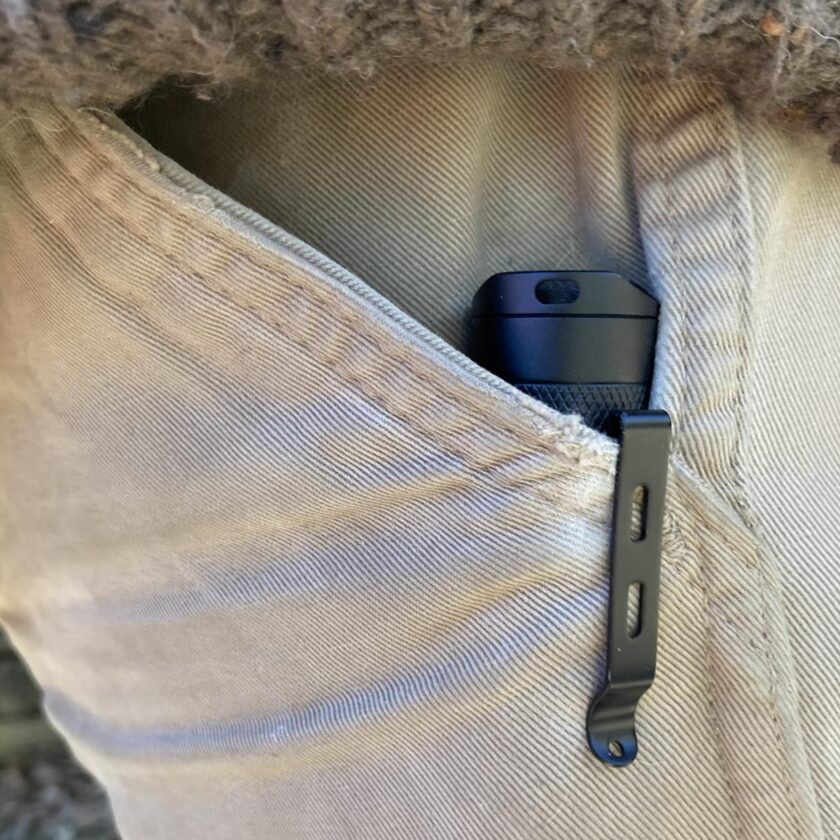 Reversible Pocket Clip
Yes. A reversible pocket clip allows the light to be carried in different arrangements and, importantly, allows it to be worn on the bill of a hat as a headlamp. The downside is this makes the clip bulkier. The Operator EDC's clip can be removed, then replaced on the forward portion of the light. This is pretty cool and this flashlight is light enough that it could actually be used as a headlamp. Also, becasue the reverse mounting position is forward it puts most of the weight of the light to the rear of the clip, under the brim of the hat. This is really nice feature.
Knurling/Grip Texture
Yes, this light does have decent knurling that isn't sharp and won't wear out your pocket but provides decent purchase. The one change I would like to see on a $35 light is some knurling on the tail cap. Unscrewing the tail cap is a common task for battery replacement and this one is perfectly smooth. It's a small thing, but for a light in this price range small things start to add up.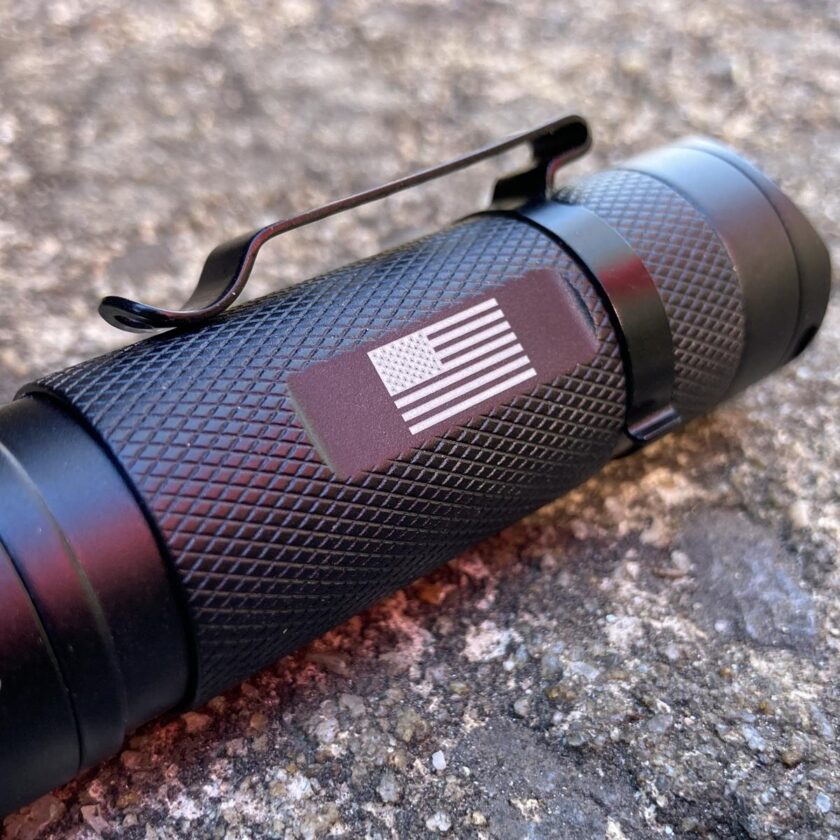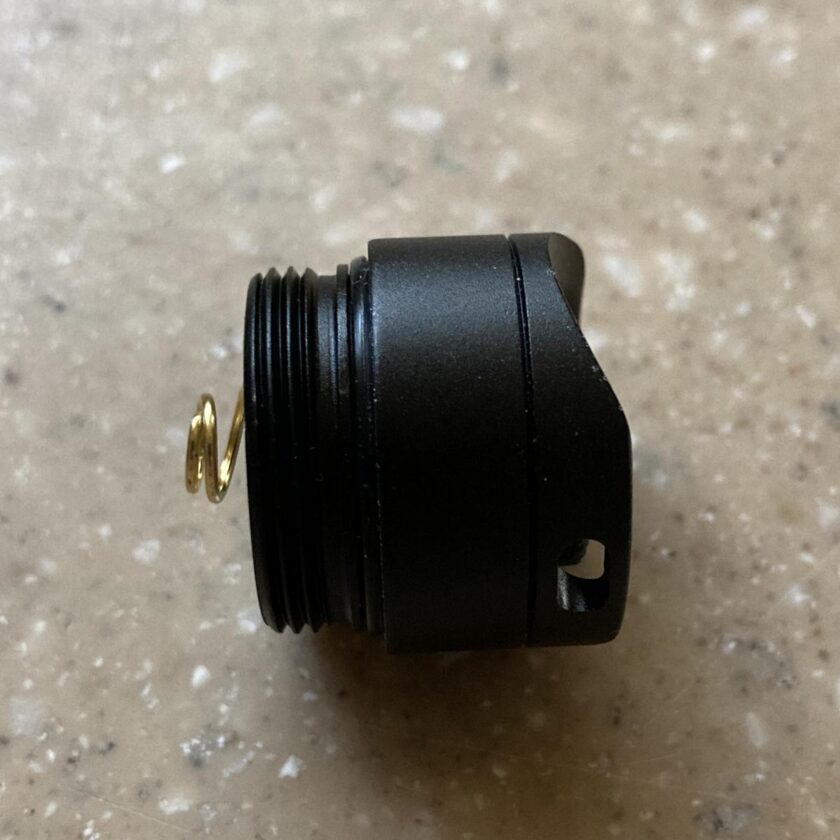 Crenelated Bezel
Yes, this light has a very nice crenelated bezel. In fact, it has such a pretty crenelated bezel that it persuaded me to update my flashlight chart to include this factor. A crenelated bezel makes the light more effective as a striking implement.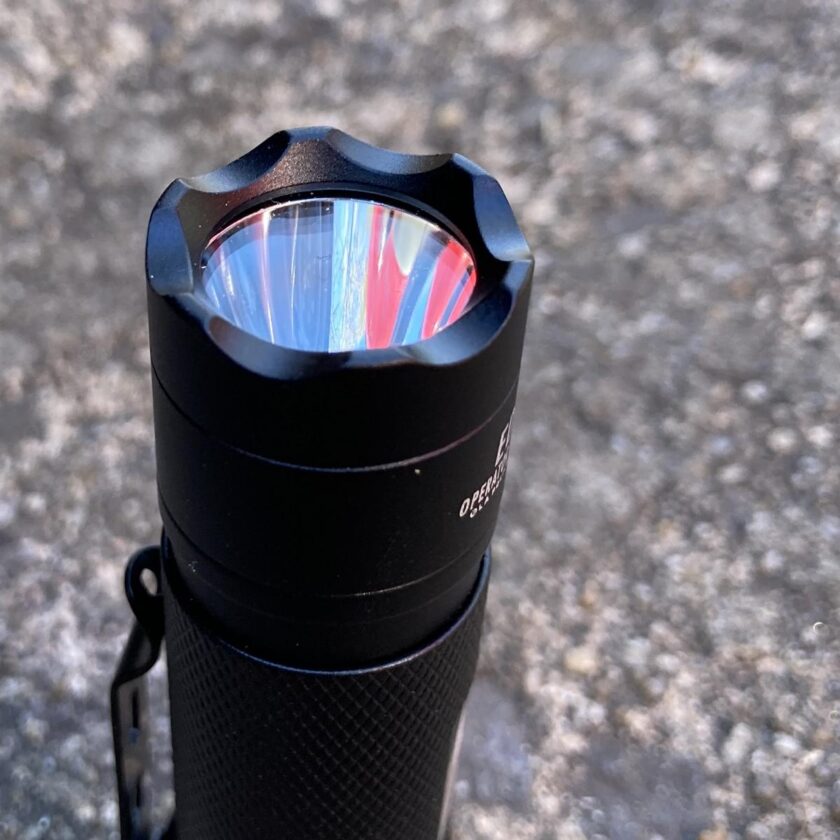 Another, infinitely more obscure (and honestly probably infinitely more useful) ability provided by a crenelated bezel is the ability to stand the light on the bezel and emit only a small amount of light. This is useful for map-reading and other administrative tasks. This one works pretty damn well for that.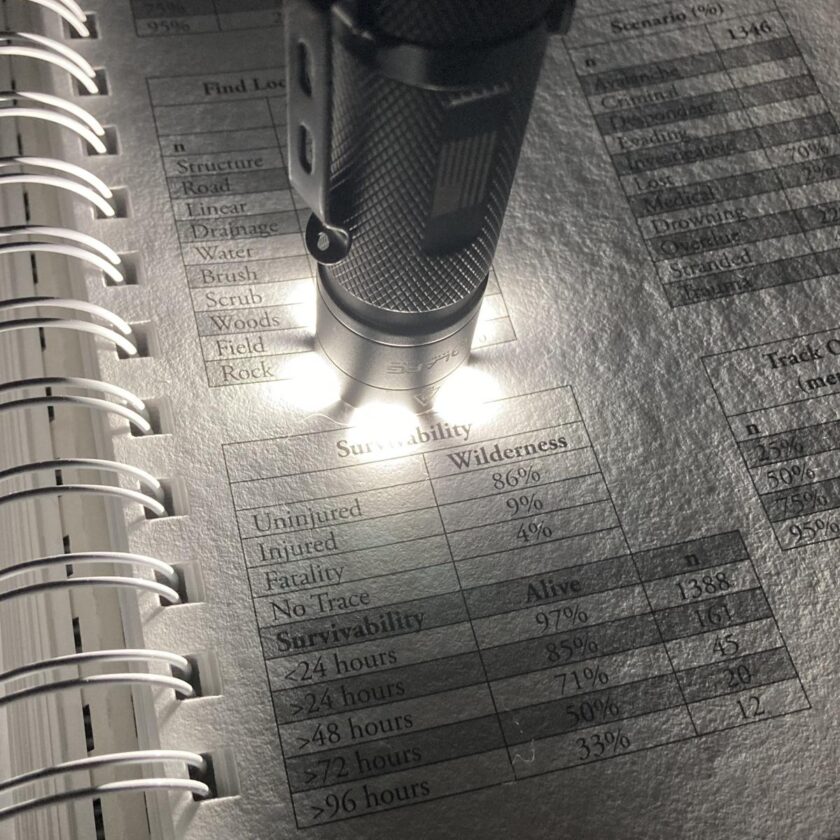 Anti-Roll Flats
No. I don't consider this an important feature because I always carry with a pocket clip which arrests roll, but it may be important to some readers who carry in in a different fashion.
Category 4: Durability & Water Resistance
The water resistance of the EDC Operator is, in a word, lame. It's rated as an IPX4 light which means it is is rated to withstand splashing of water. I have only reviewed one other flashlight with a "4" in the water-resistance rating, the Streamlight Microstream. I decided to give the EDC Operator a go in the soak test anyway, and see what happened. What happened is it passed with no problems. No water infiltration at all – I even checked the following morning to ensure no condensed moisture had popped up and it hadn't.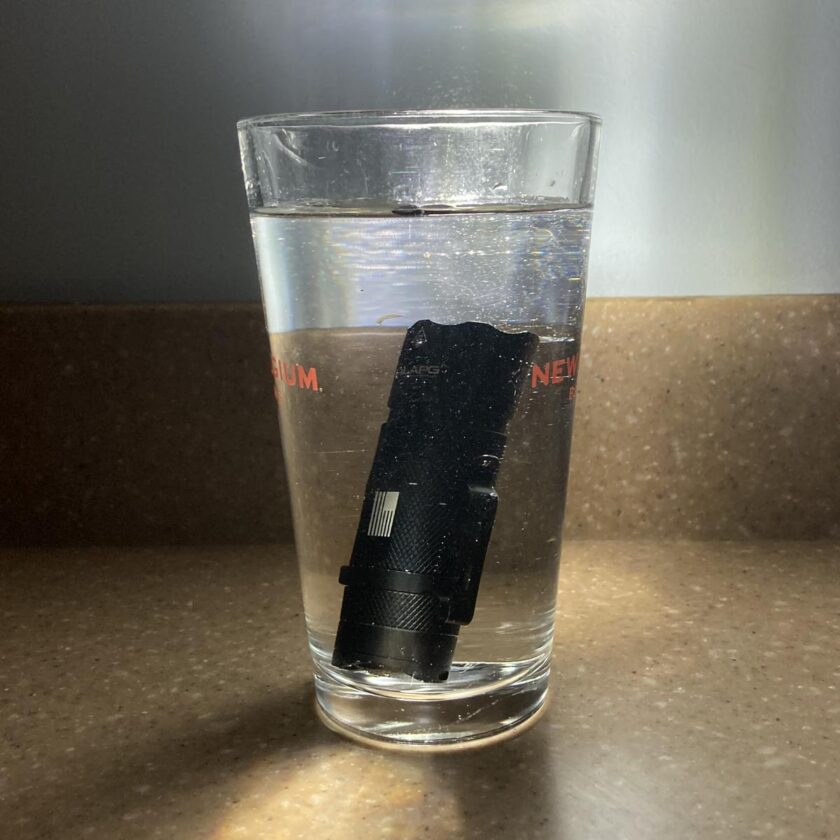 Water resistance is pretty important for a flashlight that you're going to carry every day. You don't want something as simple as getting caught in a heavy downpour to ruin your flashlight. I would prefer to see a much higher rating on the EDC Operator (say, IPX7 or 8) and I don't think this is a whole lot to ask of a flashlight these days. Still, the EDC Operator passed my test and I'd be confident carrying this one.
And in fact I did. I carried this light in my pocket for a full week. I used it on calls, in dark houses and on an motor vehicle accident in the middle of the night, and it performed admirably.  That isn't a perfect test of durability, but I carried it enough to chip some paint off of it and would have no problem carrying it some more.
Closing Thoughts on the LAPG EDC Operator
The EDC Operator is missing two critical features: a momentary "ON" (critical for an EDC flashlight) and a better guarantee of water resistance. I think both of those are important for an EDC light, and they are imperative on a light intended for tactical deployment. Otherwise I really like this light. The size is great and were it not for the lack of a momentary ON I would keep the LAPG EDC Operator in my pocket for the foreseeable future – it's not a bad light at all if it meets your criteria. The EDC Operator is available at LA Police Gear and retails for $34.99.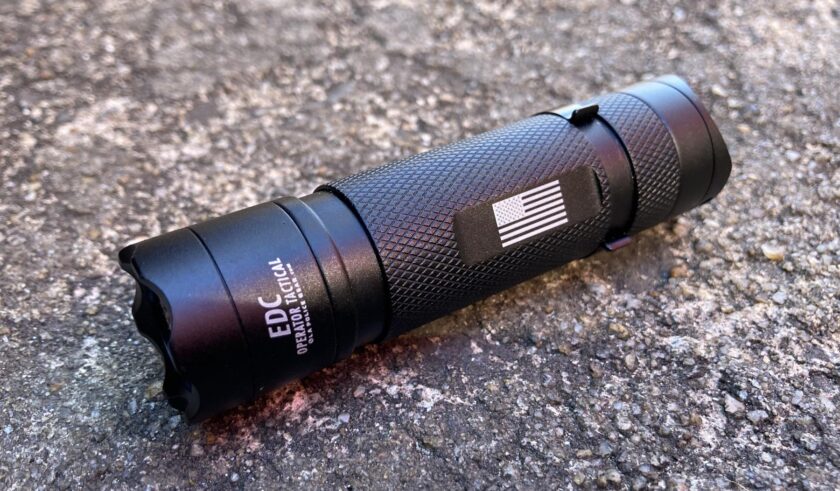 ---