As I wrote recently, I am a big fan of the Streamlight TLR-1 weapon-mounted light. Many of Streamlight's successive WLMs have held little appeal for me, trending generally smaller  and intended for EDC handguns. That's not universally true, but there hasn't been much in Streamlight's line that has really excited me until recently. Earlier this year Streamlight introduced a crop of new lights including the Streamlight TLR RM-2.
Full Disclosure: This article contains affiliate links. The light reviewed in this article was provided by Streamlight, at my request. I receive no financial incentive for the sale of Streamlight products.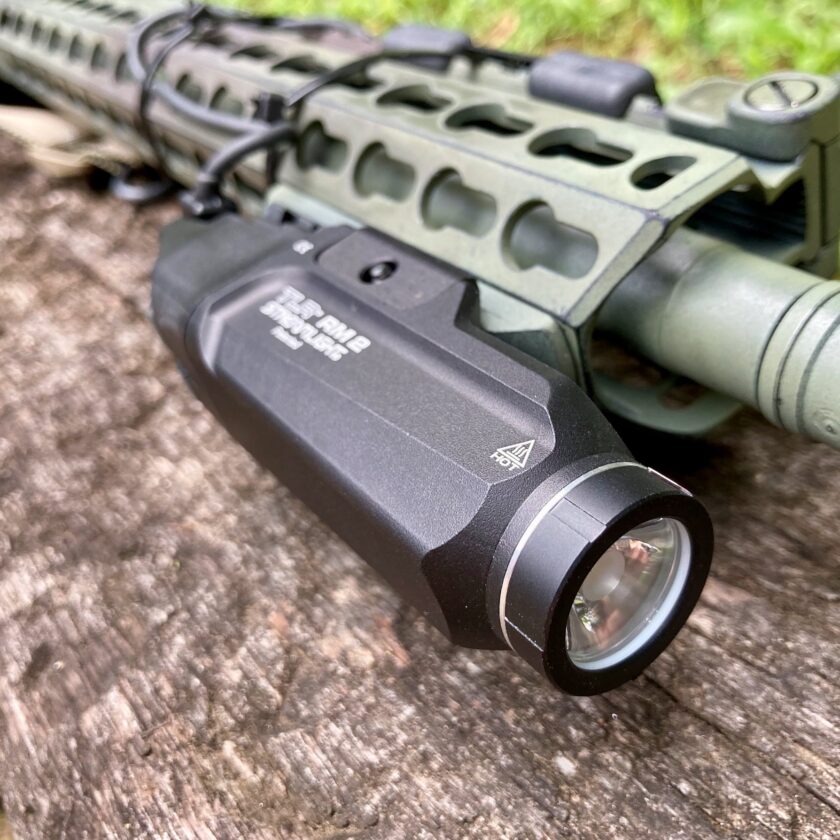 Streamlight TLR RM-2
The TLR RM-2 is a rail-mounted, 2 CR123, weapon-mounted light intended for use on long guns. It's design is somewhat streamlined, being both longer and thinner than the TLR-1 (of which I am a big fan). The TLR RM-2 has a built-in tail switch, but also a removable, remote pressure pad. In a world where most WMLs are either/or, this is a pretty nice feature and provides a good deal of flexibility in mounting and use.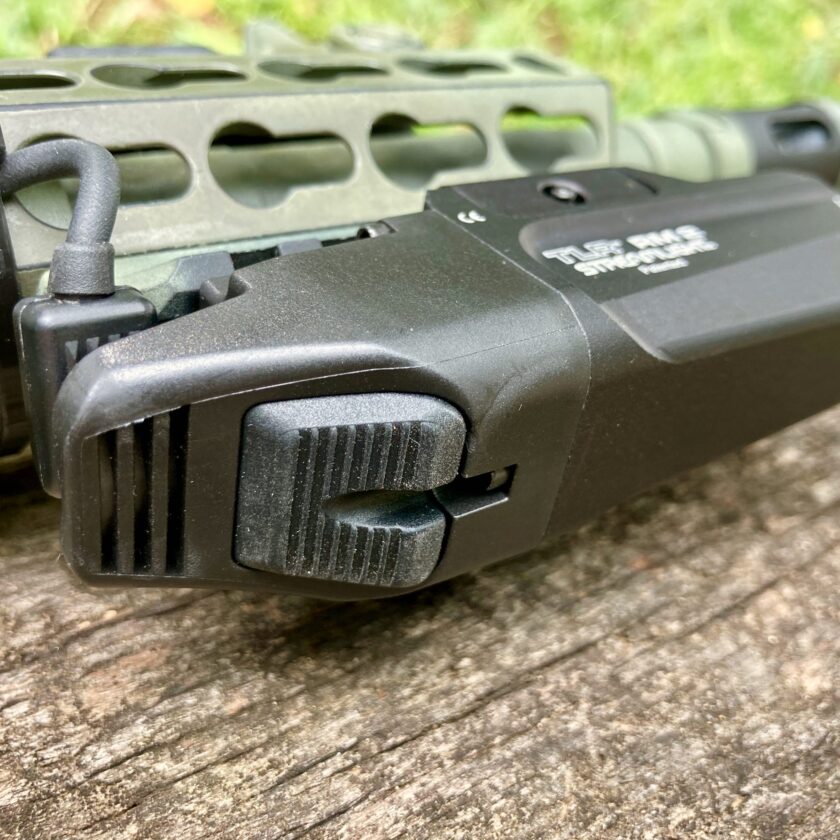 The tail switch sits on an angled rear surface, and is reminiscent of the Inforce WML family. I actually really like this setup because it lets the thumb rest on the switch and push down to actuate. The pressure pad comes with an adhesive pad, or (as is my preference) it can mount to the rail via two provided adapters. The adapters hold the pad securely and tightly to the rail and I'm actually quite impressed with them. To be honest, once on they're hard to get off, and I have little doubt they will hold the pressure pad in place.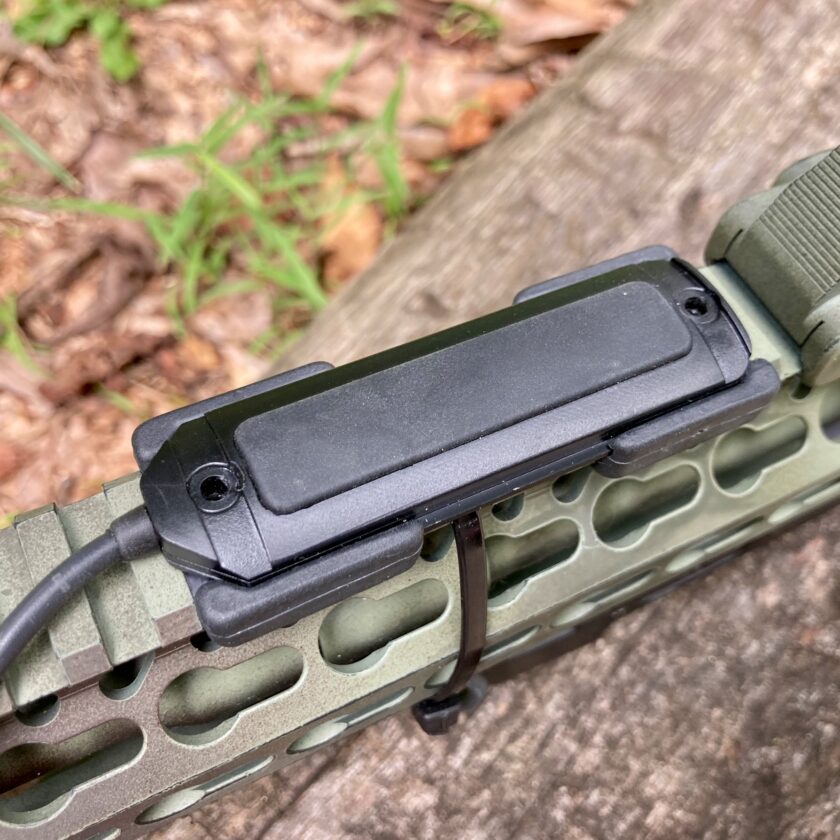 Two screws are provided, allowing you to screw the pressure pad directly into the adapters for additional security. I tried this but found that fully tightening the screws torqued the pressure pad in a way that interfered with its function (light permanently ON, or wouldn't turn on, depending on how tightly I tightened. I removed the screws and while I'm reasonably confident the pressure pad will stay put, I plan to revisit this.
The TLR RM2 offers an advertised 1,000 lumens and a max candela of 10,000. Though there are lights out there that produce much more light than this, I'm not sure what I would do with one. With a throw of 200 meters the TLR RM2 will light up anything on my property that can be lit from the house. At traditional self-defense ranges its cool light is more than adequate. The photo below was taken at seven yards and is in no way scientific, but should give you some idea.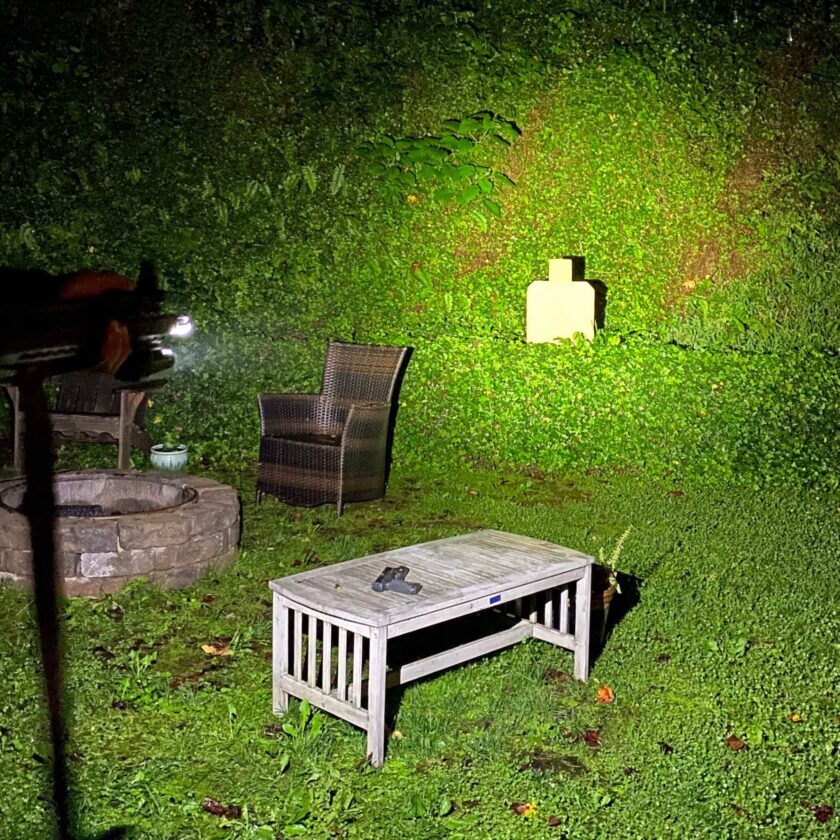 The TLR RM2 has a safety switch preventing accident discharge. By rotating the bezel you can lock the light out, preventing it from turning on when you don't want it to. With only 1.5 hours of runtime on two CR-123s, you certainly don't want the light coming on in your Pelican case or the trunk of your cruiser. This is a really handy feature. It is easy to engage and disengage, but the bezel is tight enough that it seems incredibly unlikely it could engage on accident.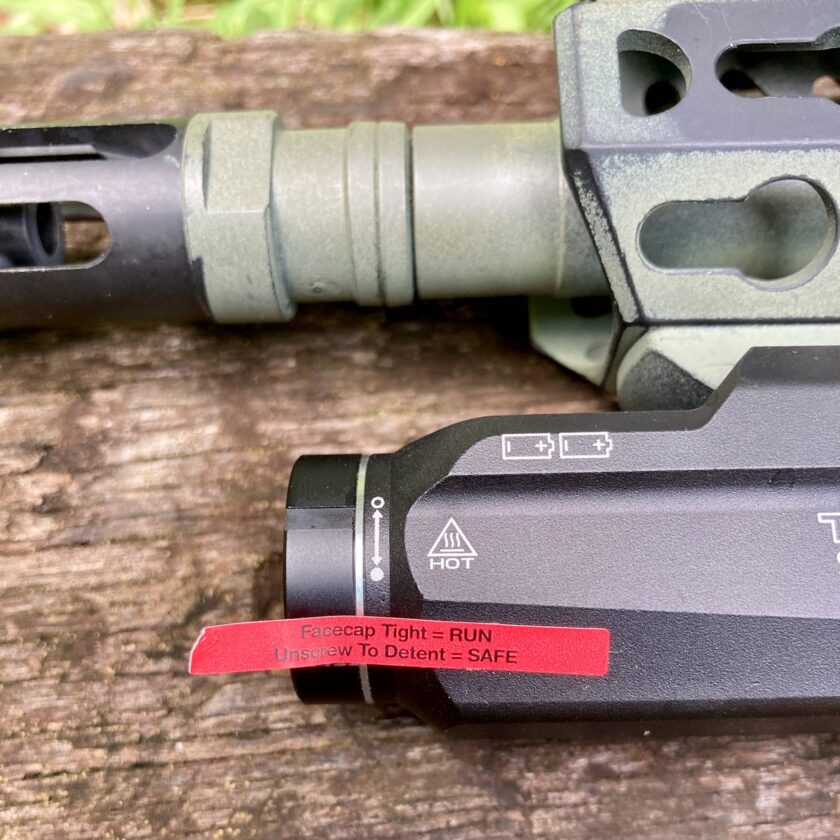 Using the TLR RM2
I took the TLR RM2 to the range and have fired 90 rounds (so far) with the light attached. Even with the relatively forward position of the light, the bezel wasn't covered in soot. Mostly this is a function of my BCM carbine's muzzle device. However, the lens of the TLR RM2 is much smaller than that of the TLR-1 I have been running on this carbine, which helps a bit, too.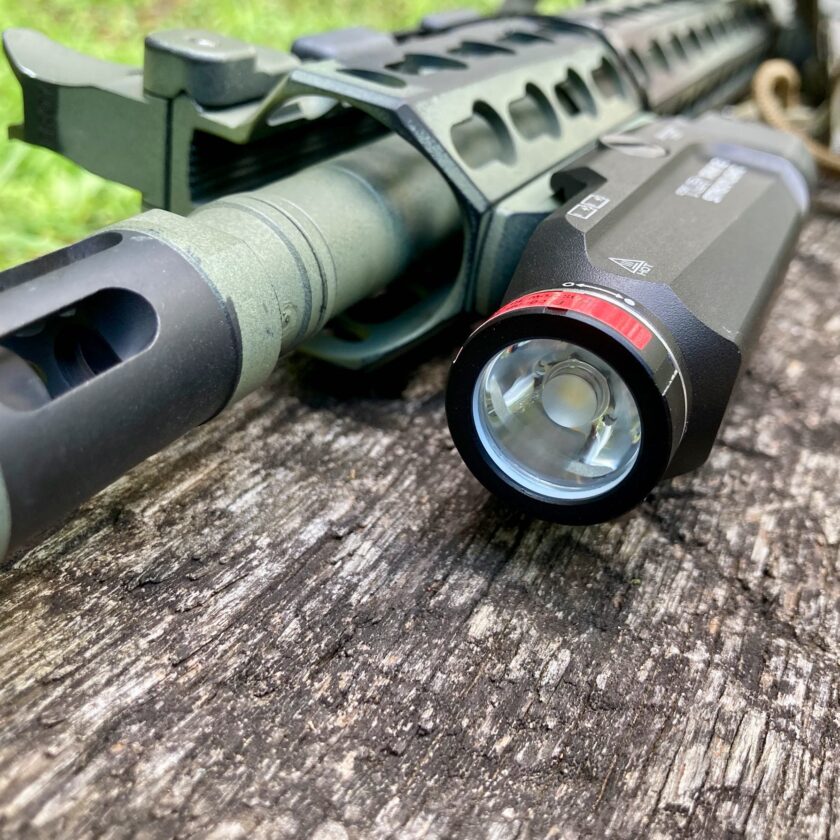 The pressure pad works extremely well, and I was able to get it and the light into a spot that worked with the preferred support hand position/grip, and works ambidextrously. It has just the right resistance and seems very durable. The Streamlight TLR RM2 has both a momentary ON and an ON. Like the TL-Racker I reviewed a few months ago, the user selects both via the pressure pad (or tail switch in this case). A short press turns the light ON, while a long press will keep the light illuminated only as long as the pad/switch is depressed. To be honest I'm not in love with this system. I have turned the light on in hopes of a short momentary "ON" only to find it left on when I removed pressure. This isn't the biggest problem but something that could possibly be better.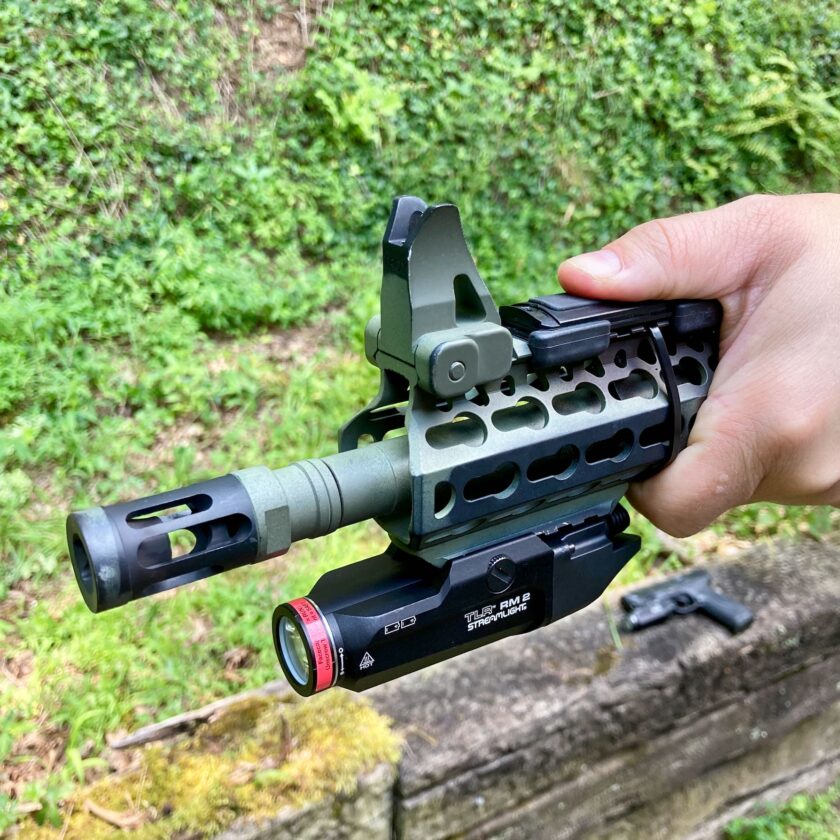 The TLR2's batteries sit inline with each other rather than side-by-side. This makes the light much skinnier than the TLR-1. Though this probably makes little practical difference, I like it. The fat TLR-1 was often out over the rail and interfered with certain grasps. Not to a huge degree, and certainly not enough to make the abandon the light, but I do appreciate the trim design of the Streamlight TLR RM-2.
My only real complaint about this light is the length of the pressure pad's cable. I have yet to figure out how I want to secure it so it's truly secure, but there isn't a zip-tie head poking me in the hand. I'll keep playing with it, and I may ultimately resort to Gorilla Tape.
The TLR RM-lights come in several variants. The TLR RM-2 as shown here comes with the light and the pressure pad. It is also available without the pressure pad for about $30 less. A single-cell TLR RM1 is available that is quite a bit shorter and a little bit cheaper, but only throws 500 lumens.
My Take
This light has been on my carbine for a little over a month now. and I don't see it going anywhere. It's a great size and weight, it's rugged, and throws plenty of light. The pressure pad works great and though I don't use it, I like the option to use the tail switch. Though I've seen some complaining about the price online, I think this light is worth it's $160-ish street price. The Streamlight TLR RM-2 is the light of choice on my go-to carbine. Check it out. I don't think you'll be disappointed.
---