As you guys may or may not know, this year is sort of the "year of the shotgun" for me. I've spent an entire month doing daily dry practice with my shotty, and this month (June) will see me repeat that. I've read two books about shotgun employment, and am about to start a third. Today I am going to review the biggest improvement made to my shotgun in a long time: the Streamlight TL-Racker WML.
This article contains affiliate links.
The Streamlight TL-Racker
I decided to give this light a serious look after seeing some favorable comments from some people I respect. I briefly mentioned it in an article I wrote earlier this year and received favorable emails from two of you who own the Streamlight TL-Racker. This was enough to convince me to give it a shot.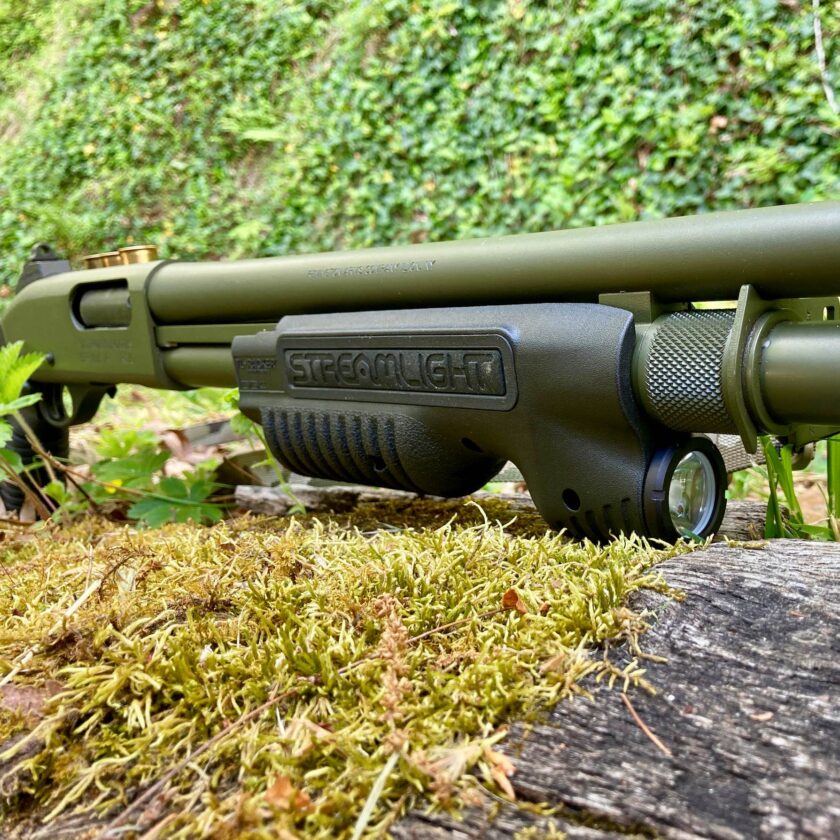 The Streamlight TL-Racker is a new variation on an old idea: a light mounted into a shotgun's forend. After having messed around with a variety of other weapon-mounted lights including an Inforce WML and a Streamlight TLR-1, I am very happy to have a dedicated shotgun light. The most important difference is that the TL-Racker is a single, integrated unit. This makes it both more rugged and more streamlined than a light bolted to the side of a forend.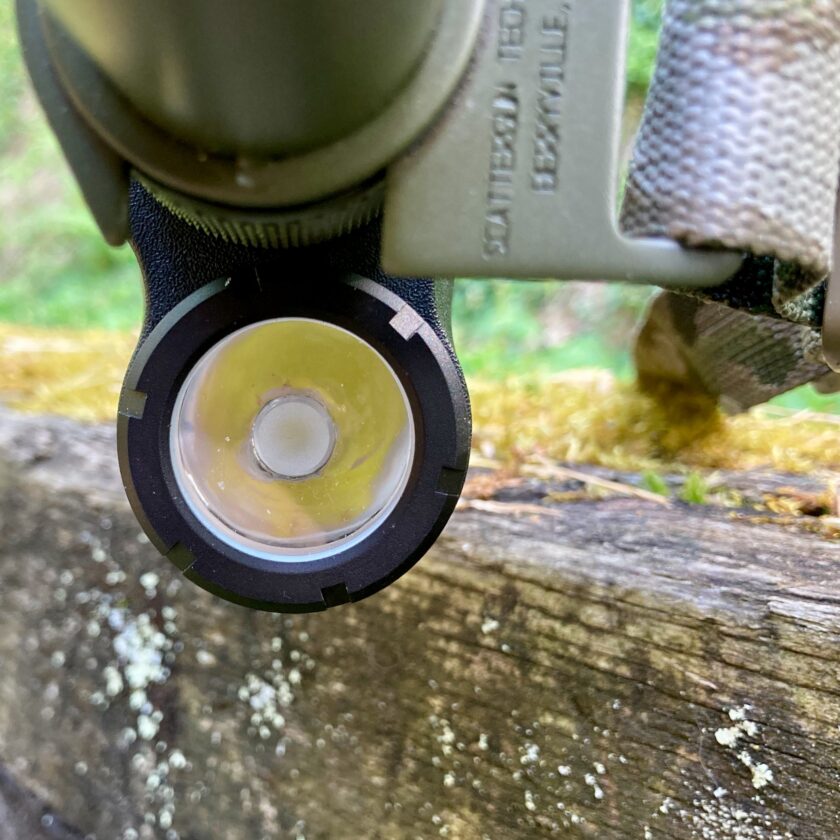 Form Factor
Mounting the light under the magazine tube rather than alongside the gun is a huge benefit. One thing I've always loved about the shotgun is its flat profile. Adding a light that sticks off the side of the gun increases the width of the shotgun substantially. Worse, as was the case on my gun, the sling may interfere with a side-mounted light. If you don't run a sling that's cool, but I do. Putting the light under the gun prevents it from being obscured by a side-mounted sling on either side of the gun.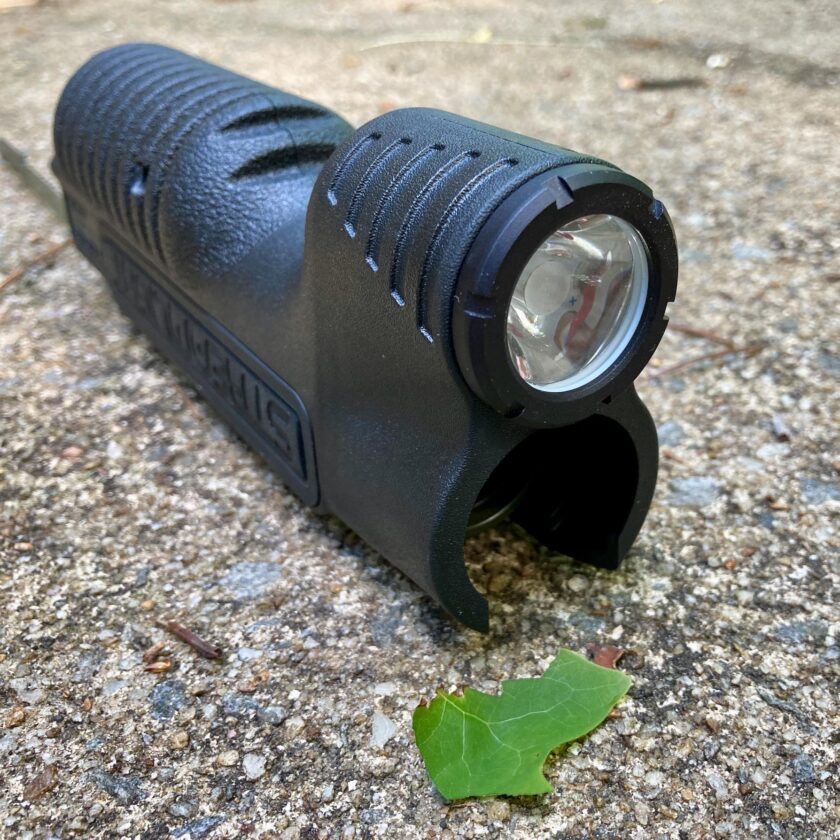 As I mentioned, this also makes the unit a bit more rugged. Obviously "ruggedness" varies but as I mentioned in an earlier article, I've had some trouble with non-integral lights mounted to the extremely popular Magpul forend. That won't be a problem with this unit, and overall the construction seems really solid. It is also waterproof, being IPX7 rated, meaning it can survive immersion in up to a meter of water. In all honesty a light drizzle is the worst thing my shotgun is likely to see, but it's good to know it won't kill my WML.
Switching
Another feature I really like is the Streamlight TL-Racker's very large, twin pressure switches. Each side of the unit has a large pad that allows both constant and momentary on. The pad is extremely easy to hit with any grip, and right- or left-handed. The user accesses constant on by tapping the button quickly and releasing. A momentary on is accessed by holding the pad slightly longer. Streamlight's instructions are a little vague here, referring only to a "short press" and a "long press." While I would prefer something a tad bit more definitive, overall I don't find it to be that much of a detriment.
Using The TL-Racker
As soon as the Streamlight TL-Racker arrived I put it on my shotgun and loaded the two included CR-123 batteries into it. The battery cap seems very unlikely to accidentally open or loosen. It is threaded on and takes quite a few turns to remove.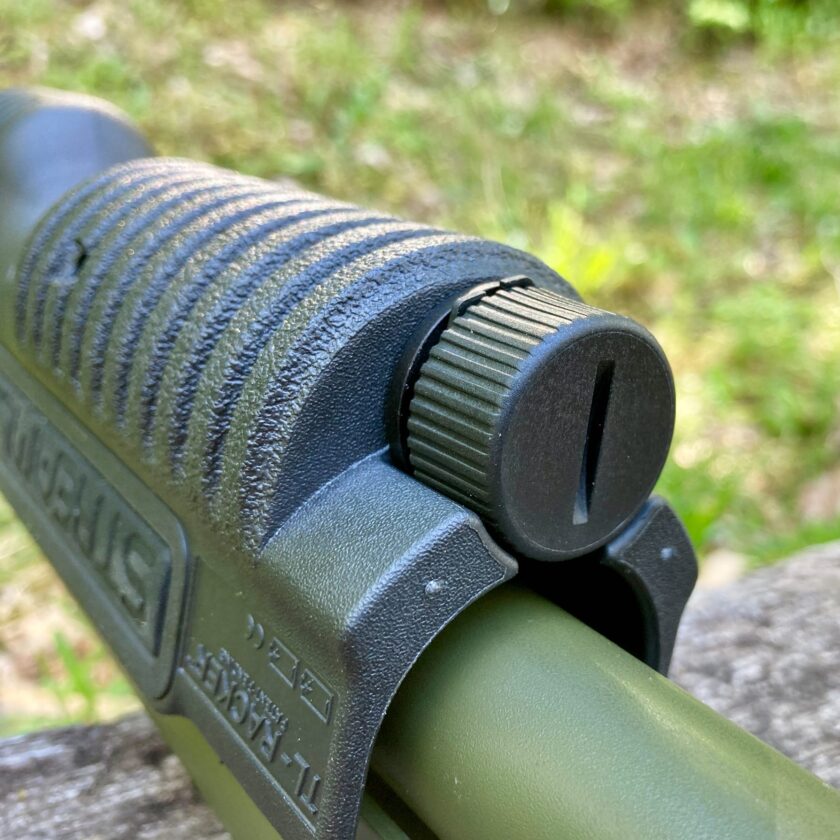 Fully racked to the rear the TL-Racker does cover a portion of the receiver. This may interfere with some side-saddle ammunition carriage options (this seems to be another mark in favor of "soft" loop options on pump guns). I'm not an engineer but I'm not sure why this overlap is necessary and would prefer it be absent.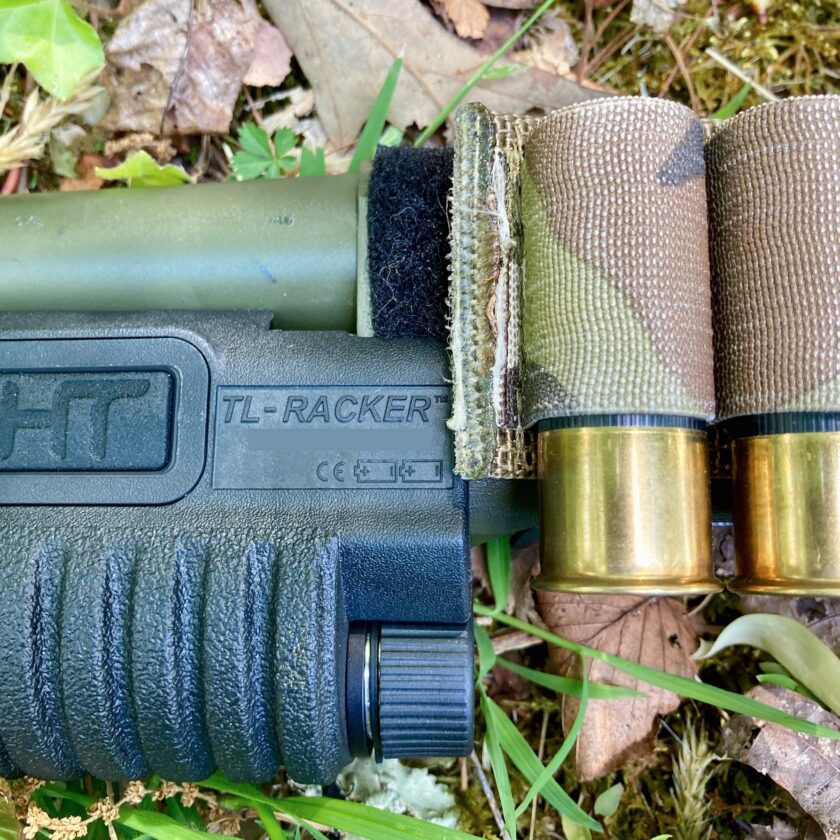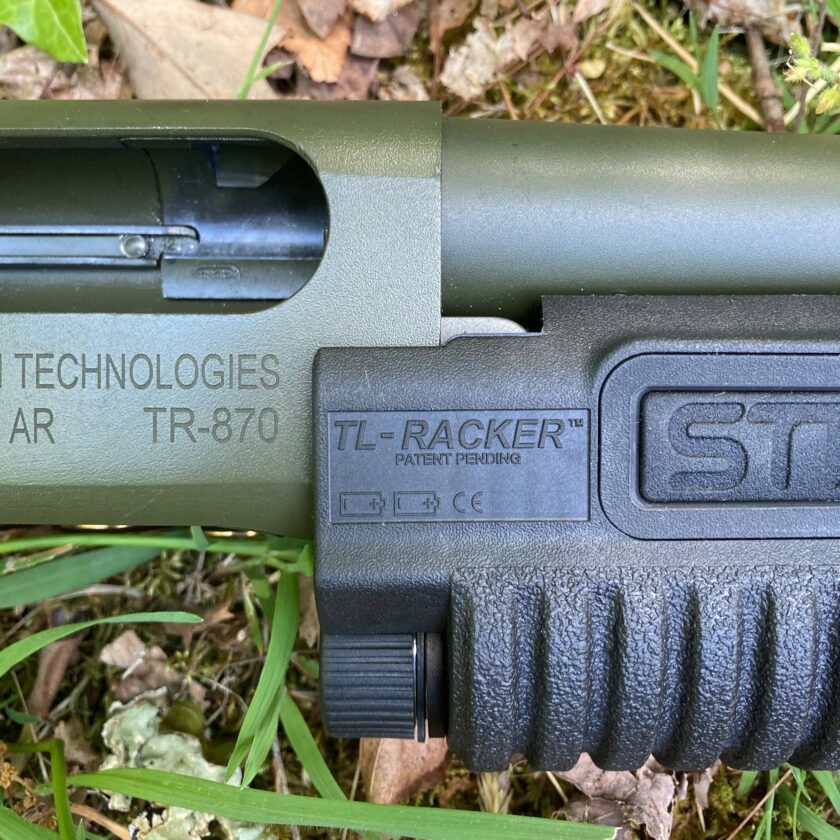 Problems: Size & Weight
Probably my biggest complaint with the Streamlight TL-Racker is its bulk. It is a very thick forend. My favorite of the three forends shown below is the very narrow Speedfeed forend; it just seems easier to get a very solid grip on it. The TL-Racker is very hand-filling, and before shooting I had some concerns that it was too big. As it turns out, while it doesn't feel the best in my hand, it isn't too big to shoot well.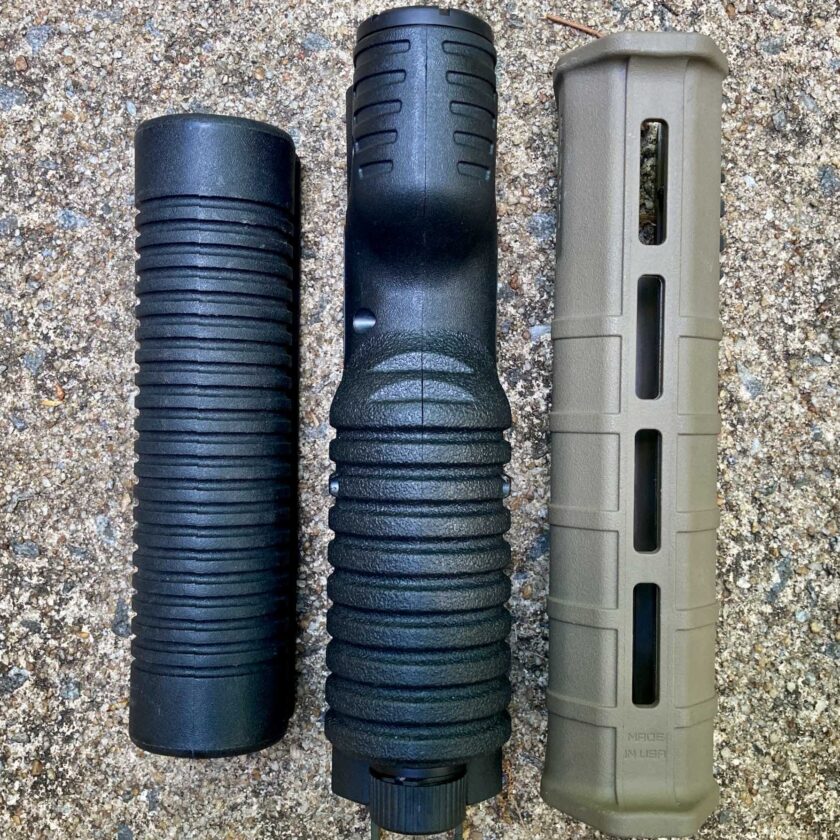 Coming in at a tad over 12 ounces, the TL-Racker does place a good amount of weight on the gun. The weight doesn't hurt at mitigating recoil, but it does add weight.  My 870 seems to get heavier and heavier…and I don't have that much junk on it: a soft side saddle, a sling, and a light. On the other hand there aren't a ton of alternatives, and the Streamlight TL-Racker compares favorably in the weight department to the other big contender, the Surefire forend.
I haven't fired an exhaustive test with this forend but I have fired a couple hundred rounds. So far, so good – the light is holding up well.There is one thing to note about the TL-Racker's design. I've gotten my fingers thumped a couple of times by getting my hand into that curved portion behind the light. For some reason my hand wanted to go there. But like a middle finger behind a revolver's trigger guard, this area of the light can get you under recoil if your grip loosens at all. I recommend holding the TL-Racker by that big, meaty portion where it's meant to be held.
Lighting Power
The light output – a claimed 1,000 lumens – is quite impressive. I've used it at least twice to illuminate the yard, all the way down to the road, when the dogs are barking at something. The two images below compare the throw of the TL-Racker and another Streamlight product – the TLR-1 mounted on my carbine, both at 7 yards.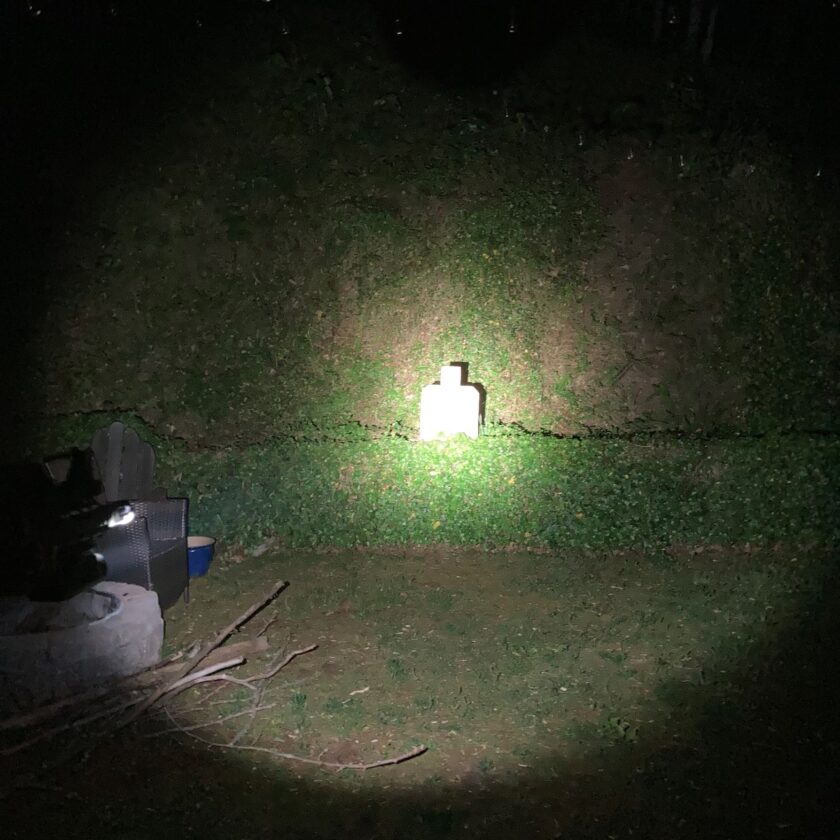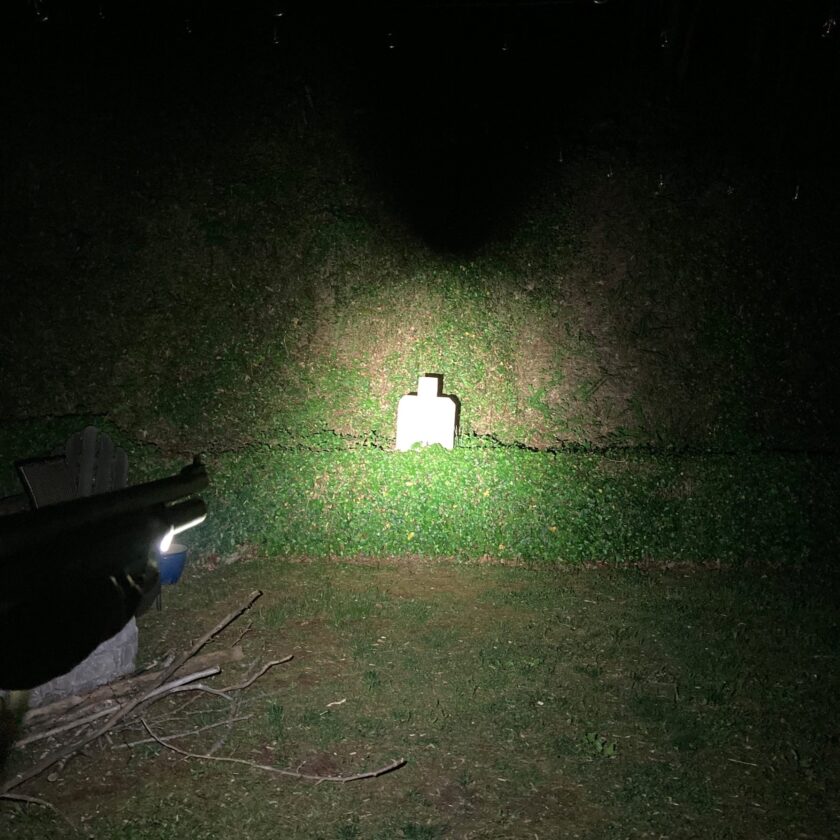 Closing Thoughts
Again, though I haven't conducted an exhaustive test, I would have no problem recommending the Streamlight TL-Racker…with a couple of caveats. It is bulky and it is heavy. However, the light is fantastic, the build seems rugged, and it seems like a well-executed light. I hate to base my decisions on cost…but this is also a fairly cost-effective light. At around $140 on the street it comes it at well under half the price of the closest competition.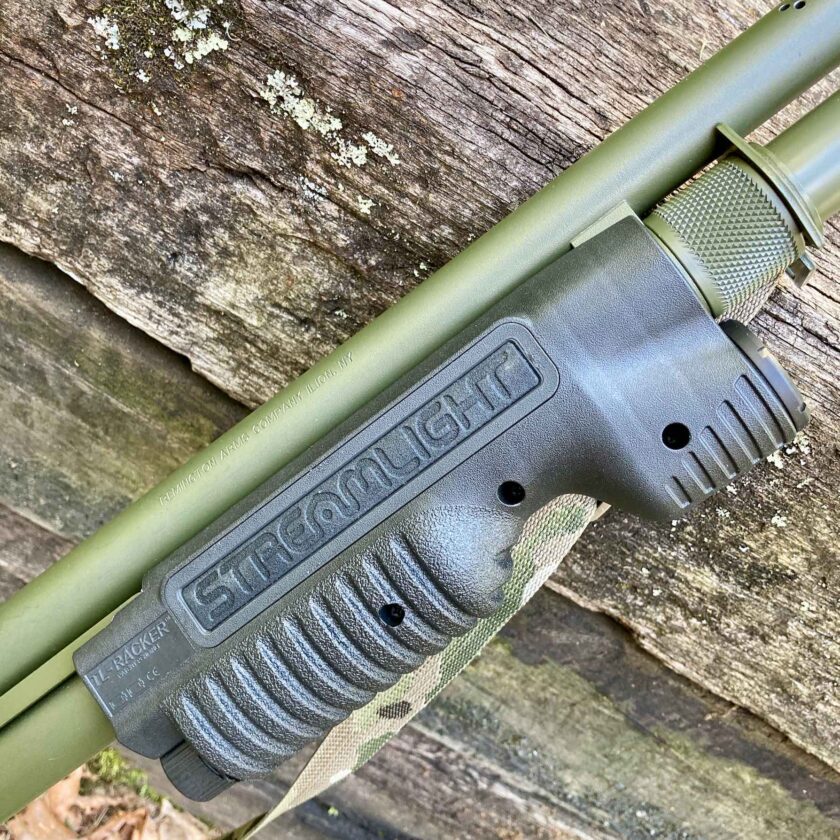 Again, I wouldn't totally base my decision on cost, but it is a factor, and there's no getting around it. So if you are OK with the size and weight of the TL-Racker I see no problem with it. It will be on my shotgun for the foreseeable future, and I'll be sure to let you know if I have any issues with it. Stay tuned!
---