Finding a deadbolt that I am comfortable recommending, and that is somewhat affordable has been difficult. Thanks to a locksmith friend I have finally found one that I can recommend with confidence. It is the USCAN Grade II Deadbolt, quite possible the best residential deadbolt you can buy at such an affordable price. I have had these on my house for the past two months. Let's talk about what makes them so great, and where to buy them.
Full Disclosure: I paid for these deadbolts out of pocket. I don't receive any financial incentive for the sale of USCAN deadbolts, or for locks sold through my friend's shop.
The Best Residential Deadbolt
The best residential deadbolt offers a solid mix of good security and affordability. Many deadbolts offer much higher levels of security, but their cost is prohibitively high. The Abloy Protec2, for instance, is the ultimate in high-security deadbolts. Unfortunately you can pay as much as $500 per lock for these excellent security devices. This is cost-prohibitive for all but the wealthy or extreme security enthusiasts. As a result, most leave substandard, crappy locks on their doors.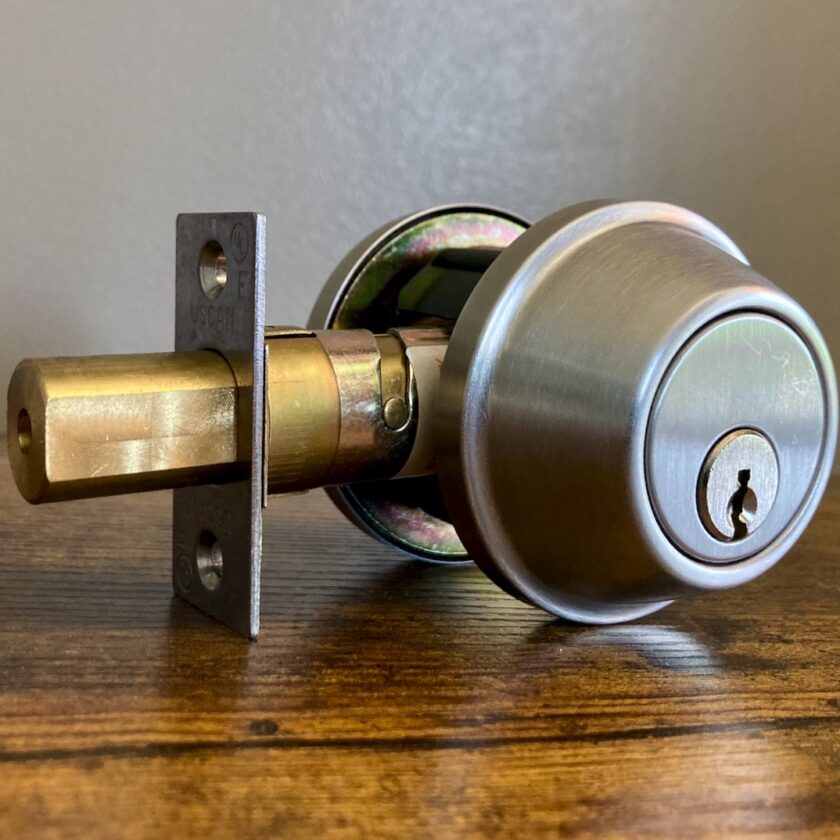 A single-cylinder, USCAN Deadbolt is available for around $65. This is a couple times more expensive than the typical Kwikset or Kwikset knockoff. It is a far more secure lock, however. I'm calling it the "best residential deadbolt" because it is both secure and affordable. Let's take a look at how and why this lock is better than cheap, big-box, residential deadbolts.
Important note: the locks reviewed in this article were assembled for me by my friend Steve at Hastings Lock & Key. There are some features of these locks, like the security pins. that are not typically provided with USCAN deadbolts. These, along with a willingness to accept Paypal, Venmo, cash, or money order as payment and ship anywhere in the U.S. I have had these locks on my doors for a couple of months now, and have really grown to like them.
The Worst Residential Deadbolt
Before we talk about the best residential deadbolt, let's talk about the worst. In fairness, there is no specific "worst" because there are a lot of bad ones out there. Kwiksets and knockoffs from the likes of Brinks, Copper Creek, Defiant, Gatehouse, and others are absolutely terrible. They are definitionally "locks" but beyond that their utility as security devices is seriously questionable. The one we will examine here is a Gatehouse, the one that was on my house when I moved in.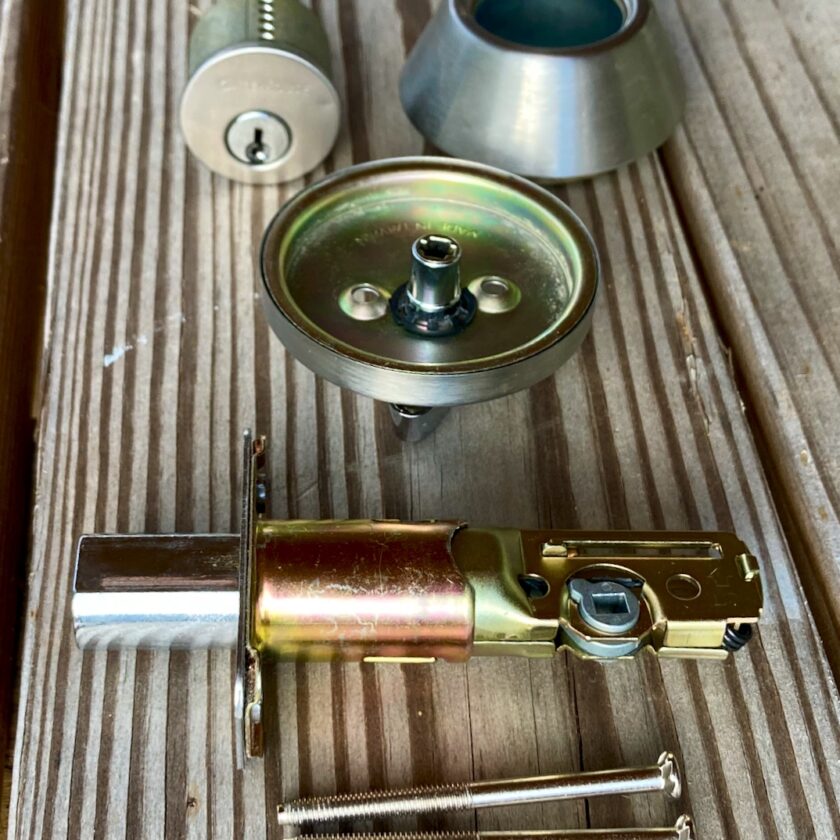 The construction of much of this lock is Zamak, a zinc-alloy. Zamak has a lot of benefits. It is very versatile, environmentally-friendly, non-toxic, and extremely economical. Unfortunately it is not a particularly hard or durable metal. This makes it sub-optimal for security applications. This lock also skimps everywhere it possibly can. The security ring that surrounds the cylinder is hollow. The back plate is thin sheet metal; it wouldn't take much to pull the bolts through the back plate.
And then there is the cylinder and pins. The cylinder… I'm not even sure what to say about that. It must be far cheaper to machine the cylinder with one, long groove than it is to drill five discrete chambers for pins.Then there are the pins themselves. First, there are only five pins, the minimum security for a residential deadbolt.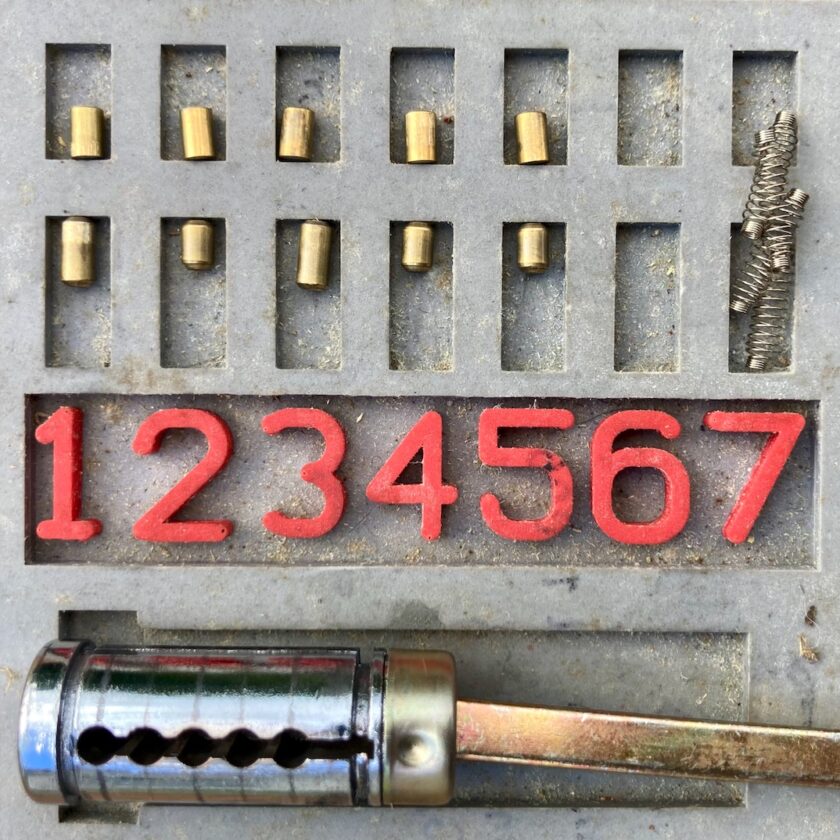 Additionally, there isn't a single security pin in this entire pinning array. That's not the case with some locks, like Brinks, Defiant, and Master-brand Kwikset knockoffs, which usually have one, solitary security pin. But worse than that is the bevel on the top and bottom of the pins. Most lock pins are beveled at one end – the end that addresses the key. This allows them to slide over the key's bitting. Kwiksets and their knockoffs utilize pins that are beveled on both sides. This makes them cheaper, as it allows the pins to be installed in either orientation. Unfortunately it also makes them massively easier to pick.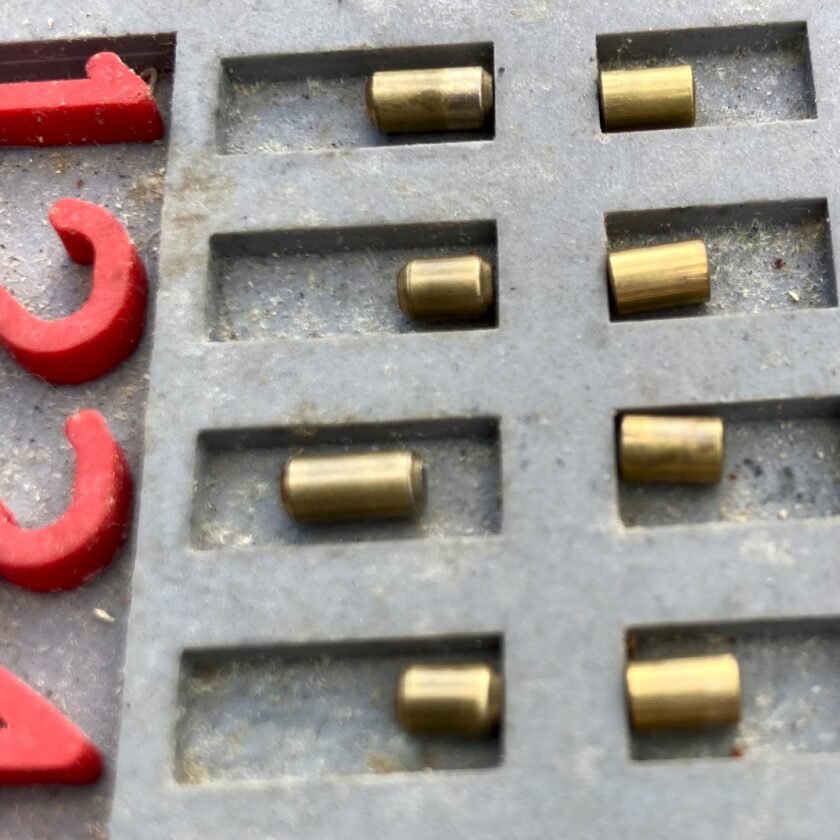 Now let's look at a lock that is doing it better: the USCAN Deadbolt, the best residential deadbolt.
Forced Entry Resistance
The biggest threat to residential locks is forced entry. A burglar/home invader/whatever is more likely to kick in the door than pick the lock. We want to prevent forced entry in non-dedicated attackers. If an attacker is opportunistic and the door doesn't fail quickly, he will likely move on to another target. We also want to make forced entry attacks noisy and time-consuming. Noise and time alert you and provide an opportunity to mount other defenses.
The USCAN Deadbolt is far more robust than the cheap, Kwikset knock-offs. The weight of the USCAN Deadbolt, including the lock cylinder, deadbolt, thumbturn, and the two bolts that hold the assembly together is 28 ounces. That's has almost twice the mass of the cheap, Gatehouse deadbolt! That's a LOT, and a lot more punishment it can withstand.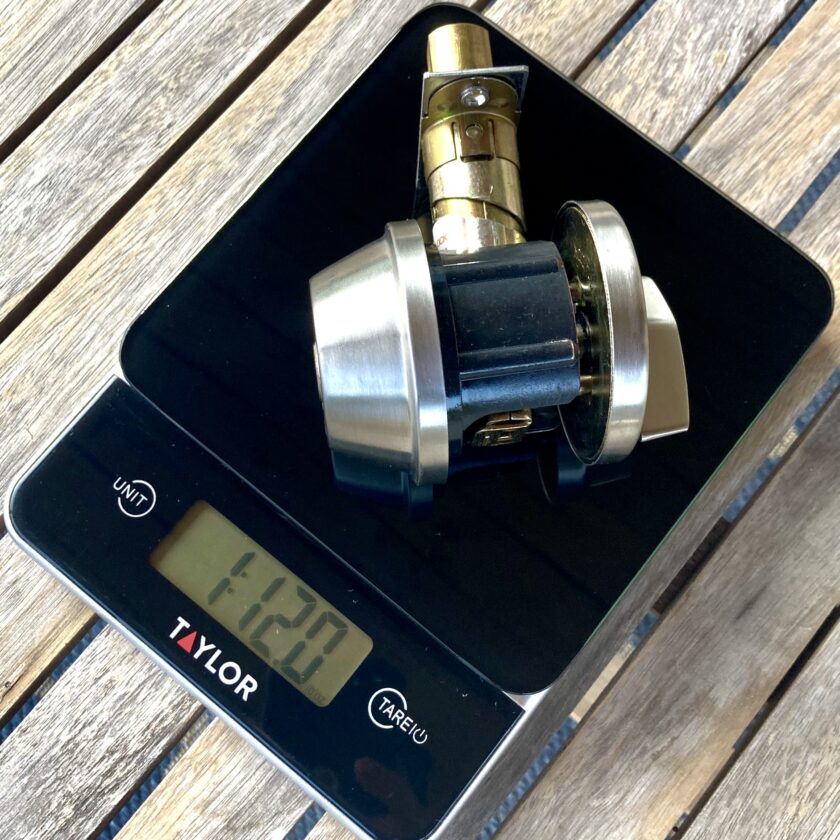 Immediately upon picking this lock up you realize it is a sturdy lock. The security ring is solid, not hollow like the cheap Gatehouse lock. The cylinder is machined from solid brass. There is also the "unique cylinder latch protection shroud" that provides support to the deadbolt itself. This is the black metal component between the security ring and the thumb-turn. The bolts that hold the USCAN Deadbolt together are also roughly twice as thick as most of the cheap knockoffs.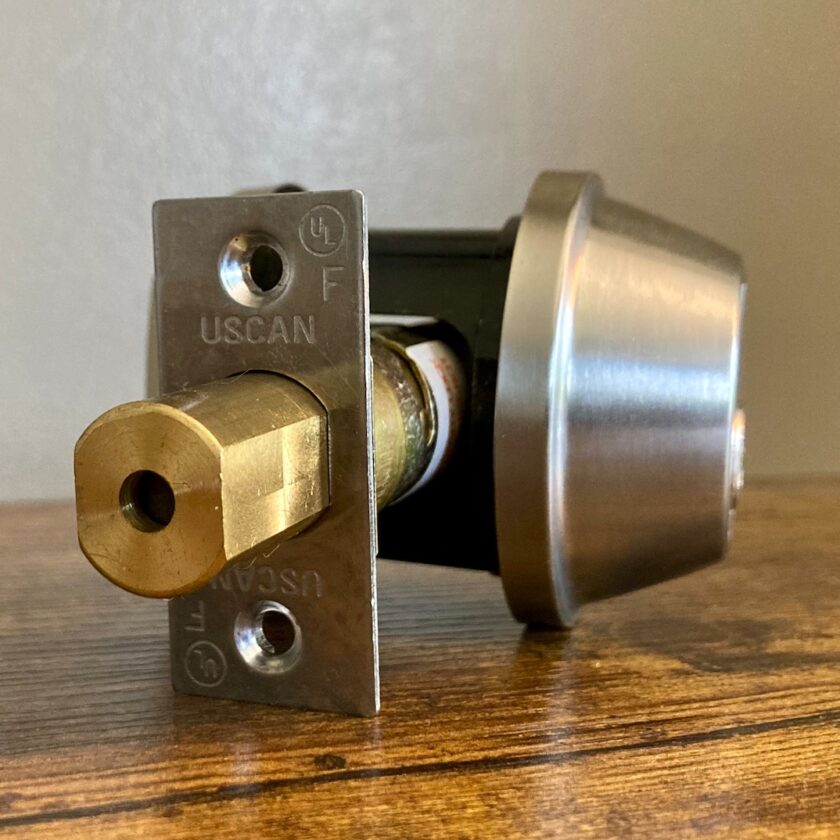 This is a very solid, high-quality deadbolt. It is made with precision, from top-quality materials. Coupled with a strike box anchored with wood screws, it offers formidable forced-entry protection. Aside from enhanced forced-entry protection, you also get greatly increased security from picking, bump keys, key duplication, and other surreptitious attacks.
Pick Protection
The USCAN Deadbolt has some meaningful measures to make picking harder. Most importantly, the USCAN deadbolt has a six-pin cylinder. Picking a six-pin lock is much harder than picking a five-pin lock. Not only that, but my friend Steve will pin your lock with a very good mix of security pins. The locks he put together for me all had three spool pins and three serrated pins. While I'm sure the LockPickingLawyer would have no problem, this lock is very difficult for someone of my skill level to pick.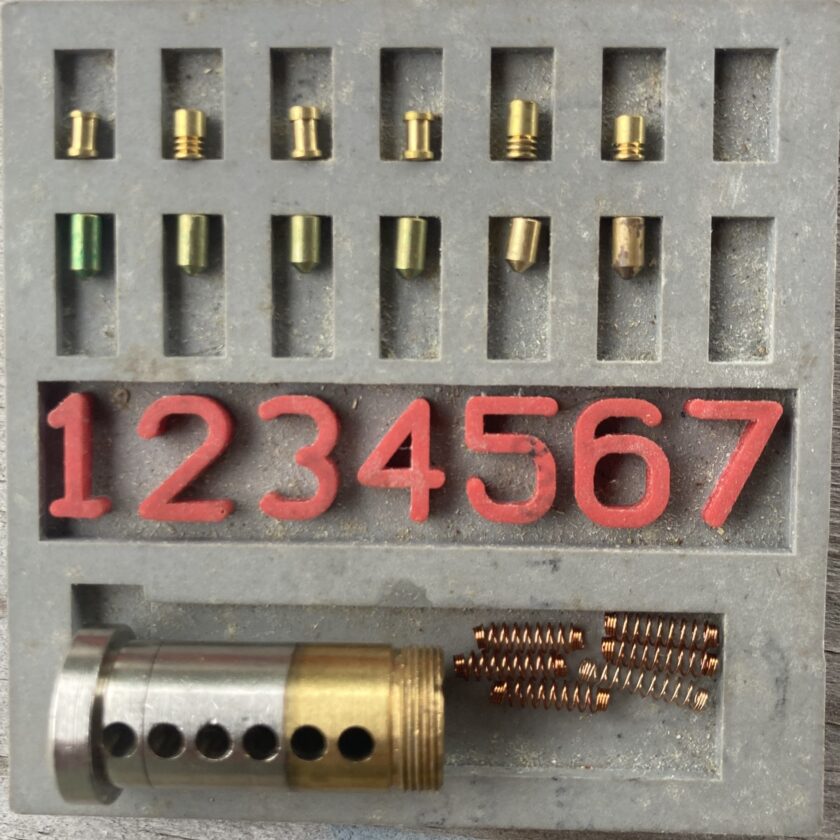 The keyway of this lock is fairly open. I'd like to see a more restrictive keyway, but that's a secondary consideration. The real pick protection comes from the additional pin, security pins, and a good combination of short and long pins.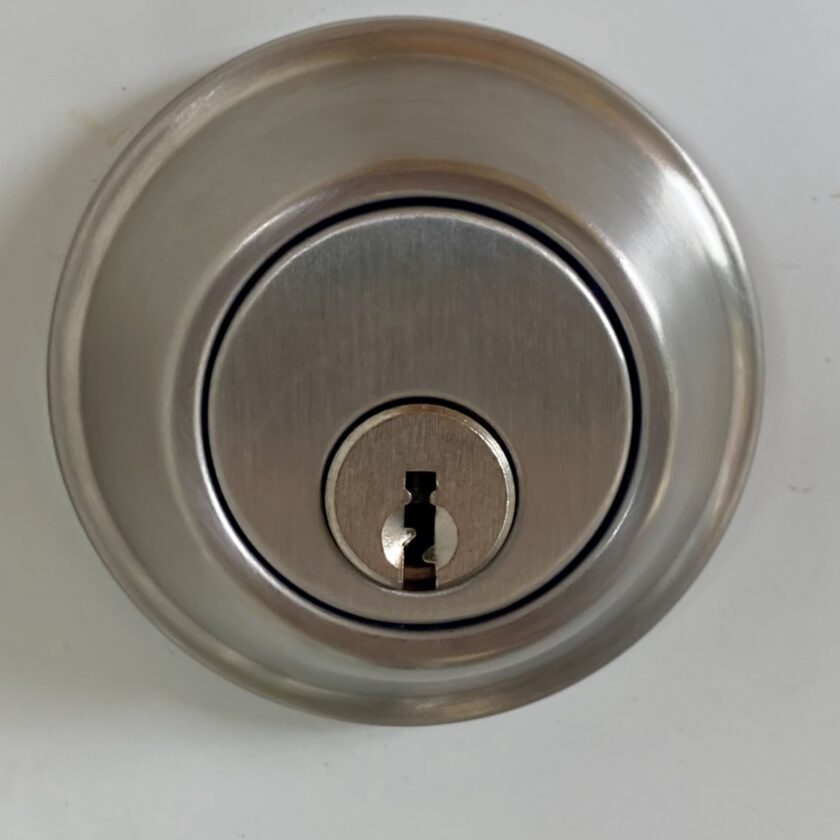 Key Duplication Protection
Key control is an overlooked aspect of security. If you lose control of your keys, a bad guy can come and go at his leisure. One of my favorite features of this lock is the USCAN UCA proprietary keyway. This keyway is restricted to locksmiths within a certain region. This means you have to go to an authorized USCAN dealer to get replacement keys cut. While writing of this article, I attempted to duplicate a USCAN UCA key at three locations. The first was a kiosk at Walmart. The other two were big-box hardware stores. None had the correct blank to duplicate the USCAN key.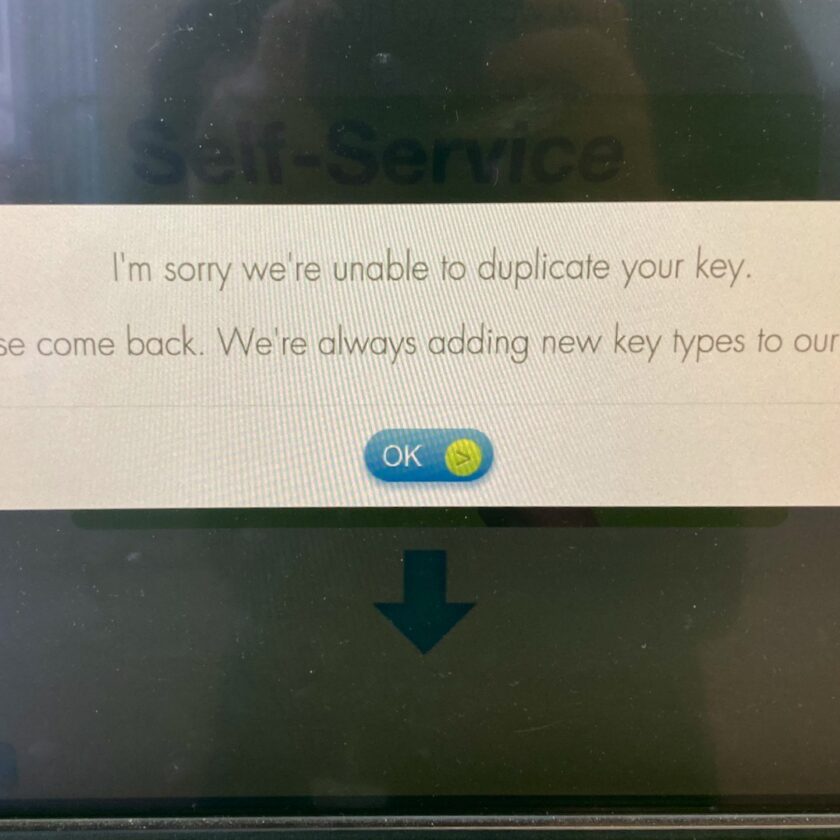 It is unlikely that Minute Key machines or big-box stores are going to stock USCAN keys. They are such a small sector of the market it is probably not financially viable. Unlike high security locks, there is no legal, patent protection for USCAN key blanks. If you give your key to a house cleaner, dog walker, or baby sitter, he or she probably can't make a copy. It is important to note that this is "security through obscurity." A dedicated attacker could probably dig up some blanks, but that's not the problem these locks were intended to solve. If that is a realistic threat, you should invest in true, high-security locks.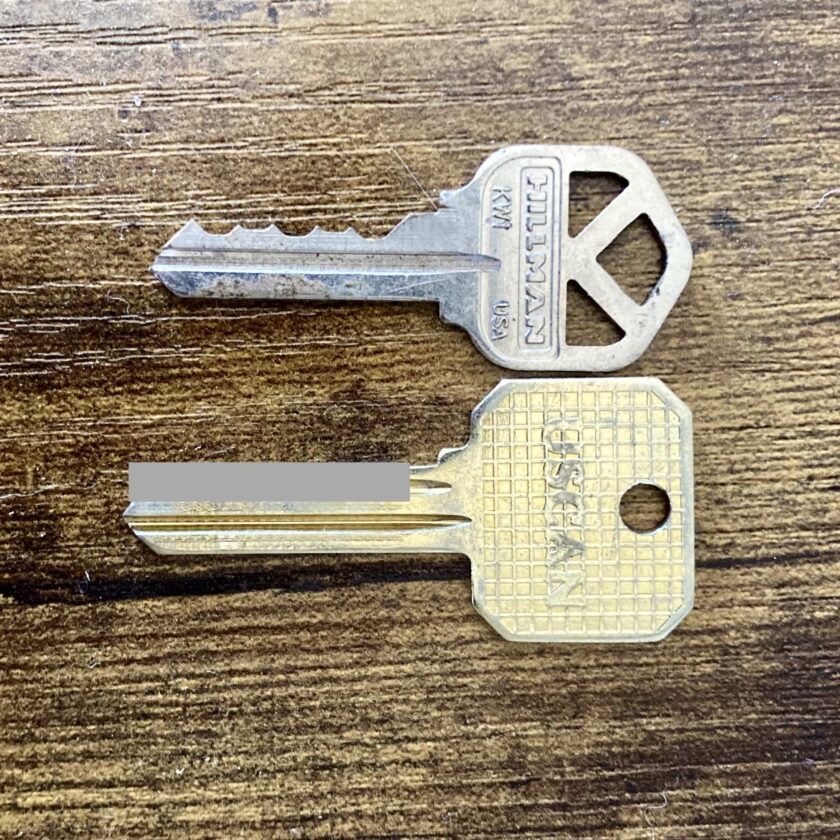 Another really cool feature of the USCAN proprietary keyway is that all keys come with neuter bows. Most keys come with distinctively shaped bows (aka: the head of the key). This is a form of advertising, but it lets a bad guy know immediately if you have a Schlage, Kwikset, or Yale lock. This information provides a lot of the required elements to generate a key. A "neuter bow" is a key with a non-distinctive bow that conceals a lot of this information. This is a really important feature!
Bump Key Protection
The USCAN Deadbolt is also the best residential deadbolt because it is more resistant to bump keys than typical locks. The first reason is the sixth pin present in the cylinder. This is a small upgrade, but six pins are harder to bump than five. The bigger advantage, however, is the unusual keyway. Most bump keys are purchased as sets online. These sets cover the most common keyways (Schlage SC1/C, SC4/E, Kwikset KW1, Yale Y1, Master M1, etc.). I searched a lot of sites selling bump keys but none included the USCAN UCA keyway.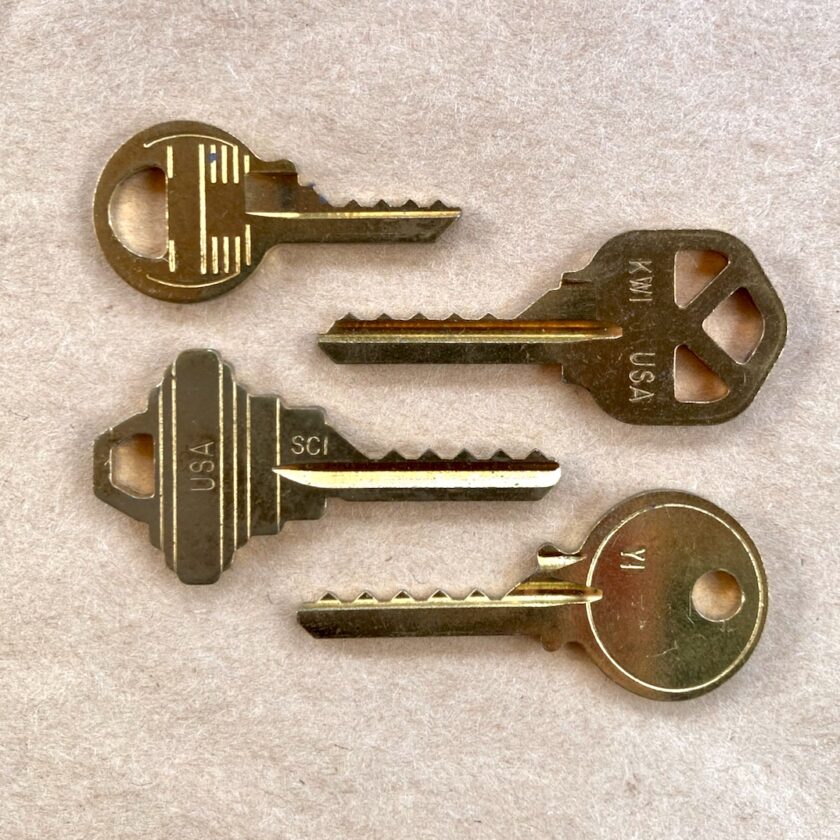 This means that all the hoodlums in your neighborhood with bump keys won't have one that will fit in your lock. Again, security through obscurity; if you're running a casino or establishing a chain of ATMs, this is not a good plan. Anyone possessing a key blank could make a bump key for your lock. If you're just an average guy or lady worried about opportunistic attackers, and looking to improve your security, this is a solid pretty upgrade. Again, this is imperfect security, but it strikes a good balance between security and cost.
What's Missing From the USCAN Deadbolt
There is one big features missing from the this lock that I'd like to see: drill protection. Drilling the cylinder is one of the most common destructive methodologies used by locksmiths to open a locked lock. Most high security locks have embedded steel rods or ball bearings designed to break or bind drill bits. Another alternative is the use of steel key pins and driver pins rather than brass pins; this accomplishes the same thing. I would really like to see some drill protection in the USCAN Deadbolt. Since drilling is not a common criminal TTP for gaining entry, I can live without it. The USCAN Deadbolt is still an excellent lock, and may very well be the best residential deadbolt on the market.
There are also a couple of other upgrades that could make this lock more resistant to bumping. One is varying the strength of the springs in the lock. Successful bumping depends on all the pin stacks behaving in a similar fashion. If some springs are strong and some are weak, the pin stacks are much less likely to behave the same, making bumping much harder. Another tool is the ILCO Bump Halt pin system. One of these is installed in the sixth pin chamber, and includes a very lightweight pin and a very heavy spring. Steve and I are going to experiment with these and see if they are a viable addition to the USCAN Deadbolt.
USCAN Deadbolt Options
The USCAN Deadbolt comes in a variety of variations. You can get it in a number of finishes to match existing hardware including Antique Brass, Polished Brass, Oil Rubbed Bronze, Stainless, and Satin Nickel. If you have existing locks that are keyed to Schlage or Kwikset specifications and don't wish to add another key to your keyring, USCAN deadbolts can also be had with Schlage or Kwikset cylinders. Keep in mind, however, you will lose much of the protection afforded by the proprietary USCAN UCA keyway.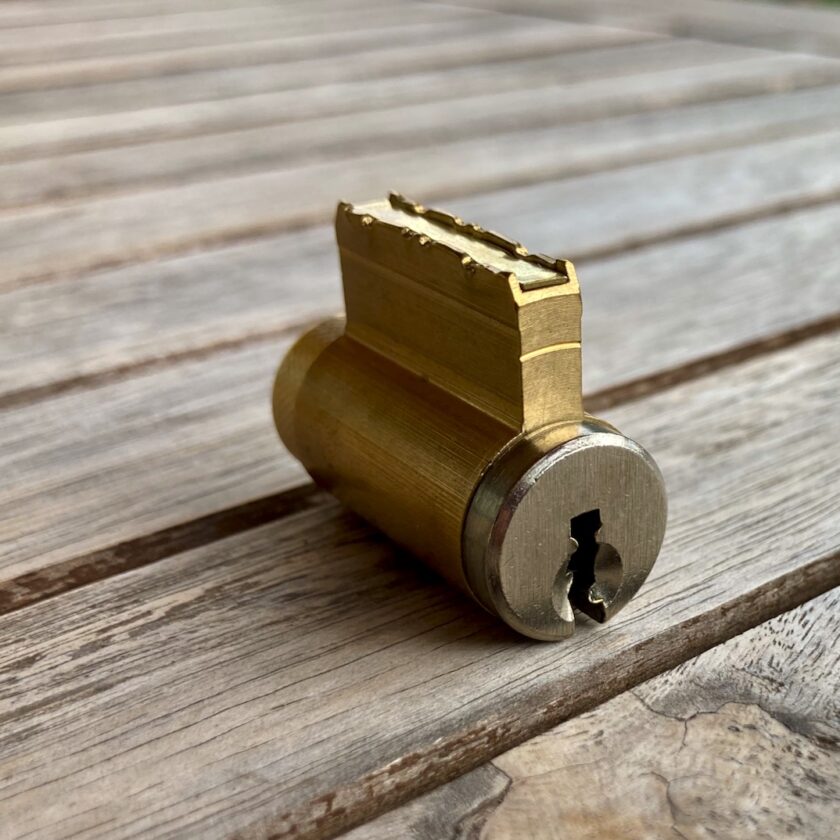 USCAN Deadbolts are also available as double-cylinder deadbolts keyed cylinder, inside and out). In addition to deadbolts, USCAN keyed knobsets are available, as well. You can also purchase USCAN key-in-knob (KIK) cylinders that replace your old Schlage or Kwikset KIKs (contact Steve for compatibility details if you're unsure). You can use USCAN Deadbolts for a brand-new, standalone system, or integrate them into an existing system with ease. Installation is a simple DIY job.
Purchasing the Best Residential Deadbolt at Hastings Lock & Key
If the USCAN deadbolt sounds attractive to you, reach out to Steve at Hastings Lock & Key (Sales [at] hastingslockandkey [dot] com). Tell him you want your locks built to the Swift|Silent|Deadly specs and he'll be glad to do it! If you don't know what you want, he'll be glad to talk you through the process. Currently USCAN deadbolts are running $65 for a single cylinder (keyed on the exterior, thumb-turn on the interior) and $75 for a double cylinder (keyed on both sides).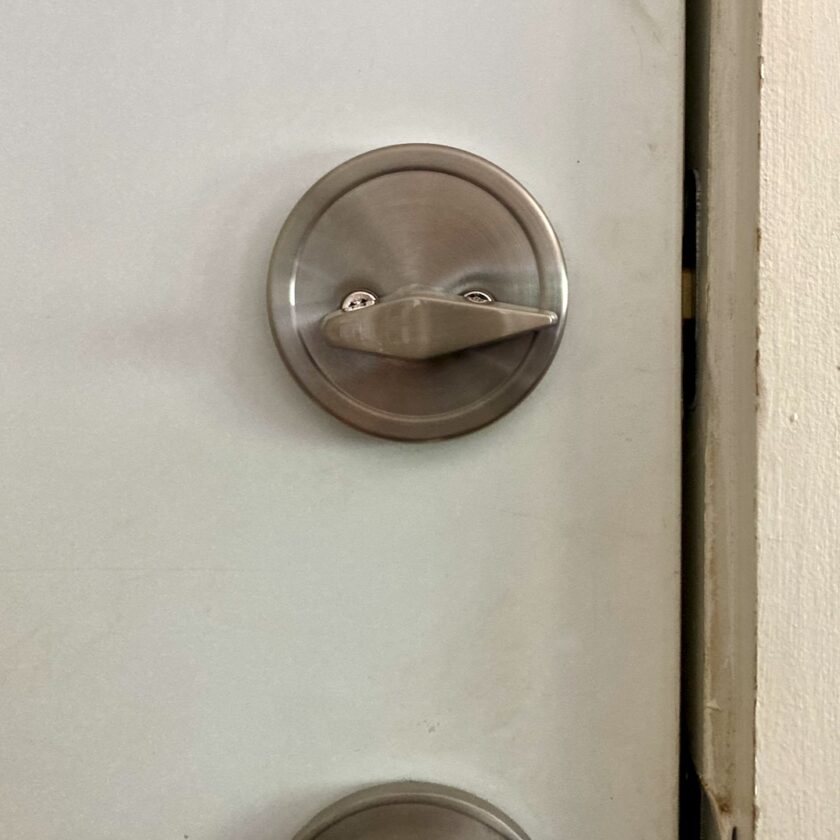 There are a couple of other benefits to working with Steve. He won't collect or sell your information to some big database. Steve is also happy to ship your lock to your office or a friend's house… I really like this because it's a good safeguard against anyone – even Steve – knowing where these locks will be installed. Finally, by purchasing through Hastings Lock & Key, you're supporting a one-man small business in the Heartland of America. Again, Steve accepts cash, money order, Paypal, or Venmo as payment.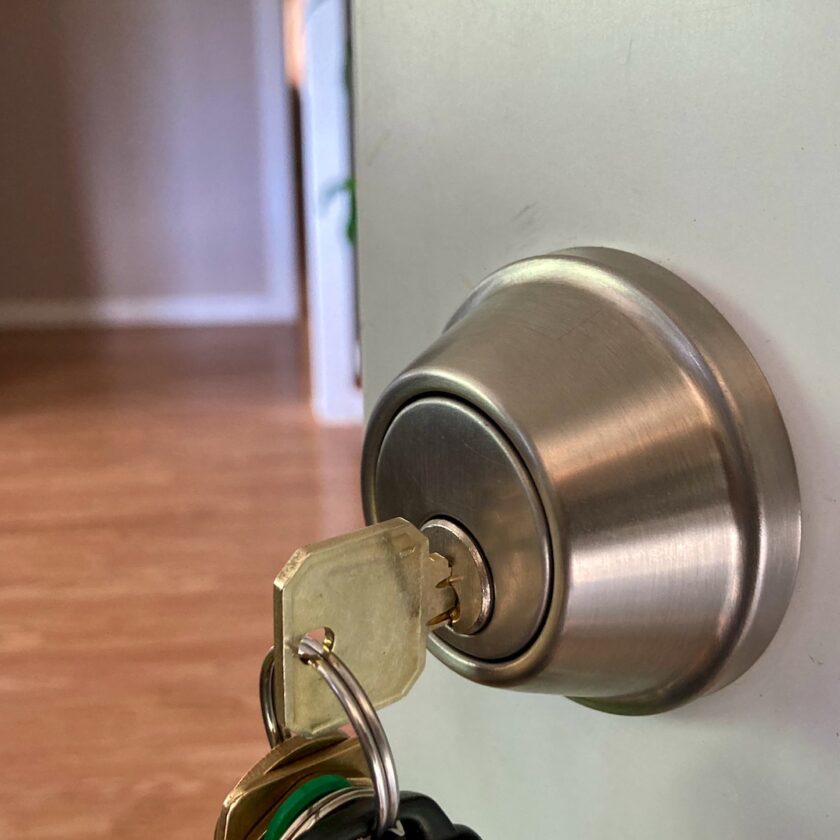 I've trusted my personal security to these locks for over two months now. The are sharp looking, yet don't draw any undue attention. They function smoothly and lock up tight. I'm confident leaving for the day or laying down at night that my lock isn't going to be bumped open, and that it's going to take some work to kick my door in. The cost – under $100 per lock – is well worth it for this kind of peace of mind.
---