Pistols of the 1911 persuasion are not generally at their best when forced into the budget category. Notoriously finicky eaters by nature, their reliability is usually directly proportional to their cost, and cheap 1911s usually suffer in the "fit and finish" department, as well. Usually. Rock Island Armory has a strong reputation as an affordable 1911 that is still a solid shooter. I decided to test out the RIA TAC Ultra CS 9mm 1911, and here's how it did.
Full Disclosure: This gun was loaned to me by RIA with the understanding that I would publish a review. The review was not coordinated with me in any way other than providing me with the gun. I receive no incentive, financial or otherwise for the publication of this review.
RIA TAC Ultra CS 9mm
The RIA TAC Ultra CS 9mm is a compact 1911 chambered in 9mm. It sports an all-steel, Officer-sized frame. The frame is made a bit longer by the addition of a flared magazine well, and it is also non-standard in that it has a light rail. The frame is paired nicely with a 3.62-inch barrel and slide. The whole gun has a parkerized finish, and the grips are very nice G10. The TAC Ultra features a full-length guide rod, and several other "premium" features, too.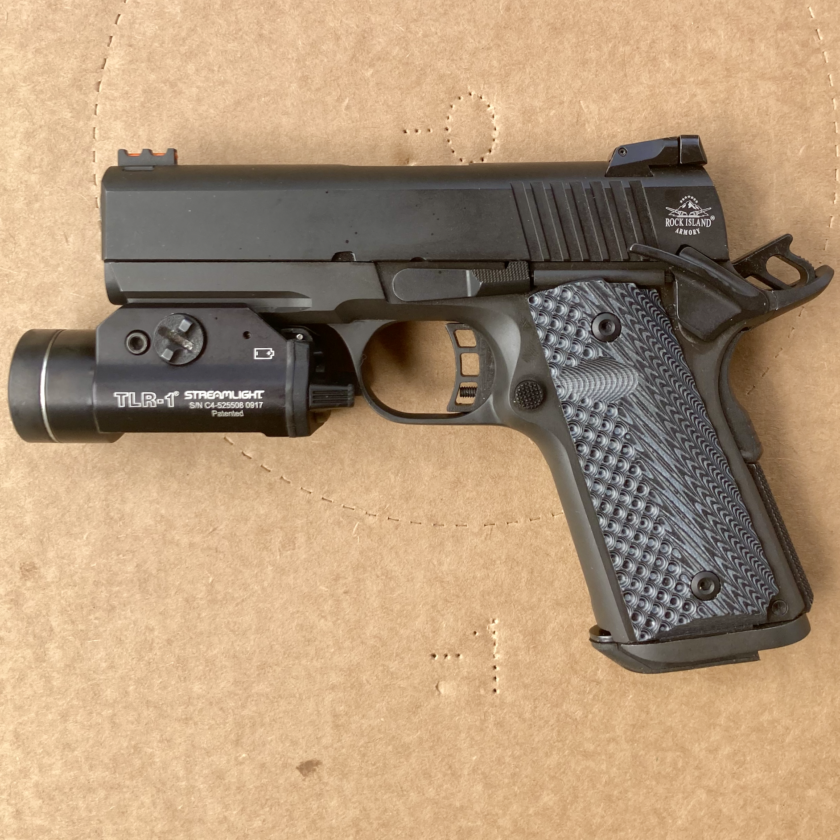 The controls of the TAC Ultra CS are in accordance with a gun in this price range: functional if perhaps a bit homely. The trigger seems a bit undersized for the frame with gaps at top and bottom, but works. The thumb safety is ambidextrous and had very nice tactile clicks when engaged and disengaged, but is a little narrow. The finish seems easily scratched. Most of this gun is just so-so, appearance-wise. It is absolutely worth mentioning the slide-to-frame fit, however: it is exceptionally tight with no detectable play whatsoever.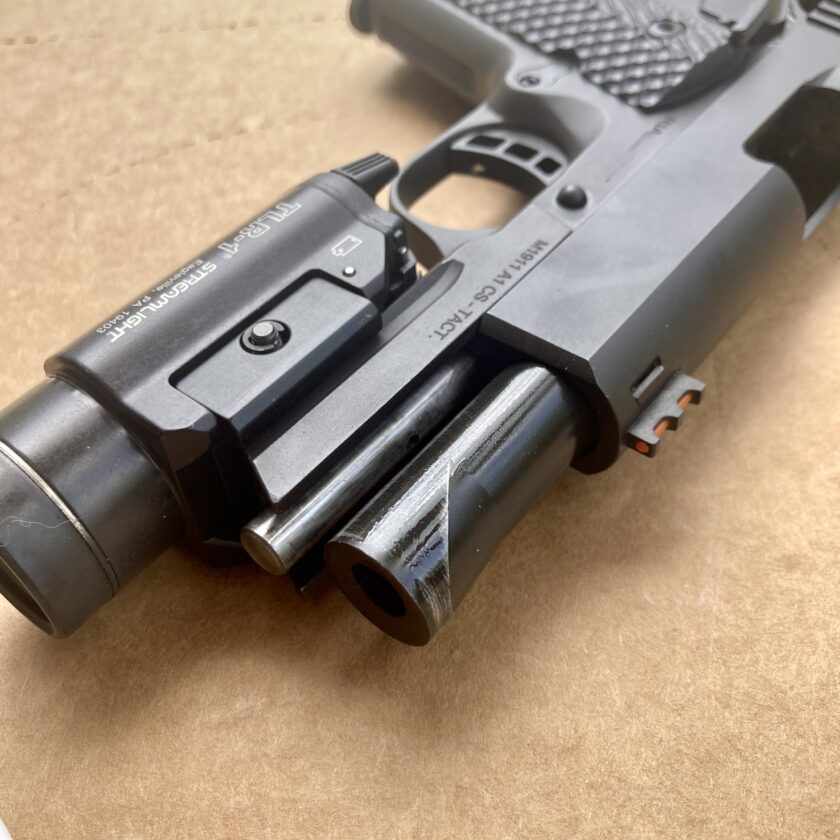 The RIA TAC Ultra CS 9mm is part of a larger "TAC" line of pistols. The common feature of all these pistols is the light rail below the dust over. Other models are available in this line in full-size as well as the Officer-frame, in 9mm, 10mm, and .45 ACP. Double-stack, full-size pistols are available, too, as is a TAC "Standard" model with few bells and whistles than the Ultras. A couple 9mm models are also available with a conversion to RIA's own cartridge: .22 TCM.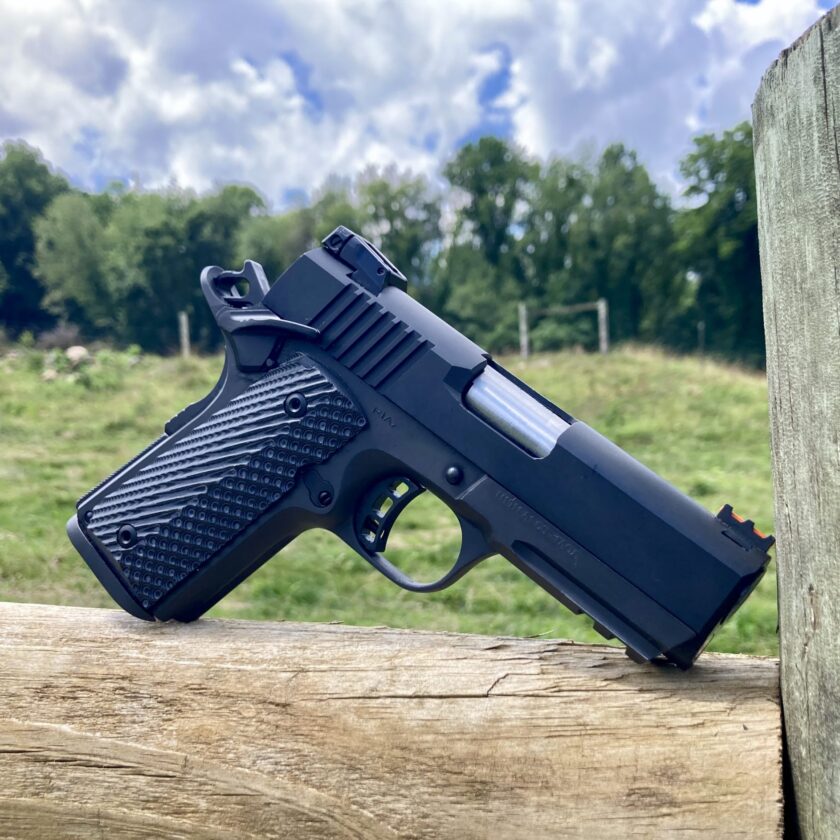 Let's get into the performance of this pistol and see how she did.
Performance
To evaluate the performance of this pistol I will use my modified version of the R.E.A.P. methodology, as I did when reviewing the S&W M&P Shield Plus and Kimber Aegis Elite Pro. R.E.A.P. (in my case) stands for Reliability, Ergonomics, Accuracy, and Portability. Let's get into it.
Reliability of the RIA TAC Ultra CS, Part I
Reliability is the most important characteristic of a defensive firearm. It must function, above all else. Reliability of the RIA TAC Ultra CS 9mm was very questionable at first. Frankly, this wasn't much of a surprise. I was prepared to completely write this gun off and and consider it "unreliable" after the first range session.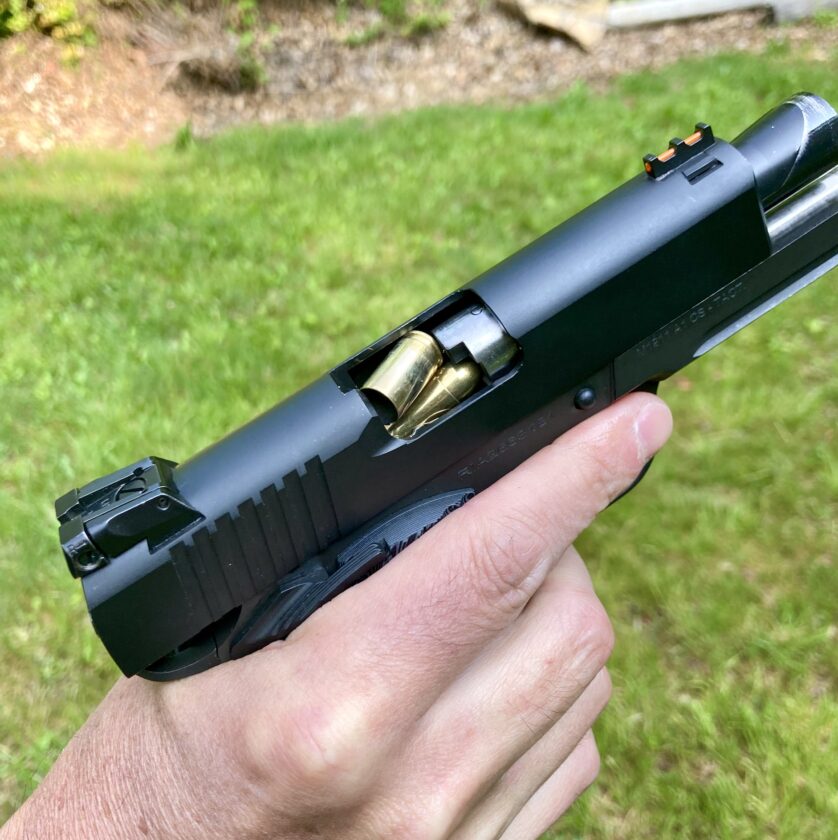 One the first trip I fired 214 rounds, and had a bunch of malfunctions. Most  of these related to ejection. Ejection was very sporadic; brass would variously fly back over my shoulder, hit me in the face, or just land right back in the ejection port.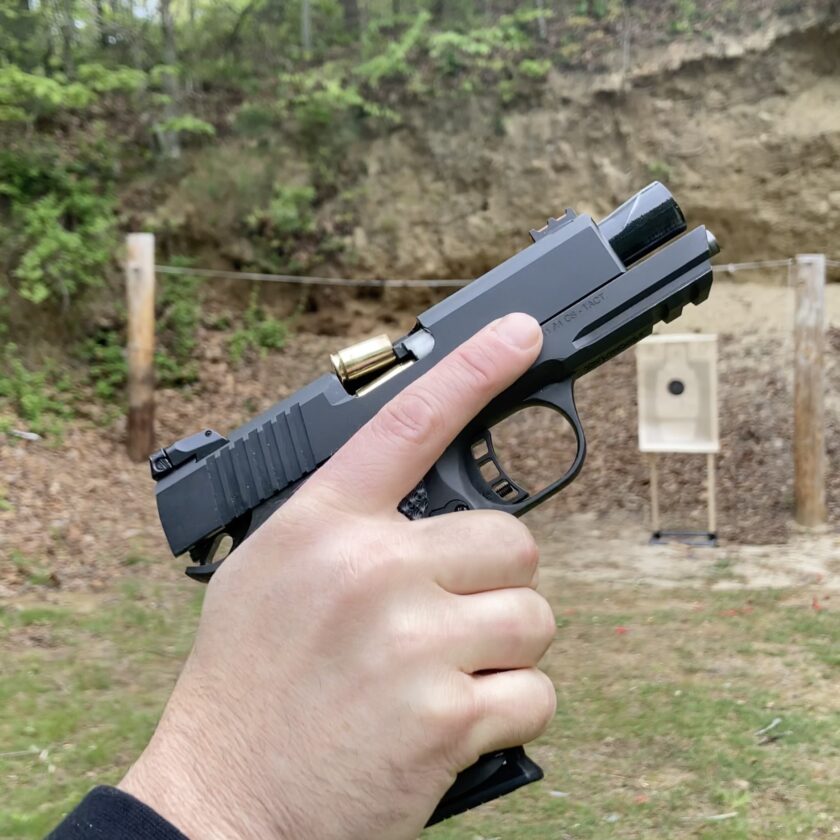 Taking a closer look at some of my video, I could also see that brass was being ejected so weakly that on the last round that it would just sit in the ejection port until it fell out. This was likely due to the lack of a round in the magazine to exert upward pressure against the brass. The sequence of stills below shows the brass sitting on the empty magazine, then falling away as the gun is rotated into my workspace for a reload.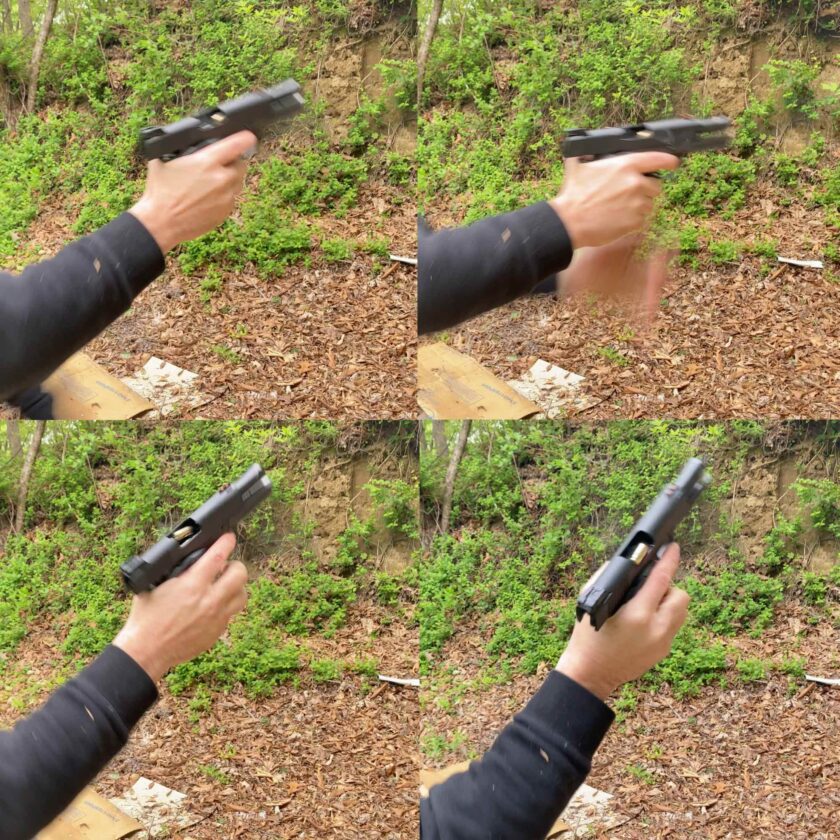 But that's not all. I also had a light strike. The hammer fell, and instead of a "bang" I got a "click." Again, this was all within the first range session and I was pretty frustrated with this pistol.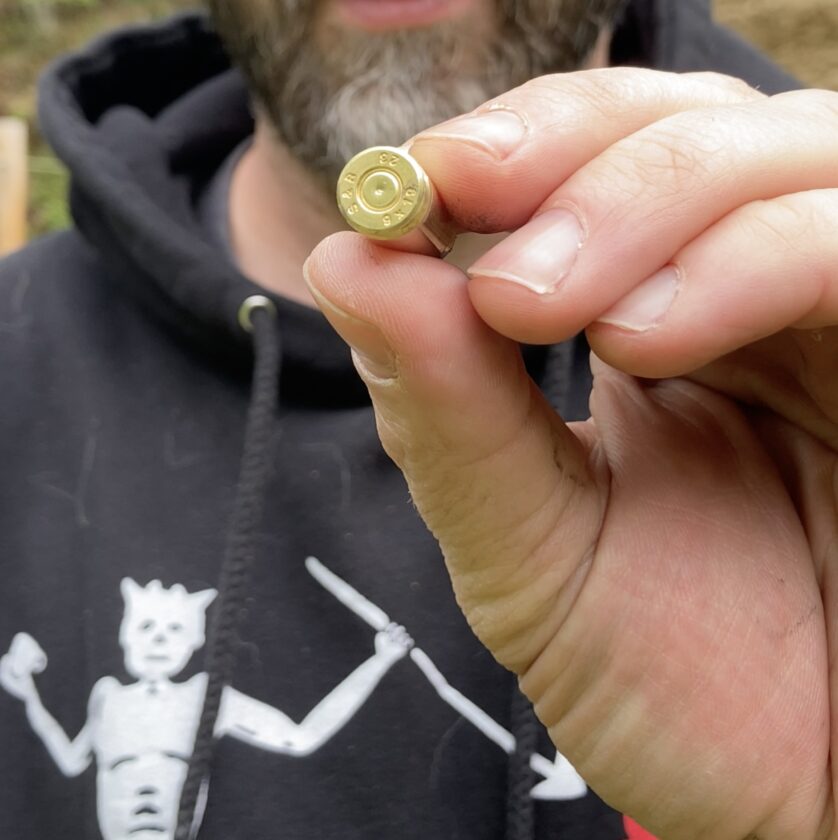 Reliability of the RIA TAC Ultra CS, Part 2
At this point I was pretty frustrated. I had fired over 200 rounds in a gun that, so far, was completely unreliable. One thing saved it, however. I was also reviewing a pistol from Wilson Combat (review coming soon) at the same time. The first range session with the WC pistol was even more frustrating, but after those first couple hundred rounds it leveled off into an exceptionally reliable pistol.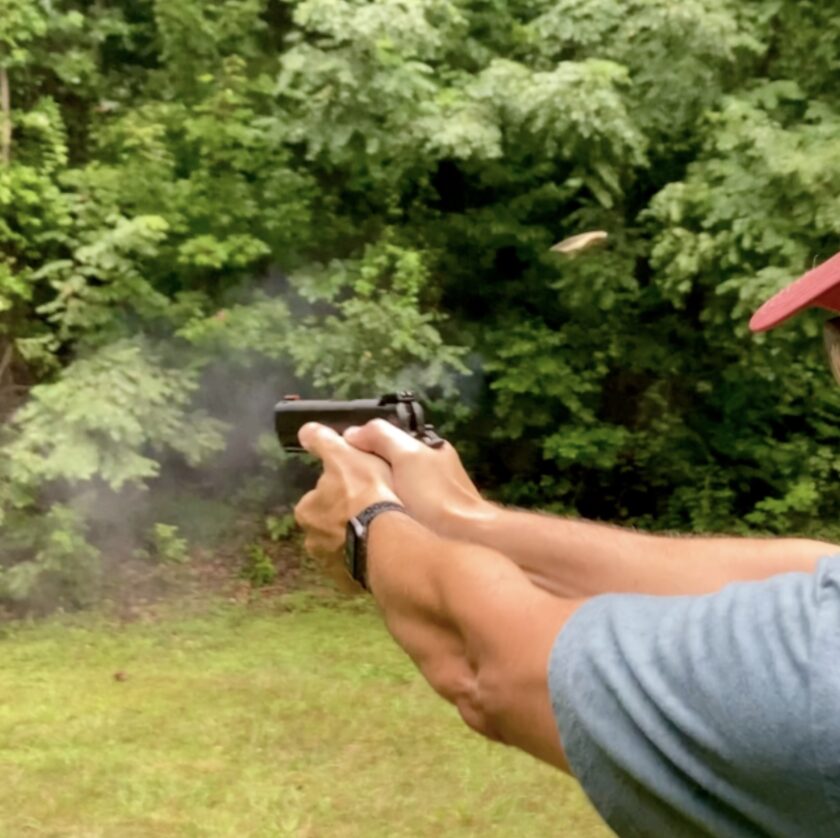 Maybe the RIA just needed some break-in. I decided to give it a second chance, so I gave it a good cleaning. I took this pistol to the range a total of seven times, firing a total of 544 rounds, and completely changed my mind on it (so much so that I purchased it at the conclusion of the review). There were a few more malfunctions – one each in the next two range trips – and after that the gun was perfectly reliable.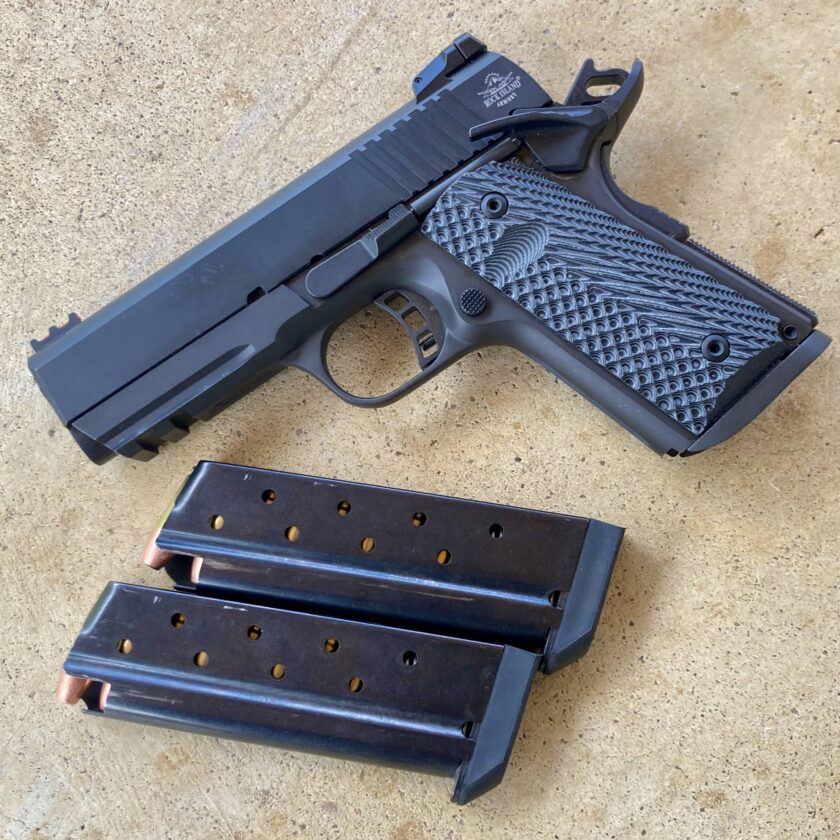 Though I used Wilson Combat ETM magazines for much of the test, the factory mags were reliable. The gun comes with two, eight-round magazines, both of which worked just fine throughout. This isn't an exhaustive test, but I'm pretty happy with it. If I were to employ this gun for defensive use I would definitely have a good 1911 gunsmith take a look at the extractor, likely the source of most of the malfunctions. I'd also want to put a solid 1,000 malfunction-free rounds through it, but I'm reasonably confident in it.
Ergonomics of the RIA TAC Ultra CS
Let's talk about the ergonomics of the RIA TAC Ultra CS 9mm, starting with the grip and controls. First, the grip is classic 1911 – nothing much to say there. The mainspring housing is sharply checkered for extra purchase, which is greatly appreciated. The front strap is…serrated? It has vertical lines that add nothing to one's ability to grasp the gun during recoil.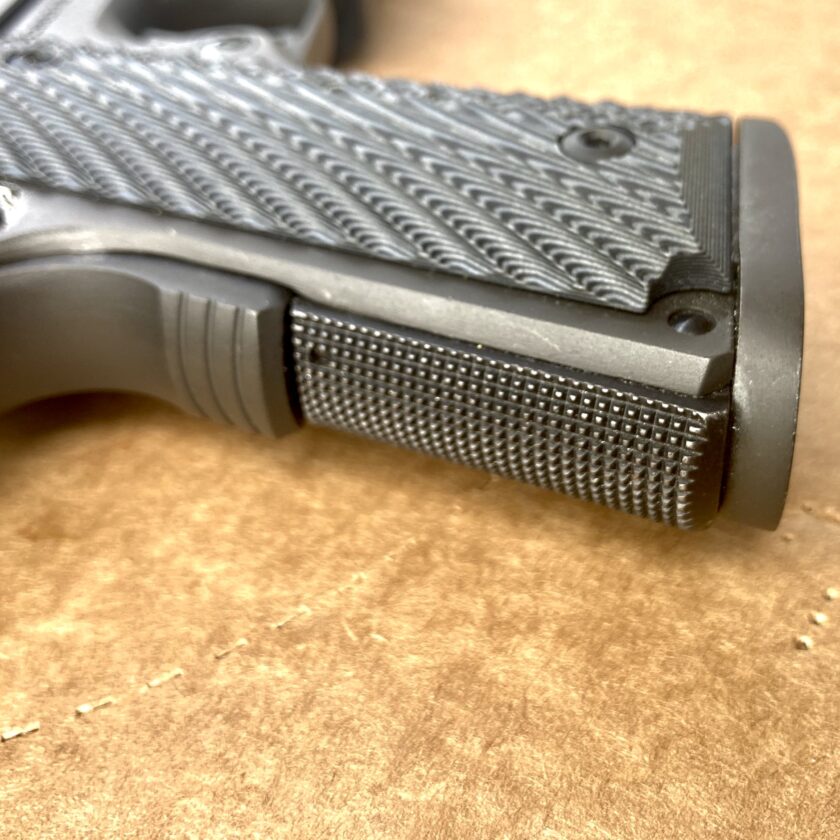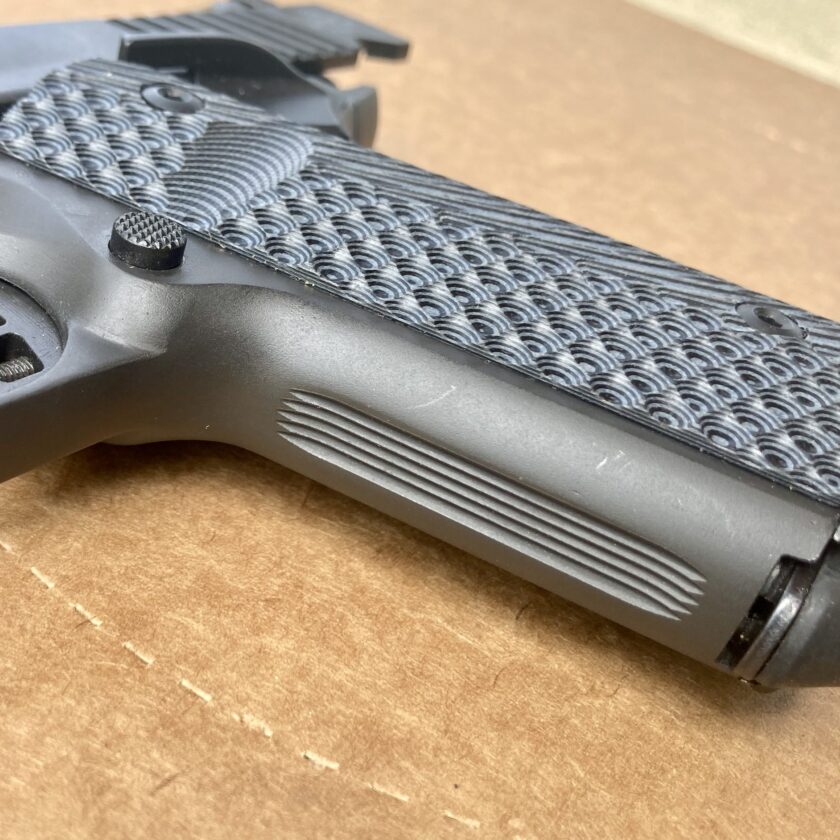 Fortunately the gun doesn't recoil very much at all. The heavy steel frame and grippy, G10 grips make controlling recoil a breeze. The sequence of stills below demonstrates this nicely. The gun just seemed to snap immediately back on target with very little conscious effort. This seemed to largely negate the need for a checkered front strap, though I still would have appreciated one.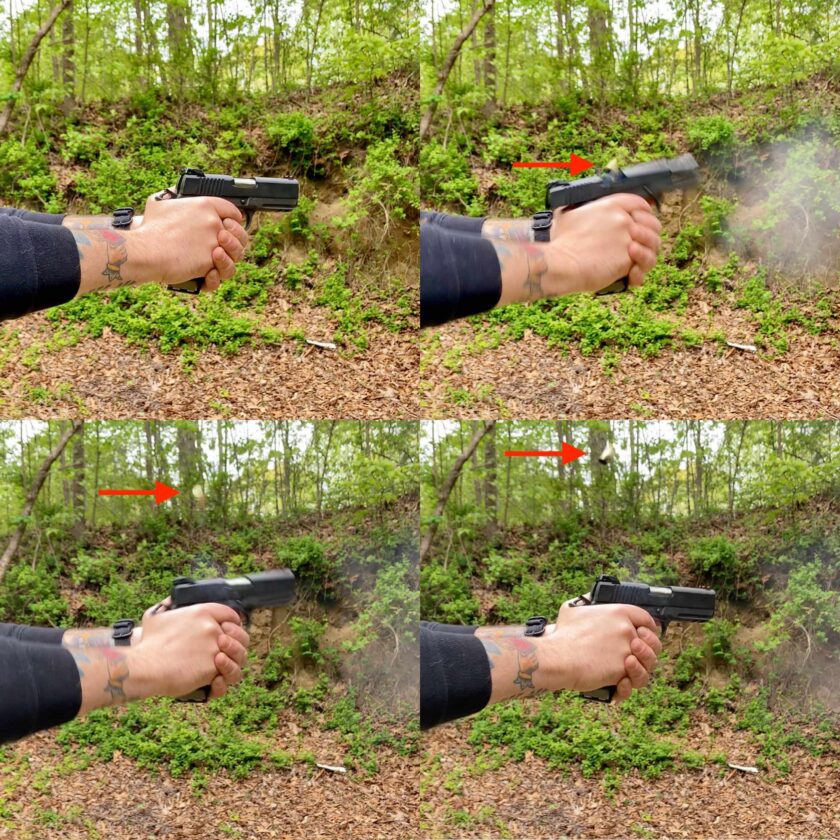 The one other thing this pistols seems to be missing is forward cocking serrations. I know that isn't everyone's cup of tea, but I like them.
Ergonomics: Controls
Another important aspect of ergonomics is the controls of the gun, and the controls in this case aren't bad. First, the thumb safety. It is ambidextrous, which I have a very hard time doing without. The engagement and disengagement is crisp, with an audible and tactile "click" in both directions. The right-side lever has an interesting retention system; rather than attempt to describe it, check out the picture below.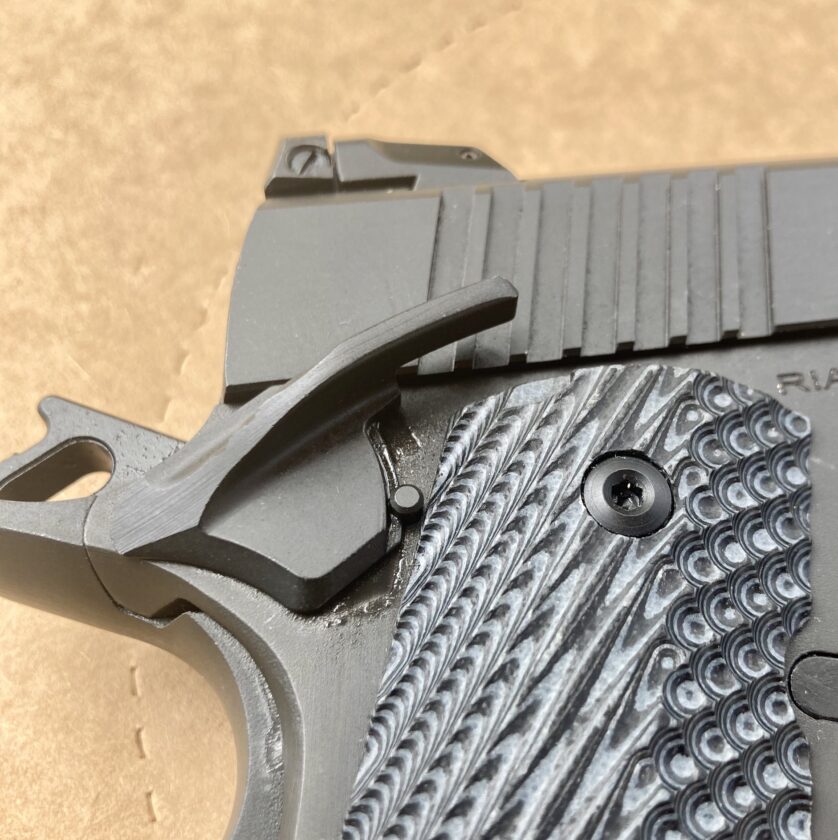 My only complaint is that the lever is a bit thin. Some material seems to have been removed from the inside surface of the lever, creating a big gap between the lever and the slide/frame. This creates a prime opportunity for the meat of the thumb to get caught and pinched.
The grip safety is well-designed with a speed bump. Disengaging it was no problem at all during my testing. Like a good grip safety it was completely transparent to the user. It also has a generous beavertail.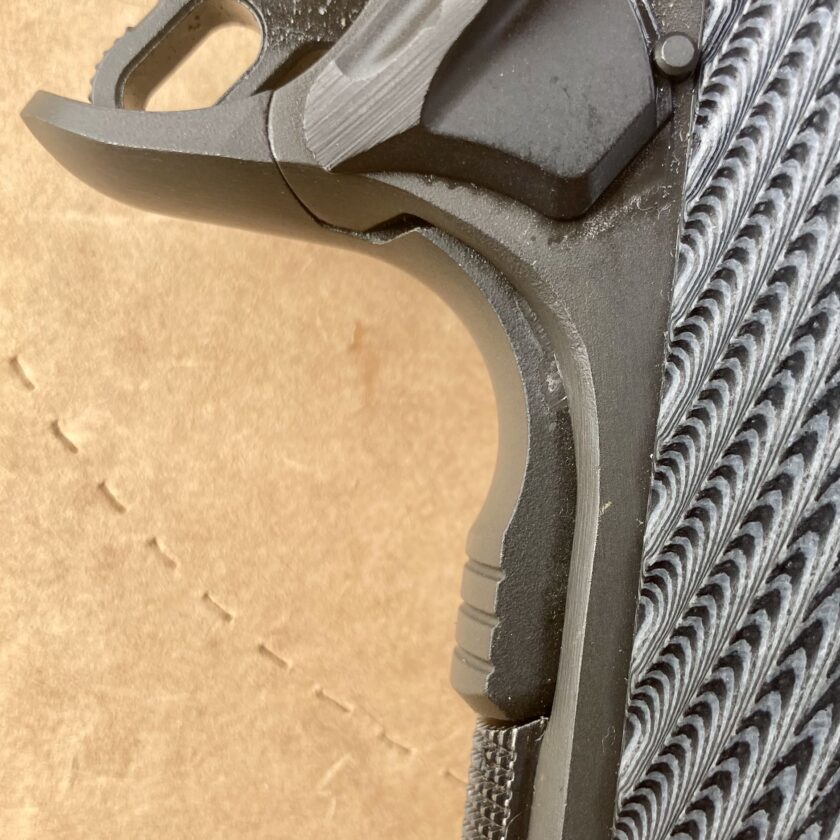 Ergonomics: Reloads
The RIA TAC Ultra CS offer some of the fastest, smoothest reloads of any 1911 I've messed with in a while. This begins with the magazine release. The magazine release button is ever-so-slightly extended and sharply checkered. Magazines were released freely with no hang-ups. Aiding this is a cutout in the left grip panel, allowing easy-access to the magazine release button.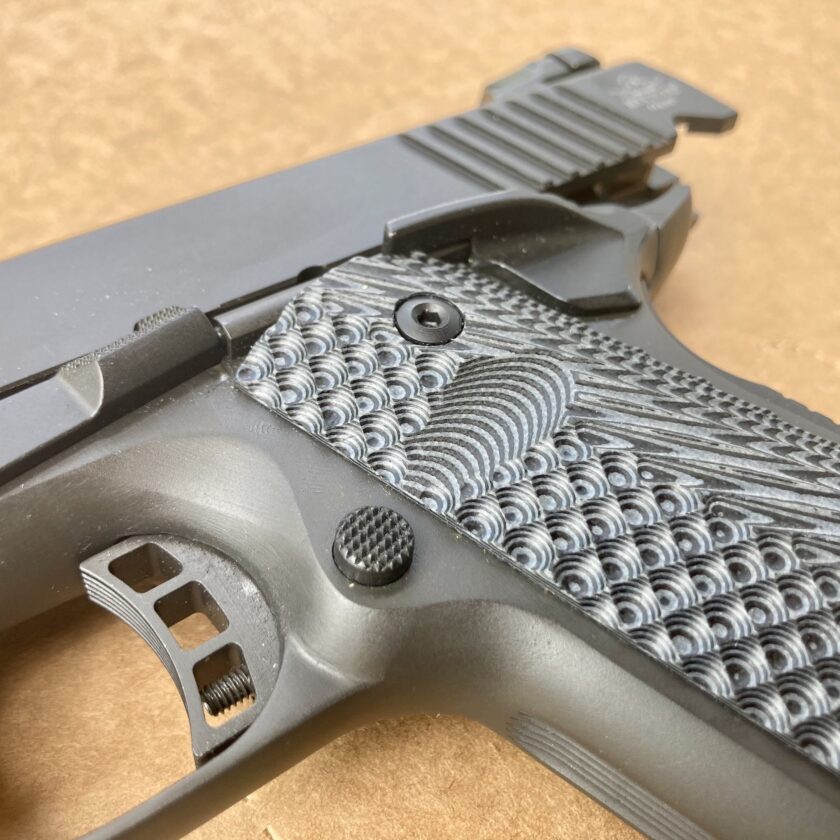 The RIA TAC Ultra CS also comes with a beveled magazine well. This does have the negative impact of making the grip frame longer, but it sure speeds the transition of skinny, single-stack magazines into the gun. The one negative about this feature is that it absolutely requires a magazine with a lengthy base pad. My short, 8-round Wilson magazines fit properly in the gun, but caused me to slap my palm on the sharp edges of the mag well. It did work well with 9- and 10-round Wilson magazines, though.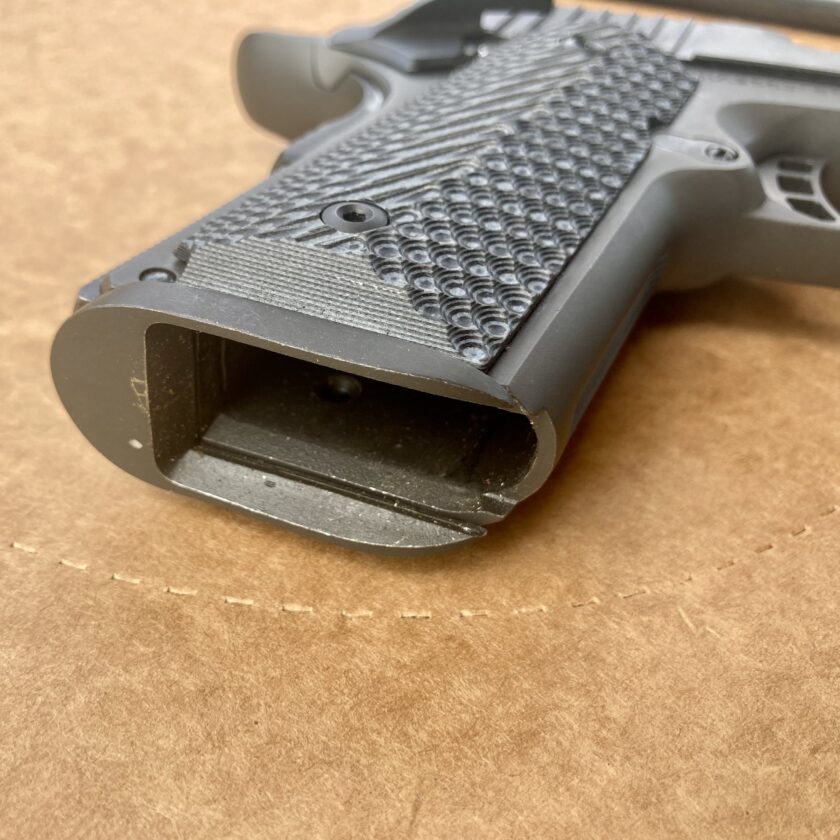 The final control involved in the reload, the slide release, was nothing to write home about. it was your standard, non-extended slide release, but it was well-executed and facilitated a smooth reload. In fact it was a little better than "standard," being checkered rather than simply serrated.
Accuracy of the RIA TAC Ultra CS
The RIA TAC Ultra CS proved to be an accurate pistol, plenty accurate for self-defense shooting at any reasonable distance (and probably at some less-than-purely reasonable ones). The sights are outstanding and contributed to really good accuracy. Though I don't prefer fiber optic sights, this one was fine and offered a crisp front sight. It's also dovetailed in, which should make changing it a breeze.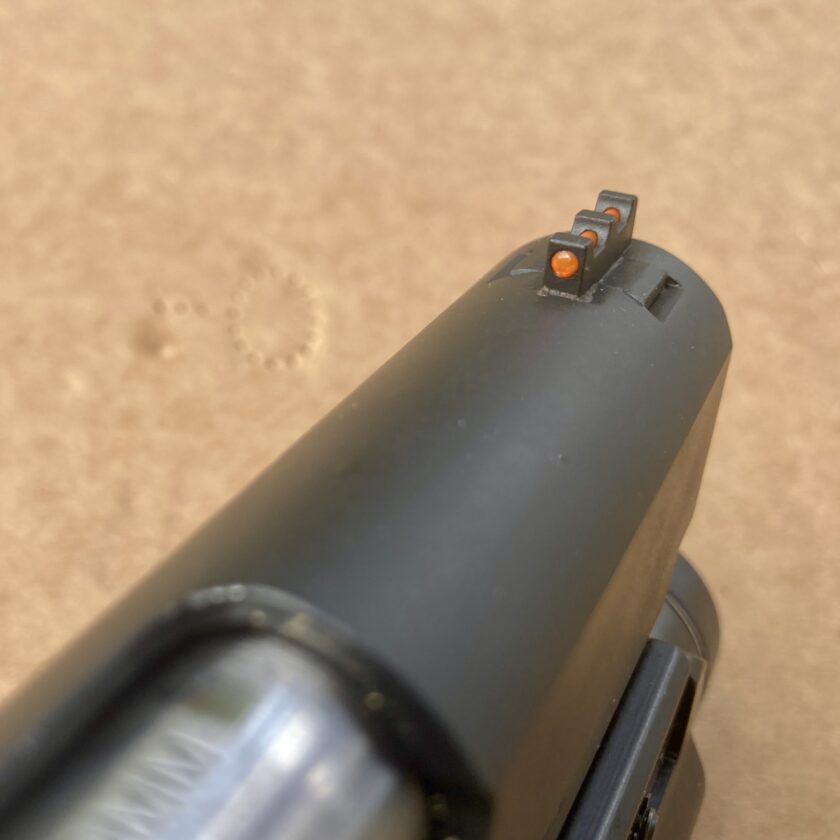 The rear sight was a true pleasure, though. It was adjustable for both windage and elevation. Though the sights were fairly well-adjusted out of the box, I was able to dial them in to the ammo I was predominantly shooting (Sellier & Bellot  124-grain FMJ) permitting fantastic accuracy. Though I generally prefer fixed sights I really enjoyed working with these, and it's made me reconsider adjustable sights on fighting pistols.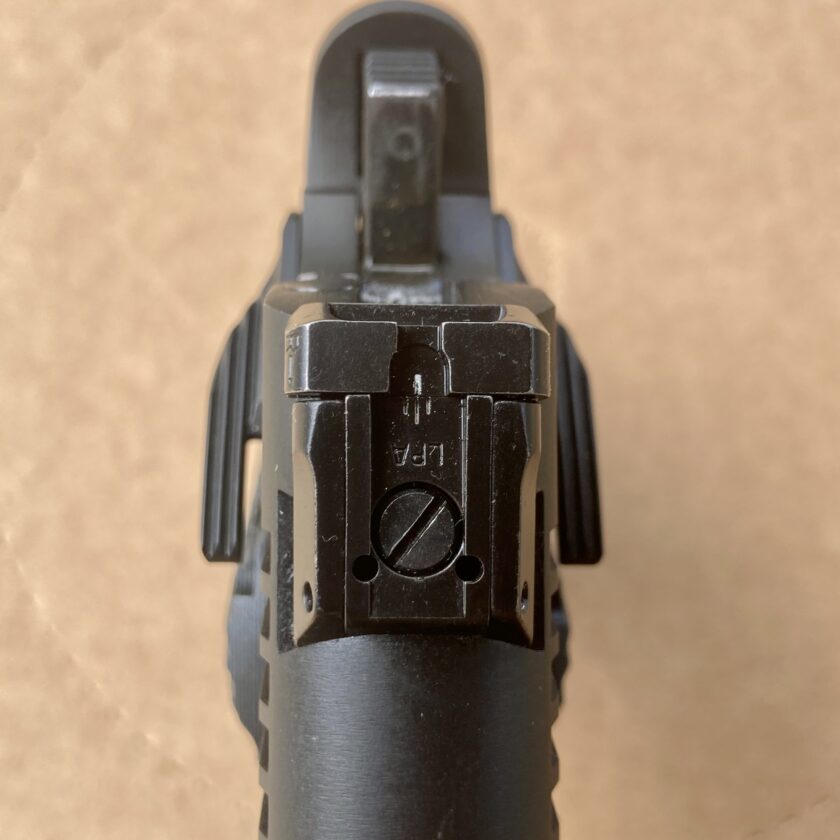 This Officer-sized 1911 also boasts a short but stout, heavy barrel with a full-length guide rod. How much these contribute to accuracy in practice I'm not sure, but they certainly didn't hurt anything.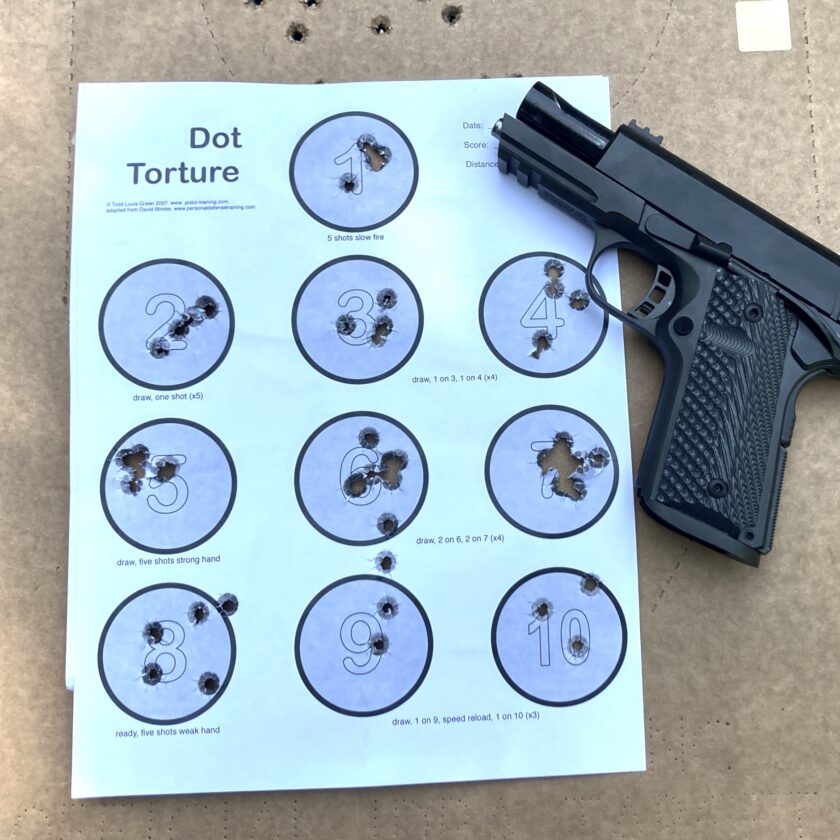 I didn't fire a great number of regimented drills with this pistol. The want of a proper holster prevented this, at least to some extent. I shot a modified Dot Torture, and a number of drills – like the failure drill – that don't necessarily require drawing from a holster. This compact 1911 was very easy to shoot at close range.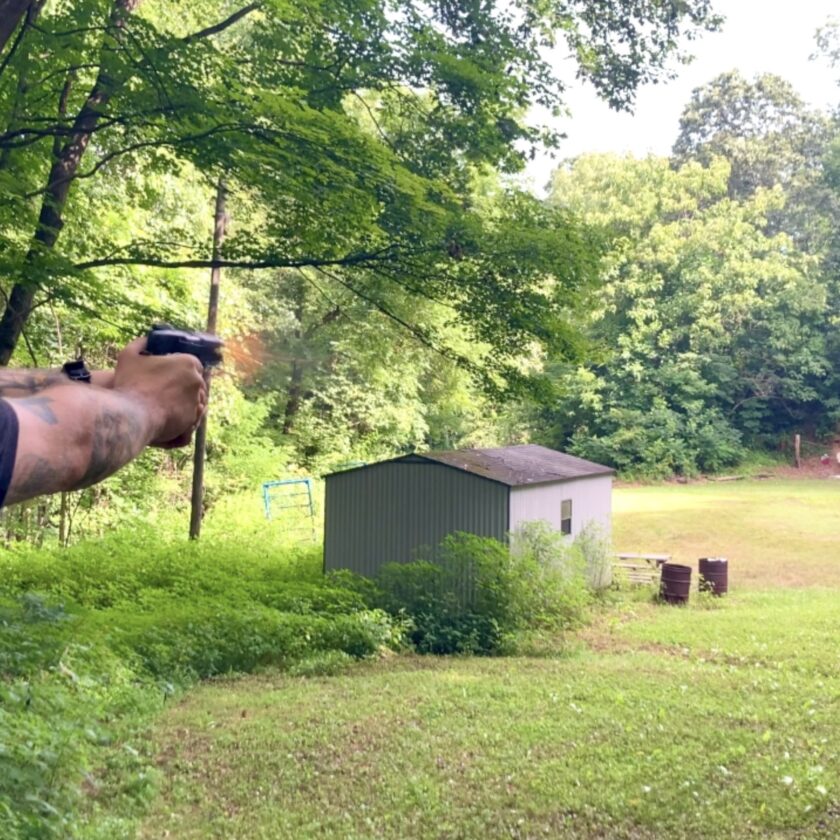 I also found it relatively easy to shoot at long range. I fifty rounds through the RIA TAC Ultra CS at 100 yards, and was able to hit at least 7 out of every ten shots on man-sized steel. Seven out of ten doesn't sound great, but that's also roughly quadruple the distance even "long range" self-defense encounters .
Portability of the RIA TAC Ultra CS
The RIA has a couple strikes against in the portability department. First, it is very heavy, clocking in at 40.6 ounces, of two and a half pounds. That's heavier than the full-size, 5-inch TISAS Raider in .45 (review coming soon). It's almost twice as heavy as a Glock 19, and it's comparable to a 4″ Smith & Wesson model 686 in .357 Magnum. This is a very heavy pistol!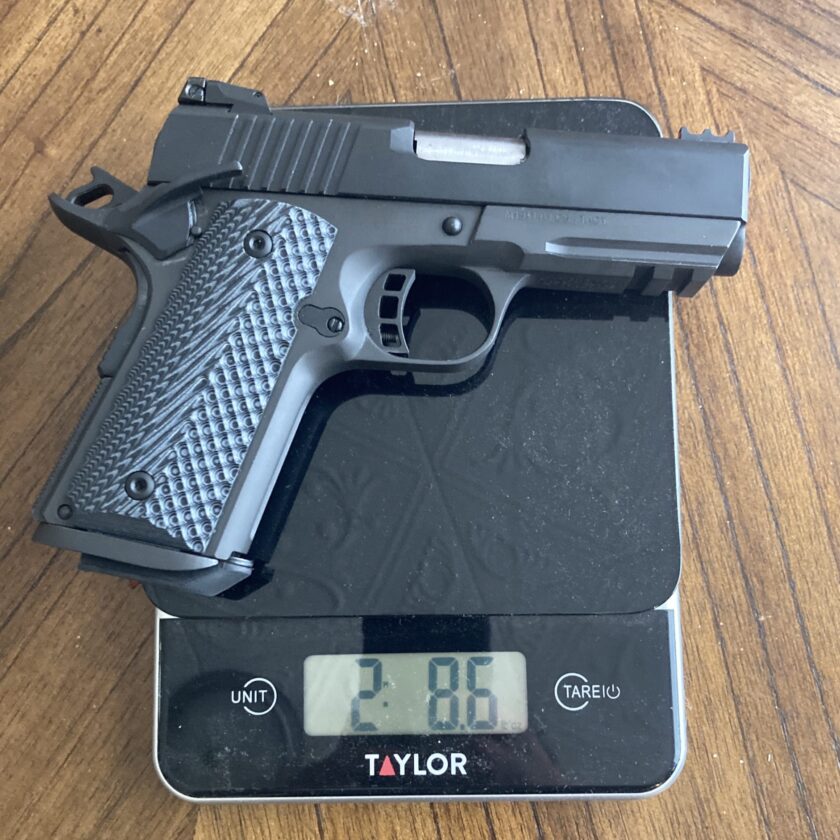 That weight comes in handy on the range, but all all-day carrier this gun probably ain't. Another problem with portability – this one arguably less of a big deal – is the extra grip length, courtesy of the beveled magazine well. This won't be a problem for those of you used to carrying larger-framed pistols, but the length was a bit much for me. Though I didn't confirm this, the magazine well is very likely removable if this is your only issue with this pistol.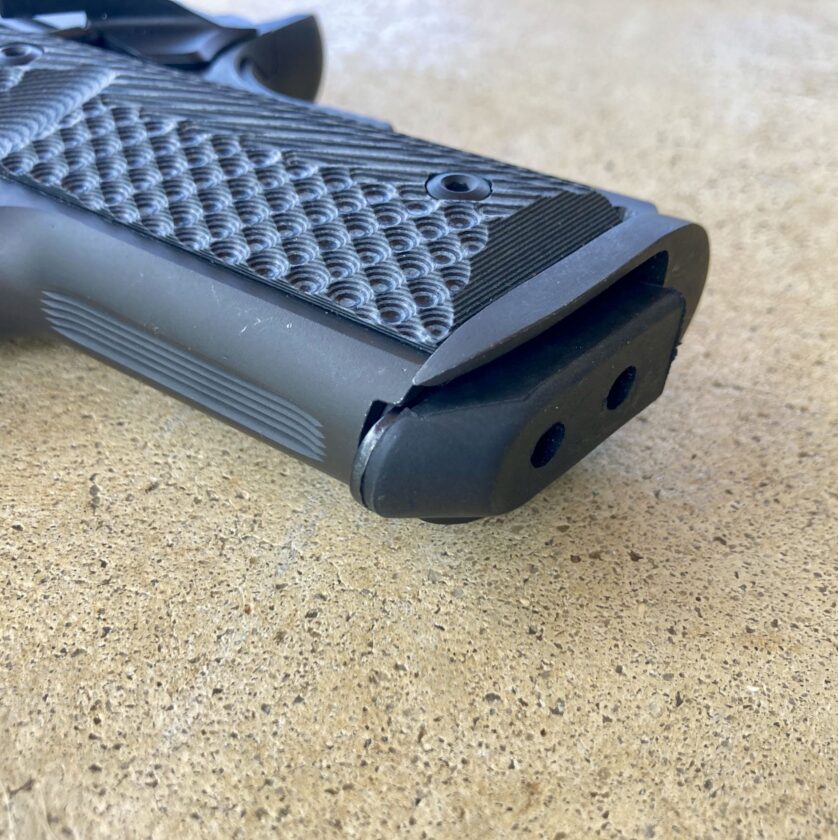 My final complaint with portability is in finding holster fits. Finding a holster that works with this pistol is possible, but certainly more difficult than finding one for a non-railed 1911.
Closing Thoughts
Despite its mixed reliability record, I became quite fond of the RIA TAC Ultra CS. It's not an ideal daily carry pistol due to weight, but it does have some serious "pros." First, the 9mm chambering is very welcome. Ammunition is cheap and the steel frame of this gun should outlive several owners. The RIA TAC Ultra CS's steel frame also absorbs recoil like a sponge, and this gun is plenty accurate.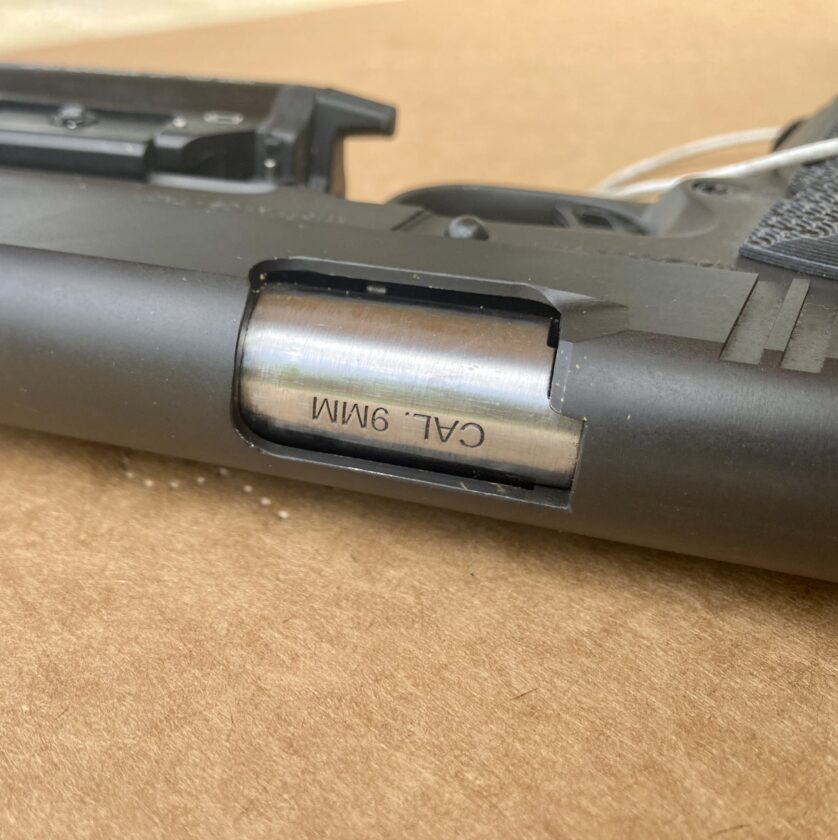 While I might not carry it, I can still think of several uses for this pistol. It could be a dedicated backup to a lighter, slightly smaller 1911. It could serve as a home defense pistol, when the weight wouldn't matter, but the addition of a light rail absolutely would. This pistol would also be a fine range gun, and an excellent entry point into the 1911 platform.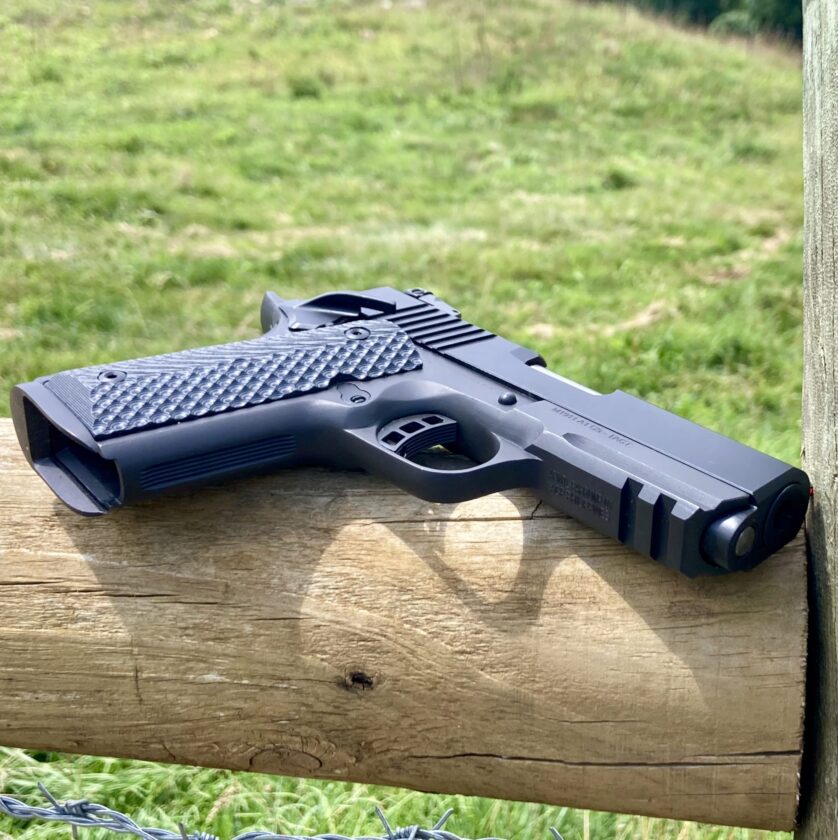 If you're looking for a budget 1911 and are prepared to do a little light gunsmithing, check out Rock Island Armory. This isn't a custom 1911 by any stretch of the imagination, but at a going rate of around $650 I contend it's absolutely worth the money.
---