Medical gear is a critical component of any battle belt, bump-in-the-night kit, or whatever you want to call it. If you go to guns, there is a chance that guns will go to you or your loved ones. You need to be prepared to deal with it. It's also a really good idea to have a "blowout kit" with you at the range. I spent quite a bit of time picking out a suitable individual first aid kit (IFAK), and finally settled on the HSGI ReFlex IFAK System about a year ago. I've been using it since then, and this is what I think of it.
This article contains affiliate links.
Full Disclosure: I paid full price for this item. This review is not coordinated in any way with High Speed Gear International, or anyone else. This was made on my own dime in my own time, and these are my thoughts.
The HSGI ReFlex IFAK System
Selecting an IFAK for wear on tactical kit requires a couple of special considerations. First, it must attach securely. Second, it must be accessible by either hand, or you wear two kits. Third, it must carry a solid loadout of medical gear and render it easily accessed when needed. All of these in one package is a tall order. The HSGI ReFlex IFAK System delivers, however. There are two components to this system: the ReFlex Carrier and the ReFlex Med Roll and together they address all three of the considerations above.
Secure Attachment
The ReFlex Carrier addresses the first concern of such kits: secure attachment to kit. This is incredibly important in an easy-access kit: you certainly dont want to reach for your med gear in an emergency and find out that it's not there. The carrier attaches to MOLLE webbing, and is capable of attaching vertically or horizontally to duty belts from 1.25 to 2.5 inches wide. The carrier is essentially a hollow shell that is open on both ends.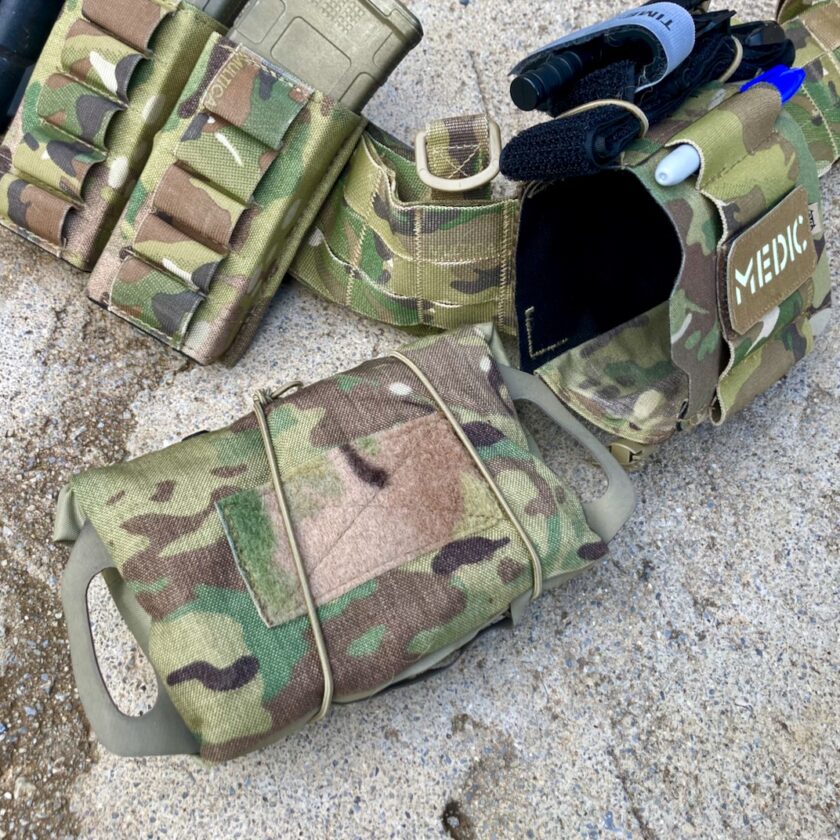 The Med Roll fits inside the ReFlex Carrier. It slides inside it and is held in place with friction. Along the bottom of the carrier is a shock-cord tensioning system, allowing you to customize tension on the Med Roll to prevent it from falling out, yet still permitting easy retrieval.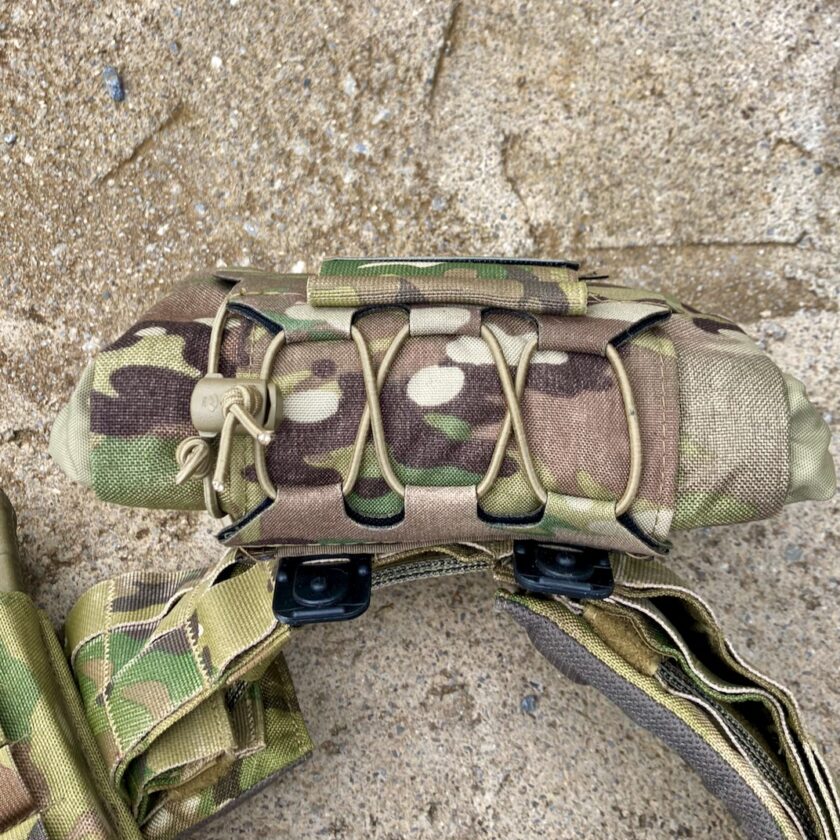 I have used this kit on the range many times over the last year (plus). I have run, jumped, climbed, rolled, and never have I lost the kit. In fact, it has never shifted in its position. I'm not fast-roping into hits or anything, but I'm confident this kit will stand up to anything I need to do.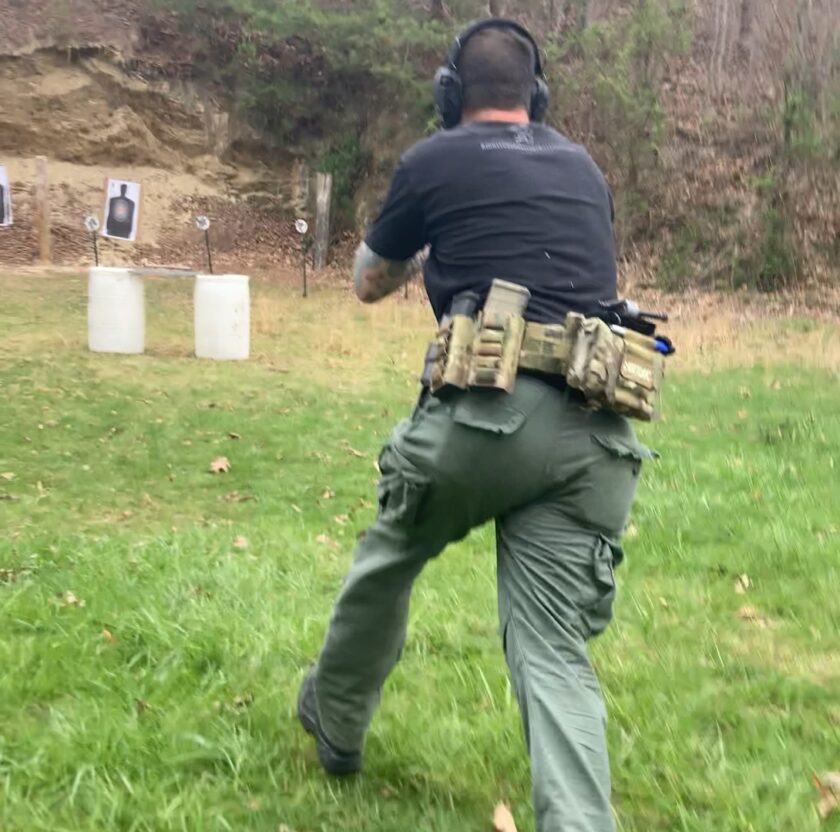 The carrier holds the Med Roll, but does it let it go when needed? Let's take a look
Two-Handed Access
Getting at your medical kit with either hand is incredibly important. You never know when you will need your medical gear. When you do, you may no longer have two arms to work with. one may be pinned under you, behind you, above you, or in some other way that renders it inoperable. You should be able to grab your medical gear with either hand, and the HSGI ReFlex IFAK System shines in this department. In fact, that's what sold me on this kit.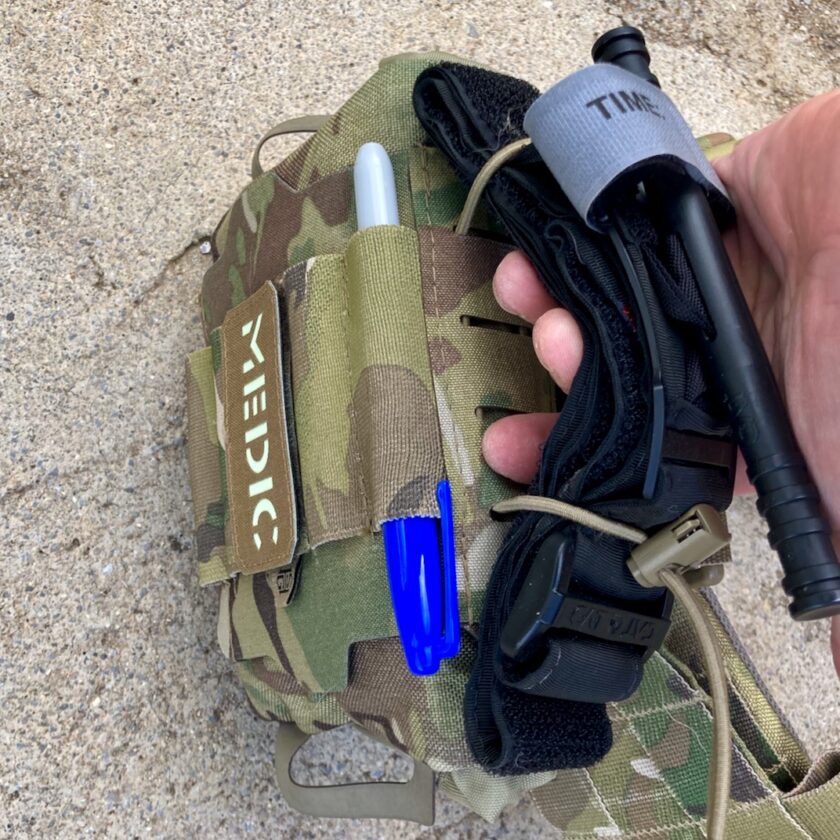 The tourniquet – arguably the item needed with the most urgency – straps to the top of the carrier. Held on by a shock-cord loop, it is secure but easily pulled off by either hand. The trick to pulling it off is to pull it upward. I have found this can be easily accomplished with either hand.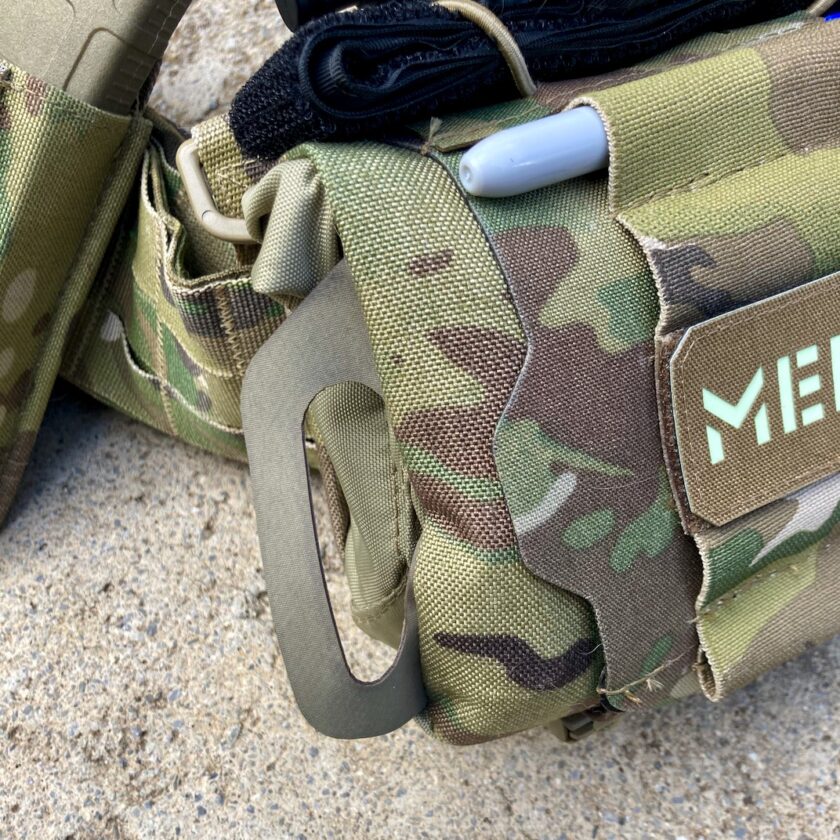 Despite being secure, the Med Roll is released from the carrier readily when either of the side handles are pulled. The handles are large enough to find – even with gloves on – but are small enough that they aren't likely to become a snag hazard. You will want to take care in setting up your gear not to block the med room from coming out with other pouches.
Carrying Capacity & Accessbility
Plenty of kits make excellent first aid kits, but work poorly with tactical kit. Plenty more pouches will MOLLE onto anything, but do a poor job presenting first aid essentials. Not so with the HSGI ReFlex IFAK system. Once the kit is shucked from the carrier, it is held closed by two shock-cord loops. Peeling these out of the way allows to the kit to splay open.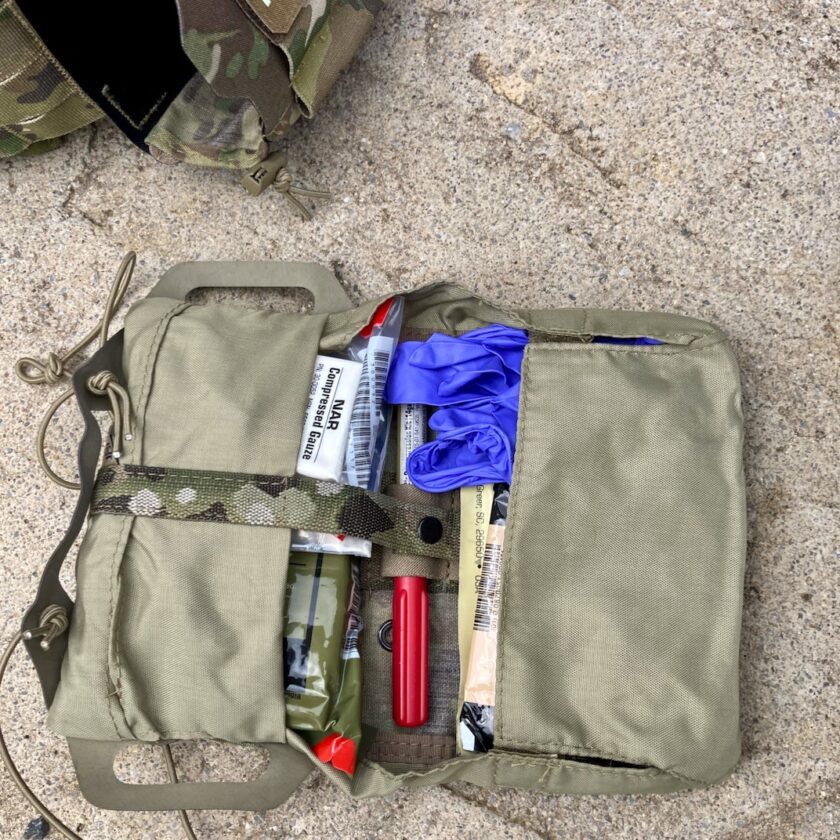 With the kit open all its contents are accessible but still held somewhat securely. This is a really good thing, in the event you have to displace after opening the kit – you don't want to lose all your unused supplies.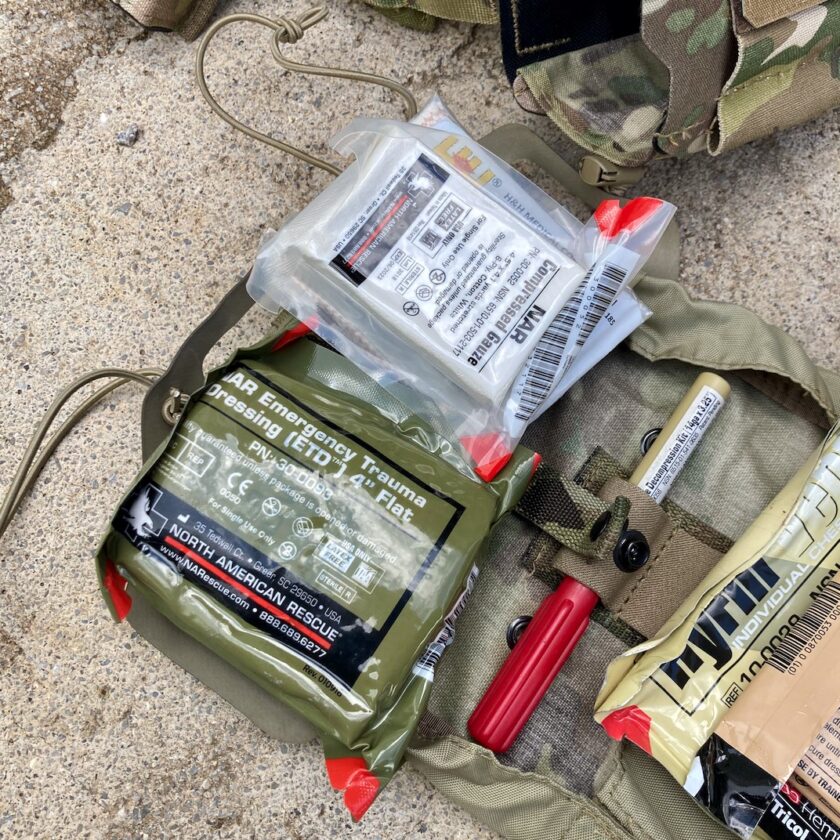 The HSGI ReFlex IFAK System carries everything you need and nothing you don't. Mine is loade dup with all the TCCC essentials: NAR compression bandage, Z-folded gauze for wound-packing, hemostatic agent, two chest seals, decompression needle, and nasopharyngeal airway (NPA, not pictured). Oh, and a couple pairs of blue nitrile gloves, of course.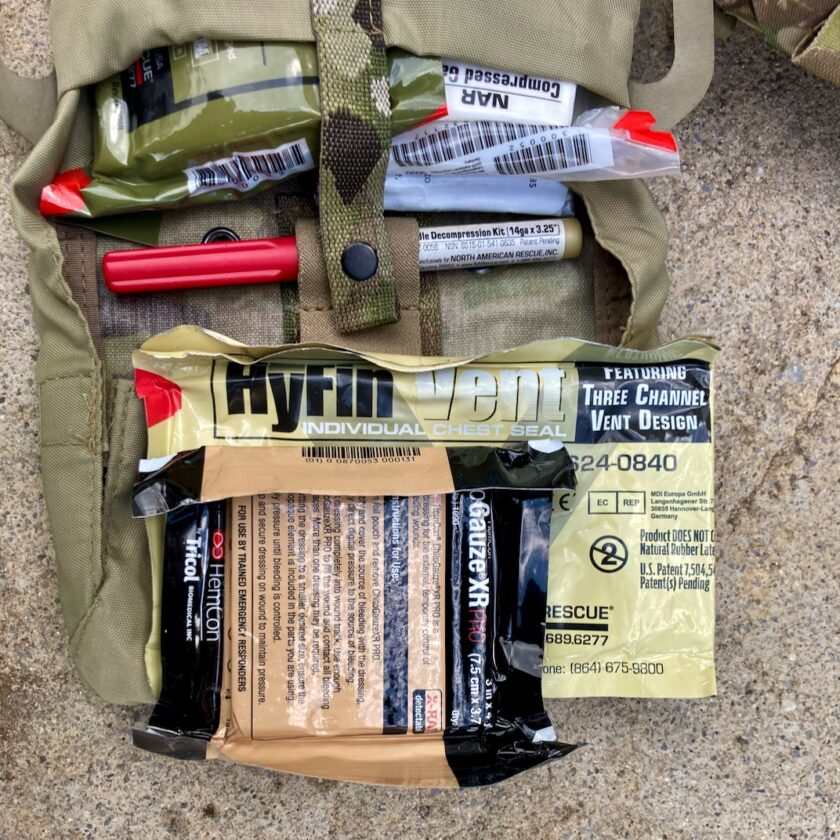 The exterior of the kit also has loops or elongated objects like Sharpie markers or chem-lights. To be honest I've found the Sharpie most useful for marking targets at the range, but it is nice to have to triage purposes, marking times on tourniquets, and the chem-light would certainly be useful it treating a patient at night.
Closing Thoughts on the HSGI ReFlex IFAK System
As a Former Action Guy, I am admittedly using this kit only lightly compared to what it's built for. I am impressed however. This a rugged IFAK, carries an enviable loadout of TCCC-approved gear, and places it all within easy access of the operator.
If you're looking for a top-notch IFAK for your bugout bag, bump-in-the-night belt, range gear, or just to have in the car, the HSGI ReFlex IFAK System merits consideration. It is available in a number of colors including Multicam, Multicam Black, Black, Coyote, and OD green. The kit goes for about $100 without medical gear.
---