I'm generally not the biggest fan of AAA-powered lights. After reviewing the Streamlight Microstream I figured maybe it was time to give the AAA Olight I3T another look. I have a little bit of history with this light. I actually own two of them because this was one of the first lights with a pocket clip that I carried on a daily basis (the second was purchased as a backup).
This post contains affiliate links. I paid out of pocket for the light reviewed here; Olight turned me down cold when I reached out asking if receiving editorial samples might be possible.

Olight I3T
Let's look at the features of the Olight I3T in table form, then we'll get to the words:
Criteria
Y/N
Tail Switch
Yes
Instantly Access High
Yes
Momentary ON
Yes
Tail Stand
No
Single Battery
Yes, AAA
High Mode 200-300+ lumens
No, but close: 180 lumens
Low Mode 20-30 lumens
No, 5 lumens
Firefly Mode < 1 lumen
No
No/Unobtrusive Strobe
No
Method of Accessing Modes
N/A
Form Factor: Size
Length: 3.5 inches
Dia: 0.59 inches
Form Factor: Weight
1.1 oz, with alkaline AAA battery
Form Factor: Pocket Clip
Yes
Form Factor: Reversible Pocket Clip
Yes
Form Factor: Knurling/Grip
Yes
Form Factor: Anti-Roll Flats
No
Durablility/Water Resistance
IPX8 (2m)
Price (Amazon.com)
$19.95
Category 1: Tail Switch
It's no secret, I'm a big fan of a tail switch (I've probably said that way too many times…but it's been a while since I've written a flashlight review so maybe I can get by without repeating it). This light has one and it isn't too bad.
Tail Switch: The switch itself is a firm rubber with some nice texturing. It protrudes up quite a bit, but in a small light like this a slightly enlarged switch is welcomed. The switch has good resistance, a positive, tactile "click", and generally feels well-constructed. No complaints so far.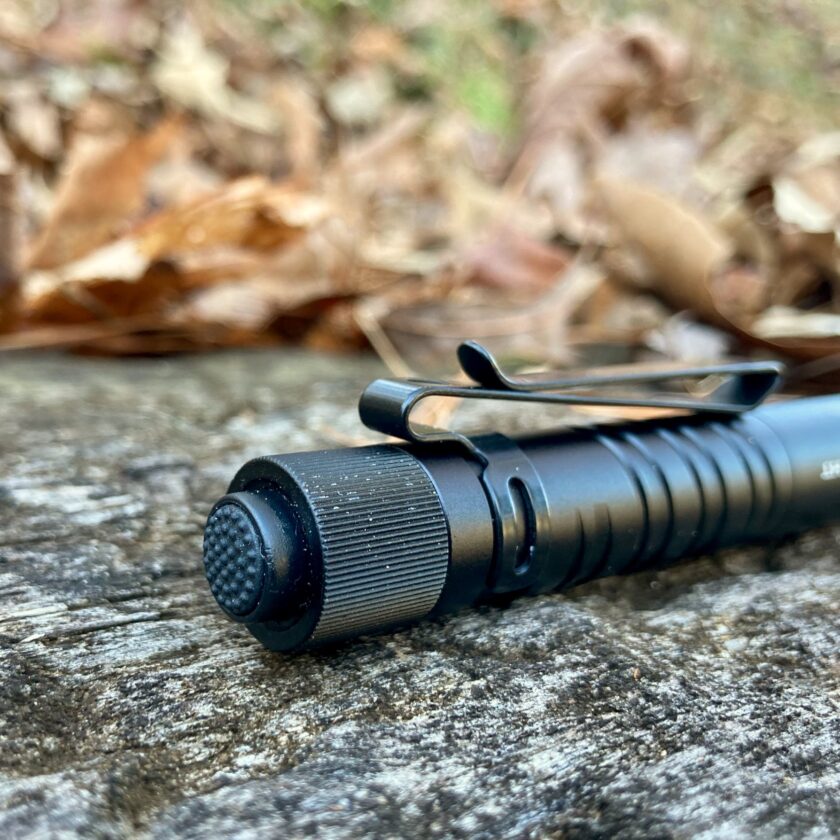 Instant Access to HIGH: No. When you turn the light on, whether in Momentary or ON, the "low" mode is the first one accessed. This is kind of a deal-breaker for tactical use. For day-to-day use it does have some advantages. First, the low mode consumes far less battery; if the light comes on in this mode in your pocket it will use little battery compared to what the high mode would use. Secondly if you're using it for a non-tactical purpose (about 99.99% of what you'll actually use it for) you aren't going to blind yourself. Still, I prefer a light with instant access to the brightest possible mode.
Momentary ON: Yes, the I3T does have momentary ON and it's actually not bad. The switch is stiff enough that it's easy to activate the light in momentary mode without inadvertently turning it on.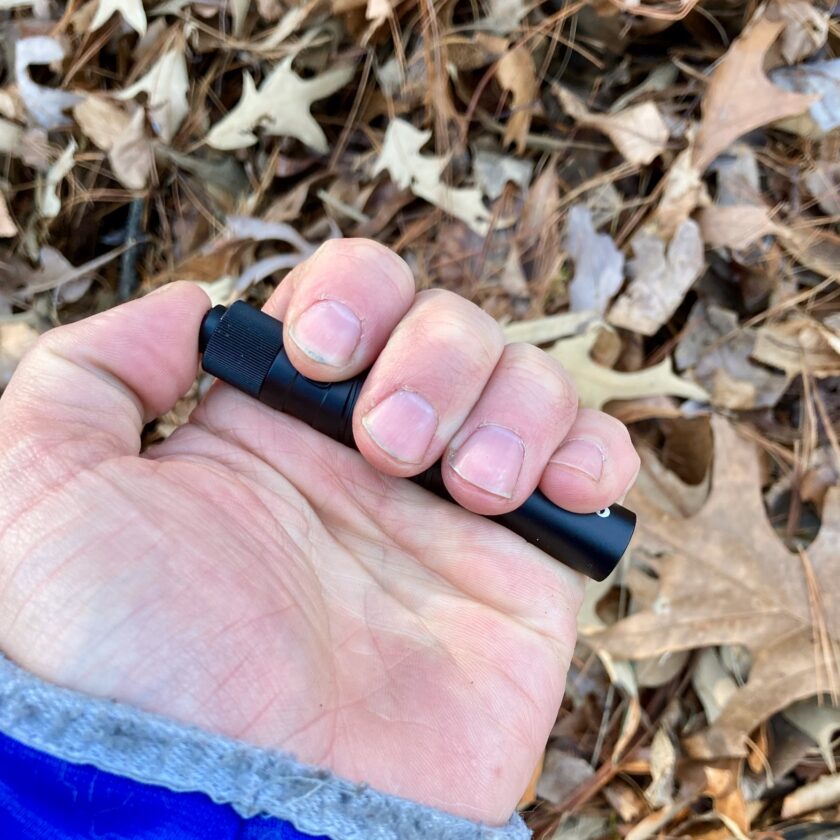 Tail Stand: Nope, the tail switch protrudes from the body of the light. There are no protective ears, etc. which would allow the light to tail stand.
Category 2: Powered by a Single Battery
Yes, the Olight I3T is powered by a single AAA. Personally I prefer AA-powered lights because AA batteries hold twice the power, yet their lights aren't massively larger. Personally, this (and other features) knocks the Olight I3T out of the running for my current needs. Still, AAA is a common battery size/type, so having a AAA light or two probably isn't a bad idea.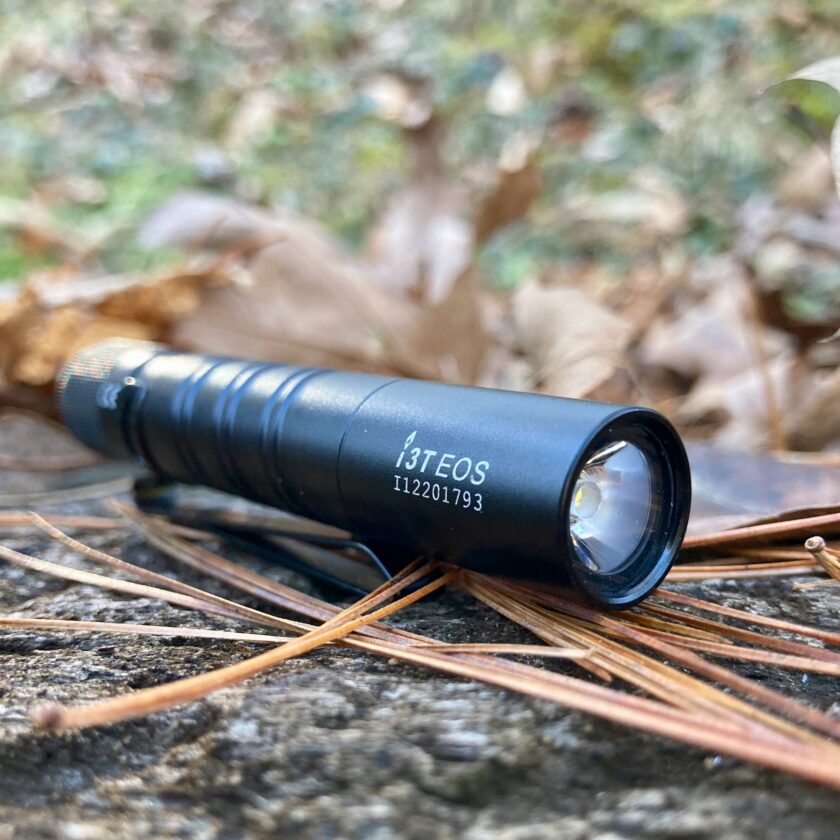 With a lithium cell the Olight I3Tworks quite well. I haven't measured the battery life but I have carried this light for several months on a single cell. Though I still prefer a AA light I was pretty pleased with the I3T when I carried it regularly, and carrying it again for this review has reminded me why.
Category 3: Modes

For its size and cost I can't critize the Olight I3T very much on it's modes. It has two modes and they aren't bad. There is a HIGH at 180 lumens – about as bright as alight this size could get. The LOW is truly low at 5 lumens. I appreciate this; I don't need a light with different modes ever 10 lumens. It's nice to be able to go from a lot of light to a little light.
HIGH: 180 lumens
LOW: 5 lumens
FIREFLY: N/A
NO/REMOVABLE STROBE: No strobe.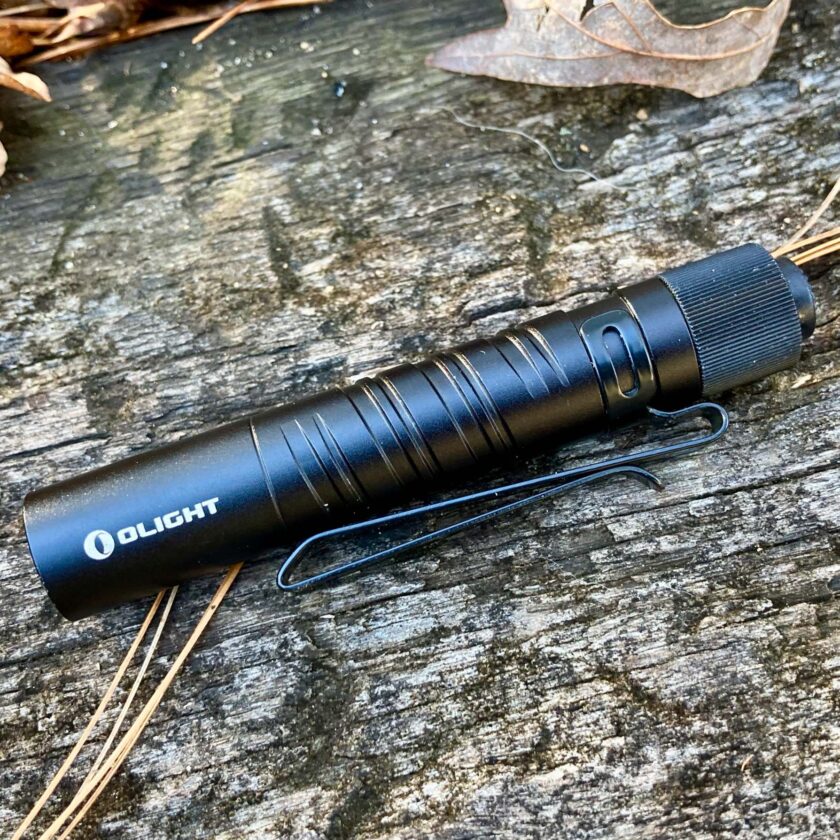 I have no complaints at all with the modes…considering its size and cost. Honestly, that's just about as well as you're going to do with a light this size and cost. However, I demand something just a bit more capable, with a little more "oomph." To each his or her own, though, and I won't be mad at you if you like a little AAA light.
Mode Switching: Half-pressing the tail switch.
Criteria 4: Form Factor
This is a very small, lightweight light. As an EDC light it is completely possible to forget that it is even in your pocket. I also think it serves admirably as a backup in a small pack or purse.
Size: There's not too much to say about size. This is a small light, one of the smallest practical lights chambered for AAA you can find.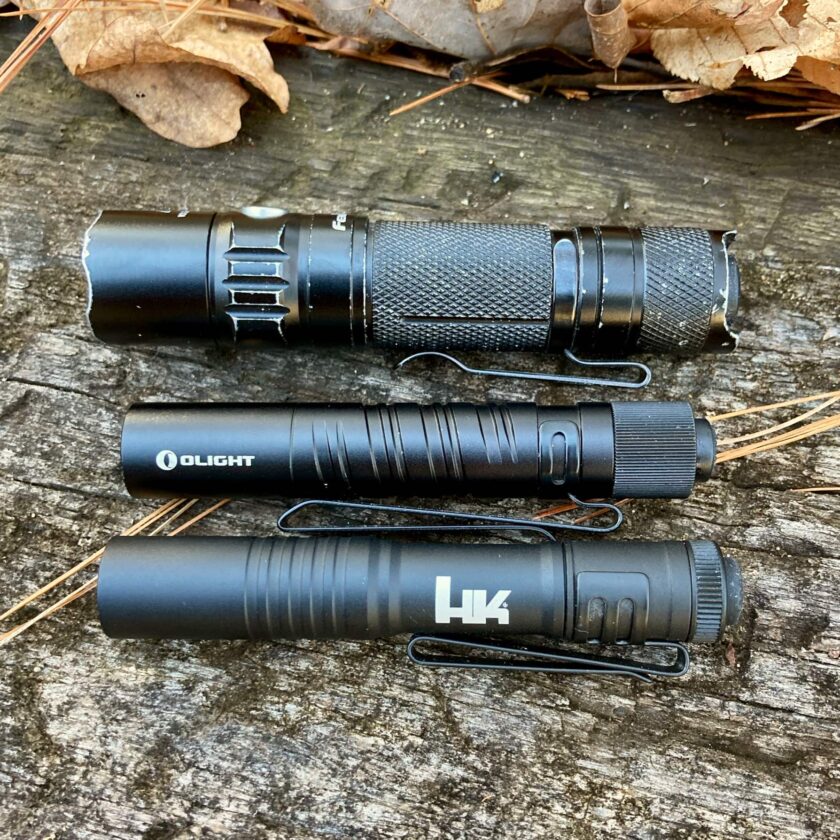 Weight: At 1.2 ounces the Olight I3T is only a tenth of an ounce heavier than the Streamlight Microstream (a clear competitor), and it's exactly half the weight of my Fenix LD12. One and one-fifth ounce isn't a lot of weight in any context. Just about anyone should be able to find room for one extra ounce.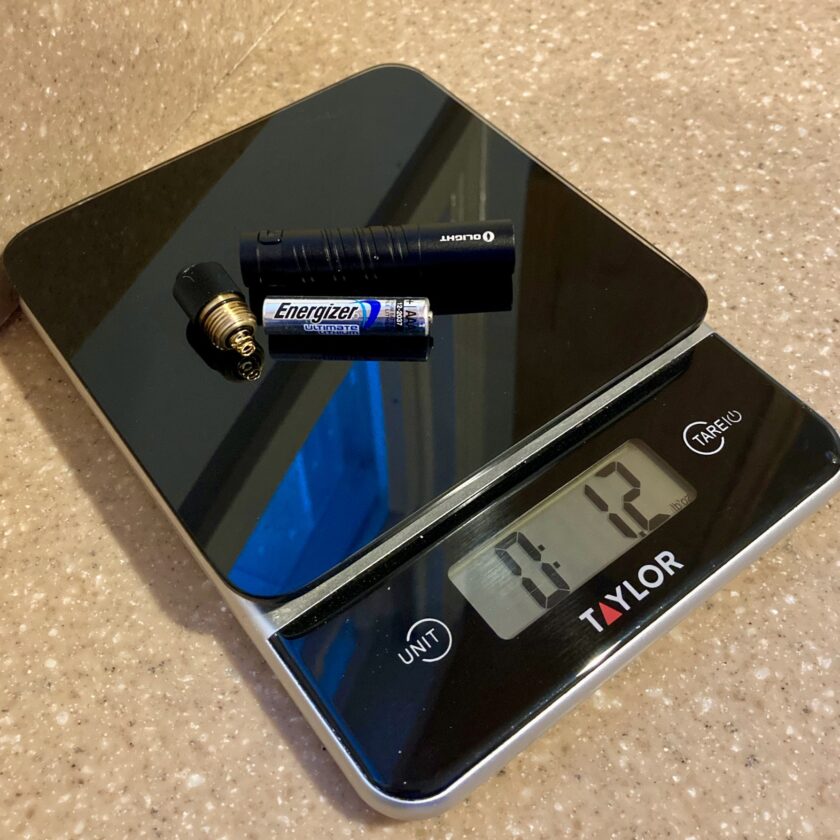 Pocket Clip: I like this pocket clip a lot. First, it has a nice, smooth outward flare that clips easily when going into the pocket. It also holds the light securely, yet it remains easily withdrawn from the pocket.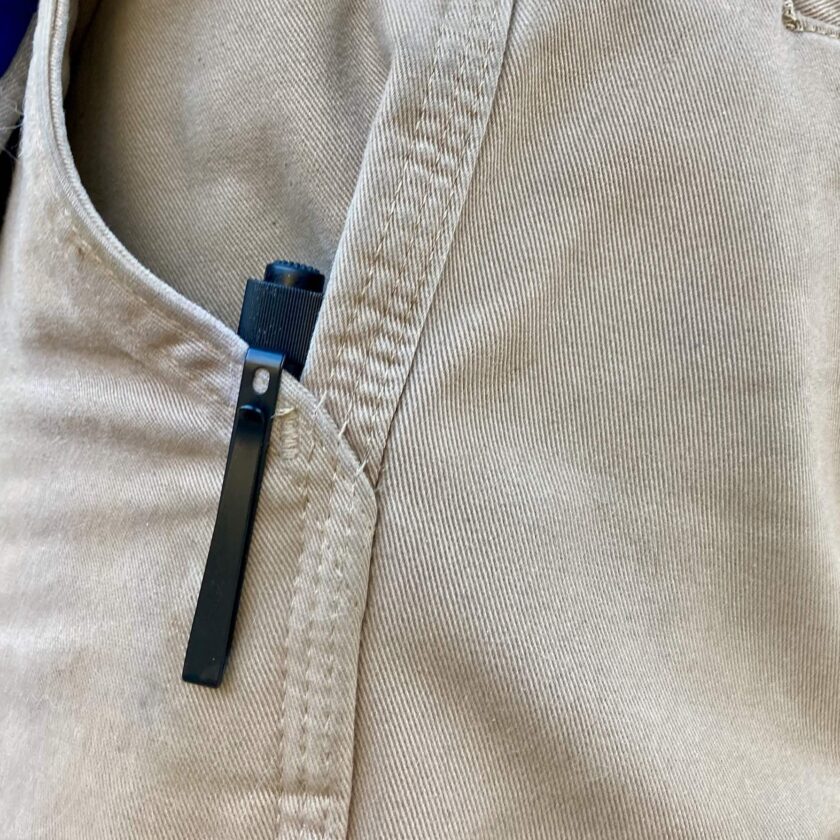 Reversible Pocket Clip: Yes, and a pretty good one. With this clip you should be able to carry the Olight I3T in just about any position, and clip it to the bill of a cap for use as a headlamp.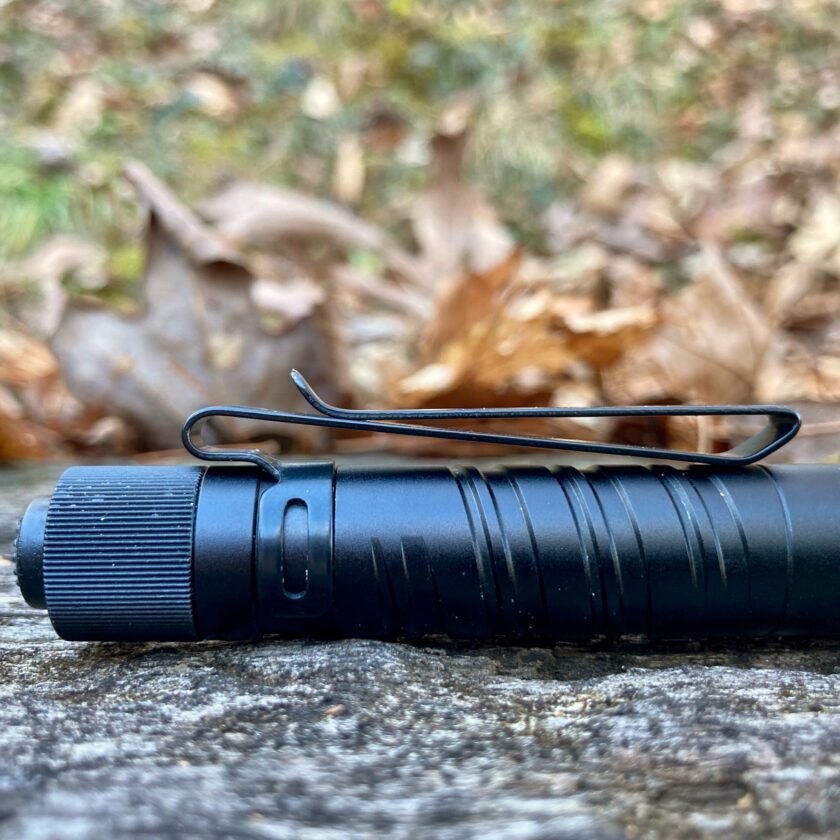 Knurling/Grip Texture: Olight likes the swirled texture on their lights. I don't particularly like it, nor do I dislike it. It provides maybe a little bit of purchase but honestly probably isn't as great as knurling (or as good looking). I works, I suppose, and I'm sure it keeps cost down so I can live with it but it isn't my favorite.
Anti-Roll Flats: No. As I've probably said before this is probably a moot point on a light with a clip. The clip itself will keep the light from rolling if left on the light.
Criteria 5: Durability & Water Resistance
Durability and water resistance are excellent. First, durability. I have spent a great deal of time with the Olight I3T – the exact one in this review – in my pocket and it's hardly worse for wear. Olight claims it is drop tested at 1.5 meters; I assure you I've dropped it plenty of times from a meter and it persists.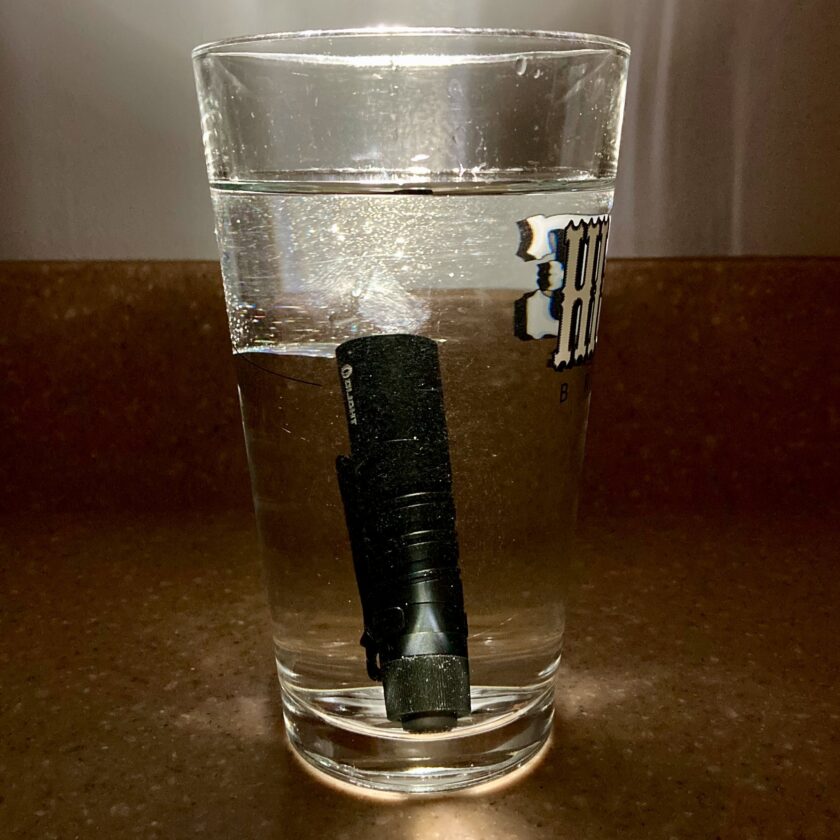 I tested water resistance with my 5-minutes in the cup method. The light performed perfectly, which isn't a huge surprise considering it's IPX8 rating (it should be good to 2 meters). That's honestly plenty good for day-to-day use. Even for "hard" use very few of us are going to need a light to survive more than an unexpected downpour or a quick splash in a creek. The Olight I3T should handle this and plenty more.
The Final Tally
Surprisingly, I rather like the Olight I3T AAA flashlight. It's not a very powerful light but it brings a lot to the table for its size, weight, and cost. It's missing a few features that are important to me and it's maybe a little underpowered in my estimation. Still, I think the I3T would be a fantastic option for someone looking for the smallest light available. It would be a great option for those looking to sock away a few extra lights around the house or stock a backup in their various bags. It would be ideal as a AAA flashlight just for the purpose of taking advantage of AAA batteries.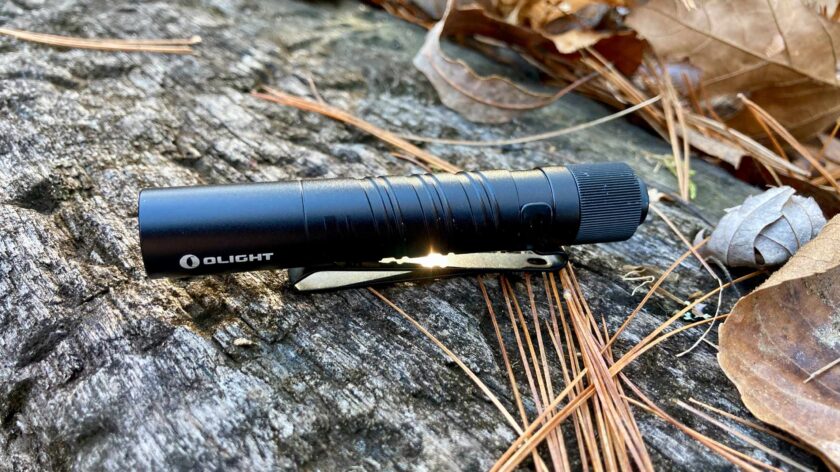 ---