It has been a long time since I have reviewed a flashlight! I'm a little out of practice but I'm going to give it a shot on what I consider to be one of the classic AAA-powered lights, the Streamlight Microstream.
This post contains affiliate links.

Streamlight Microstream
And now the Table o' Features of the Streamlight Microstream:
Criteria
Y/N
Tail Switch
Yes
Instantly Access High
Yes
Momentary ON
Yes
Tail Stand
No
Single Battery
Yes, AAA
High Mode 200-300+ lumens
No, 45 lumens max
Low Mode 20-30 lumens
No
Firefly Mode < 1 lumen
No
No/Unobtrusive Strobe
YES
Method of Accessing Modes
N/A
Form Factor: Size
Length: 3.6 inches
Dia: 0.60 inches
Form Factor: Weight
1.1 oz, with alkaline AAA battery
Form Factor: Pocket Clip
Yes
Form Factor: Reversible Pocket Clip
Yes
Form Factor: Knurling/Grip
No
Form Factor: Anti-Roll Flats
No
Durablility/Water Resistance
IPX4
Price (Amazon.com)
$16.99
Category 1: Tail Switch
The Streamlight Microstream does have a clicky tail switch. In my opinion the execution is somewhat poor. Let's take a look at it.
Tail Switch: The tail switch's material seems to be durable and well-designed. It is textured to permit some purchase, and the little rubber cap is actually replaceable (which is a curious feature in such a low-end light). The switch itself is very stiff. In fact, the light seems to be optimized to work in momentary "ON" which I'll talk about about more in that section. Turning the light to a constant "ON" takes several pounds of pressure more than I feel is absolutely necessary, though this does doubtlessly minimize instances of the light coming on in a pocket or bag.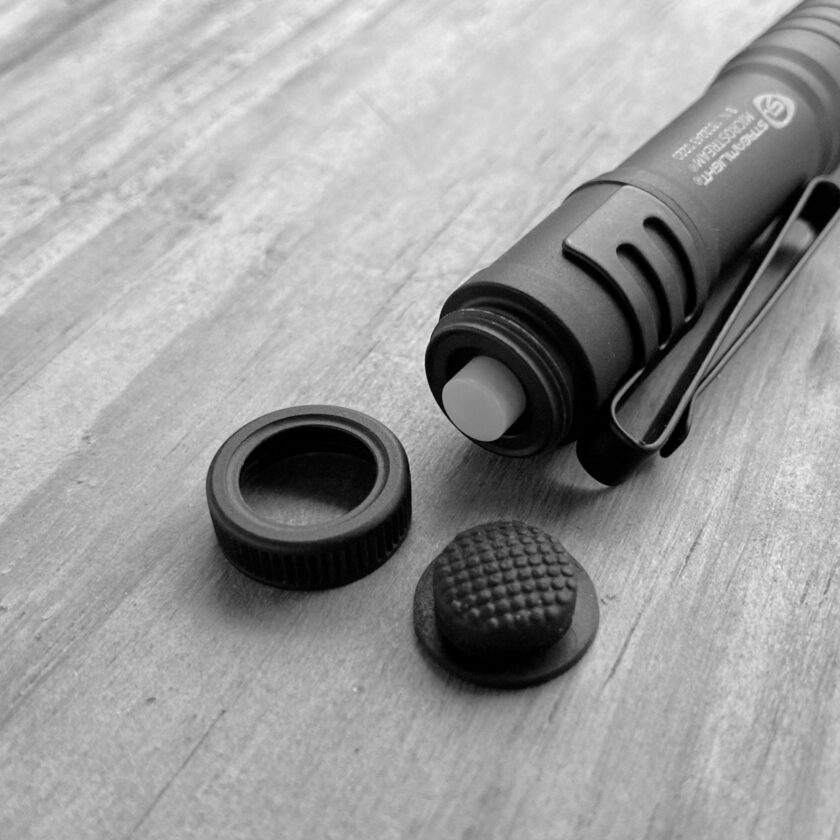 Instant Access to HIGH: This is irrelevant because the little Microstream only has one setting: ON.
Momentary ON: Yes. As I said the tail switch is very stiff and though you can turn it to a constant ON, it's very easy to use the momentary function. I guess I want my cake and eat it, too: I'd like to be able to get the light to constant on a little easier, but I also appreciate the ability to use momentary without worry about over-clicking.
Tail Stand: No. And not only "no"  but the switch sticks out like a sore thumb. At least to my eye. I would really appreciate some sort of protection for the tail switch, though I realize that's difficult to execute well on such a small, AAA-powered light.
Category 2: Powered by a Single Battery
Yes, but: The Streamlight Microstream takes a single battery. Unfortunately it's a AAA battery. I don't really have anything against AAAs if it's your thing (they were my thing for a long, long time) but AAs are, in my opinion, better. For me personally, it means one more type of battery I have to purchase and maintain. I like keeping everything standardized on AA. But that's just me, so here are a couple, more universally applicable reasons I prefer AAs.
AA batteries hold almost twice as much juice as a AAA. Meaning with a light of similar capability you get almost twice the run time. It also means you can step massively up in the power (lumens and candela). And finally, AA batteries are the most common battery in the world. If you have to scrounge batteries out of a hotel remote control or…well, you get the idea. On the other hand, though, there are also a lot of AA batteries out there. It's probably worth having a light or two that will take advantage of them.
So bottom line: this light is a win with only one battery, but not the right battery for me.
Category 3: Modes

The Streamlight Microstream is a single-mode light. There are only two modes: ON and OFF. With that out of the way let's talk about what this light brings to the table. I admit that I see the beauty of a single-mode light. There is nothing to remember, no expecting one power setting and getting another, no fumbling to dim or brighten the light. What you've got is what you've got.
ON: 45 lumens
HIGH: N/A
LOW: N/A
FIREFLY: N/A
NO/REMOVABLE STROBE: Yes, this light is a "win" in the strobe department: it doesn't have one at all.
Flashlights have come an extremely long way in the past ten years. I like the ability to use more or less light as the situation dictates. Lots of little lights afford that ability in the same size and price categories off at least some flexibility there (the Olight IT3 being a really good example). So while I do see a certain elegance, I don't give the Microstream a total pass here: it could be better.
One thing I don't really have a way to quantify: this light has a very loose beam. Most lights I have reviewed to this point are somewhat self-defense oriented and have a somewhat tight beam, permitting longer throw. The beam of the utility-oriented Microstream is probably better for lighting a room than identifying a distant object.
Mode Switching: N/A.
Criteria 4: Form Factor
Now we get into the reason that most people probably purchase and carry this light. It is really, really hard to find very much fault with the form factor of the Streamlight Microstream.
Size: For a guy who is used to carrying a light that is way bigger, the Microstream feels like nothing at all. At a very reasonable 3.6″ if is one of the shorter lights I have reviewed, and is (so far) bested only by the outstanding EAGTAC D25A I reviewed a while back. At 0.60″ in diameter, it is extremely narrow. Below it is flanked by the Fenix LD12 (2017 Edition) (my EDC light) and the EAGTAC. This is definitely the smallest light I've reviewed so far.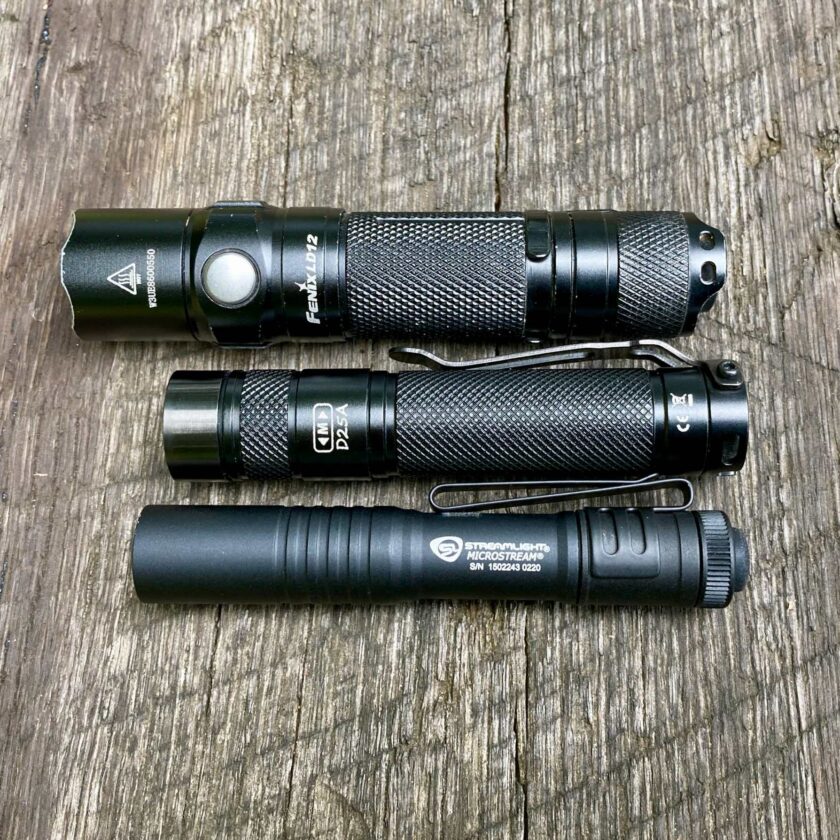 OK, I do find a little fault. After being used to bigger lights the extremely narrow diameter can be kind of difficult to hold on to. It's like trying to hold a golf pencil really tightly – there just isn't much there to grasp.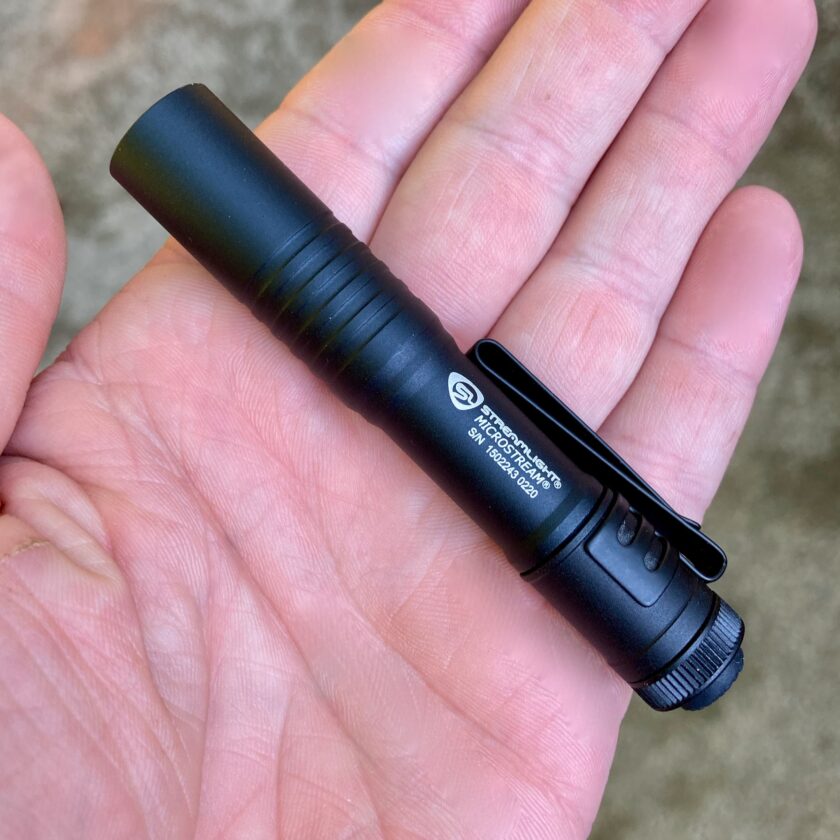 Weight: This is absolutely lightest light I've reviewed yet. At just over 1 ounce (1.1 according to Streamlight specs and my kitchen scale) this thing might as well weight nothing. You could throw this into the lightest of ultralight backpacks and not notice it.
Pocket Clip: Streamlight normally does a good job with pocket clips and this one is no exception. Though I have read some complaints of loose clips, mine was great. It held the light tightly in the pocket, but let it slip out easily when desired. The clip also carries the light nice and deep, maximizing the potential for discrete carry. I'm very happy with the clip.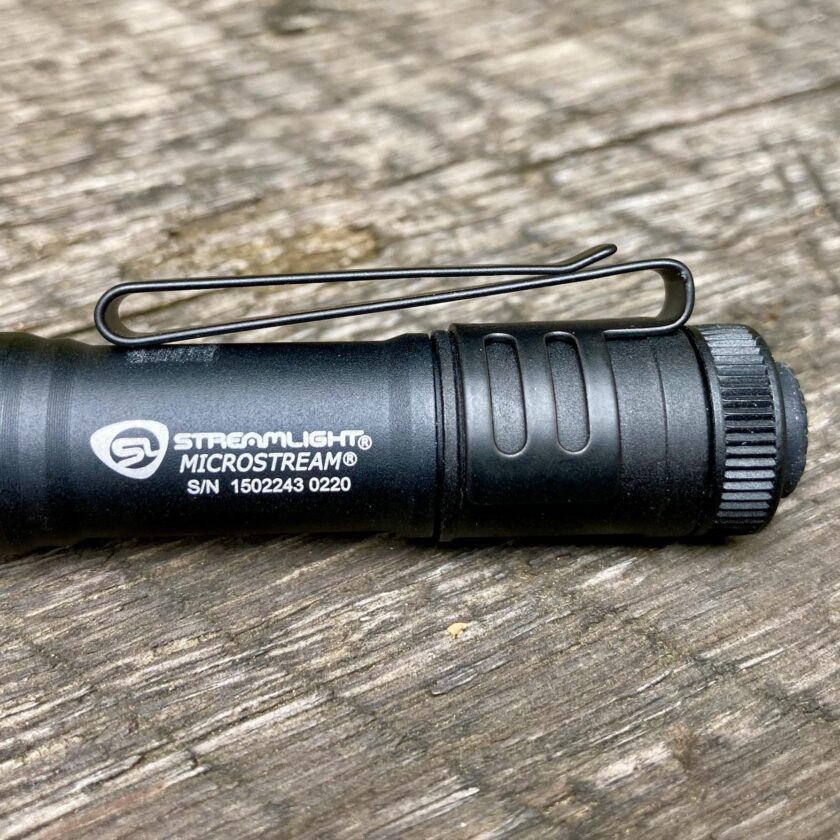 Reversible Pocket Clip: It also allows the Microstream to be work on the brim of a hat and honestly, the light weight of this light makes it the most practical "improvised headlamp" I've reviewed yet.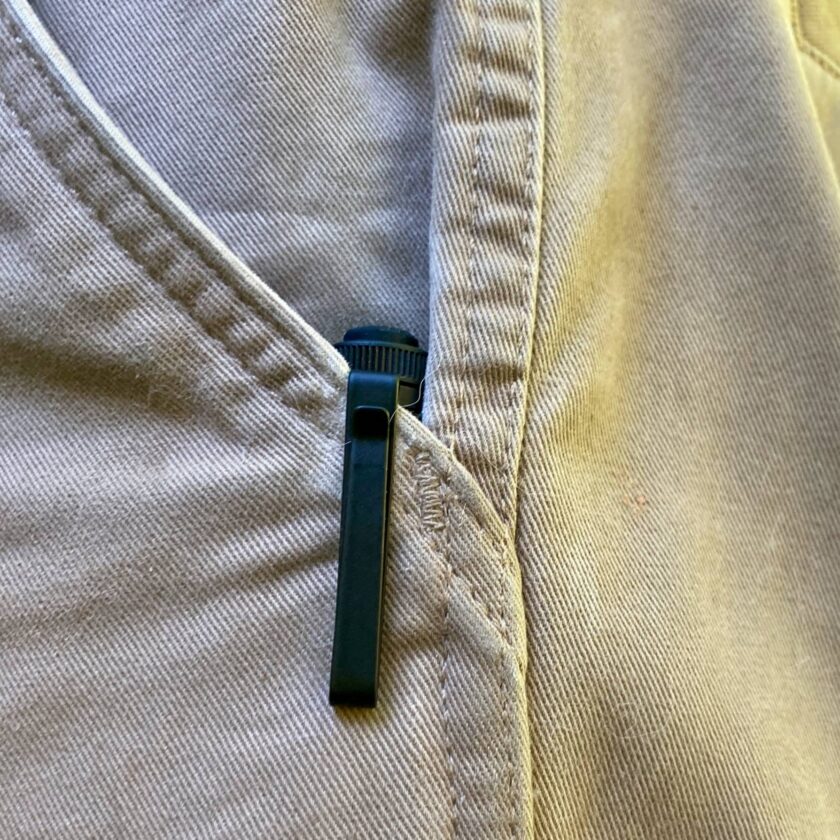 Knurling/Grip Texture: This light is completely slick, save for some circumferential grooves. While I like some knurling this isn't a huge strike against the Microstream. The smoother texture may make this light more appealing to those on the dressier side of life.
Anti-Roll Flats: Nope, and I can totally live without them on this light.
Criteria 5: Durability & Water Resistance
I did my patented "five-minutes in water" test with the Streamlight Microstream. Honestly I don't have a ton to say here: the light performed perfectly and still works after being submerged. Taking the light apart revealed no water infiltration.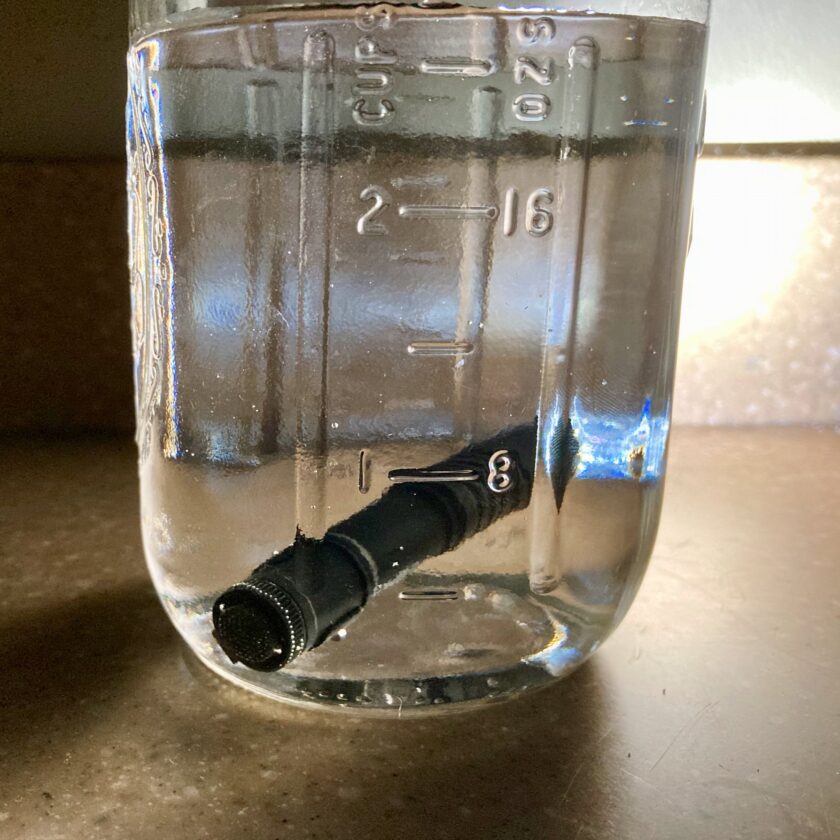 As far as durability goes…I also don't have a ton to say. I didn't carry this light a lot (though I did carry it some). However, I know quite a few guys who do carry this light. The biggest reason for replacement is not a durability issue but rather losing it.
The Final Tally
I guess I have become something of a flashlight snob. A couple of my non-negotiables are varying modes and a AA battery which obviously this light lacks. So despite it not working ideally for me, I think the Streamlight Microstream is a fantastic little light. It's tough, it's extremely compact, and for most people it is probably very likely to be carried.
To be clear it wouldn't hurt my feelings if Streamlight wanted to add a couple modes to the Microstream but I think most people will be just fine with this light. And the price point makes it really approachable.
---