Though I can't remember how, the Skilhunt E2A was recently called to my attention. The Skilhunt E2A is a compact, aluminum, single-AA flashlight. It definitely skews toward the smaller end of the spectrum and seems to be very well executed for such a small, inexpensive light. Let's see how she fares.
Skilhunt E2A
One thing that hit me while reviewing this light was a comparison to the old double-D-cell Maglites of my youth. They cost about what the Skilhunt E2A costs – about $25. My, how times have changed. Your $25 now buys you a light under 2 ounces, shorter than 4″, that puts out about 5x the light. This little guy doesn't double as a baton, but it's a vastly superior flashlight.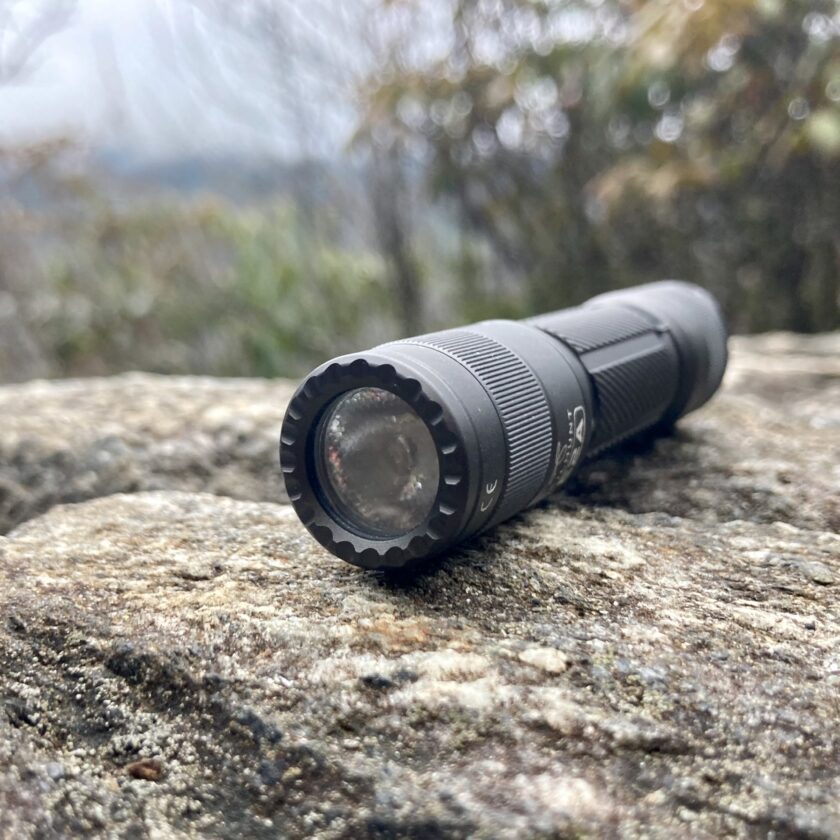 Let's take a look at its features in chart form, then we'll get into the review.
Criteria
Y/N
Tail Switch
Yes
Instantly Access High
Yes
Momentary ON
NO
Tail Stand
Yes
Single Battery
Yes, AA or 14500
High Mode 200-300+ lumens
Yes - 200 to 120, 1 minute, 40 minutes
Low Mode 20-30 lumens
40, 270 minutes
Firefly Mode < 1 lumen
5, 45 hours
No/Unobtrusive Strobe
No strobe
Method of Accessing Modes
Half-pressing tail switch
Form Factor: Size
Length: 3.35 inches
Dia: 0.75 inches
Form Factor: Weight
1.7 oz, with alkaline AA battery
Form Factor: Pocket Clip
Yes
Form Factor: Reversible Pocket Clip
Yes
Crenelated Bezel
No
Form Factor: Knurling/Grip
Yes
Form Factor: Anti-Roll Flats
No
Durablility/Water Resistance
IPX8 (2M)
Price (Amazon.com)
$24.90
Category 1: Tail Switch
Tail switch actuation is one of the most important factors to me. I find the tail switch easier to operate than bezel switches and twist-tops, and certainly more positive than twist-tops. My preferred "ice pick" grip also works well with a tail switch. Let's go through all the factors that contribute to a good tail switch.
Tail Switch: The Skilhunt E2A has a fantastic tail switch. It is protected, but not so deeply that it is difficult to purposefully activate. The switch feels high-quality with travel that is neither too short nor too long, and with a nice tactile and audible "click." Though it's on the stiffer side I like this switch.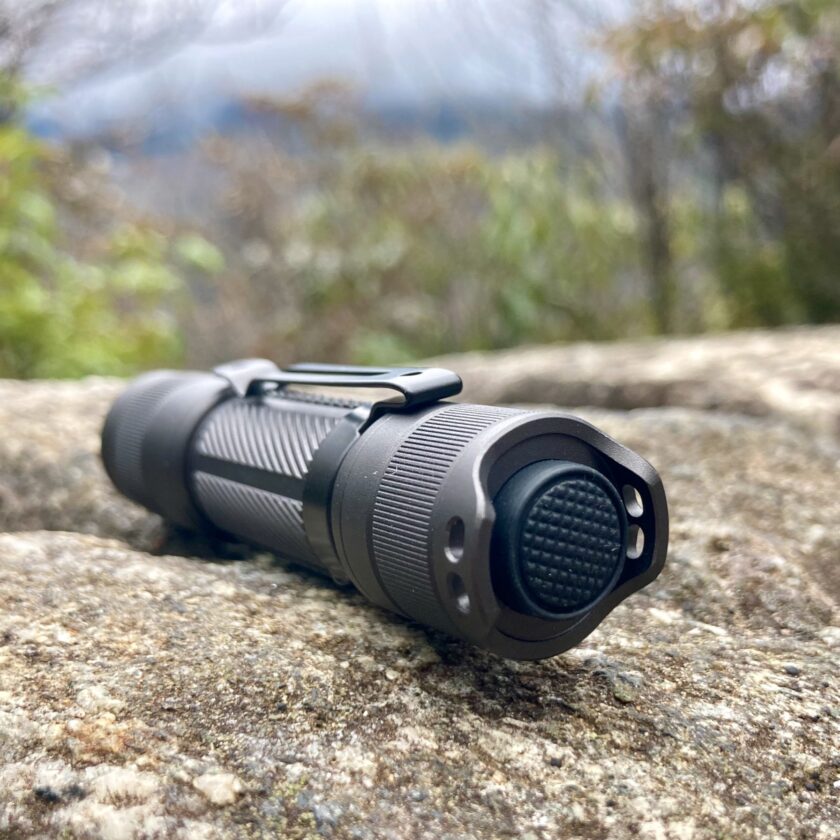 Instant Access to HIGH: Yes, via memory. Not the best system, but it works…usually. The light will come on in the last setting it was on.
Momentary ON: Unfortunately, no – this light has to be clicked completely ON to be on.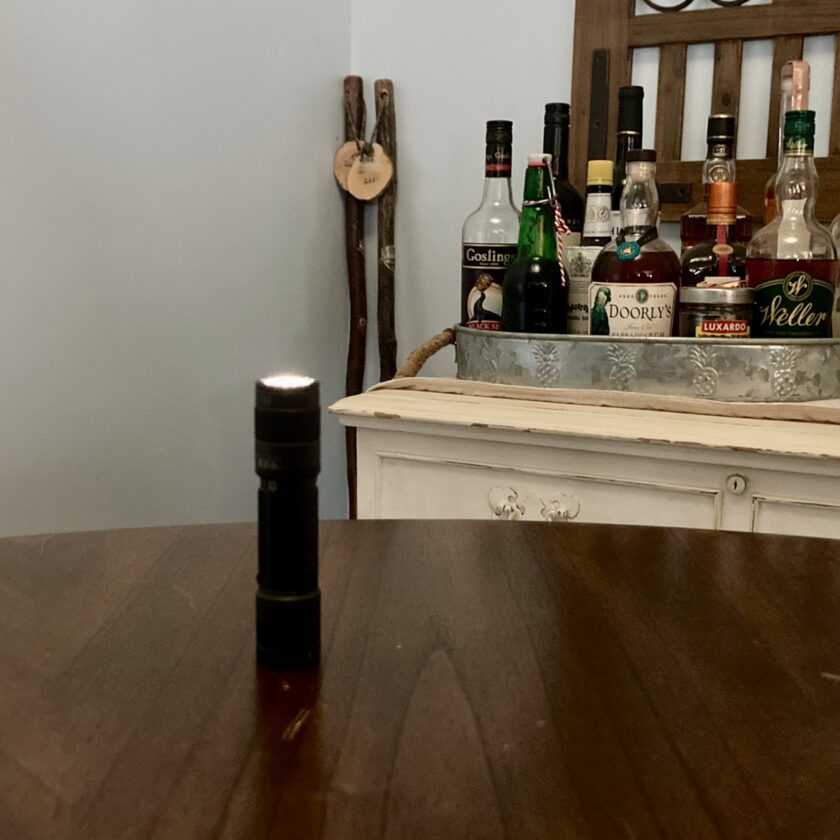 Tail Stand: Yes, the Skilhunt E2A will tailstand to light a room by reflecting off the ceiling.
Category 2: Power & Modes

The Skilhunt E2A is powered on a single AA battery. It will also take a 14500 rechargeable battery which provides substantially higher outputs. Skilhunt did a really good job with the modes in this light. Lets take a look at them with a lower-powered AA battery installed.
High: This light has a "variable" high. It turns on in a "Turbo" of an advertised 200 lumens that it can only sustain on a AA battery for about 1 minute. After that it begins to fade to a more energy efficient 120 lumens, which it should be able to sustain for 45 minutes.
Medium: The medium is 40 lumens which is not bad. It's not the 20-30 I was originally looking for when I made these standards, but it's sufficiently in the middle between the high and low settings.
Low: The low is 5 lumens, which is a really good low.
Firefly: There is no "firefly" setting. This setting will be removed from the evaluation after this review because, while attractive, I have yet to review a light with this feature.
No/Removable Strobe: No strobe
Mode Switching: Half-pressing the tail switch.
Category 4: Form Factor
Form factor is hugely important. A light can tick all the boxes and not get carried because it is too big, too heavy, or has a horrible clip. Let's take a look at the form-factor criteria.
Size: This is a really small light, being both short (3.35 inches) and fairly narrow (0.75 inches). If you're looking for a compact light the Skilhunt E2A should be at the top of your list.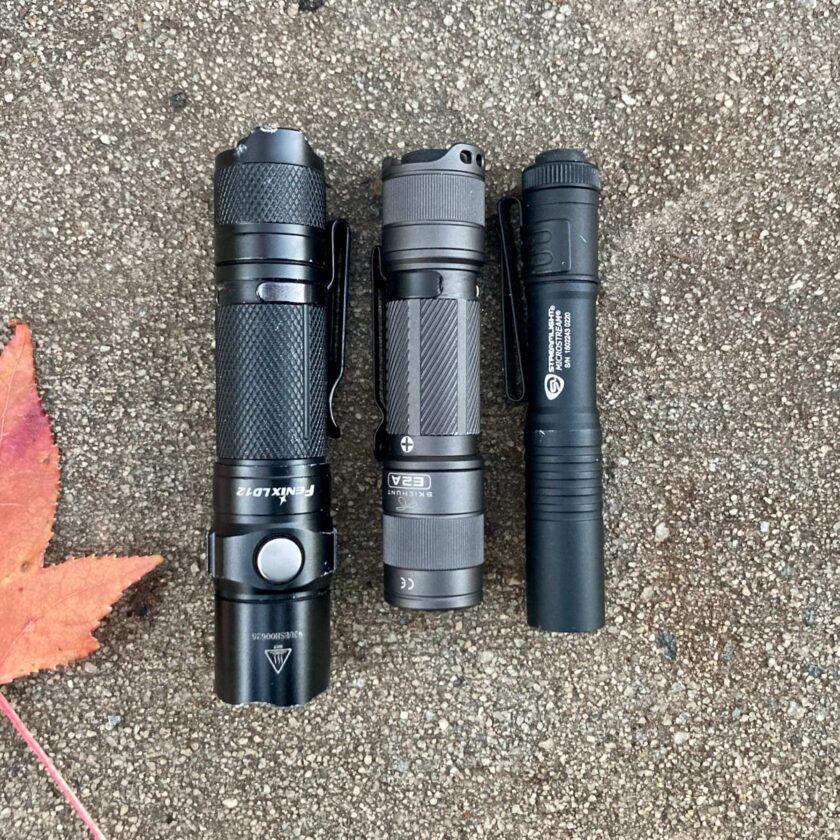 Weight: This is also a fairly lightweight light at 1.7 ounces with battery. While other lights are certainly lighter (down to 1.1 ounces for the Streamlight Microstream), once a light is below 2 ounces, it's hard to split that hair.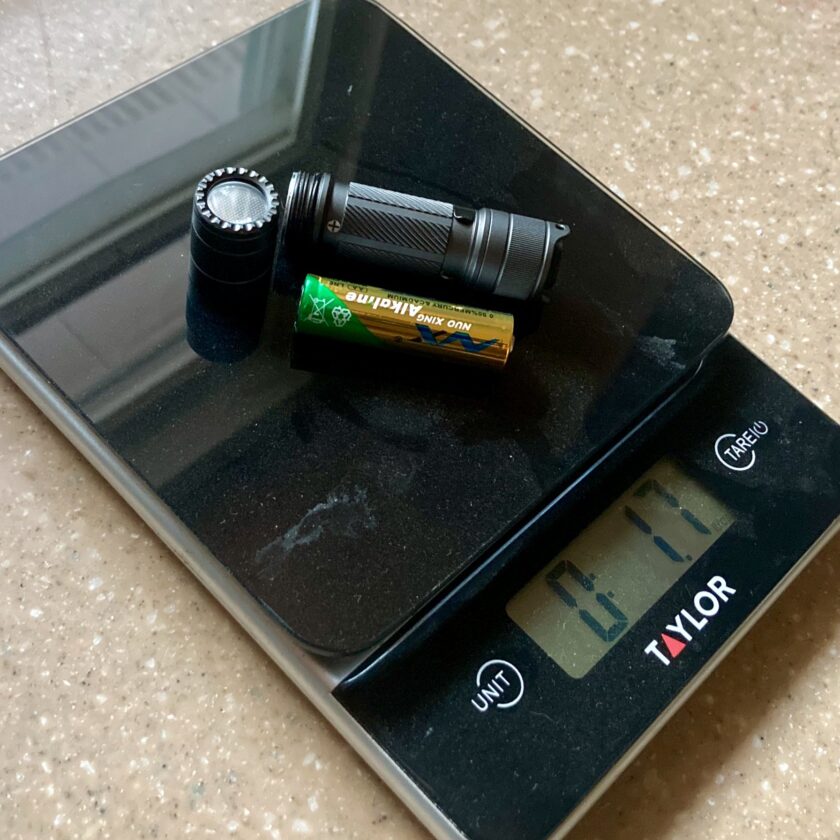 Pocket Clip: I'm pretty sure it's the exact same clip found on the Lumintop Tool AA light. I thrashed the clip in that review but maybe maturity has mellowed me a bit…or maybe this is a different clip. Or maybe it just works better on the Skilhunt E2A. For such a lightweight, inexpensive light it actually works OK.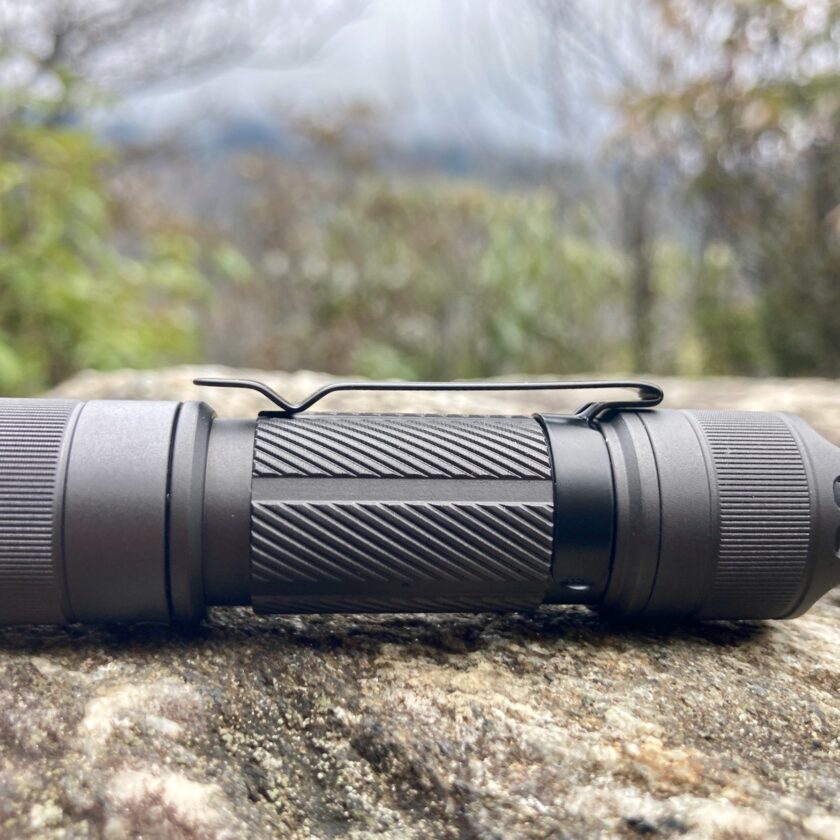 Reversible Pocket Clip: Yes, sort of. The clip can be removed and replaced forward on the light's body. Unfortunately the empty "band" forward of the knurling isn't quite wide enough for the clip, which resulted in some scratched finish. Not the end of the world, but also not idea. It's not super easy to reverse the clip and an advertised function should damage the finish.
Crenelated Bezel: No, though it does have some texture. I'm not sure for what, but it's there.
Knurling/Grip Texture: Yes, and it is outstanding. Nothing is neglected – there are no smooth caps you have to twist off to change batteries.  The knurling on the body is precise and good looking.
Anti-Roll Flats: No. These aren't necessary for me, but some of you like them.
Category 5: Durability & Water Resistance
This seems like a really well built light. I carried it for a few shifts at work, which…take that for what it's worth. It worked admirably, but I didn't do anything crazy with it.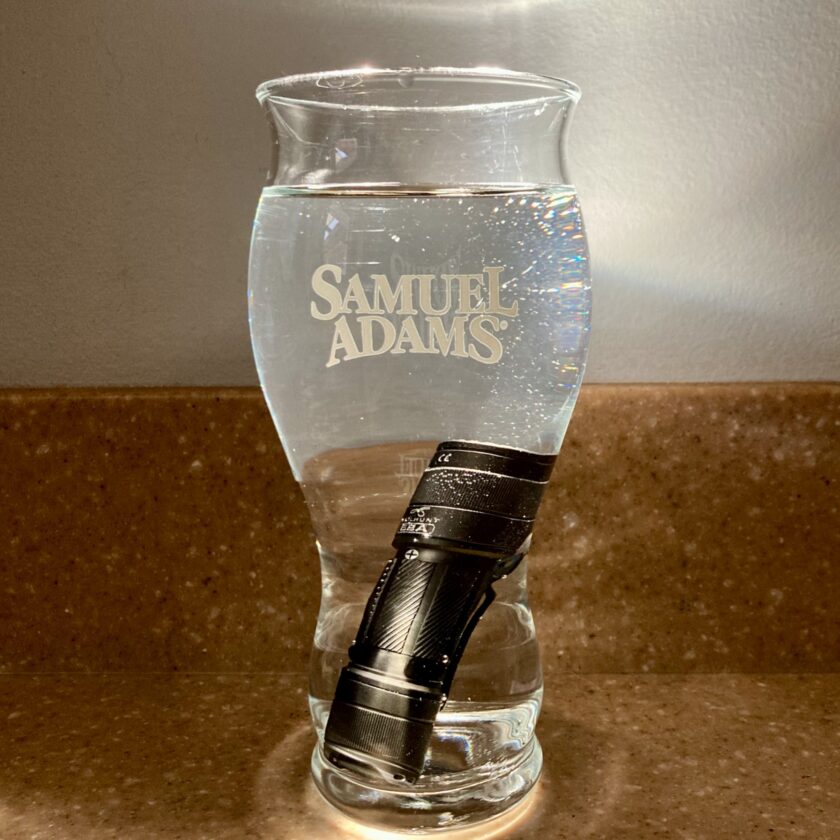 I did do my waterproof-ness (5 minutes submerged in a glass) test and the light survived with aplomb. Which it should, considering it is IPX8 (2 meter) rated. Again, I know this isn't some insane torture test, but it's far beyond what most of our lights will have to endure.
Closing Thoughts
I'm pretty damn happy with this light for the money. It seems extremely well-made for $25. I wish it had a momentary on feature but otherwise it's a great light. If you don't care about momentary on buy the Skilhunt E2A in good confidence!
---