I wrote about the LUMINTOP Tool AA 2.0 (hereafter just "Lumintop Tool") in my article on getting friends and family more prepared. While not the latest tactical wonder, I think it's a pretty decent little light, especially when you consider the cost. Let's take a look.
LUMINTOP Tool AA 2.0
The Lumintop Tool is in the budget category for AA lights. As you'll see it's missing some features that I consider important. However, it's has a good range of modes, excellent size/weight, and is a well-made flashlight.
Criteria
Y/N
Tail Switch
Yes
Instantly Access High
Yes
Momentary ON
NO
Tail Stand
Yes
Single Battery
Yes, AA
High Mode 200-300+ lumens
No, 220
Low Mode 20-30 lumens
Yes, 28
Firefly Mode < 1 lumen
No but close: 3.7
No/Unobtrusive Strobe
Strobe but must be deliberately accessed
Method of Accessing Modes
Half-pressing tail switch
Form Factor: Size
Length: 3.52 inches
Dia: 0.73 inches
Form Factor: Weight
1.5 oz, with alkaline AA battery
Form Factor: Pocket Clip
Yes
Form Factor: Reversible Pocket Clip
NO
Form Factor: Knurling/Grip
Yes
Form Factor: Anti-Roll Flats
NO
Durablility/Water Resistance
IP68 (2m)
Price (Amazon.com)
$19.95
Category 1: Tail Switch
Tail switch actuation is one of the most important factors to me. I find the tail switch easier to operate than bezel switches and twist-tops, and certainly more positive than twist-tops. My preferred "ice pick" grip also works well with a tail switch. Let's go through all the factors that contribute to a good tail switch.
Tail Switch: Yes, the Lumintop Tool has a tail switch and it's not bad. Size, texture, and rigidity are all good. It has a nice, tactile click that's firm enough not to get activated when you don't want it. Well done.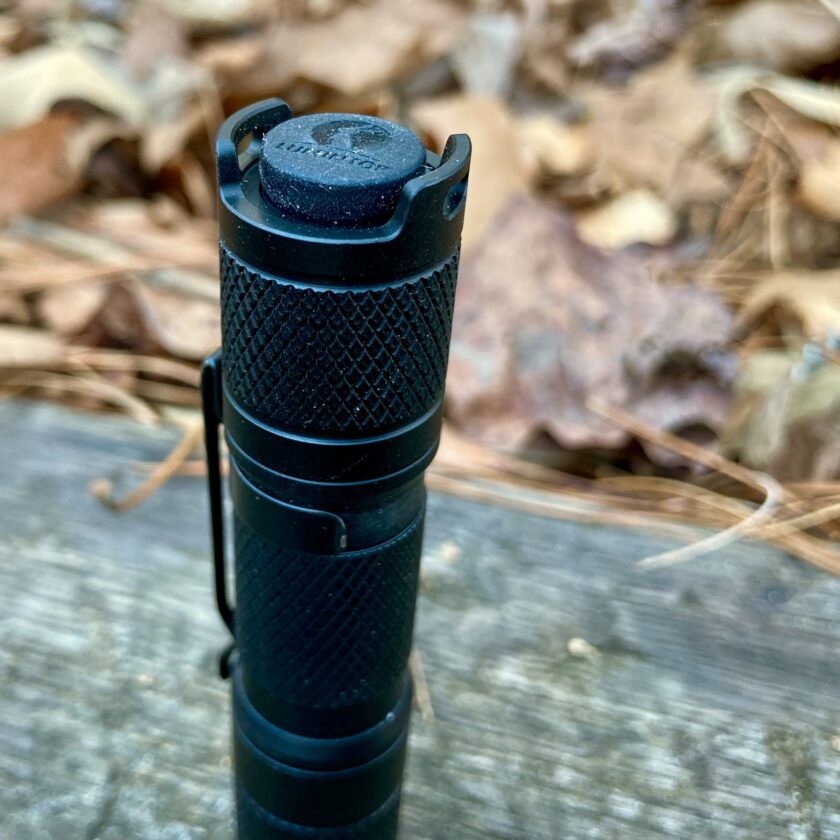 Instant Access to HIGH: Yes, through "mode memory." Mode memory means that the light will remember the last mode it was in and return to that mode when you turn the light back one. This isn't the best situation, but it's not terrible, either.
Momentary ON: No. To get light out of the Lumintop Tool you have to turn it all the way ON. There is no half press to get a little light…which is kind of a bummer.
Tail Stand: Yes, this light will stand on its tail. The ears that protect the switch are sufficient to keep the light upright, but only barely. It doesn't do well on surfaces that aren't perfectly flat and nearly perfectly level.
Category 2: Powered by a Single Battery

Yes, the Lumintop Tool AA is powered by a single AA battery. It will also accept 14500s with offer significantly higher light outputs. I'm an AA man, so AAs are what I used for this review.
Category 3: Modes

There are five modes and they aren't bad. High is about as bright as an AA light gets. The low of 28 is a very usable low, and the 3.7 lumen "firefly" mode isn't bad, either (though I wish it were just a tad lower). Personally I could do without the 140 lumen medium because you typically either need a little light or a lot of light. Still, not bad.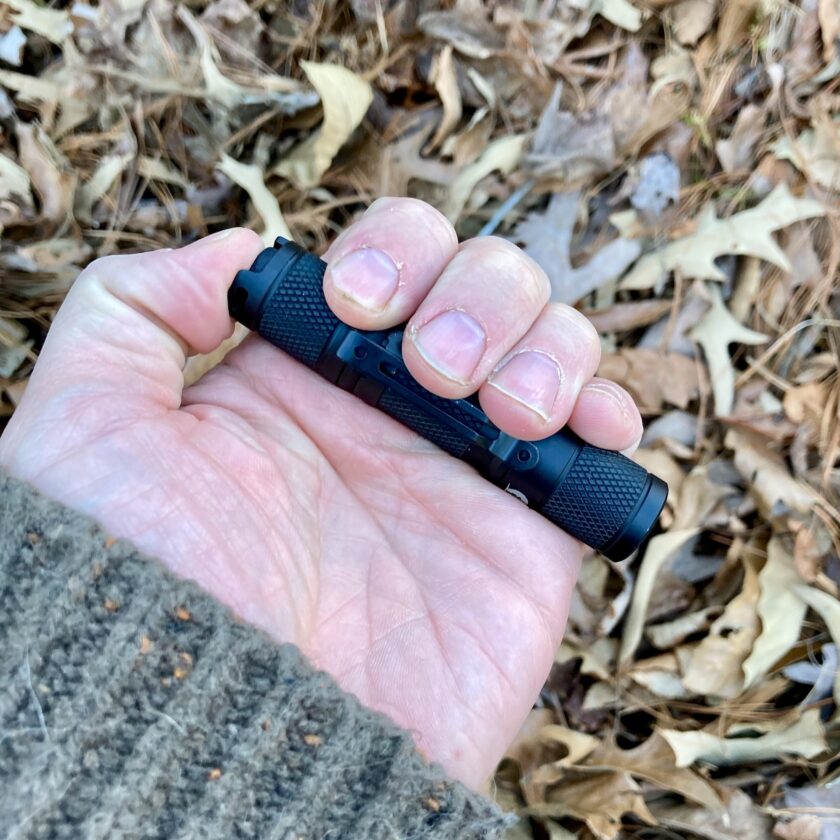 HIGH. 220
MID: 140
LOW: 28
FIREFLY: 3.7
NO/REMOVABLE STROBE: Strobe is available but easy to avoid. To access the strobe press the switch six times consecutively.
Mode Switching: Half-pressing switch with mode memory.
Criteria 4: Form Factor
This is one of the smallest and lightest of the AA lights I've reviewed. The form factor is pretty good…with one major strike for the pocket clip. Let's take a look.
Size: The size is outstanding at 3.53″ in length and 0.73″ in diameter. Again, for an AA light that's about as small as it gets. The small size of the Lumintop Tool is also reflected in its weight.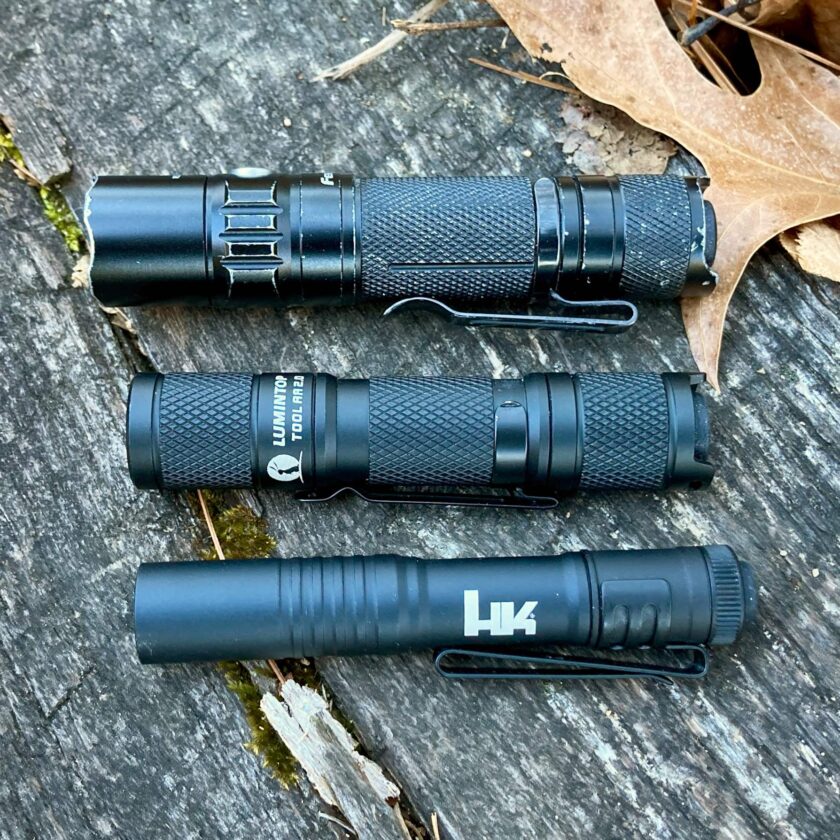 Weight: This is an extremely light flashlight. So light that it feels a bit cheap. With a lithium AA battery it weighs only 1.3 ounces. Anyone should be able to carry this light all day long with no complaints at all about weight.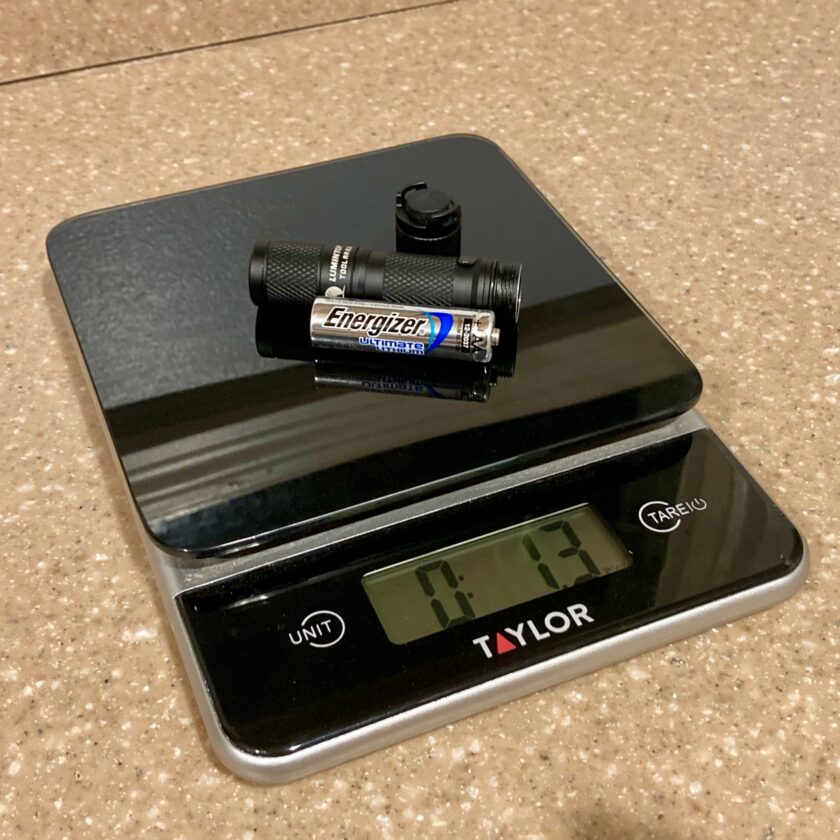 Pocket Clip: And this is where I really take issue with the Lumintop Tool. I can forgive a lot of missing features. Let's be honest – a lot of them are sort of luxuries anyhow. But I can't forgive a terrible clip because it's essential to the carry of the light. And this clip is terrible.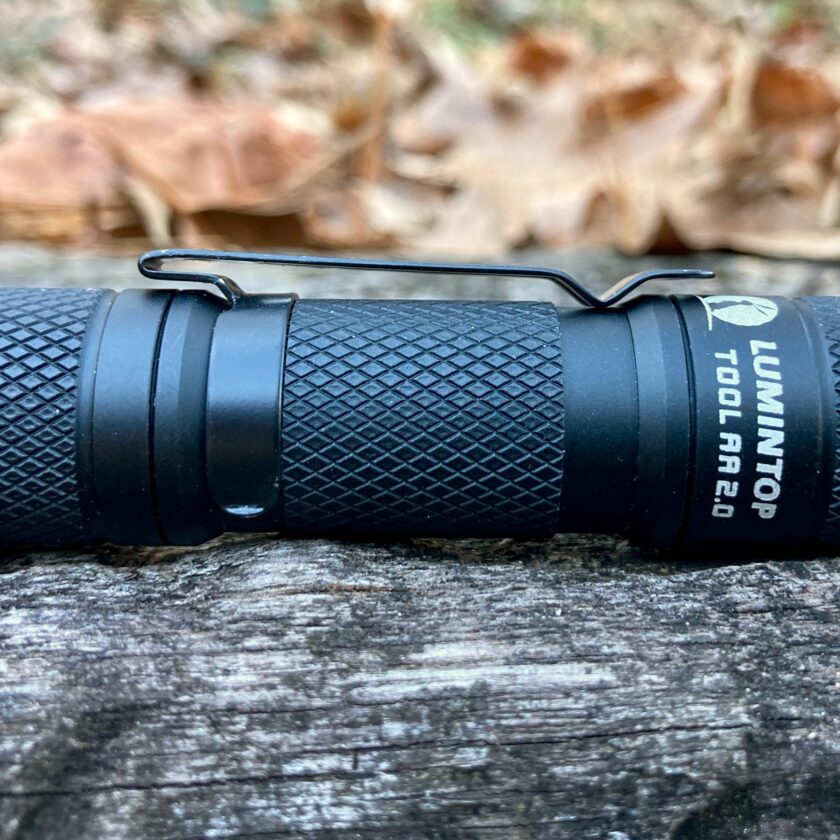 First, it's very, very lightweight. It's very small and thin making it very fragile. The space behind it is also very narrow, and the clip is pushed out by the hem on some of my pants pockets. Second, the flare on the clip isn't large enough or great enough to slip easily into a pocket. Now, you could correct this with a pair of pliers, but why doesn't it just have a decent clip to begin with?

Reversible Pocket Clip: No, the pocket clip is not reversible.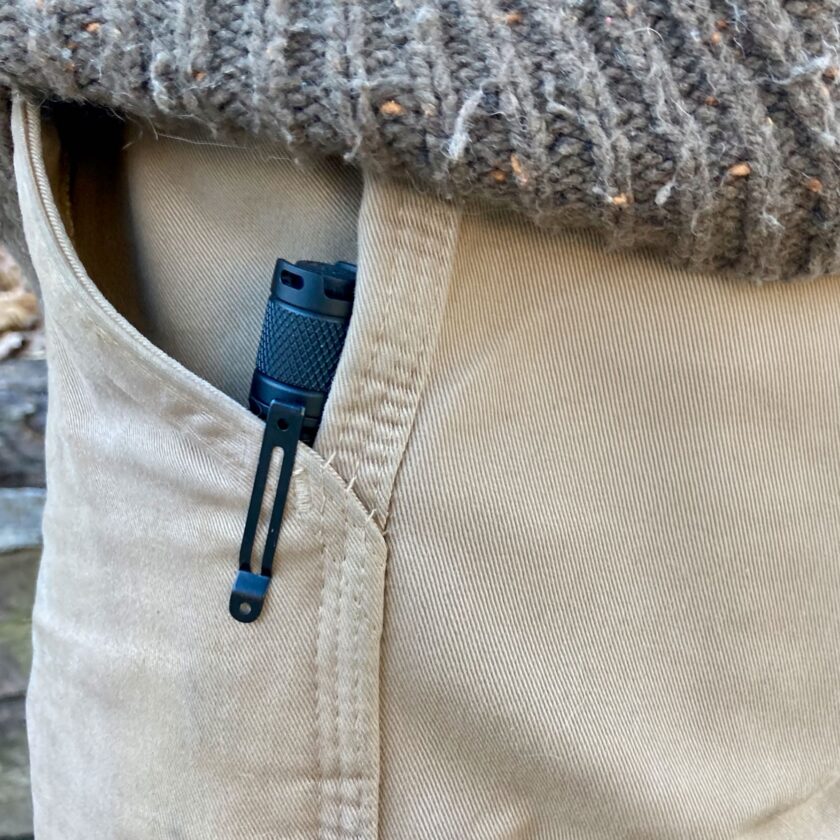 Knurling/Grip Texture: Yes, and it's actually not too bad. The Lumintop Tool has good knurling that feels good, looks good, and offers a good purchase.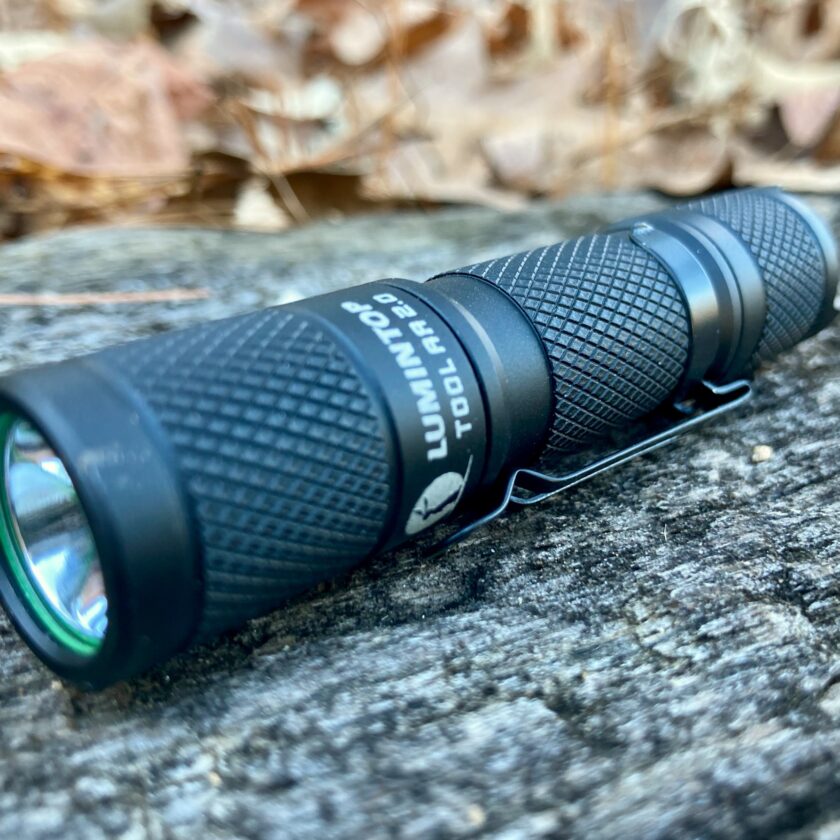 Anti-Roll Flats: No, but honestly I can live without 'em on this light.

Criteria 5: Durability & Water Resistance
This is one of few lights that doesn't have an "x" in the third position, as in "IPx8." It is IP68-rated meaning it has a dust-resistance rating. That third digit is dust, the fourth is water resistance. Six is the highest dust-resistance rating and says this light is "dust tight"; 8 means the light will withstand immersion of one meter or more.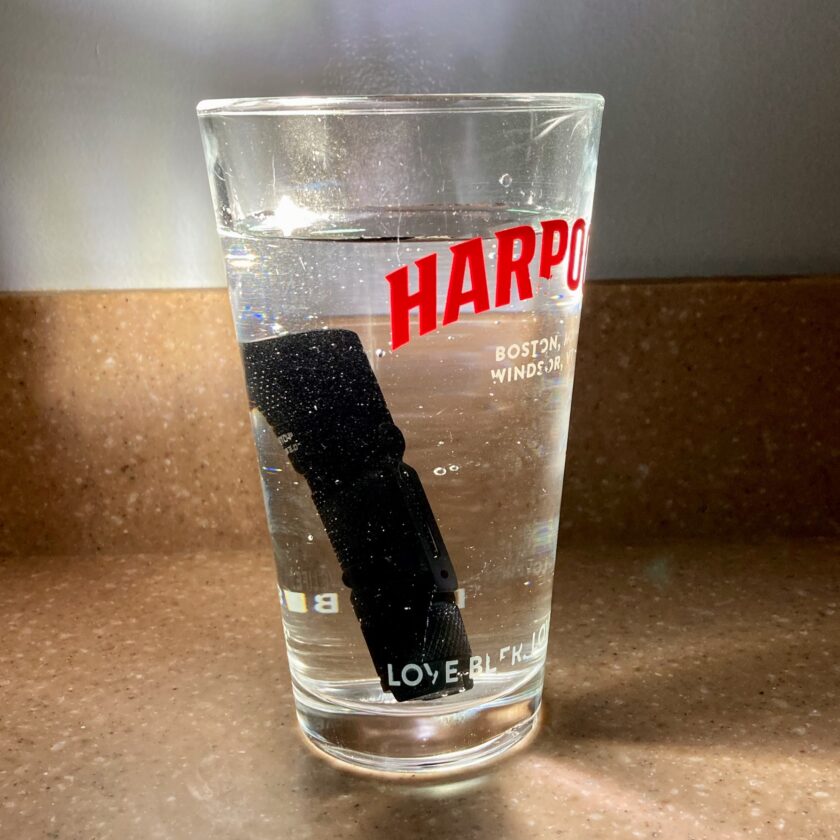 I conducted my water glass test and the Lumintop Tool passed with flying colors. Though I haven't carried it a ton I have carried it some and have gained some confidence in its durability. The extreme light weight and the cheesy clip make it seem like a cheap light but it's not, it's an inexpensive light.

The Final Tally
Though it's not going to replace my beloved Fenix LD12, this is a great light for the money ($20). I bought these as gifts for a bunch of family members (including kids) last year and everyone loved them. I feel confident that I gave them a high-quality light. The Lumintop Tool AA 2.0 isn't a top performer in any category but it works pretty well in most of them at a decent price.
---