A while back I reviewed the Helikon-Tek Foxtrot Mk2 lumbar pack. During that review I promised to add a review of the Helikon-Tek "Mini Med Kit" first aid pouch as an addendum to the original article. As it turns out, this is a perfect pouch for my basic first aid kit.  It's also a great add-on to the Foxtrot Mk2 lumbar pack. Let's take a look.
I purchased this item for full price, out-of-pocket. I receive no incentive for the sale of Helikon-Tek merchandise. However, this article does contain affiliate links to Amazon.com..
Helikon-Tek Mini Med Kit
First things first: the Helikon-Tek Mini Med Kit isn't a "kit." It comes without contents, making it a pouch for a kit. I had no question about this when ordering, but I want to make that clear. It comes in two versions: polyester and nylon. It also comes in several colors including red, black, coyote, "Adaptive Green," and "Shadow Grey." Due to availability issues, I ordered the polyester version in red. Though I might have preferred a darker color I found that I don't mind the red, considering the pouch's purpose.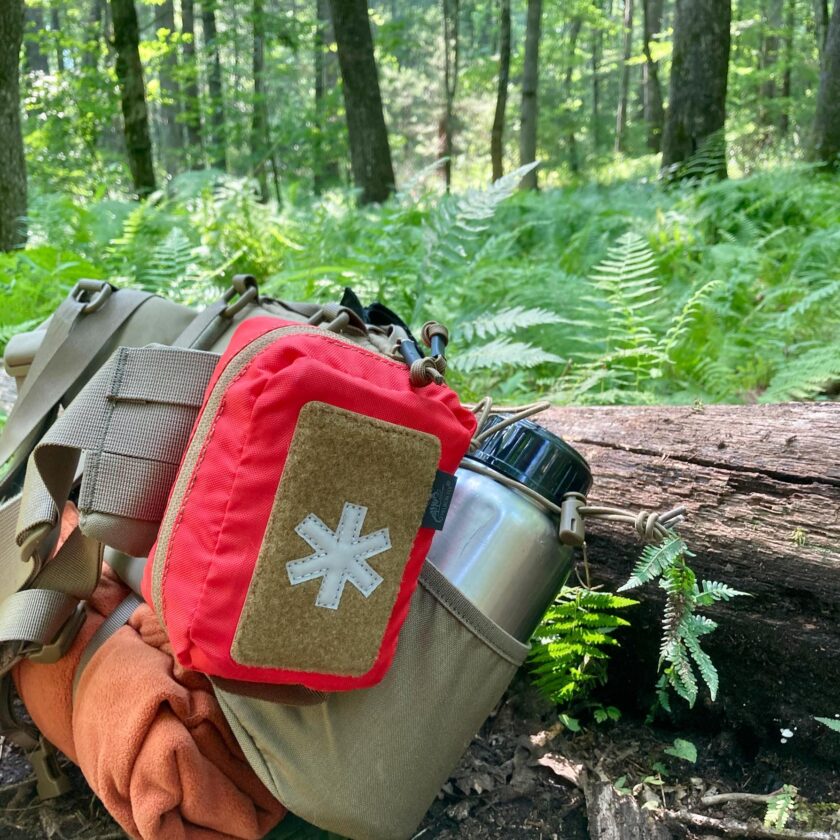 The front panel has a nice, glow-in-the-dark Star of Life for quick identification. If you don't like it, there's also a good-sized Velcro panel. The Helikon-Tek Mini Med kit attaches securely to MOLLE webbing. I have no concerns about its security when attached to my pack. The kit as a nice, YKK zipper with sturdy zipper pulls. Overall quality seems excellent and on par with the lumbar pack to which it is attached.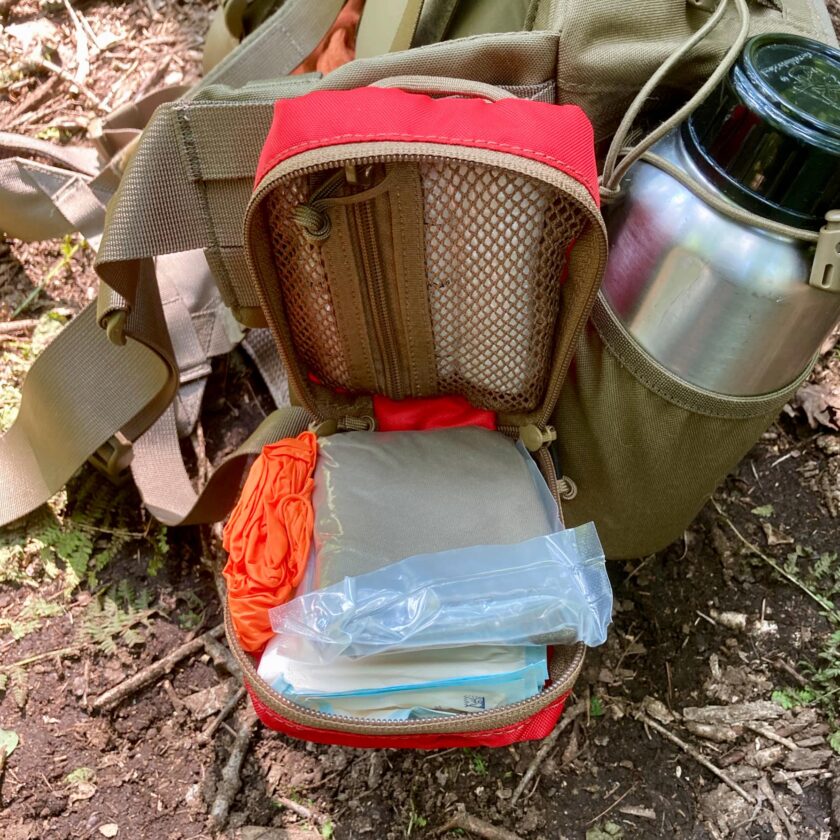 The Mini Med Kit zips completely open, allowing full access to its contents. Both the front and rear panels have separate, zippered, mesh compartments to help keep things orderly.
Mini Med Kit + Basic First Aid Kit
In deciding what to put in the Helikon-Tek Mini Med Kit I began with my basic first aid kit. As it happens this was an almost perfect fit, with a little room to spare. I began with the rolls of 4″ gauze. Three of them fit nicely in the zippered compartment on the back of the pouch.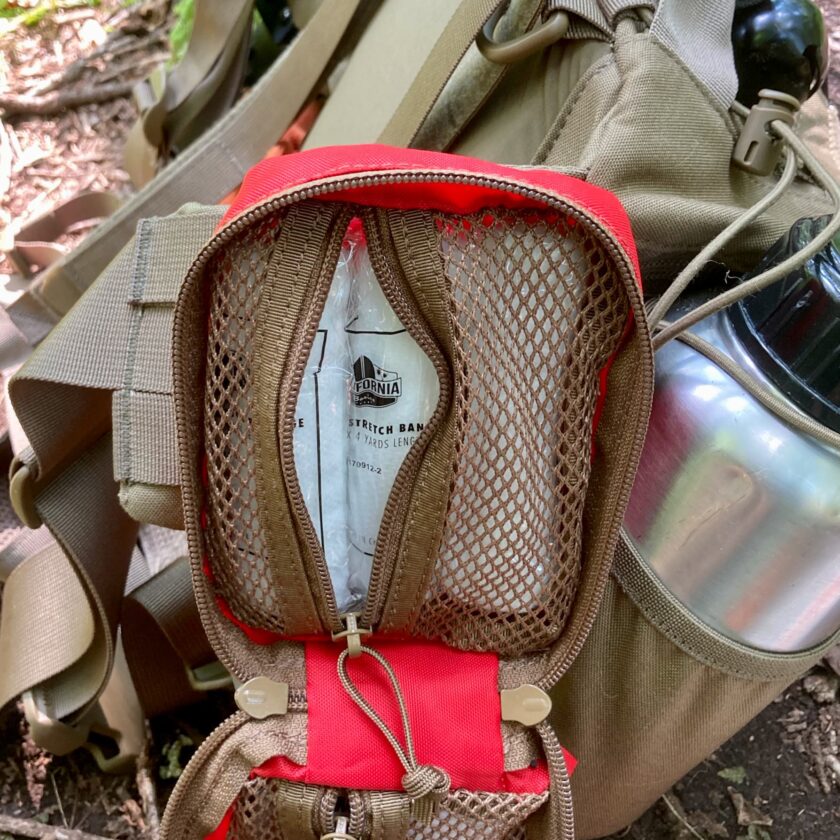 In the front compartment I put boo-boot kit items: Band-Aids of various sizes, Steri-Strips, and a single-serve packet of antibiotic ointment. Though this is primarily considered a life-saving kit, it's also nice to have some simple things like this. In the front zippered pocket these take up very little space and they aren't in the way of life-saving interventions.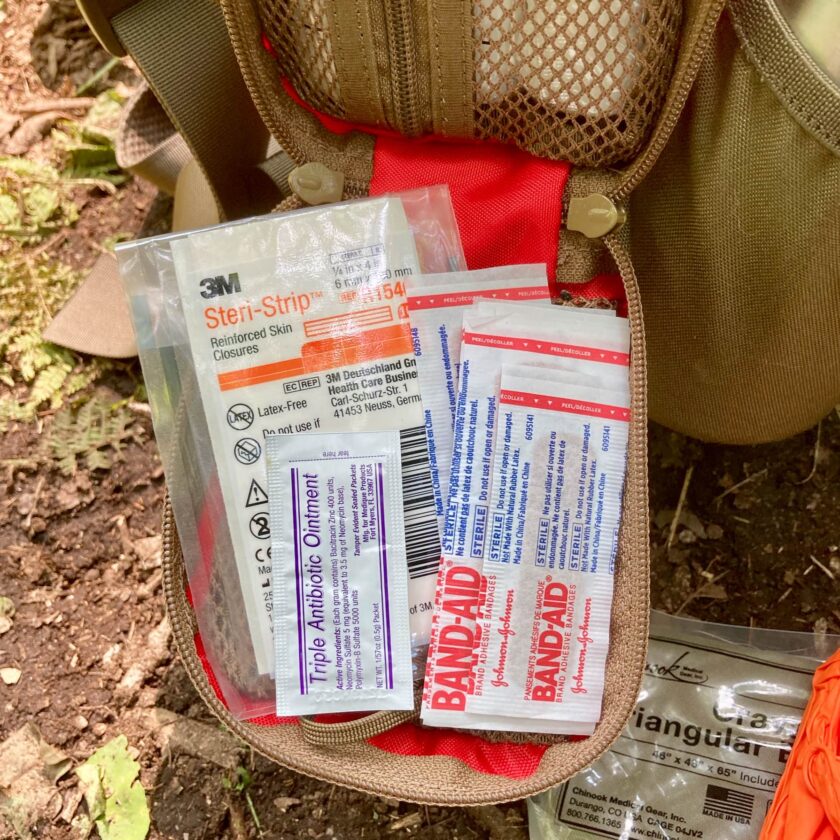 Between the front and rear panels remains a good deal of space. I used this space for bulkier items. First, my Chinook triangular bandage. I really like this bandage, and I wrote about it in detail HERE. It's large, durable, comes in a waterproof pouch that – with some tape – doubles as an occlusive dressing. Next, I added several individually-wrapped 4x4s. Finally, a pair of nitrile gloves rounds out this little kit.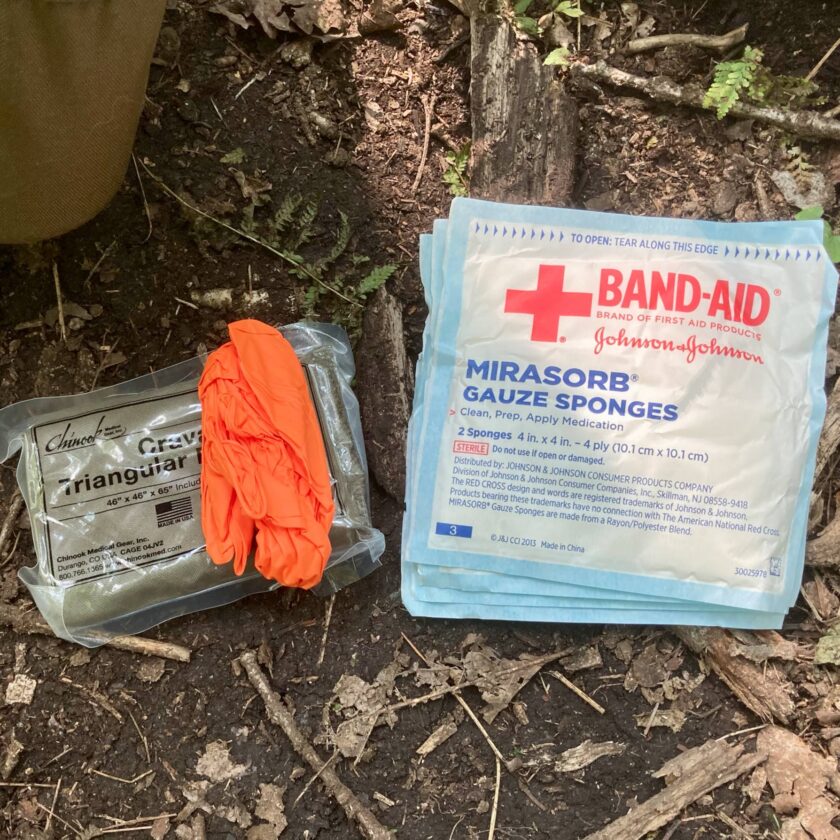 This certainly isn't everything, but this covers the vast majority of injuries you're likely to face in the wild.
My Use of the Mini Med Kit
As I indicated in the first paragraph, I added this kit to the Helikon-Tek Foxtrot Mk2 lumbar pack. So far I really like it. It brings several advantages to the table.
First, the Foxtrot Mk2 lumbar pack is fairly space-limited – it just doesn't have a ton of room. Getting the first aid kit out of the bag saves a tremendous amount of space, leaving room it the pack bag for other stuff. Of course this means the size of my kit scales down a bit. As I've said before, I'd take this tiny kit and my skill/knowledge over a full-on medical kit and zero training. I can make a lot happen with the spare supplies carried here.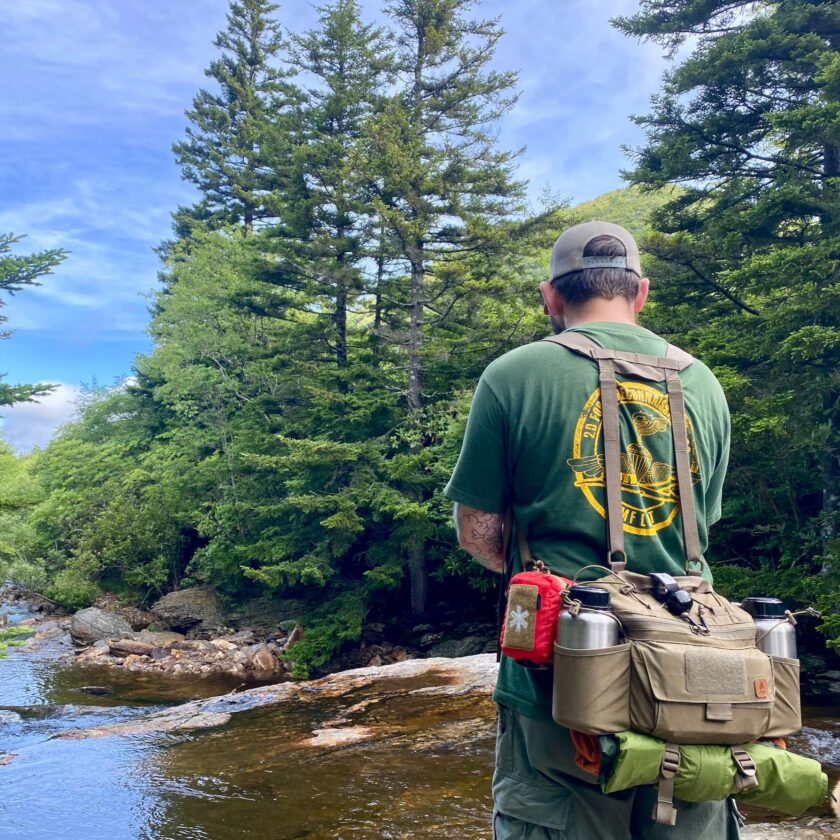 This also gets the first aid kit outside the pack bag for faster access. Rarely is the additional few seconds a difference maker. If I have to perform first aid on myself it might be, though. It also must might be easier to reach, especially with a single hand.
I also like that this makes my first aid kit instantly visible to others on the trail. Should I go down, hopefully someone can grab my kit and go to work. Also, if someone else sees it they'll know who to ask if they need help. Initially I wasn't thrilled about the red color (it was the only option available at the time) but it has grown on me. Now I actually think I prefer it.
Closing Thoughts
The Helikon-Tek Mini Med Kit is a decent first aid kit pouch. I have found it to be durable and well-made, especially for the cost (under $20 at time of writing). It's a bit small, but if that's OK with your load out it should work just fine. If you're looking for a first aid kit pouch and this one answers the mail size-wise, I'd recommend it without hesitation.
If you don't have a first aid kit at all, you need to fix that deficiency. Consider setting up a couple Basic First Aid Kits as wrote about several months back. Then put them in this pouch. It's not Insta-worthy but it will do if you will do. The basics can and will save lives if you're up to the task.
---