Today we take a look at another lumbar pack, something we haven't done in awhile. This offering is the Helikon-Tek Foxtrot Mk2 Belt Rig.
Full Disclosure: I paid for this product out-of-pocket. I asked for an editorial sample and though I was told "no thank you," I was provided a 10% discount. This article contains affiliate links to Amazon.com; otherwise I receive no financial incentive for the purchase of Helikon-Tek products.
Helikon-Tek Foxtrot Mk2 Belt Rig
I'm going to give you my first impressions right out of the gate. The first thing that jumped out about the Foxtrot Mk2 is how small it is. I'm used to going into the woods with a backpack, or at very least my Mountainsmith Tour. At 5 liters the Helikon-Tek Foxtrot is almost half the size of the 9-liter Mountainsmith. The pack's body is so short that I initially had concerns about fitting 1-liter water bottles into the side pouches. Needless to say I wasn't super happy about the size of this bag upon initially opening the package.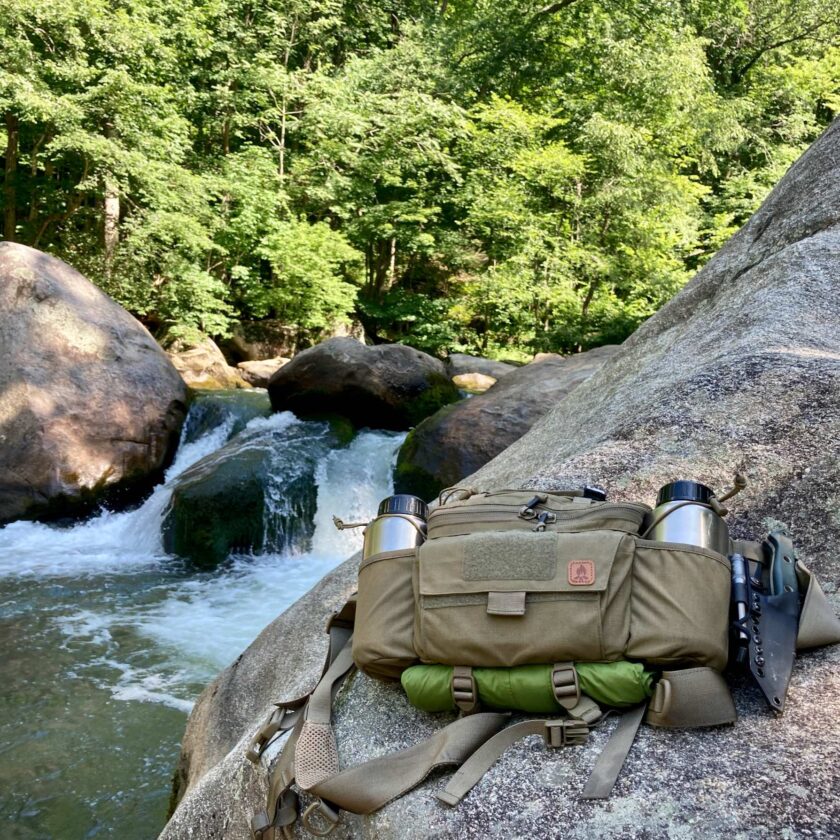 But it grew on me. While my Mountainsmith serves as a full-on pack replacement in the summertime, the Foxtrot Mk2 Belt Rig is something else. The Foxtrot isn't intended to be a pack replacement, it's designed to carry a pretty bare-bones load. In that regard it preformed very well and I ended up really liking this pack. Let's get into it and take a look at the features of the Helikon-Tek Foxtrot Mk2.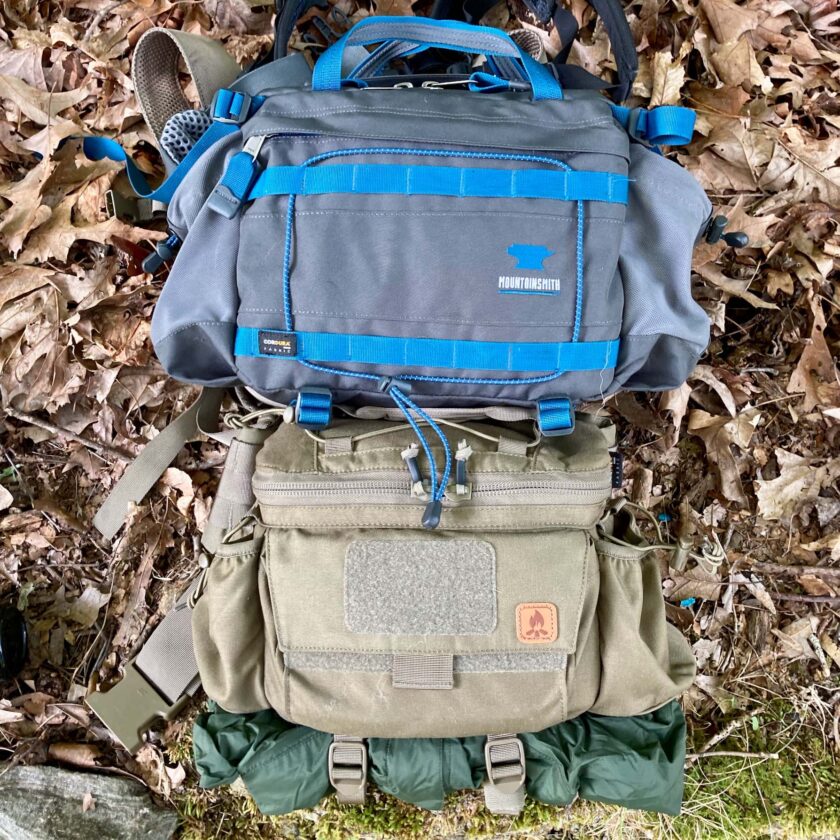 Helikon-Tek Foxtrot Mk2 Construction & Pockets
The Foxtrot is constructed out of durable Cordura nylon. I've been nothing but impressed with Helikon-Tek's product quality since reviewing the Essentials Kit Bag last year. Materials are top-notch, construction is solid, and the bag is loaded with thoughtful features. The Foxtrot is shown in Coyote Brown but is available in four other colors.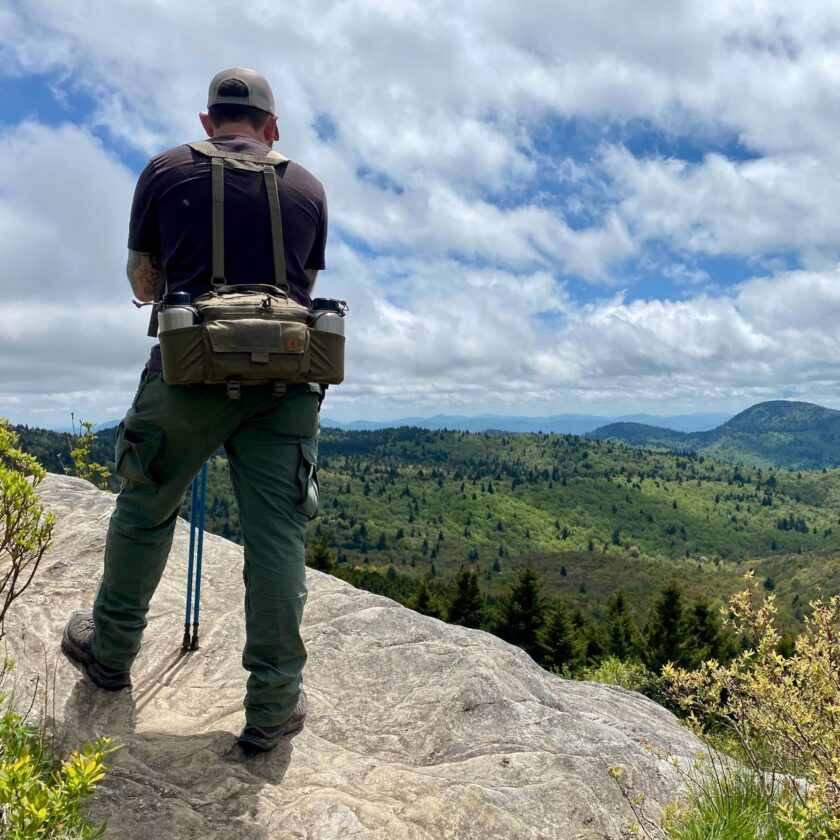 The bag is built around a large middle pocket. With the overall size of this bag being somewhat small you'd expect that the inner pouch wouldn't be too large. And you'd be accurate in that assumption. it's just about large enough for my first aid kit and my metal cup, stuffed with survival gear. I can usually get a decent snack like a bag of jerky in there, and that's about it.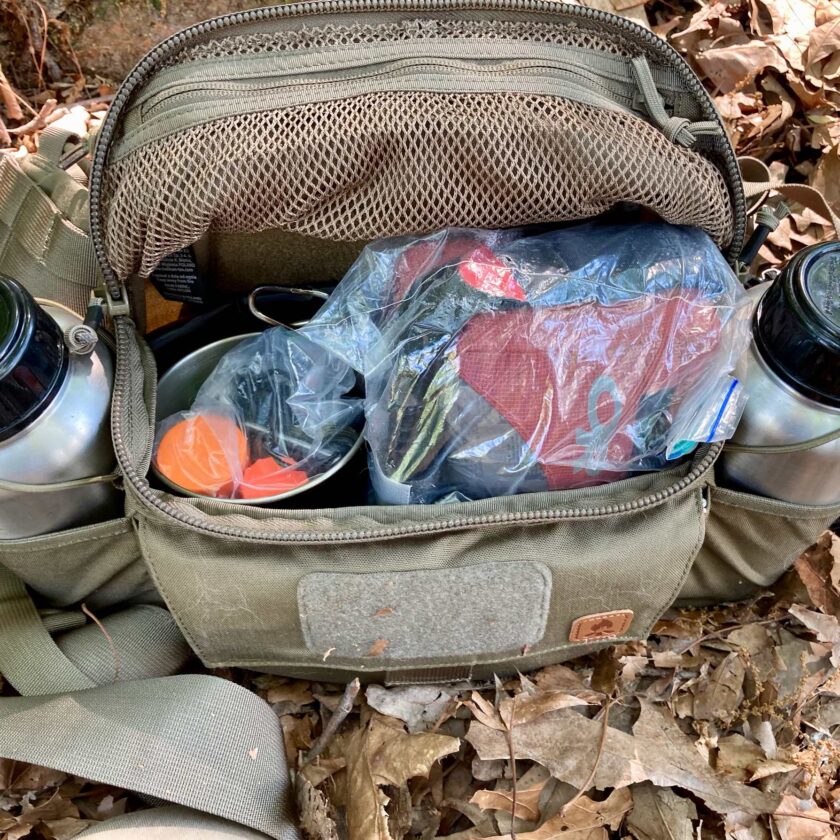 There are two additional pockets inside the main compartment. Both are flat, mesh compartments; one against the front panel and one on the underside of the top flap. Both are OK for keeping flat stuff in a predictable place, but neither add any space to the bag. I used one for the storage of water purification tablets. The other held my pot hanger, which was too tall to stand up in the bag.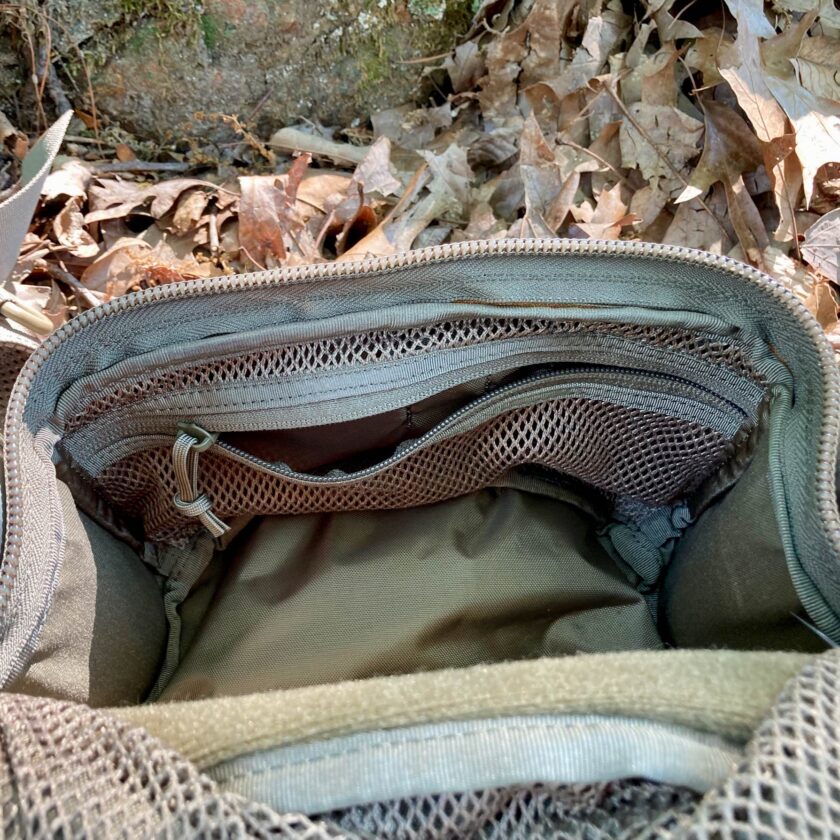 The interior back panel is Velcro-compatible. Though I haven't messed with them Helikon-tek makes a few modular inserts that attach via Velcro. I'm not totally convinced of the utility in a bag as small as this, but it is a thoughtful feature.
Exterior Pockets
On each side of the pack is a water-bottle pocket. Though they don't look like it I was super relieved to find that each would hold my 1-quart, steel water bottles. Unfortunately the bottles are only secured with a piece of lightweight shock cord. I'd prefer something more secure, but for smooth terrain it's OK.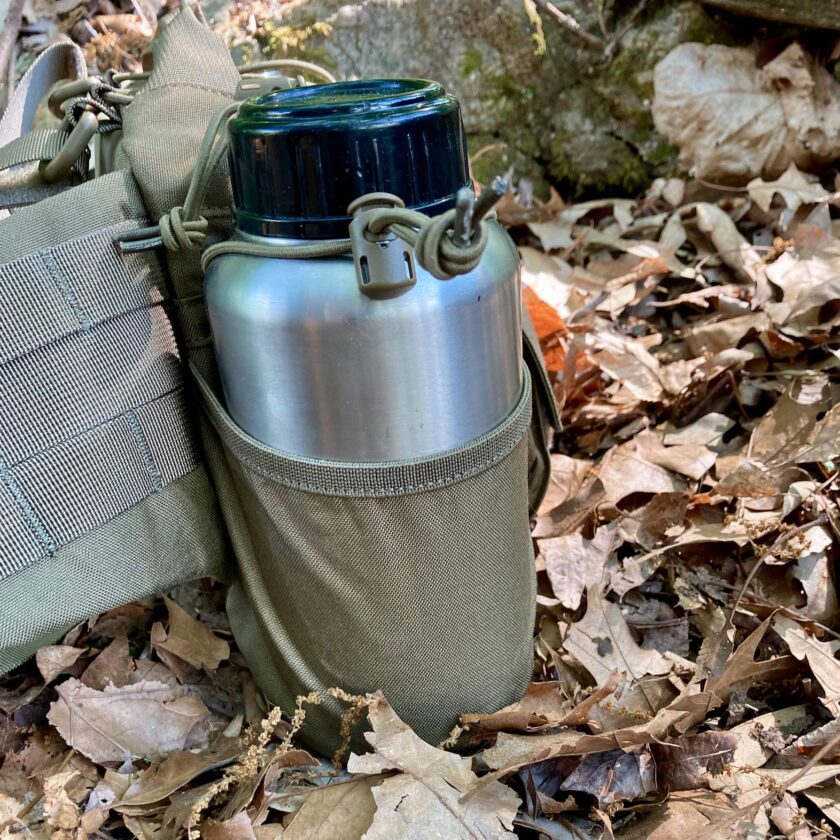 On the front is a flat, admin-style pocket that is secured with a nice, wide strip of Velcro. It has several pencil loops and other small pockets. I used it for the storage of a map and compass, a spare pistol magazine, a multi-tool, and some other small items. I tried not to store anything that was absolutely critical in this pocket without dummy-cording it, but in fairness I never had it come open.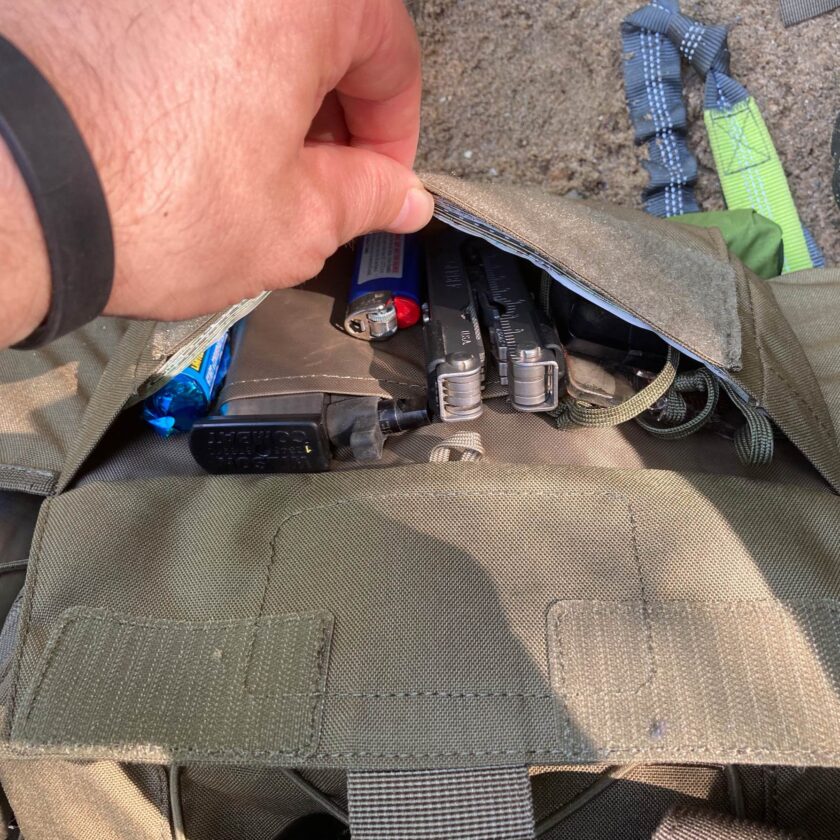 The front flap also has a big Velcro panel for the attachment of morale patches, reflectors, or whatnot. Overall it's not a bad looking bag.
Additional Features
The Helikon-Tek Foxtrot has a few other features that really add up. Individually they aren't that big a deal. Taken cumulatively they really add value to this bag. First, the straps (or "ribbons" as Helikon-Tek refers to them) on the underside of the bag: they are great. They allow you to strap on a warming layer, rain jacket, or tarp. They are long enough for a pretty good jacket, but won't let you overload the pack. This is a very nice feature in a bag this small.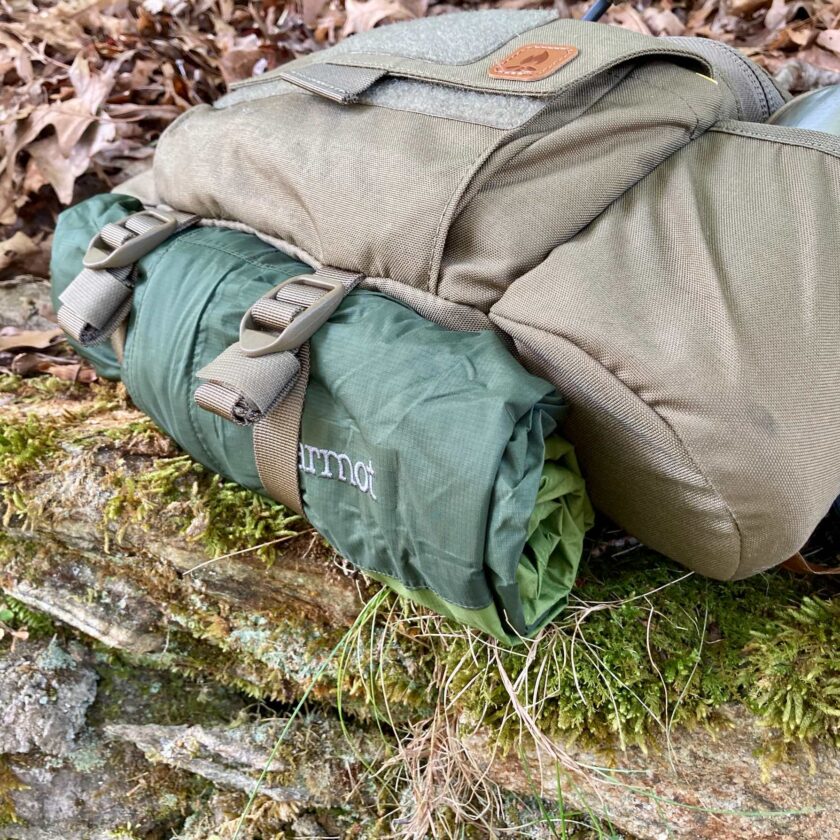 And here's where things get interesting. They include a sewn-in Velcro strap-keeper. This isn't something that I would miss if it weren't here. But I'm very happy that it is here – I hate a pack that looks like a gear-bomb of dangling straps. This is a very thoughtful addition.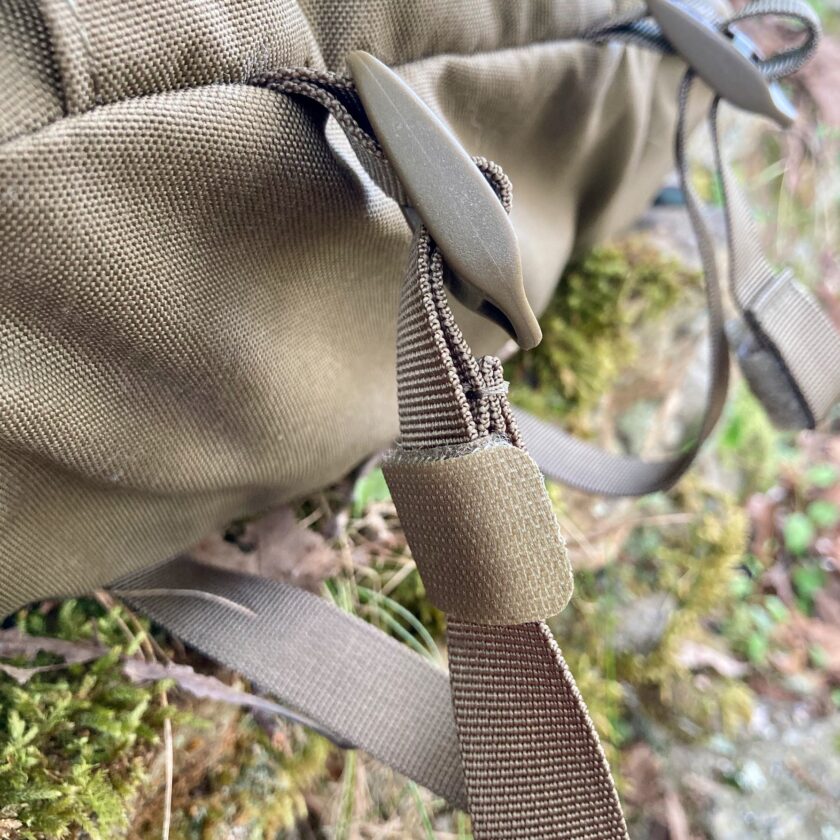 The top flat has a shock-cord panel for the storage of more stuff, jackets and the like. Finally – and this is one my favorites – there are dummy-cord loops in two of the pockets. These allow you to secure critical items – say, a firestarter or compass – to the bag. Even if it should come open your most important item wouldn't be lost. Again, a small thing but one that is often overlooked.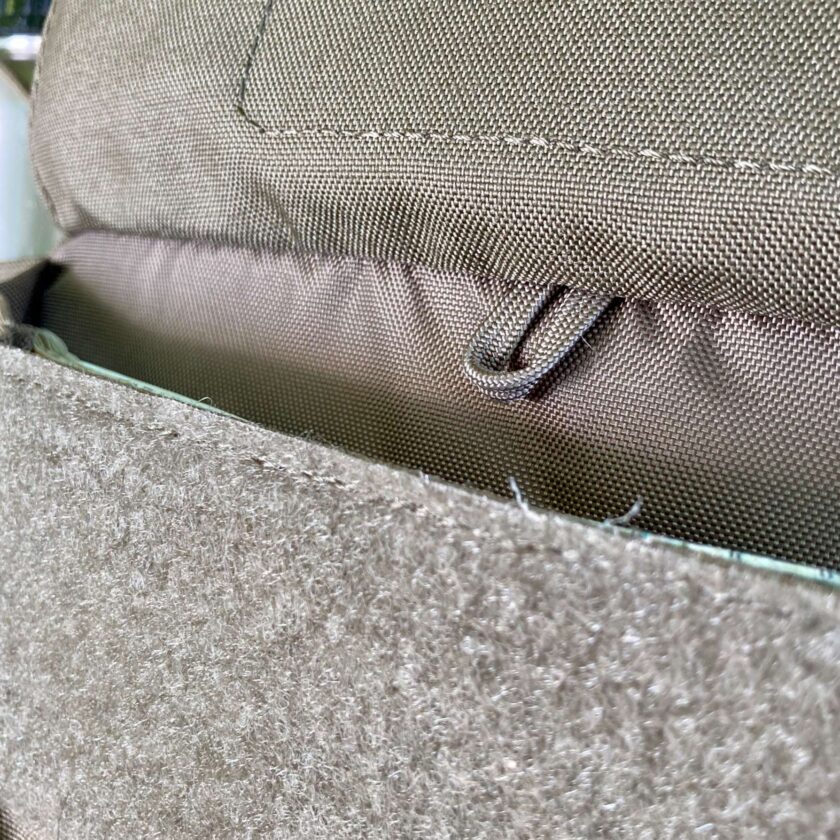 Helikon-Tek Foxtrot Suspension
The Helikon-Tek Foxtrot's suspension is rather minimalist, consisting of a very simple "H" arrangement. The rear straps are easily adjustable via Velcro. The shoulder straps lack any sort of padding, though they are outfitted with D-rings and a sternum strap. The entire suspension is adjustable through a fairly large range, making the bag suitable for most people. The straps are completely removable if you desire to wear this strictly as a waist pack.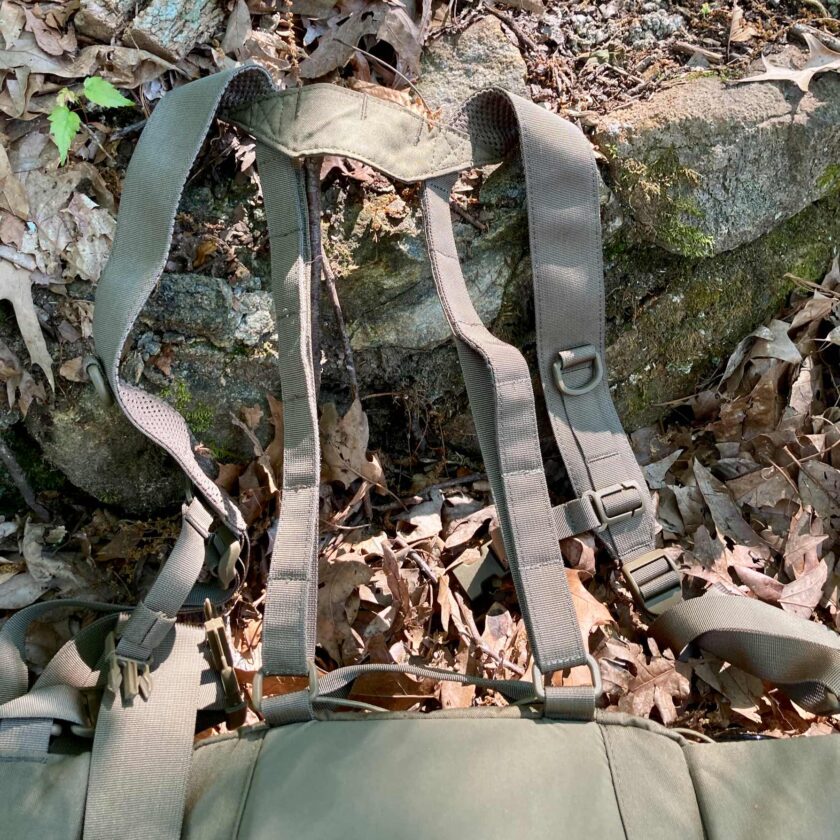 I thought the unpadded, somewhat minimal straps would be a detriment. Turns out they actually bring a certain capability to the table. First, the bag isn't large enough to require super heavy-duty padding. Second, letting out the straps enough to drop the pack body a few inches allows the whole rig to be worn comfortably under a backpack. Most of you won't wish to wear the Foxtrot Mk2 under a pack, but I've found it quite useful.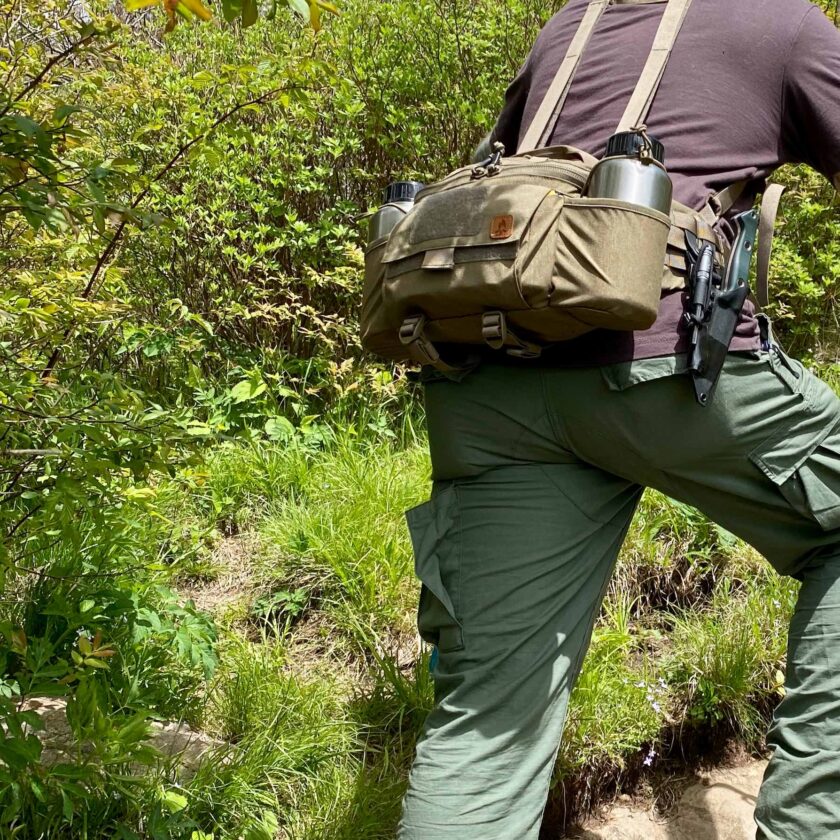 At my EMS job we sometimes have to walk into the woods to retrieve injured hunters and hikers, Obviously we have to carry in medical supplies. Our jump bag is a large, red backpack with airway, IV, and medication modules. There is zero room for personal gear in that bag. I am very loathe to go into the woods without personal survival gear. I have found that I can wear the Helikon-Tek Foxtrot under the jump bag, fairly comfortably. It's not ideal but it will do if you will do. I've begun bringing this to work and keeping it on the truck.
Helikon-Tek Foxtrot Belt
The belt is also pretty awesome. It's fairly narrow – mostly just a piece of 1.5″ webbing. The base of the belt features a 3-row MOLLE panel on each side, though. This gets some gear out of the pack but allowing you to put stuff on the outside. I carry my knife on the right. I have also ordered the Helikon first aid pouch for the left side, to free up some interior space.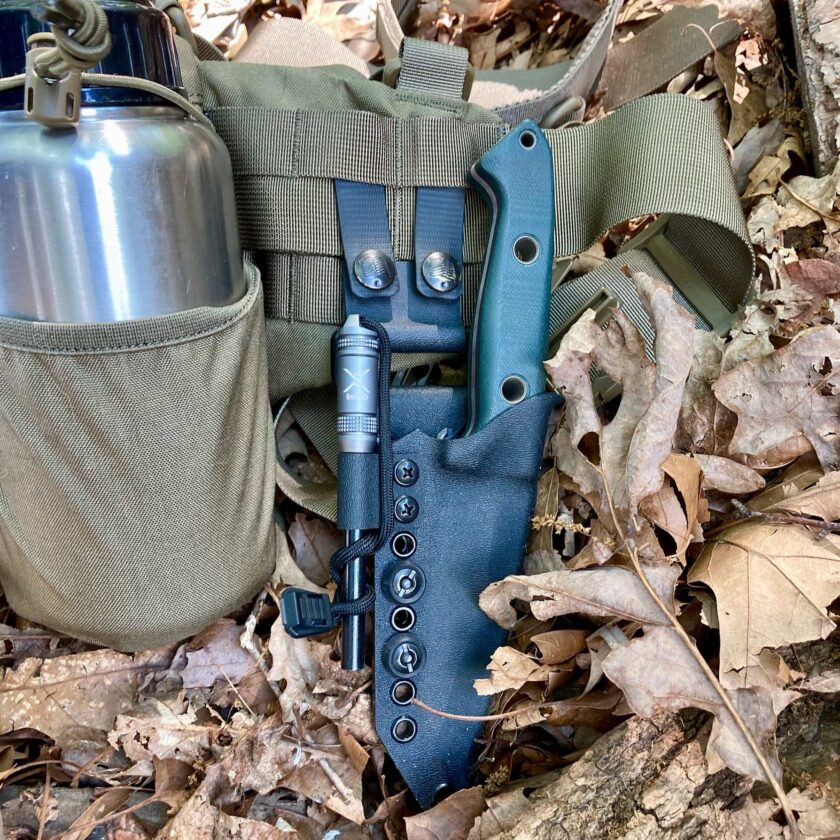 The straps are simply, quickly, and completely removable if you desire to wear this strictly as a waist pack. Though I don't prefer this it might be for some of you.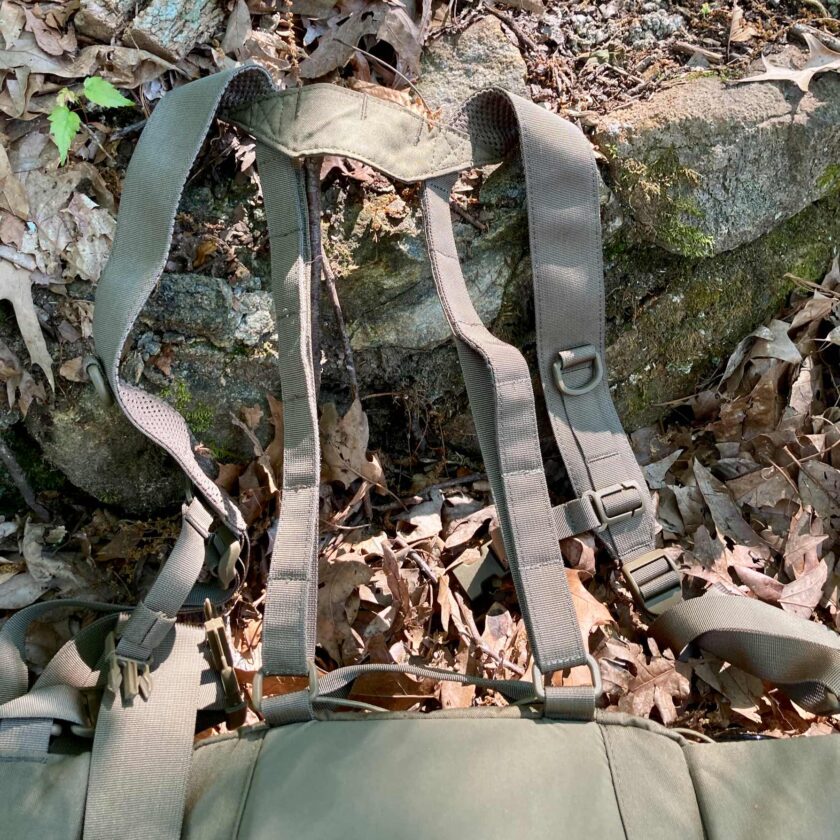 Frankly, I think that is a huge strength of this bag – the ability to attach stuff to it. If I end up using this bag more will add a pouch to the right for a scaled-down first-aid kit, making more room in the main pouch. I'll also add a pouch for my multi-took alongside the knife. I wanted to add some of this stuff prior to this review but didn't have time.
Walking with the Helikon-Tek Foxtrot
So far I've done several hikes with this pack. The first was a short two-miler with my nephews. My girlfriend and I picked them up on a Sunday morning and took them for a short (for us) hike. We spent some time  teaching them to build a fire, what to do if they ever get lost, and some simple navigation. I didn't need a huge pack for days like this. The Helikon-Tek Foxtrot was perfect for this outing.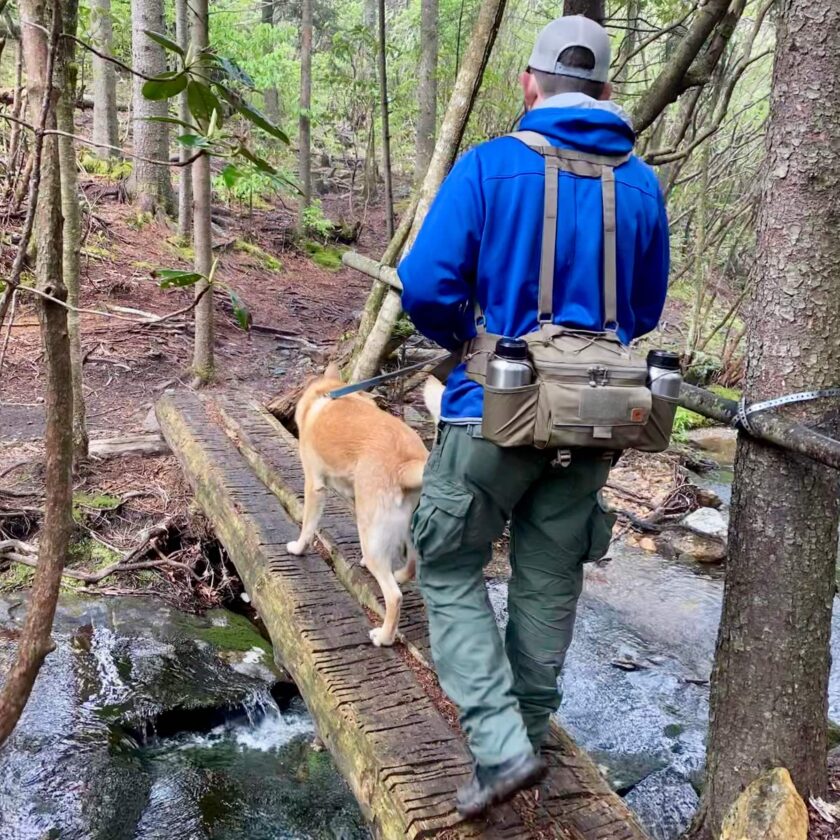 Next, we did another short summit, also two miles in length. Again, we didn't need much gear. The third hike we did ended up being 7.1 miles over fairly rough terrain. Additionally we did over 2,100 feet of elevation gain. It was hot (90º or so) and humid (90% or so). There was no air stirring in the woods we were in.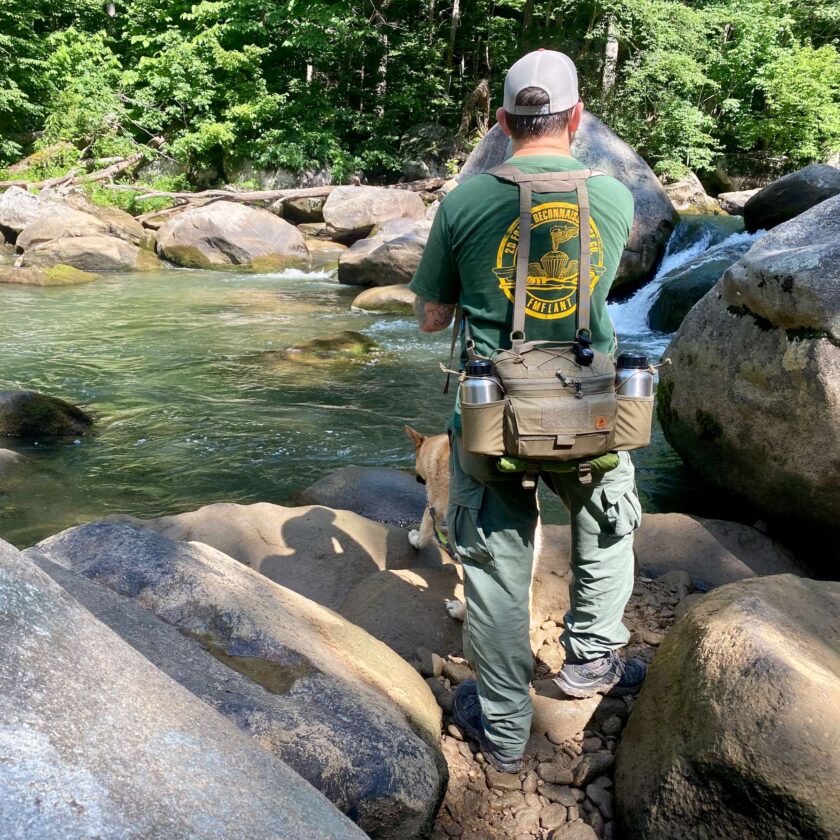 I really, really appreciated this pack on the third hike. This lumbar pack allowed my upper body to breathe in a way that a backpack wouldn't have. I was thrilled to have a lightweight, agile pack that kept me as cool as was possible.
Closing Thoughts
I think the Helikon-Tek Foxtrot is really flexible and has a lot of use-cases. First, it's a really lightweight hiking bag that will carry most of the stuff you need for moderate-distance, three-season hiking: half a gallon of water, some basic survival tools, snacks, and maybe a rain layer. It would serve perfectly as a get-home bag or other quick-access, grab-and-go kit. It would be great as a spare pack if you frequently hike with your non-outdoor-inclined friends. If you're living #vanlife and need a very compact hiking setup, this might just do it. And if you need a small personal pack to fit under a backpack this will answer the mail.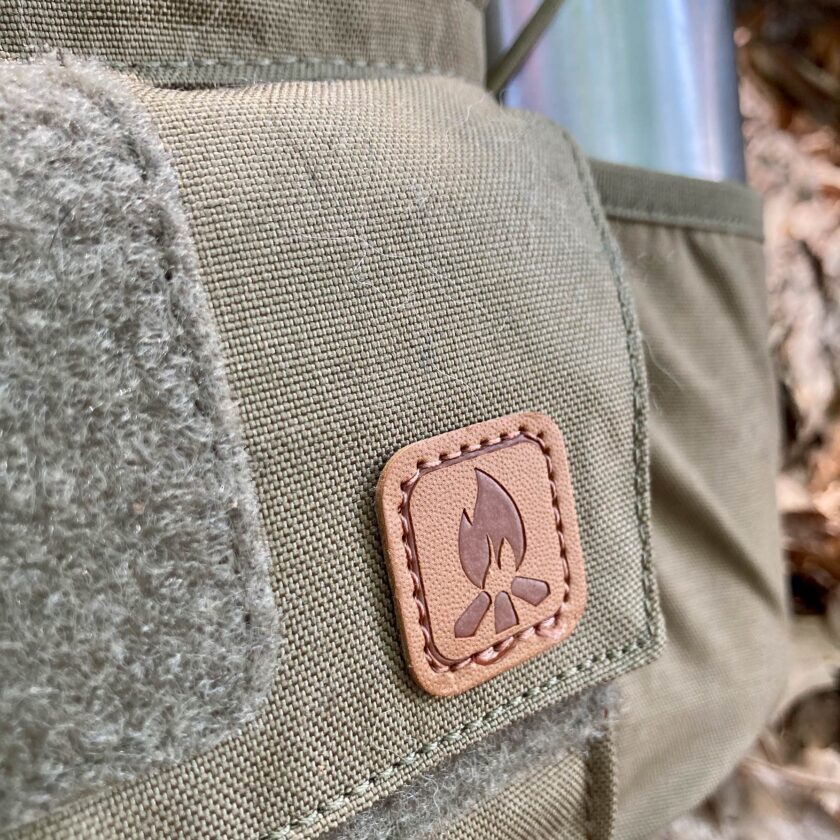 I was initially disappointed by the Helikon-Tek Foxtrot Mk2  Belt Rig. By the time this review was over I had completely changed my mind – I like this bag a great deal. I will definitely be hiking with it more this summer as my girlfriend has commandeered my Mountainsmith Tour. And it doesn't cost a fortune. The Helikon-Tek Foxtrot goes for just $69 ($77 from Amazon) – a pretty good price for a really outstanding bag.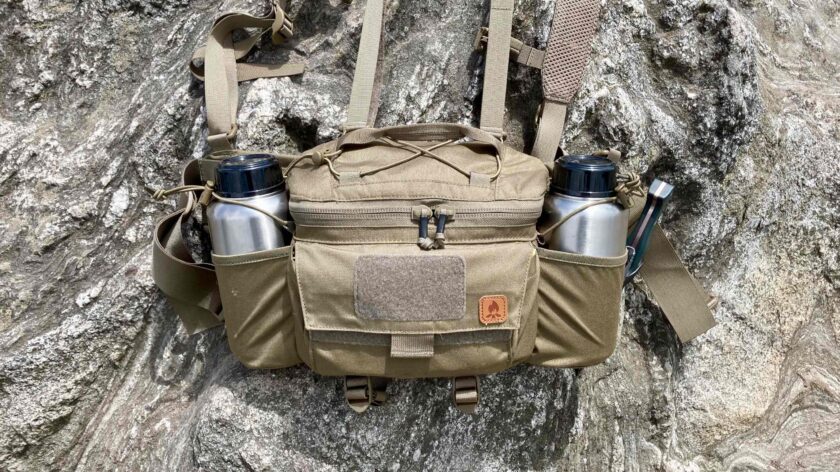 ---