The original Fenix E12 has possibly the weakest feature-set of any flashlight I've reviewed here to date. Today we look at the updated Fenix E12 V2.0. The form-factor has undergone a major overhaul, but has the rest of the light been brought up to speed?
Fenix E12 V2.0
The Fenix E12 V2.0 is a compact, single-AA light at an OK price point for what it is. Several things have changed since the first-gen version. The biggest is form-factor, and the form-factor edits are pretty huge. The new model is also brighter and adds a pocket clip. Let's take a look at the Table O' Features, then let's see how this light stacks up.
Criteria
Y/N
Tail Switch
Yes
Instantly Access High
NO
Momentary ON
NO
Tail Stand
Yes
Single Battery
Yes, AA
High Mode 200-300+ lumens
No - 160, 1 hour
Low Mode 20-30 lumens
YES - 30, 13 hours
Firefly Mode < 1 lumen
No - 5, 70 hours
No/Unobtrusive Strobe
No Strobe
Method of Accessing Modes
Half-pressing tail switch
Form Factor: Size
Length: 3.06 inches
Dia: 0.75 inches (head), 0.69" (body)
Form Factor: Weight
1.8 oz, with alkaline AA battery
Form Factor: Pocket Clip
Yes
Form Factor: Reversible Pocket Clip
Yes
Form Factor: Knurling/Grip
Yes
Form Factor: Anti-Roll Flats
No
Durablility/Water Resistance
IP68 (2m)
Price (Amazon.com)
$27.45
Category 1: Tail Switch
Tail switch actuation is one of the most important factors to me. I find the tail switch easier to operate than bezel switches and twist-tops, and certainly more positive than twist-tops. My preferred "ice pick" grip also works well with a tail switch. Let's go through all the factors that contribute to a good tail switch.
Tail Switch: The tail switch isn't terrible. It's protected but still easily accessible. It feels a little mushy/spongy, but that's not a huge deal. It doesn't feel the best, but it works. The surface is nice, tactile rubber and it should be fairly durable.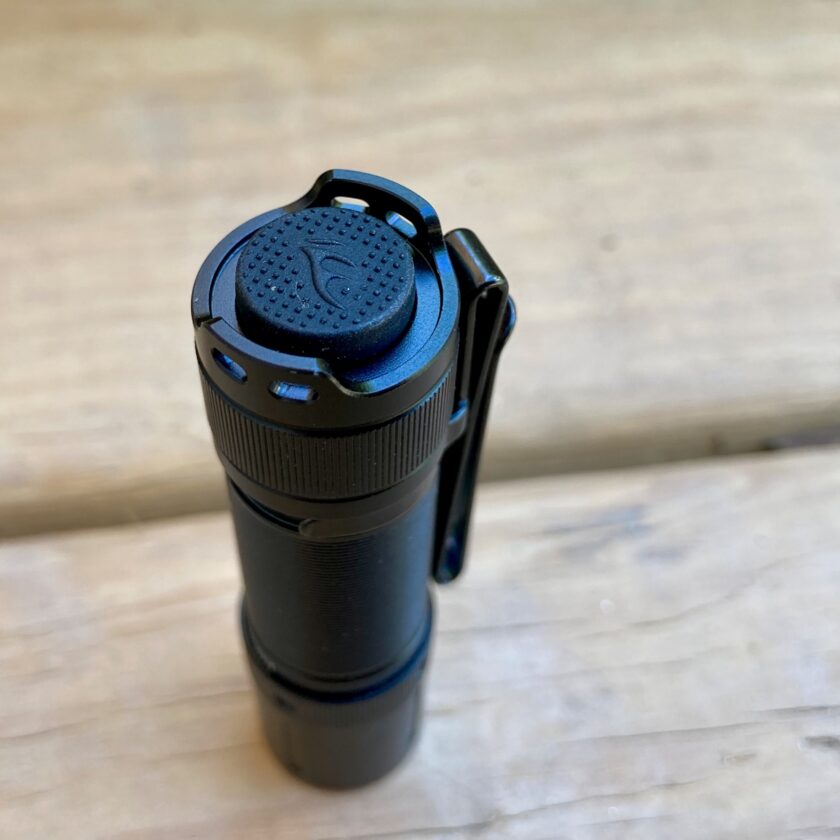 Instant Access to HIGH: No, and this is Strike One against this light. It comes on in the lowest mode. This is use-case dependent. If you don't care about your light as a defensive tool this isn't the biggest deal. In that case a "low" mode might actually be desirable (it won't blind you and it won't wake up your sleeping child). Along those lines this light would make a dandy backup to a more "tactical," brighter, single-mode light.
Still, it wouldn't hurt anything to have this light turn on in High, and it wouldn't have cost Fenix anything extra. I don't understand that decision.
Momentary ON: No, and this is Strike Two. You have to click the light on and click it back off. Again, not a huge deal for administrative stuff, but "momentary on" is one of my firm criteria for an EDC light.
Tail Stand: Yes, this light will tail stand. Not the most important feature, but I do appreciate the ability to provide diffuse lighting by standing a light on end and bouncing light off the ceiling.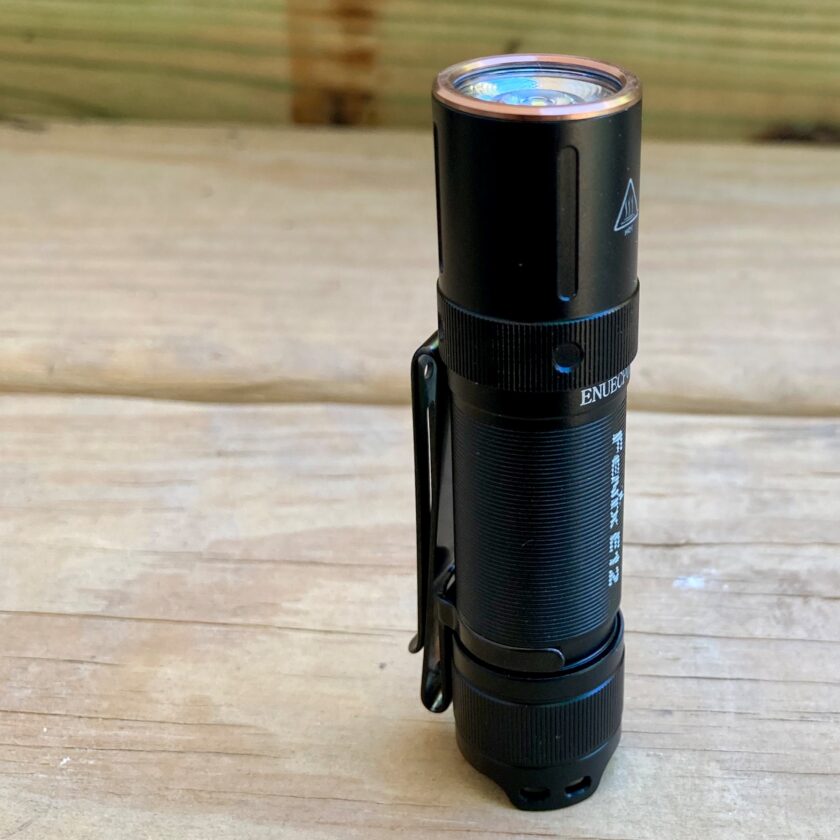 Category 2: Power & Modes

The Fenix E12 V2.0 is powered by a single AA battery. Let's look at the modes now. In my opinion they are about perfectly spaced.
High: 160 lumens. For those of you keeping score that's an additional 30 over the original E12. That's a really solid upgrade.
Medium: 30 lumens. That is a very nice "in-between" setting, and about where I'd want a medium to be on this light.
Low: 5 lumens. Not bad – a solid jump down from medium. Since we're going low I wouldn't mind this being just one or two lumens, but it works.
Firefly: No, but the "low" is fairly low. I can live without it.
No/Removable Strobe: No strobe. I'm happy with that.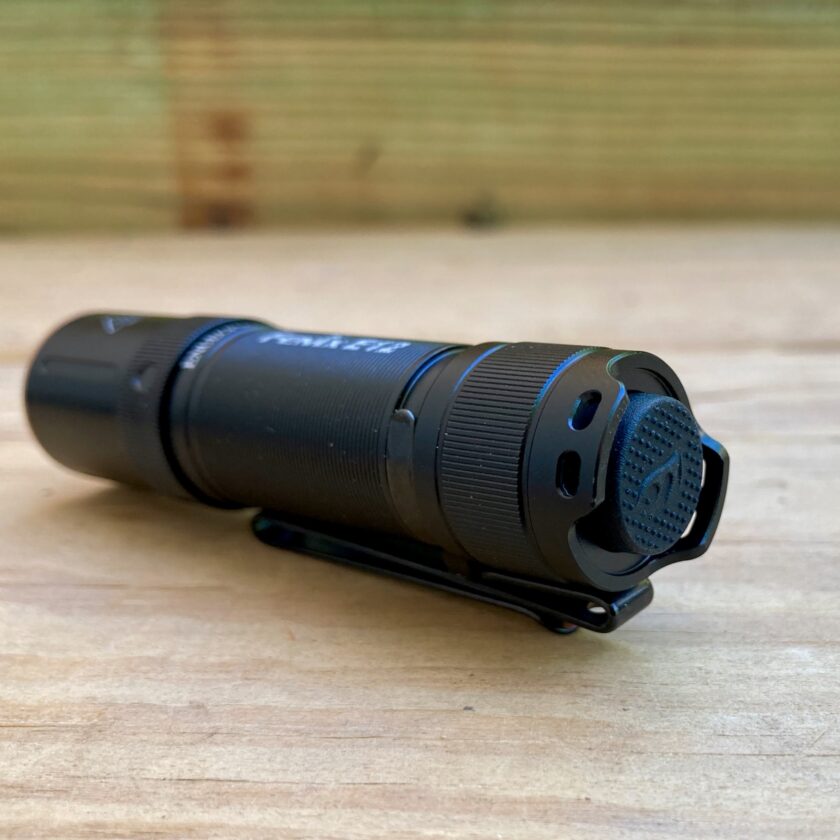 Mode Switching: Mode switching is accomplished by half-pressing the tail switch once the light is already on. The tail switch works very well for this. The light comes on at Low, then toggles to Medium, then High.
Category 4: Form Factor
When it comes to form-factor…well, that's where the Fenix E12 V2.0 really shines. But it's also this light's biggest failure, so…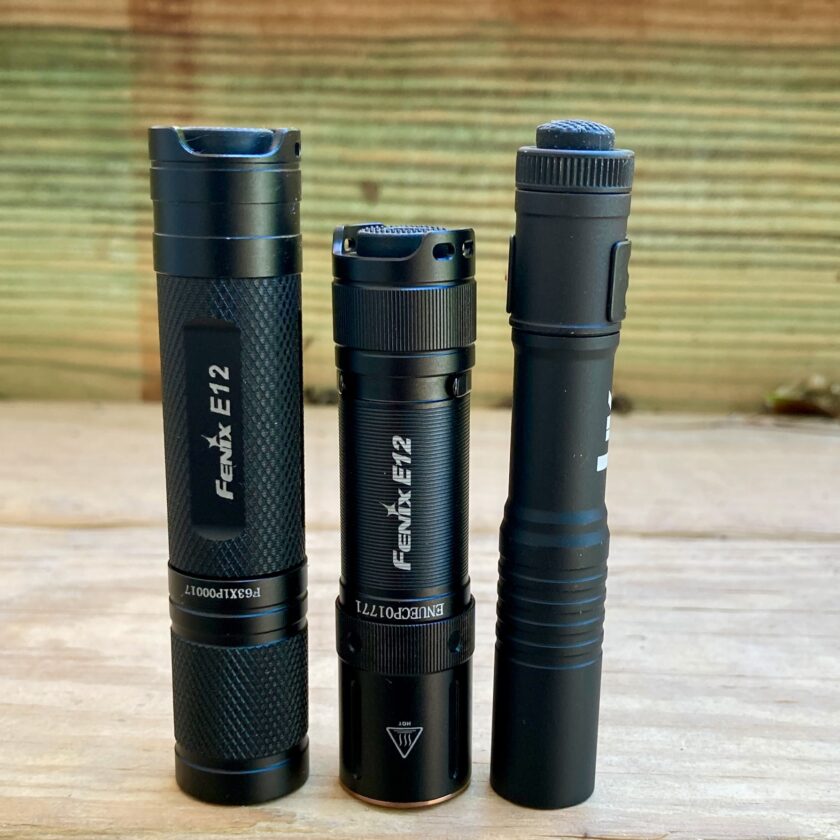 Size: This light is massively smaller than it's legacy version (yes, using "massively" to describe how much smaller it is is causing cognitive dissonance in my head, too). The diameter of the bezel and tail cap are the same but the body has been thinned out. And the light has been shortened by almost half an inch. That might not sound like much but it feels like a whole lot. This is a very small light. I wish I still had my EAGTAC D25A Mark II Clicky to compare with this light (I gave it to a good friend). I've long considered the EAGTAC to be the smallest light I've reviewed. It is narrower than the Fenix E12 V2.0 by 1/10th of an inch, but longer by over a quarter of an inch.
All that confusing nonsense is to say: this is a really, really small flashlight! The new size and shape really make me want to like it!
Weight: Even though it's smaller than the old E12, it's heavier by 0.3 ounces. Not a huge deal – under 2 ounces is still infinitely carry-able.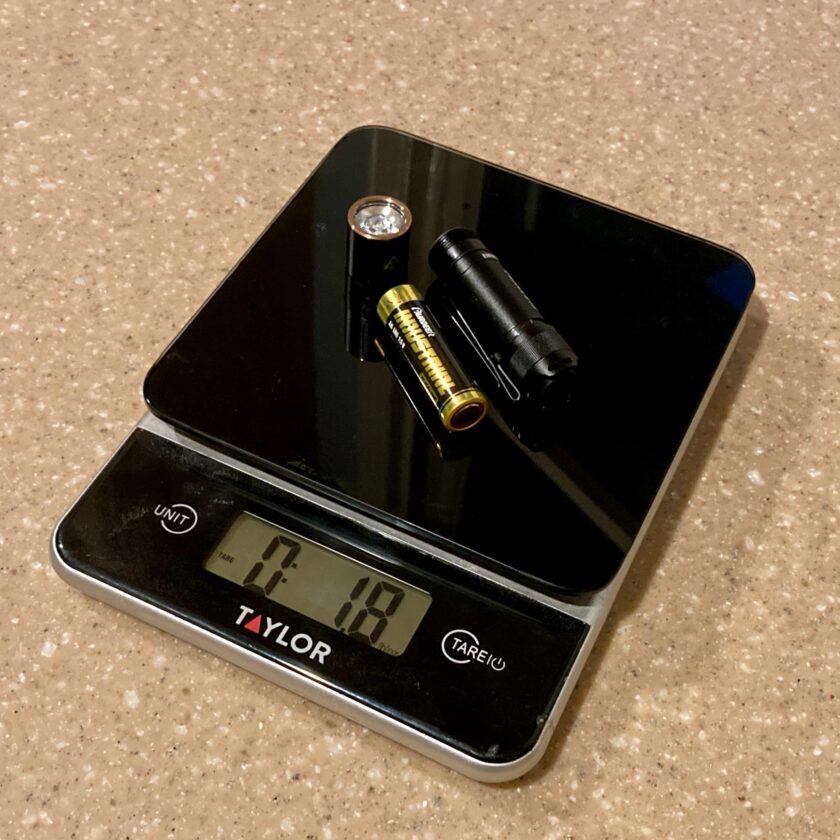 Pocket Clip: Unlike the original E12 this light actually has a pocket clip. Here is where we get to the real deal-breaker. The clip is designed to be reversible. it looks like a good clip. Unfortunately I had much difficulty using it in its normal mode.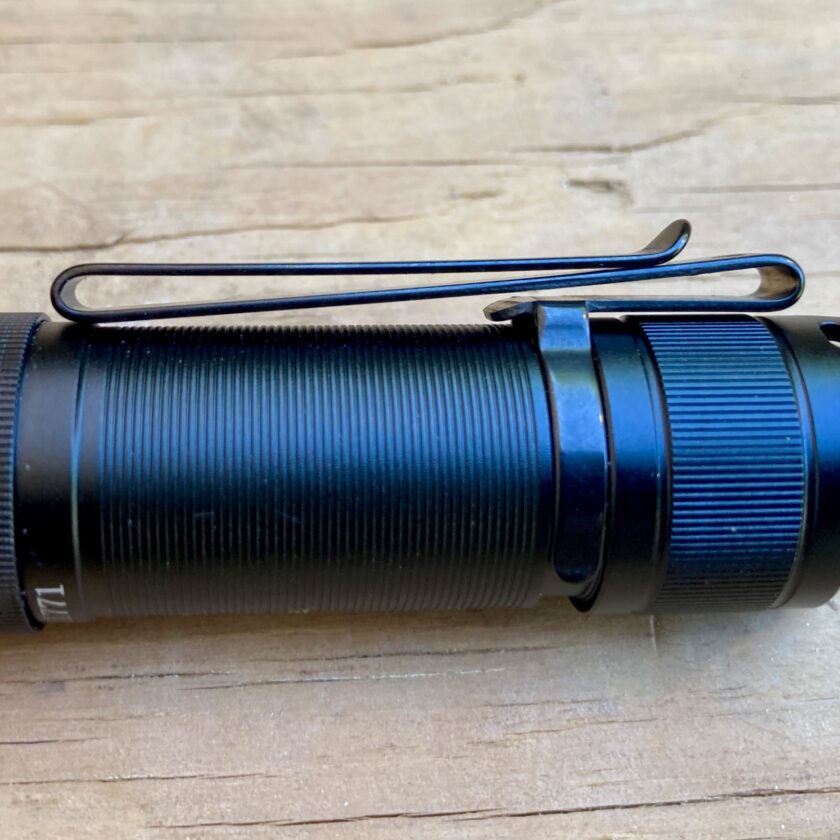 The top, folded portion of the clip was bent too tightly to slip over the edge of my pocket. The hem of my Carhart EDC pants was just too thick for the clip. So I tried it in a pair of jeans. Then in my Propper work pants. Nothing. I couldn't get the clip to work with my pocket. And so I didn't carry this light as much as I would have liked. Strike Three.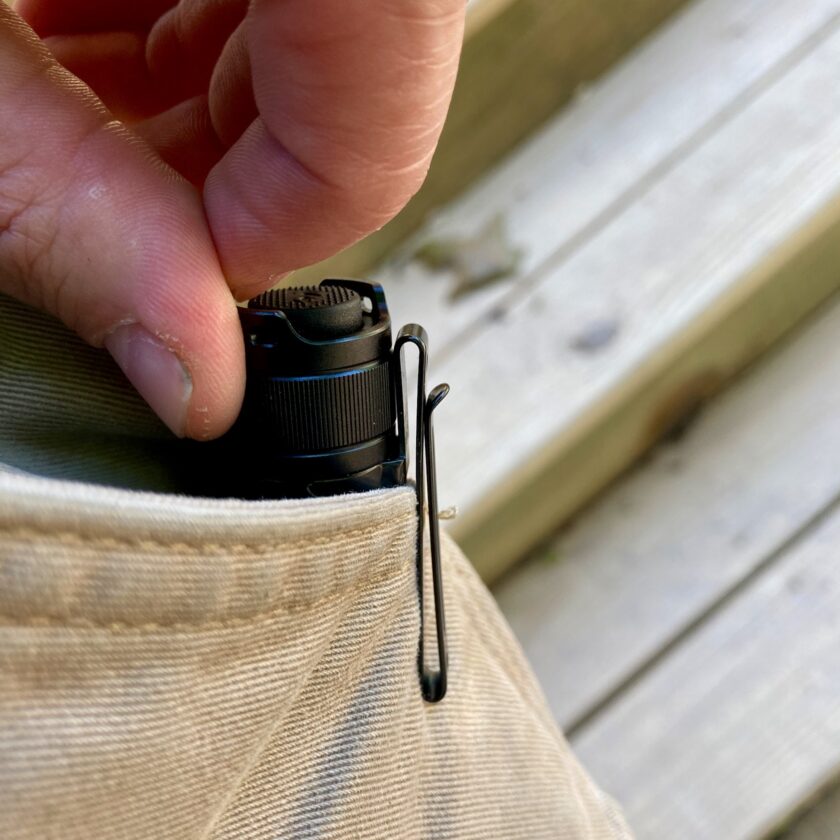 Reversible Pocket Clip: Yes…but see the above issues with the pocket clip.
Crenelated Bezel: No. On a light this small it doesn't matter from a defensive standpoint; this light is not an effective impact weapon.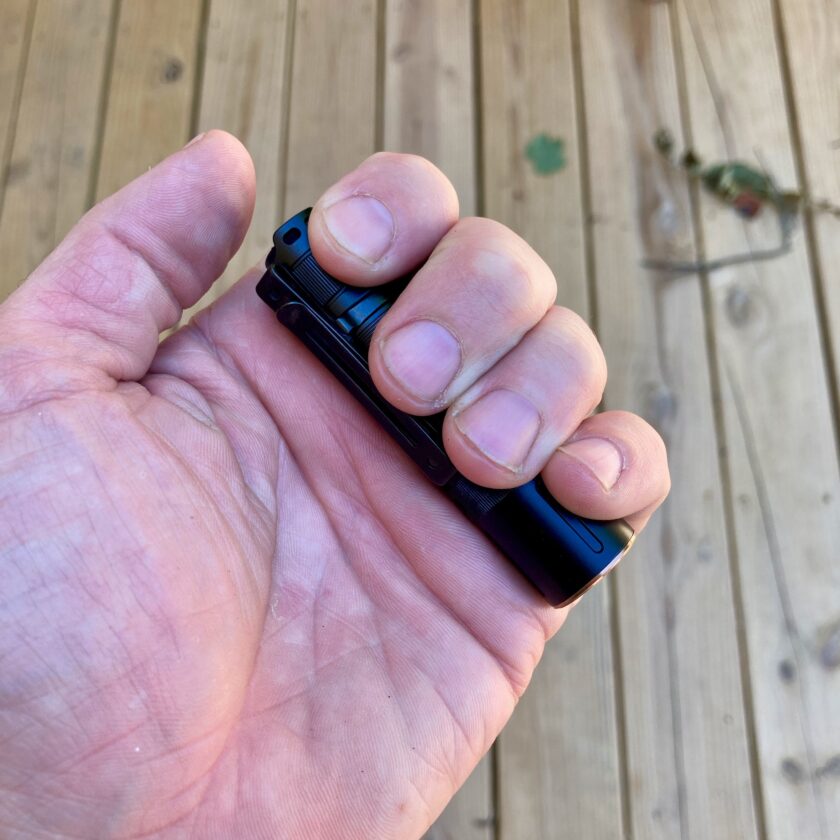 Knurling/Grip Texture: Yes, and it's not bad! It's actually serrations and they feel nice. Fenix also put some texture on the removable tail cap, a thoughtful addition. You can actually get enough grip to unscrew it.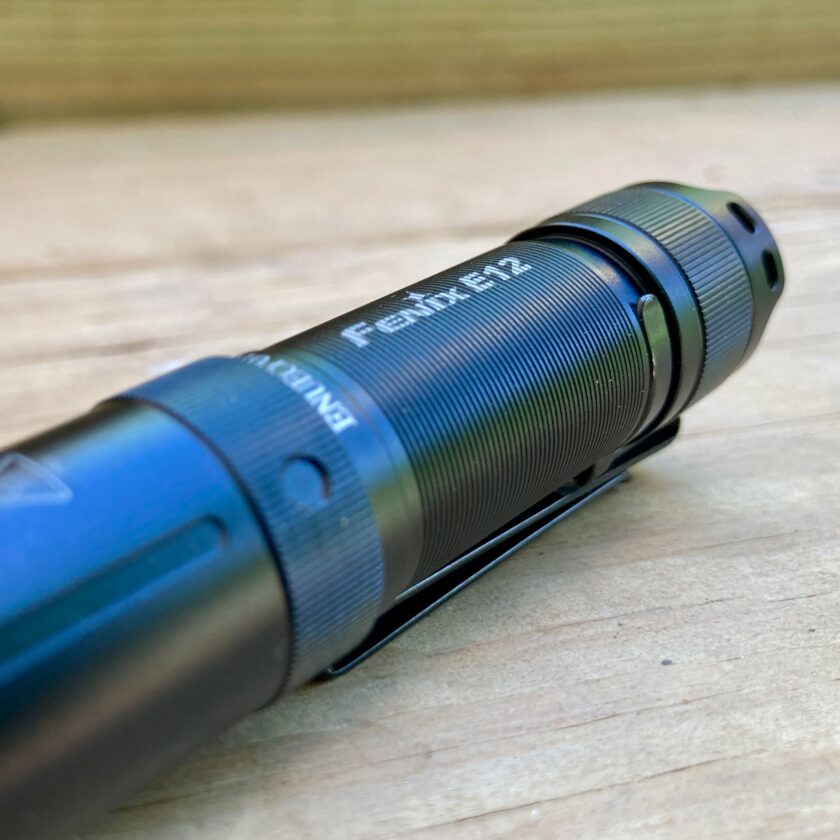 Anti-Roll Flats: No, but the clip can arrest rolling, if need be.
Category 5: Durability & Water Resistance
No problems here. Though I didn't carry this light much I doubt durability would be an issue. Construction feels really solid, and it feels very nice in the hand. In fact it feels so good that I wish the clip was better so I could carry it more.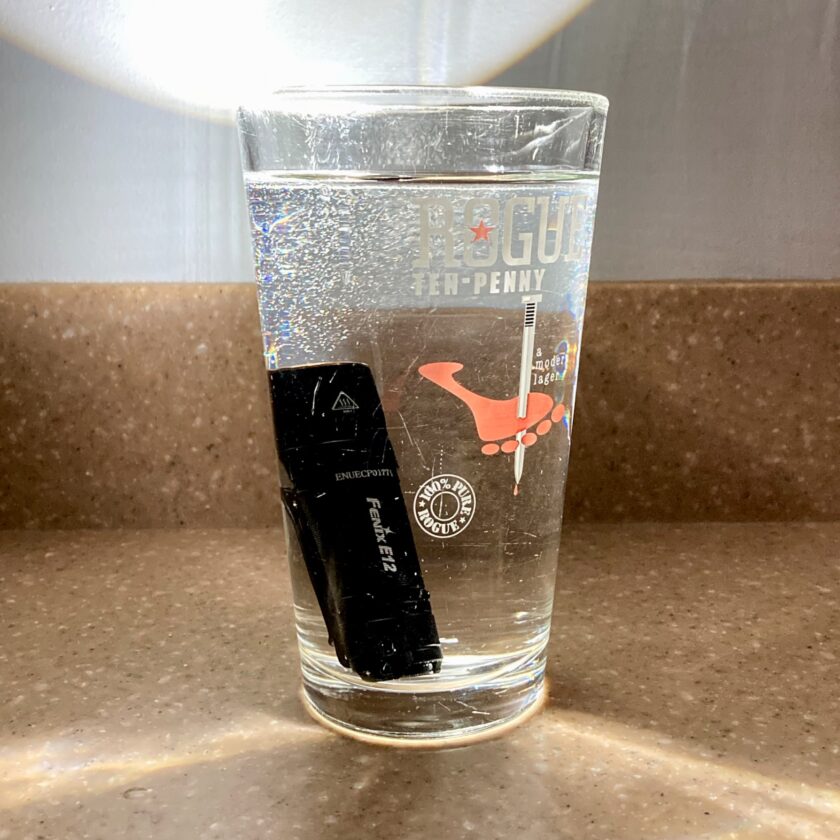 The Fenix E12 V2.0 is IP68 (2 meter) rated. I did my usual glass-of-water soak. That's not testing the absolutely limits but honestly, how many of us is subjecting our light to even this amount of submersion? The Fenix E12 V2.0 passed with flying colors.
Closing Thoughts on the Fenix E12 V2.0
The Fenix E12 V2.0 is a very nice light. The construction is awesome. The knurling is sharp and feels really good. The upgrades are awesome – brighter light, much smaller light, and (finally) a pocket clip. Unfortunately the pocket clip isn't quite up to snuff. Maybe it will work for you, in a shirt pocket or clipped in the admin pouch of your backpack. If you care about a very small flashlight the Fenix E12 V2.0 deserves your consideration. If clip-carry isn't all that important (and it isn't to everyone) you should check this light out. It won't be replacing my Fenix LD12 anytime soon, but it might be riding backup in my SAR pack.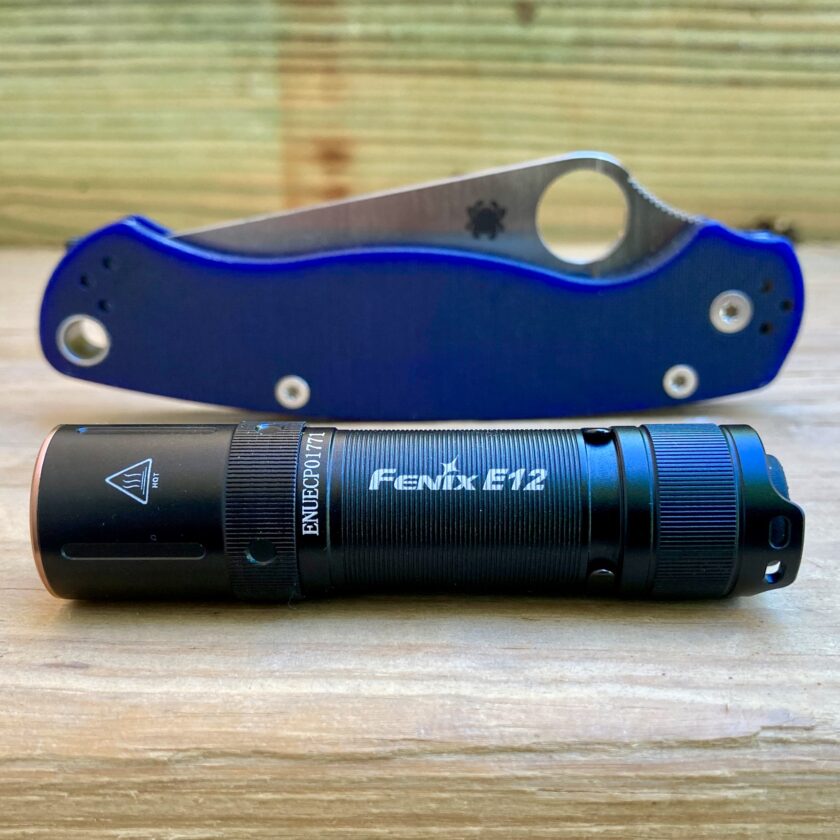 ---