I have owned a Fenix E12 for several years. I purchased it for use as a backup in my EDC bag, but it never really got very much use today I'm going to review this light…with a caveat.
This article contains affiliate links.
Caveat: The Fenix E12 has been discontinued and replaced by a V2.0. Though I haven't yet had the opportunity to play with the Fenix E12 V2.0, it looks to offer a lot over the original. It may seem pointless to review a discontinued model, but these are still widely for sale on Amazon. And this might serve as a good comparison with the V2.0 when I get around to reviewing it.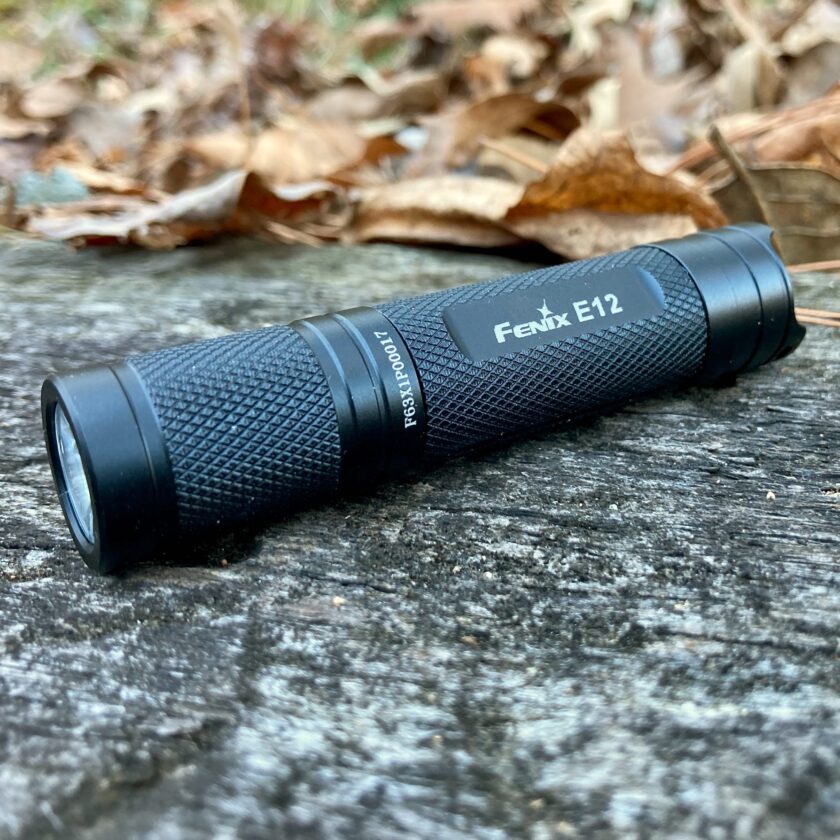 Fenix E12
Let's look at the table 'o features. You'll notice a lot of "NO"s in this one; we'll talk about them below.
Criteria
Y/N
Tail Switch
Yes
Instantly Access High
NO
Momentary ON
NO
Tail Stand
Yes
Single Battery
Yes, AA
High Mode 200-300+ lumens
No, 130
Low Mode 20-30 lumens
No, 50
Firefly Mode < 1 lumen
No, 8
No/Unobtrusive Strobe
No Strobe
Method of Accessing Modes
Half-pressing tail switch
Form Factor: Size
Length: 3.5 inches
Dia: 0.75 inches
Form Factor: Weight
1.5 oz, with alkaline AA battery
Form Factor: Pocket Clip
NO
Form Factor: Reversible Pocket Clip
NO
Form Factor: Knurling/Grip
Yes
Form Factor: Anti-Roll Flats
No
Durablility/Water Resistance
IPX8 (2m)
Price (Amazon.com)
$27.95
Category 1: Tail Switch
Tail switch actuation is one of the most important factors to me. I find the tail switch easier to operate than bezel switches and twist-tops, and certainly more positive than twist-tops. My preferred "ice pick" grip also works well with a tail switch. Let's go through all the factors that contribute to a good tail switch.
Tail Switch: Yes, and it's not bad. I do have some complaints later in this review but the switch itself isn't one of them. it's well protected, firm, and tactile. There is enough travel in the switch that swapping between modes is easy, without turning the light off.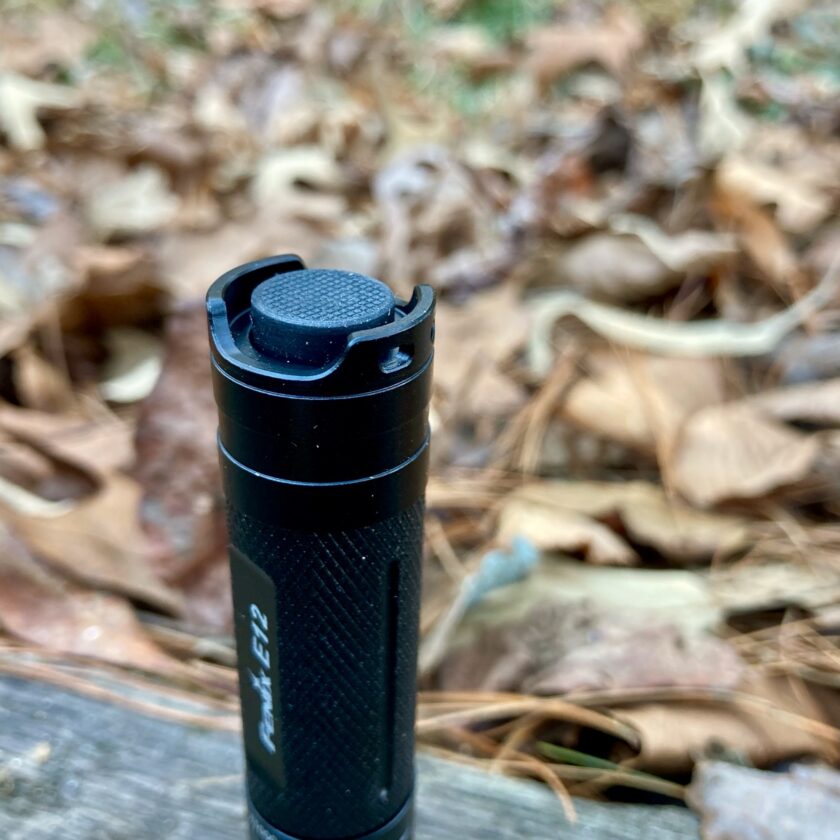 Instant Access to HIGH: Strike one, NO. It doesn't matter what setting you used last, or really anything else – when you turn the lgiht on it comes on in low (8 lumens). For an admin light this is fine. For a light to be used in a self-defense or tactical role…not so much.
Momentary ON: Strike 2, NO. This is another major missing feature. To use get light out of this object you have to fully depress the switch. This is both slower to deploy, and limits the ability to use the light intermittently.
Tail Stand: Yes it will. I really dig a light that will stand on its end. This let's you set it up and bounce light onto the ceiling, illuminating a whole room. A lot of lights (including my faithful Fenix LD12) have protective ears around the switch but they are too small or too curved to support the light. Not so with the E12 – it will tail stand rather nicely.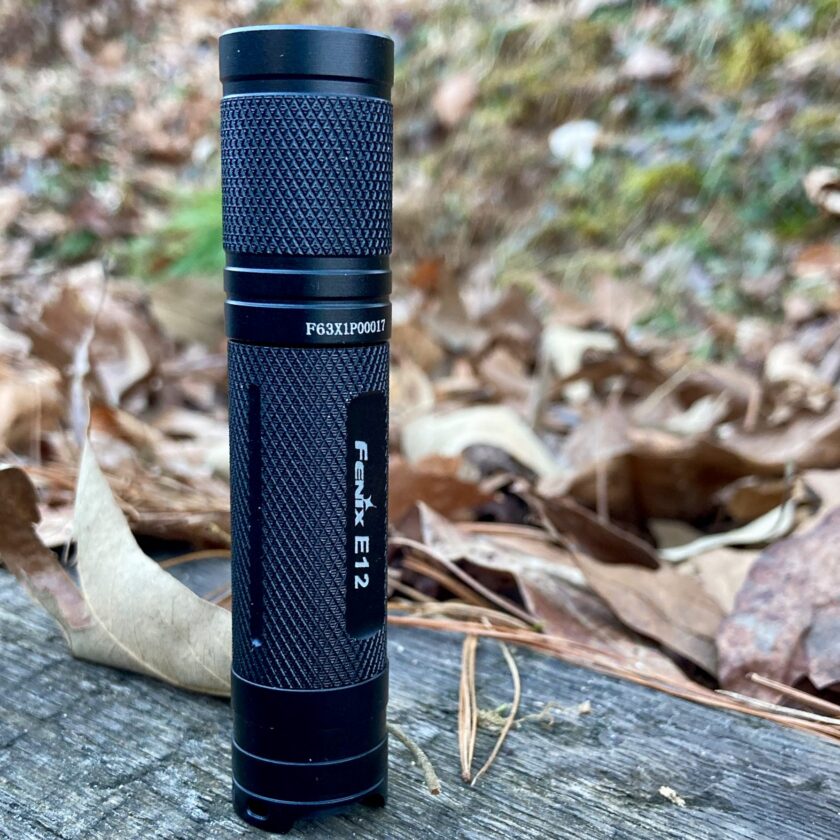 Category 2: Powered by a Single Battery

Yes, this light is powered by a single AA battery. This was really the only selling point for this light when I purchased it several years ago; I didn't know the possibilities that existed and made what I ultimately consider to be a poor purchase (more on that below).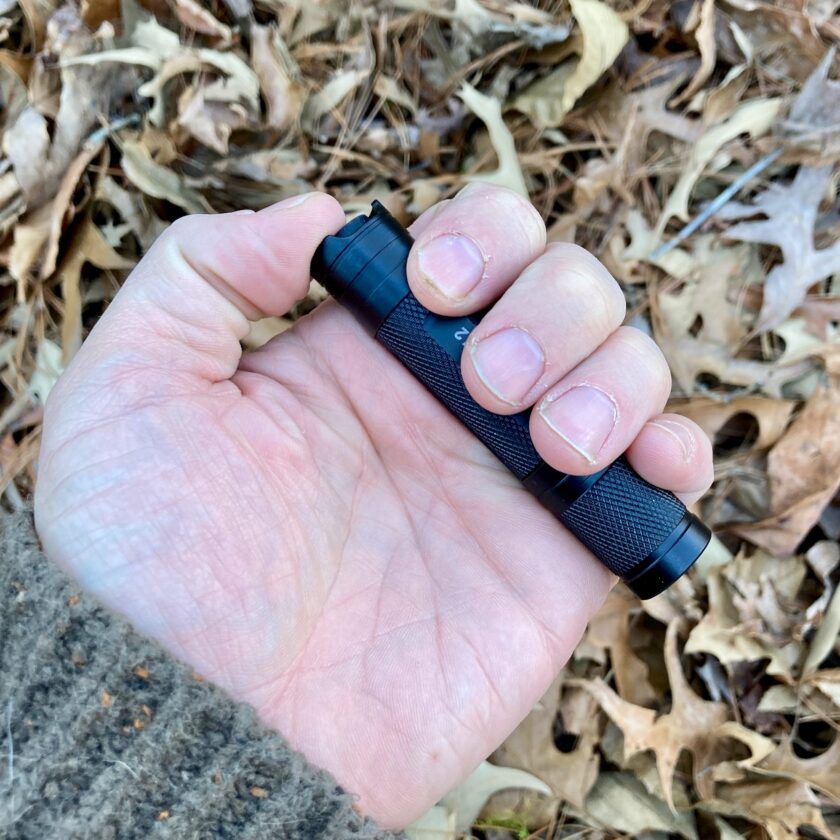 Category 3: Modes

The Fenix E12's modes aren't bad. There is a High, Medium, and Low. Unfortunately as I've already pointed out there is no mode memory or other way to "start" with High.When you turn the light on, it turns on in the Low mode. Let's take a look at these modes.
HIGH: 130 lumens
LOW: 50 lumens
FIREFLY: 8 lumens
NO/REMOVABLE STROBE: No strobe. The separation between high, medium, and low isn't too bad. Ok, Low could be a little lower (let's be honest – there isn't a massive difference between 8 and 30 lumens) but this isn't a terrible arrangement. I still can't get over having to begin in Low, though…
Mode Switching: Like a heck of a lot of lights I've reviewed, mode switching is accomplished by half-pressing the tail switch. I prefer some other methods, like a switch on the bezel, but that gets into larger and more costly lights. I'm OK with a half-press on a light this size.
Criteria 4: Form Factor
Form factor is where the little Fenix E12 really shines. Well, sort of. It's obviously a high-quality light. It's well made, feels great in the hand, and the size is AWESOME. Let's take a closer look.
Size: This is a skinny light. Just about anyone should be able to tote it. I really love the uniform-diameter, cylindrical shape of this flashlight. At worse it looks like an oversized tube of Chapstick in your pocket. At just 3.5″ and 0.75″ in diameter this is about as small as a AA light gets. Love it.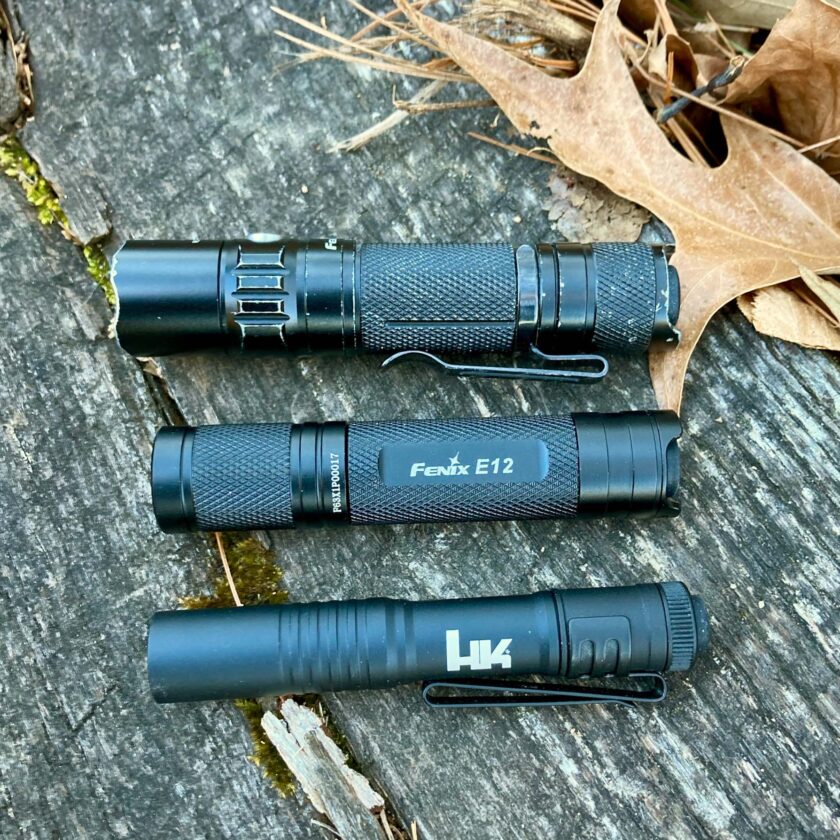 Weight: At just an ounce and a half with a lithium battery the weight isn't bad, either. However, more bad news to come…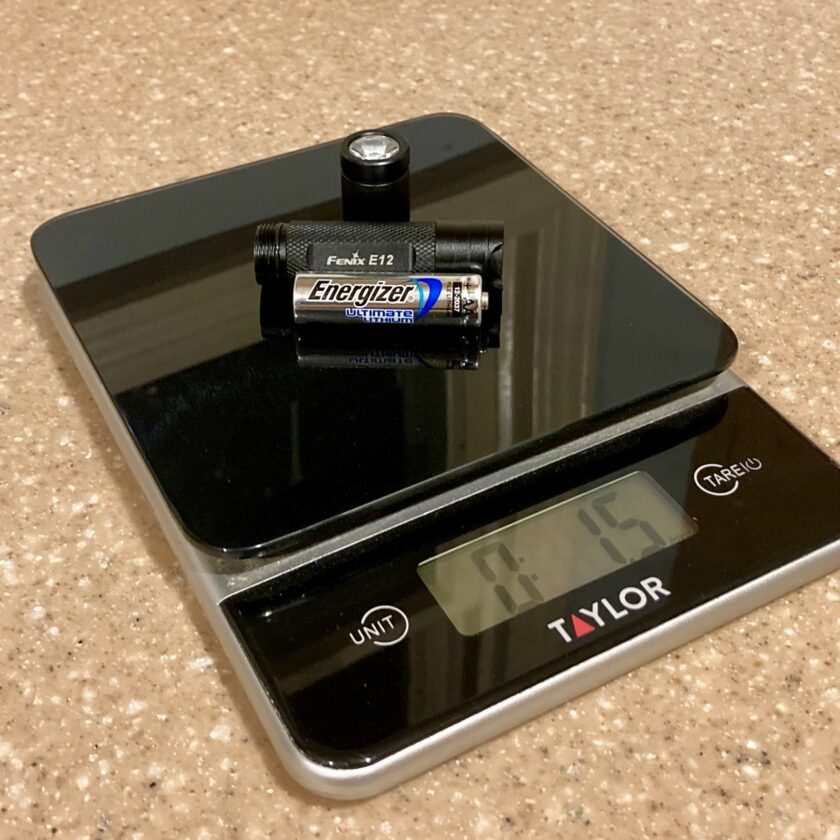 Pocket Clip: Strike three: a major failing of this light is the lack of a pocket clip. The E12 has a lot of positive attributes. It is is a great size, feels good in the hand, and is high quality. But I simply can't understand the lack of a pocket clip. If the owner wished to carry the light without a clip, cool – he or she could remove it. But I have a feeling that a good percentage of owners probably want a pocket clip.
Reversible Pocket Clip: With no pocket clip the pocket clip can't be reversible, so…no.
Knurling/Grip Texture: Yes, and it's very good. It's nice and uniform, not to sharp, very nicely done. It makes the light look good and feel good.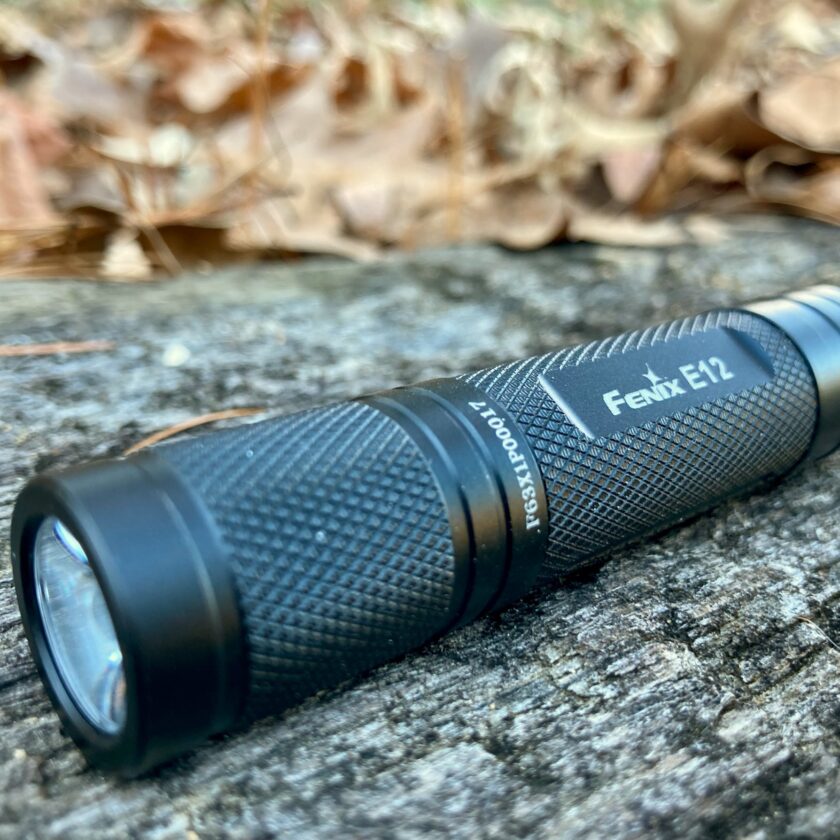 Anti-Roll Flats: Lacking a pocket clip this is one light that could seriously benefit from some anti-roll flats. It's hard to set this light down on anything that is even slightly unlevel without it rolling off. This would be a fairly simply addition, and I sadly this is just another oversight on what could have been a halfway decent flashlight.
Criteria 5: Durability & Water Resistance
This light is rated IPX8 and I anticipated no problems with that. The E12 passed the water test (5 minutes submerged in a glass on my counter) with aplomb. This seems like a well-built light and I wouldn't anticipate any future durability problems.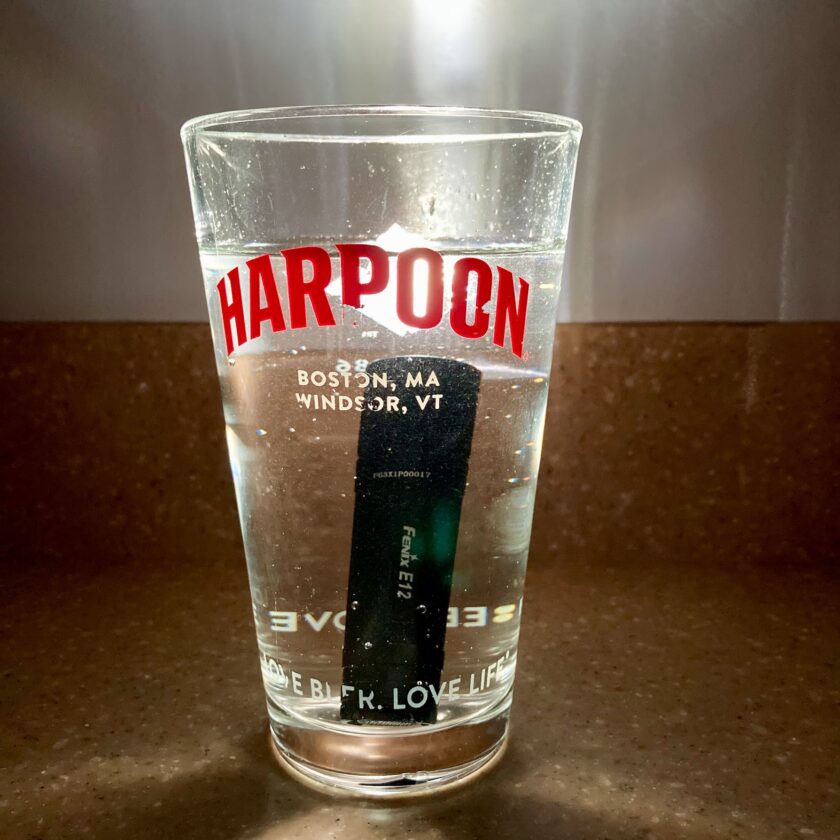 The Final Tally
The Fenix E12 seems to have so much potential. As I've pointed out it's an excellent size and is well-constructed. This makes the missing features especially frustrating – especially at almost $30. You could get a much better light for the money and I wouldn't recommend this light at all.
Like I said, it looks as though the Fenix E12 V2.0 corrects many of these shortcomings and I look forward to trying it out. If I were going to buy a light sight-unseen, the newer E12 would be at the top of my list for the $25-30 price range.
---