It has been a while since I've reviewed an EDC flashlight. Today we take a look at a brand I've only recently heard of: NightStick. The flashlight under review is the NightStick MT210 Mini-Tac Pro. 
This article contains affiliate links.
Full Disclosure: I paid full price for this flashlight. This review was not coordinated in any way with NightStick.
Nightstick MT210 Mini-Tac Pro
As I mentioned, I've only recently heard of NightStick. They seem to have a pretty robust line up of weapon-mounted-lights, handhelds, and specialty, public-safety lighting. I wanted to check them out after reading a couple of WML reviews. Let's check out the NightStick MT210 Mini-Tac Pro. It's a compact, single-AA, EDC-style flashlight.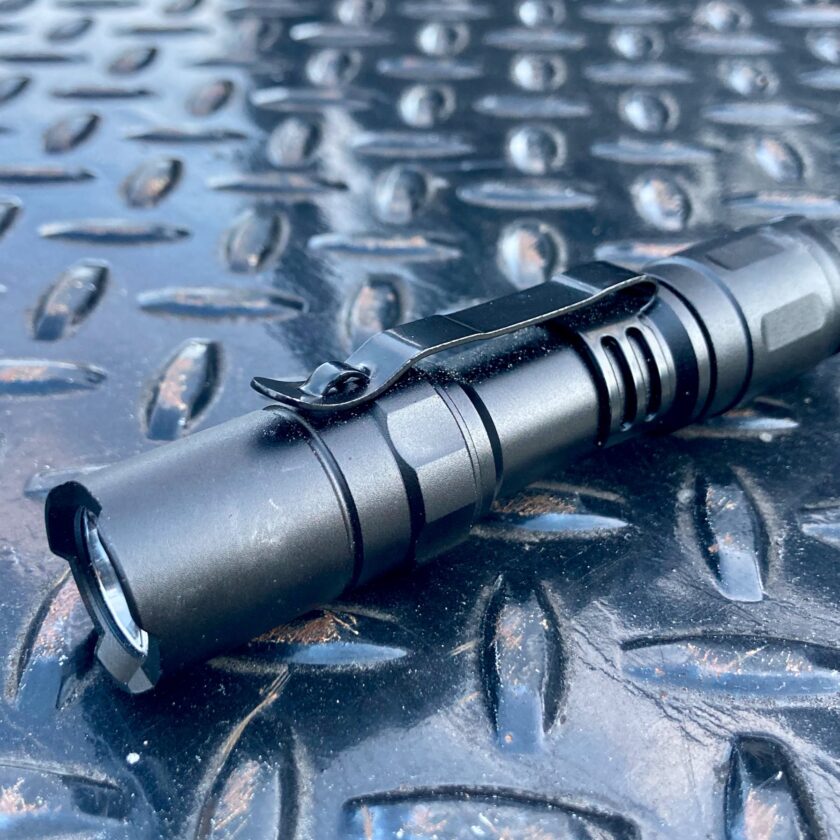 Criteria
Y/N
Tail Switch
Yes
Instantly Access High
Yes
Momentary ON
Yes
Tail Stand
Yes
Single Battery
Yes, AA
High Mode 200-300+ lumens
No - 160, 1 hour
Low Mode 20-30 lumens
YES - 30, 13 hours
Firefly Mode < 1 lumen
No
No/Unobtrusive Strobe
Strobe
Method of Accessing Modes
Half-pressing tail switch
Form Factor: Size
Length: 4.0 inches
Dia: 0.95 inches
Form Factor: Weight
2.1 oz, with alkaline AA battery
Form Factor: Pocket Clip
Yes
Form Factor: Reversible Pocket Clip
Yes
Crenelated Bezel
Yes
Form Factor: Knurling/Grip
No
Form Factor: Anti-Roll Flats
No
Durablility/Water Resistance
IPX7 (1M)
Price (Amazon.com)
$25.68
Category 1: Tail Switch
Tail switch actuation is one of the most important factors to me. I find the tail switch easier to operate than bezel switches and twist-tops, and certainly more positive than twist-tops. My preferred "ice pick" grip also works well with a tail switch. Let's go through all the factors that contribute to a good tail switch.
Tail Switch: The Nightstick Mini-Tac Pro does have a tail switch. In my humble opinion it isn't a very good one. In fact, my real opinion is that it sucks. First, the rubber is fairly soft and/or thin. You can actually feel the switch beneath it. This is in contrast to lights like my beloved Fenix LD12 where the pad of the switch feels like a solid mass. I know this is a budget-friendly light, but the switch feels cheap.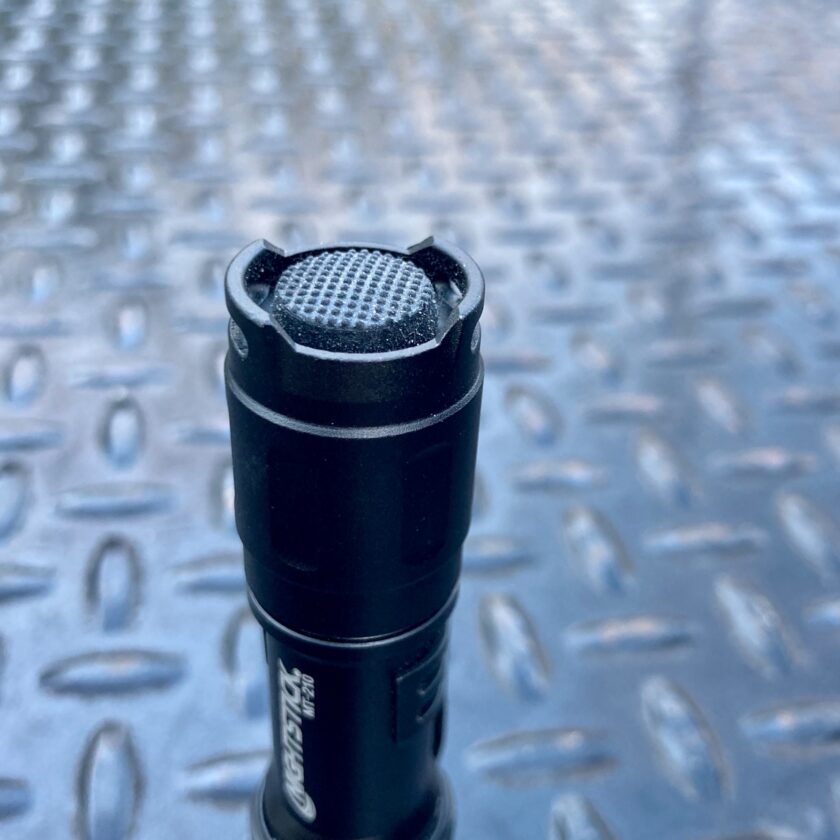 Secondly, the throw is really long in comparison to most other lights I've tested. This might not be an issue, but coupled with the deep protective "ears" around the switch, it can be difficult to turn the light to constant on when holding the light in an icepick grip. If you stick the landing and hit the switch with the tip of your thumb you can get in there and turn it on. But if you miss and hit the switch with the flat of your thumb, you aren't going to get the click you want.
Instant Access to HIGH: Yes! The light always comes on in the highest mode, as long as you leave it off for two seconds before turning it back on. Turning the light on faster than that fools it into thinking you're toggling to the next mode. This is a good feature.
Momentary ON: Yes, the NightStick MT210 Mini-Tac Pro has a good momentary on. In fact, sometimes momentary is all you can get (see comments on tail switch above).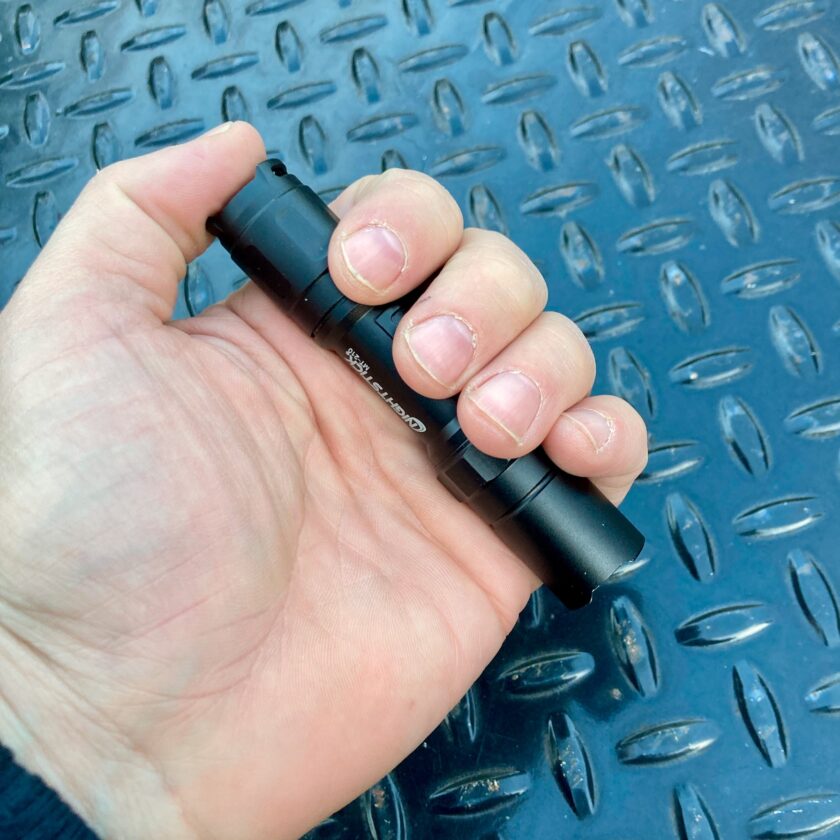 Tail Stand: Yes, it tail-stands, allowing you to stand it on end and light up a room.
Category 2: Power & Modes

The NightStick MT210 Mini-Tac Pro is powered by a single, AA-battery. Single AA-lights are my favorite because of the amount of power they pack (much more than AAA lights) while remaining compact and lightweight. The NightStick MT210 Mini-Tac Pro is a little on the low-end of output for an AA light. Then again, you get longer battery life as part of the deal, so it's a trade-off, I suppose.
I wish this light had a brighter "high" and a lower "low." There's a big difference between the 120-lumen high and the 55 lumen medium. It's hard to notice much of a difference between medium and t he 30-lumen low, though. A broader range of intensity is always desirable, but would also drive the cost of the light up. Here are the advertised lumens and run times.
High: 120 lumens, 1.5 hour run time
Medium: 55 lumens, 4 hour run time
Low: 30 lumens, 6 hour run time
Firefly: No
No/Removable Strobe: No
Unfortunately this flashlight does have a strobe mode. It's the last mode in the lineup that cycles HIGH-MEDIUM-LOW-STROBE. Though I generally prefer that a light doesn't have a strobe I can live with it.
Mode Switching: Mode-switching is done via half-pressing the tail switch.
Category 4: Form Factor
Form factor is pretty important in a light. This is where the strikes really start to add up against the NightStick MT210 Mini-Tac Pro.
Size: At four inches long the NightStick MT210 Mini-Tac Pro is about average for its class. As near as I can tell it's exactly as long as my EDC Fenix LD12.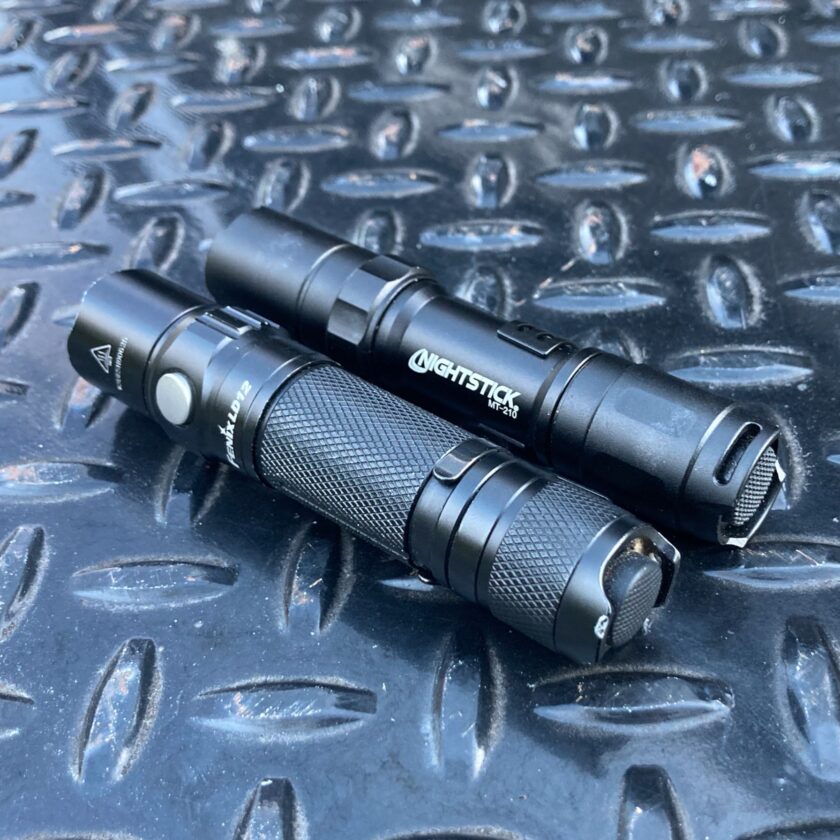 Weight: At 2.1 ounces this light is a tad lighter than my Fenix LD12, and the same weight as the ThruNite Archer 1A V3 (a review I sorely need to update). Which is to say, not bad at all.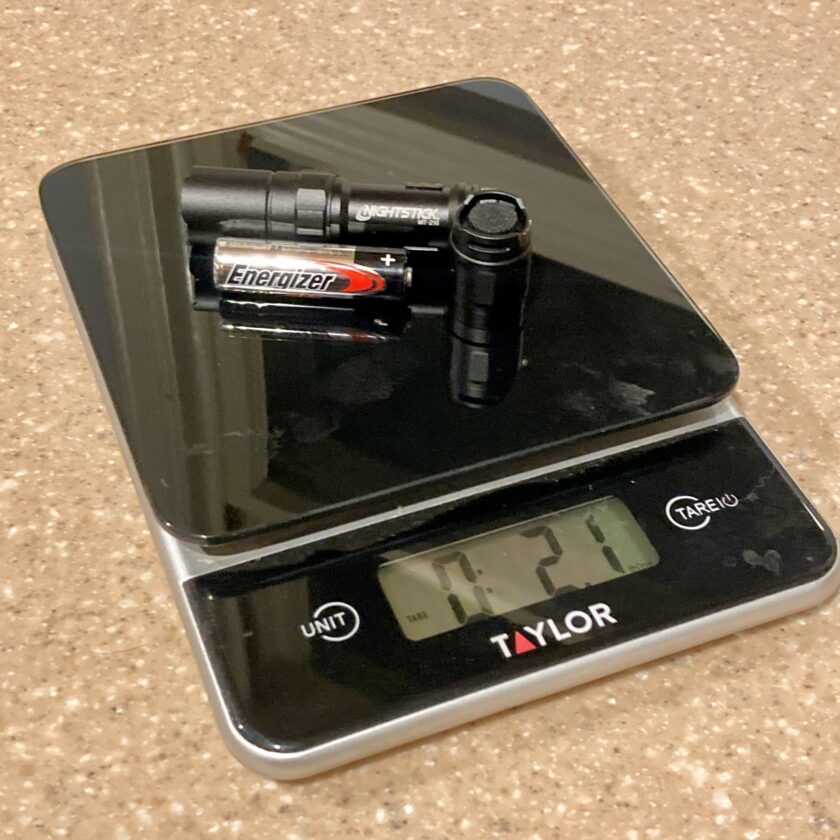 Pocket Clip: The pocket clip, in a word, sucks. Actually the clip itself is OK, but it leaves an inch and a quarter of the light sticking out of your pocket. That's a LOT on a 4″-long flashlight – almost 30%. Otherwise the clip is decent. It's spring and retains the light, and goes into the pocket easily.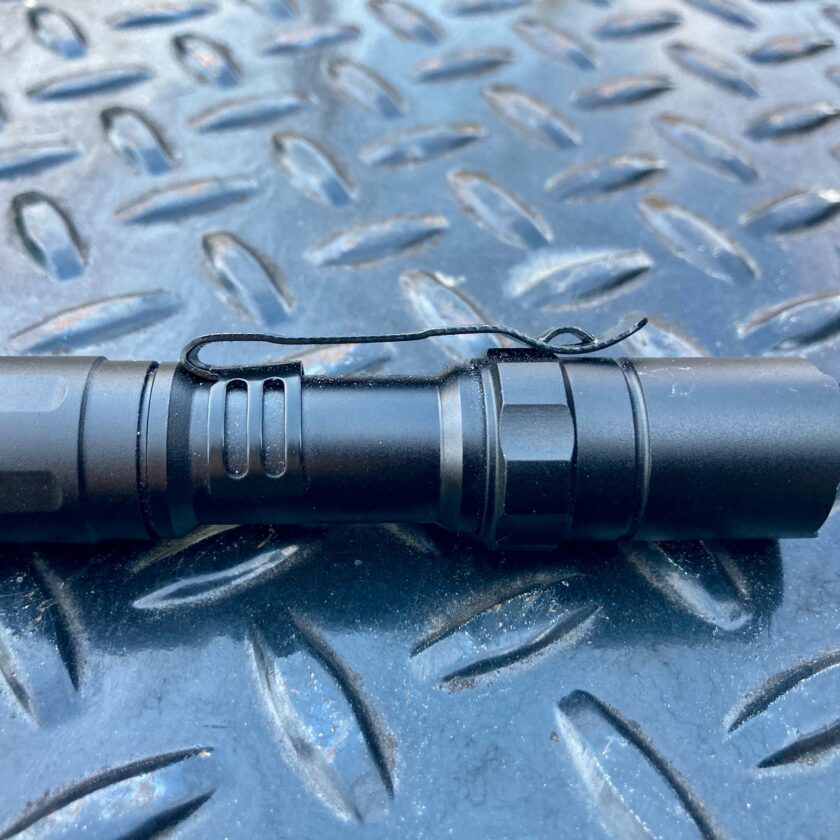 Reversible Pocket Clip: Yes, the pocket clip will reverse. Unfortunately simply taking the clip off scratched up the finish pretty good. I don't mind my gear getting some good, honest wear. However, I don't feel like it's so much to ask that gear stand up to functioning within its advertised range of features without being damaged.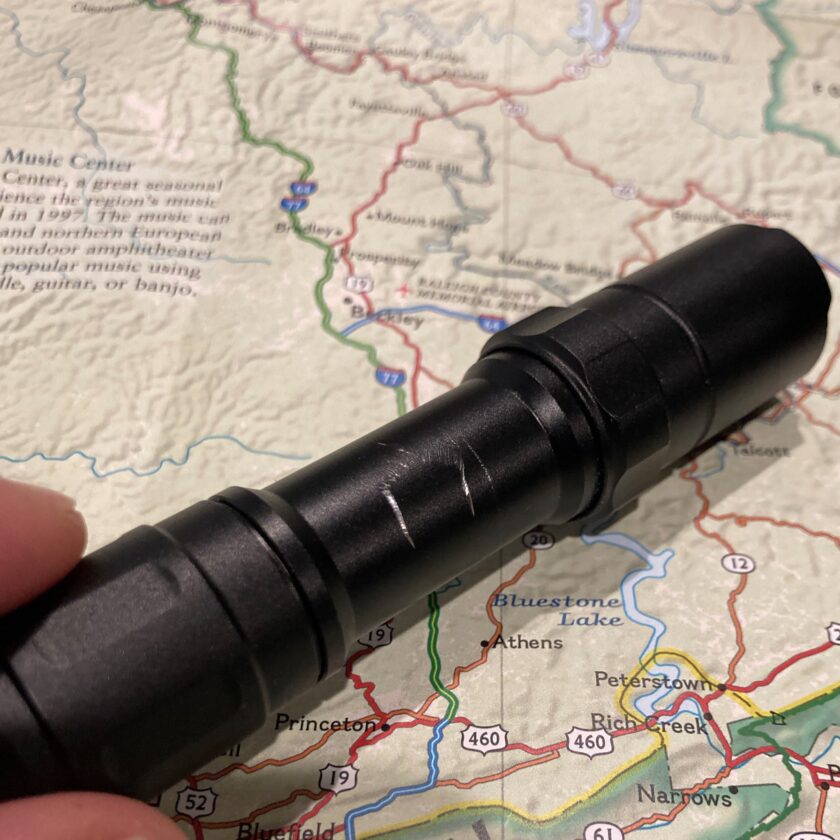 Crenelated Bezel: Yes. This light is probably not a great fighting tool. The crenelated bezel does allow you to stand it up on a map or and get a controlled amount of light. Check.
Knurling/Grip Texture: No, this light is slick as can be. Some grip/texture would be a very welcome feature.
Anti-Roll Flats: Yes, it has some and they work. This is probably on of the least important features, as any light with a clip is kept from rolling by the clip. Still, perhaps some of you remove the clip making anti-roll flats important to you.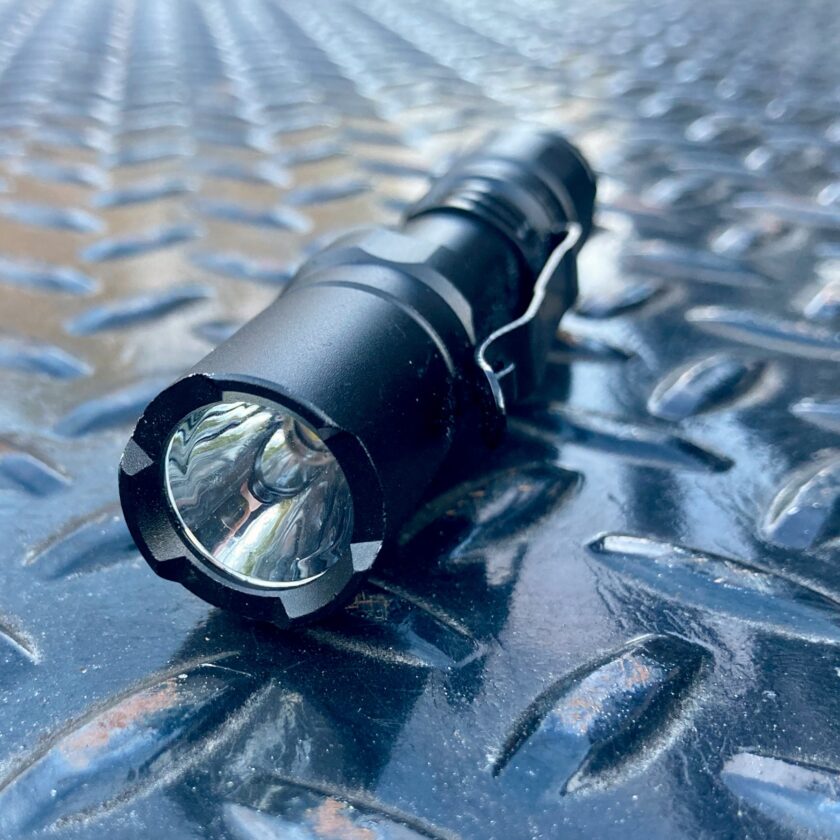 Category 5: Durability & Water Resistance
I carried the NightStick MT210 Mini-Tac Pro for one 12-hour shift. I couldn't really stand more than that, due to the light sticking so far out of my pocket. So, to be honest, I'm not sure how durable this light is. With modern, solid-state electronics I'd say it's probably good enough for everyday carry for most of us. For those of you with really wet, dirty, demanding jobs, this may not be the light for you.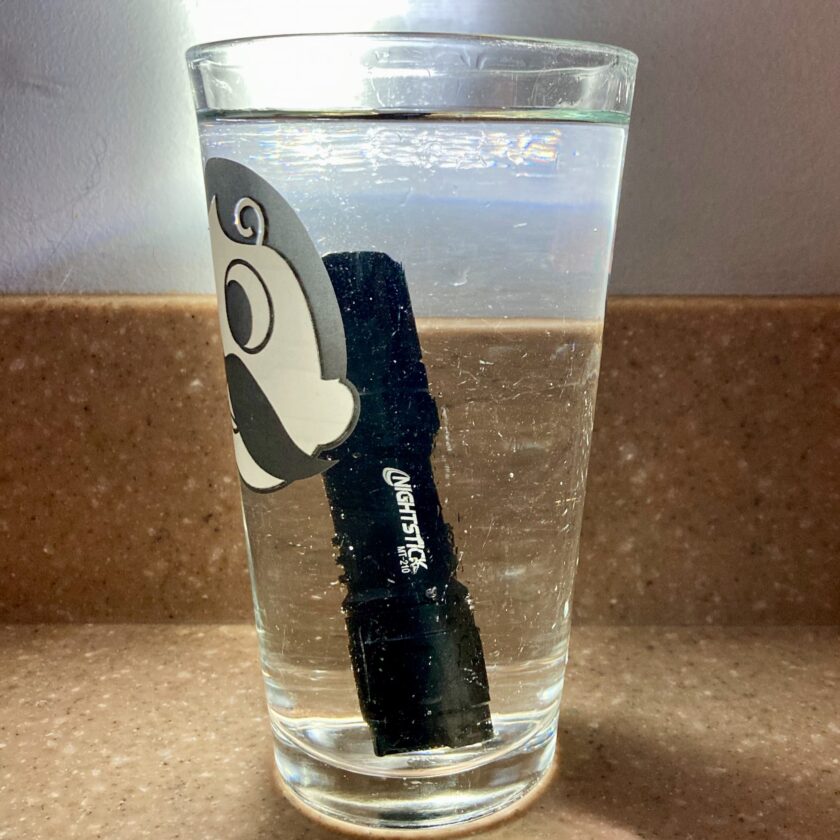 I did test water-resistance using 5-minutes-in-a-glass-of-water test. The NightStick MT210 Mini-Tac Pro did just fine with this test. Which it should; this isn't a super demanding test. Most lights I test are IPXX-rated, meaning they are tested to at least 1M or more. Still, five minutes in a pint-glass is way more water exposure than the average Joe or Jane subjects his or her light to. It's not a torture test, but I do consider it a pretty legit, real-world-applicable test.
Closing Thoughts
I'll be honest, as always: The NightStick MT210 Mini-Tac Pro was pretty disappointing and I don't recommend it. The biggest deal-breaker for me was the switch. It felt cheap and was difficult to actuate with a tactical "icepick" grip. Next, the length really turned me off. I disliked how much of this light stuck up out of the pocket – almost one-third of it's length. Next, it's slick and lacks much texture, and the modes could offer a brighter "high" and a lower "low." Scratching the finish just from removing the pocket clip was the last nail in the coffin for me.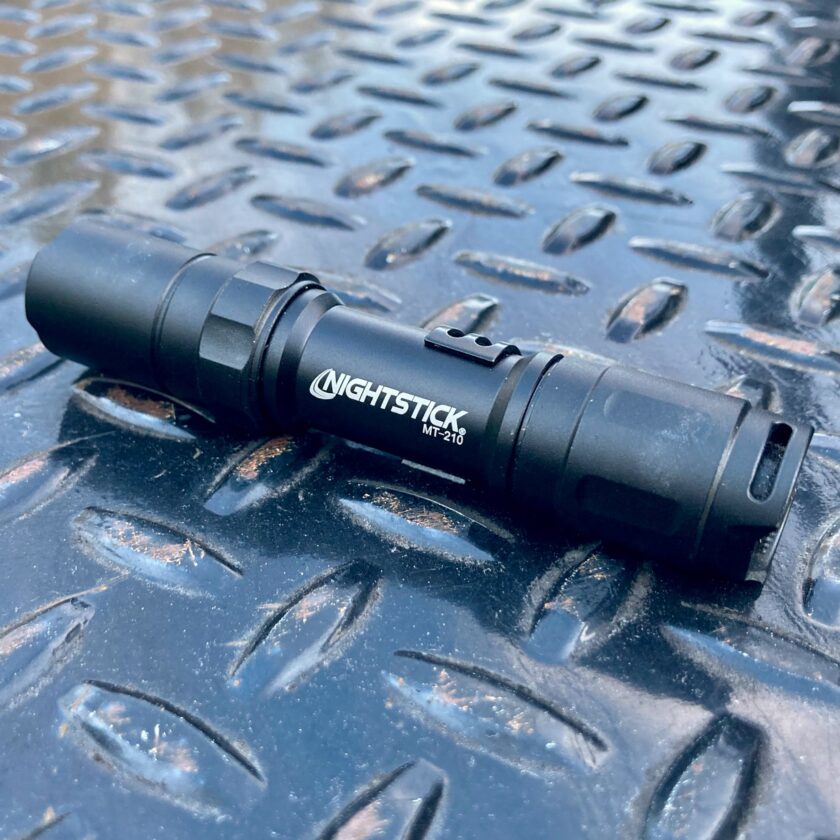 Some of you can probably live with a light with these problems. In fact, to some of you these issues might not be problems at all. This isn't the light for me, though. If you want a light in this price range, I'd recommend checking out the ThruNite Archer 1A V3 or the Olight i5T. I feel like both are substantially better lights, for just a few dollars more.
---