The new(ish) Olight I5T is a lightweight, compact, AA-powered flashlight, and big brother to the Olight I3T I recently reviewed. In fact, the appearance of the newer, AA-model prompted me to review the AAA-powered I3T. Let's take a look at the new light.
This article contains affiliate links.
Olight I5T
The Olight I5T is a scaled up version of the I3T. I like when companies do this and create a "set" of items instead of having two dozen different one-off products. Turns out I really like this light much more than I thought I would and carried it on duty for a while. Let's take a look at the table of features.
Criteria
Y/N
Tail Switch
Yes
Instantly Access High
NO
Momentary ON
Yes
Tail Stand
NO
Single Battery
Yes, AA
High Mode 200-300+ lumens
Yes, 300
Low Mode 20-30 lumens
Yes, 30
Firefly Mode < 1 lumen
NO
No/Unobtrusive Strobe
No strobe
Method of Accessing Modes
Half-pressing tail switch while in momentary on
Form Factor: Size
Length: 3.74 inches
Dia: 0.70 inches
Form Factor: Weight
2.2 oz, with alkaline AA battery
Form Factor: Pocket Clip
Yes
Form Factor: Reversible Pocket Clip
Yes
Form Factor: Knurling/Grip
Yes
Form Factor: Anti-Roll Flats
NO
Durablility/Water Resistance
IPx8 (2m)
Price (Amazon.com)
$29.95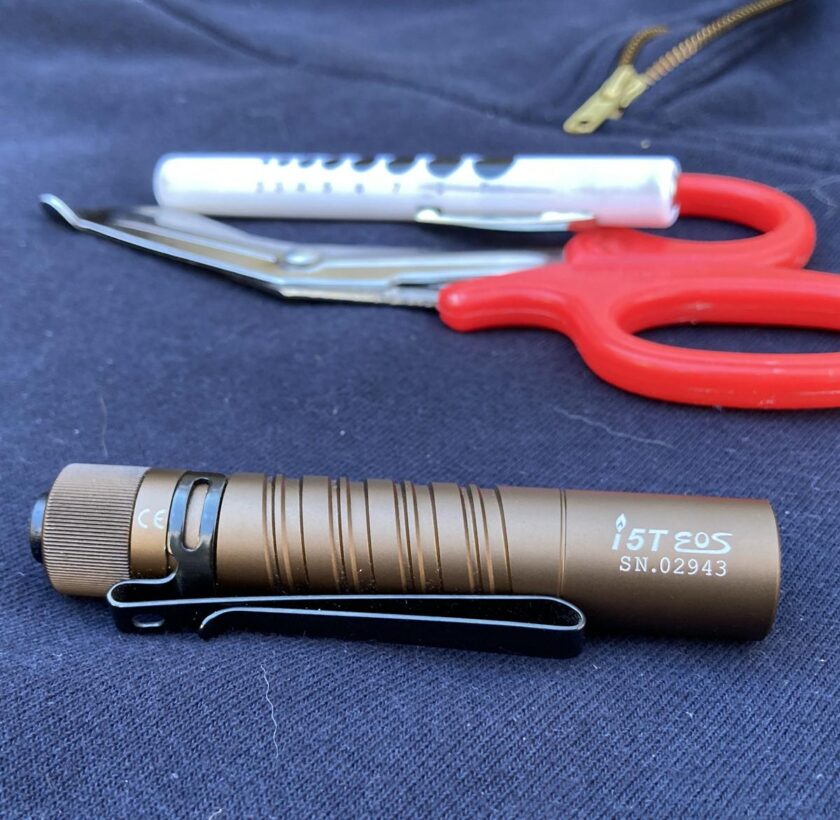 Category 1: Tail Switch
Tail switch actuation is one of the most important factors to me. I find the tail switch easier to operate than bezel switches and twist-tops, and certainly more positive than twist-tops. My preferred "ice pick" grip also works well with a tail switch. Let's go through all the factors that contribute to a good tail switch.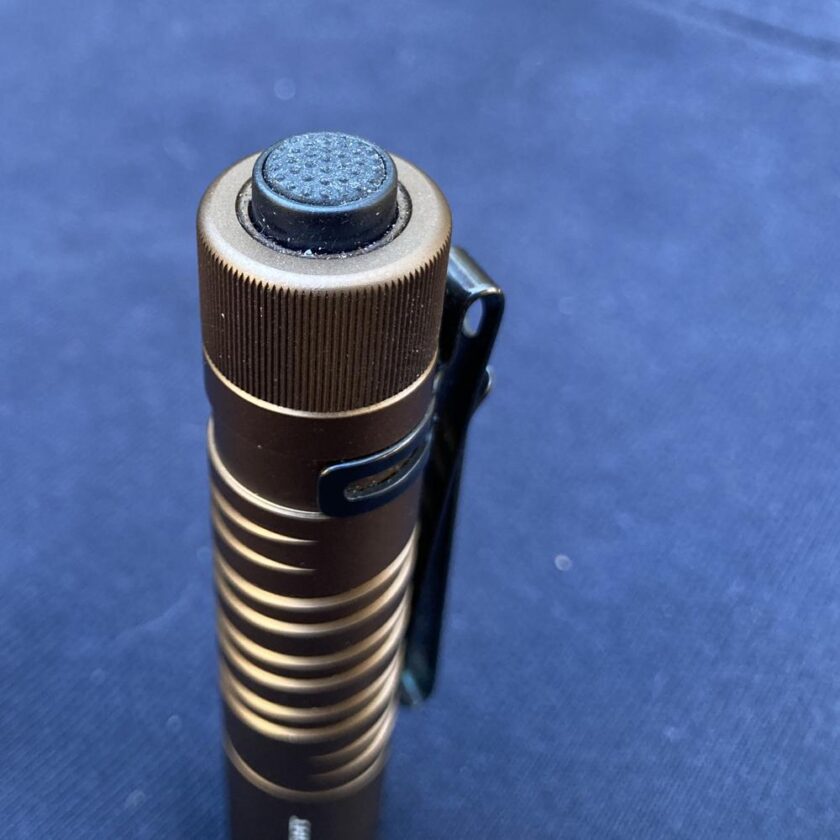 Tail Switch: The construction of the tail switch itself isn't bad. It's made of a durable material, textured well, and is of a decent size. I wouldn't mind it just a bit larger but it's perfectly serviceable. It does stick up a bit more than I'd like and I did find this light turned on in my pocket once. The switch has good tactile feel, and adequate resistance and travel to effectively use the momentary "ON" function. Not bad though I'd prefer a bit of protection for the switch.
Instant Access to HIGH: No, and this is the ultimate deal-breaker for me with this light. Just about everything else is there but there's no way to set the light so that it comes on in the high mode. That…and mode-switching is kind of funky, which I'll talk about in a bit.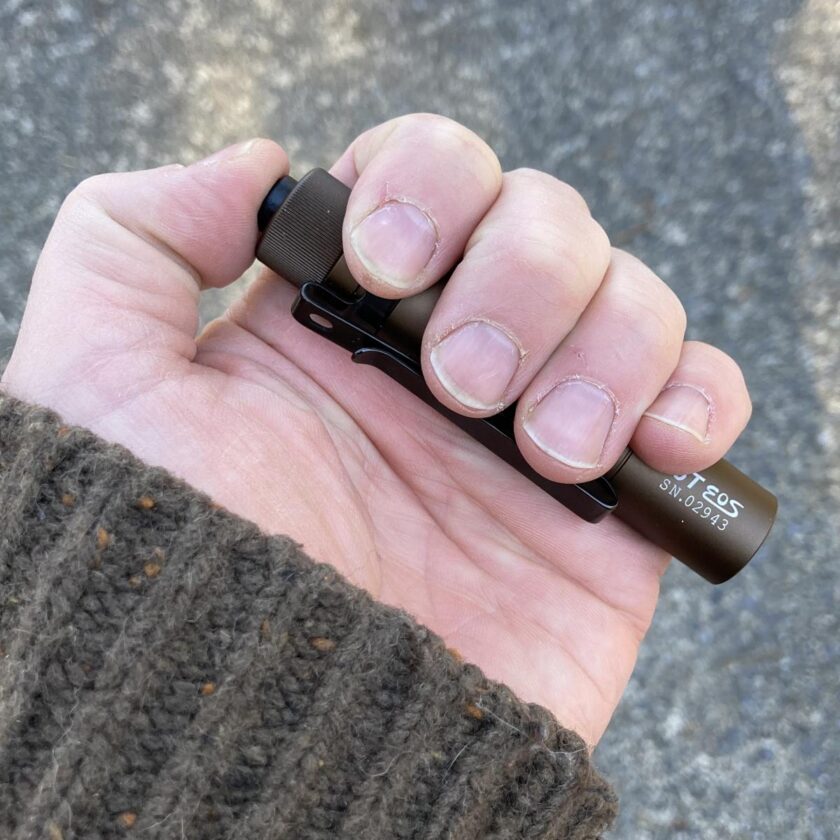 Momentary ON: Yes, this light does have a momentary ON function and it works well.
Tail Stand: No, not even close. Not happening.
Category 2: Powered by a Single Battery

Yes, the Olight I5T is powered by a single AA battery. And here comes strike two: the specifications say it works with alkaline and NIMH batteries, and will not work with Li-ion batteries. Though I typically have NIMH batteries in my personal lights I also have a stockpile of lithium batteries. I prefer lithium for a number of reasons: they last longer, store up to twice as long (up to two decades), and don't leak and ruin your lights. I would hate to have to juggle which battery goes with which light. If you can live with this, cool. This is sort of a deal-breaker for me, though.
Category 3: Modes

There's not a whole lot to write about in this department, except to list the lumens and discuss the quirky method of switching modes. The Olight I5T has two modes: HIGH (which strategically reduces its own output) and LOW.
HIGH: 300 lumens for 3 minutes, after which it drops to 150 lumens for 25 minutes, then 30 lumens if left on this long.
LOW: 15 lumens
FIREFLY: NO
NO/REMOVABLE STROBE: No strobe.
Mode Switching: Mode switching is via a half-press of the tail switch. Mode switching only works when the light is in MOMENTARY ON; you can half-press the switch to turn the light on, half-press it again to swap modes to HIGH. If you press the switch fully and turn the light on with the first press, you then have to fully press the switch again to get it to high. In other words, no half-presses when the light is fully on. Not the most convenient or intuitive operation.
Criteria 4: Form Factor
This section is the one that gets the most words and this review is no different.
Size: The Olight I5T is a GREAT size. Check it out in the photo below. It's substantially larger than the Olight I3T I reviewed a couple weeks ago, but substantially smaller than my beloved Fenix LD12. Olight really nailed it with the size of this light.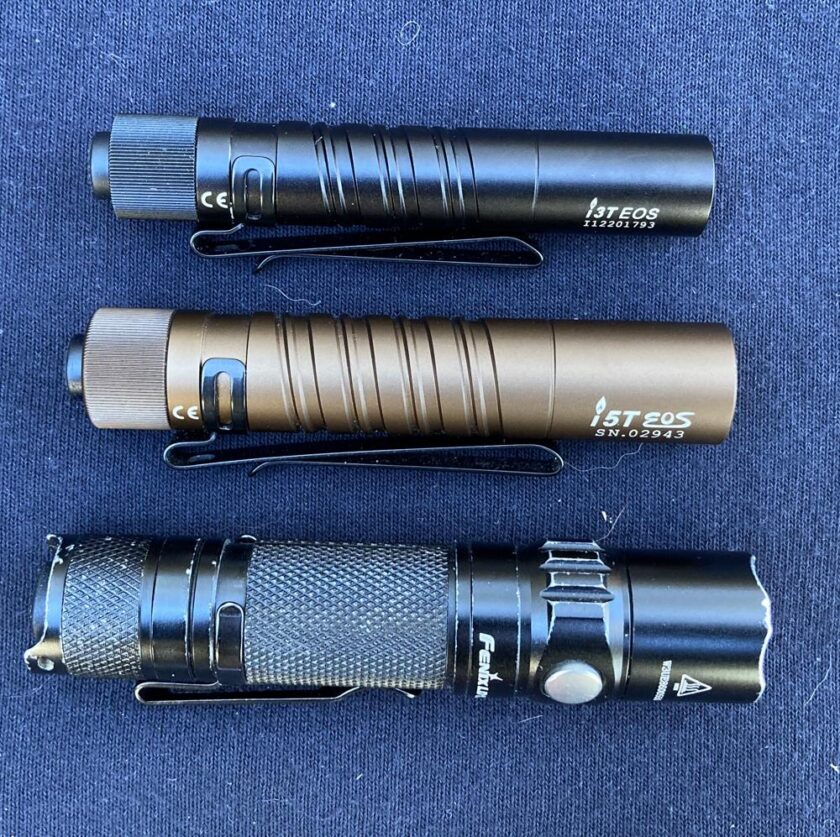 Weight: Weight is also outstanding coming in at a very manageable 2.2 ounces.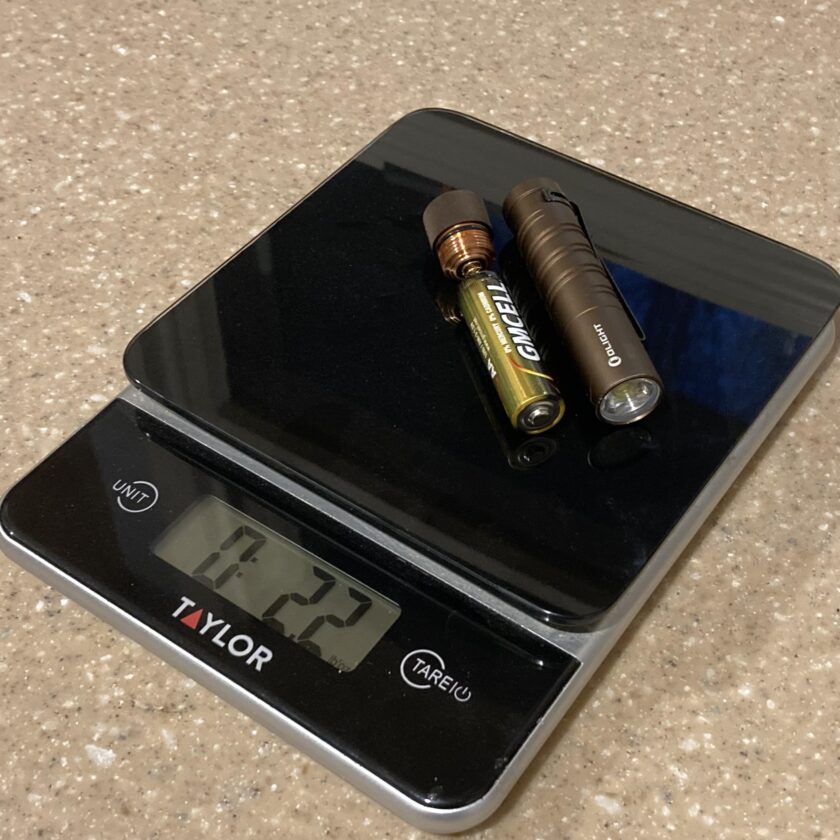 Pocket Clip: Olight has the pocket clip thing figured out. Their clips are long and springy enough to hold the light. The are also typically reversible permitting flexibility in how you carry the light, as well as the option to turn it into an impromptu headlamp. Also, having the folded portion down helps this clip to slip easily over your pocket…I really like this clip.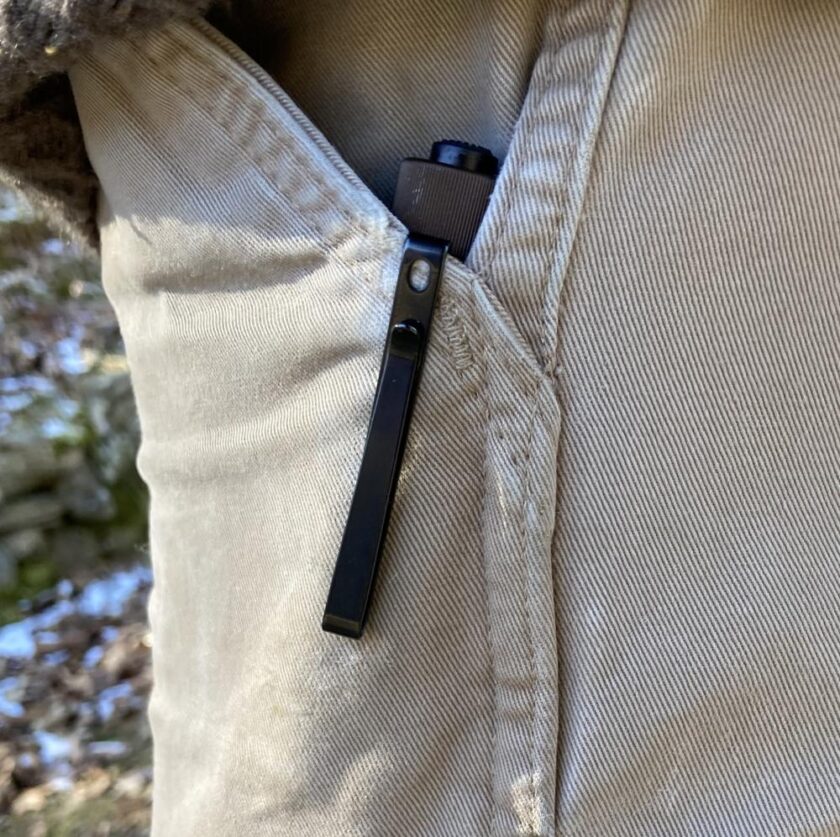 Reversible Pocket Clip: Yes.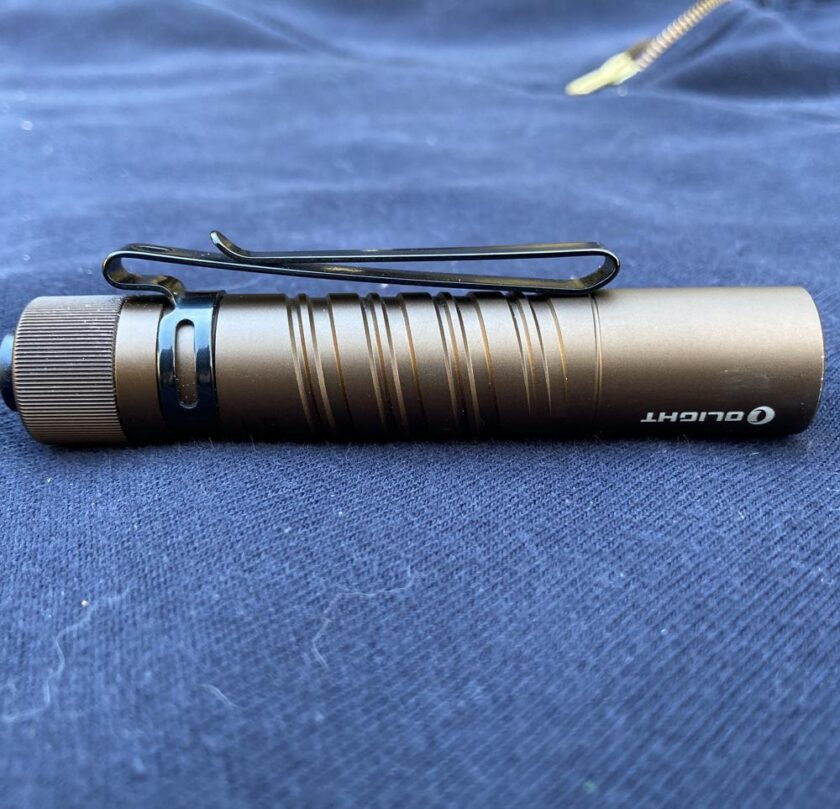 Knurling/Grip Texture: Rather than knurling Olight has put a spiral pattern on this light and it's companion, the I3T. I wasn't the biggest fan initially but it works, and it looks a little different if you're into that. The end-cap is also nicely textured to permit easy removal, a much-appreciated feature.
Anti-Roll Flats: No, but the clip should stop this light from rolling around.
Criteria 5: Durability & Water Resistance
The Olight I5T should be plenty waterproof and durable. I didn't perform an exhaustive durability test, but I did let it sit in a glass of water for five minutes (as has become my protocol). The light held up no problem, as it's IPX8 (greater than 1 meter) rating would indicate. No bubbles, no troubles!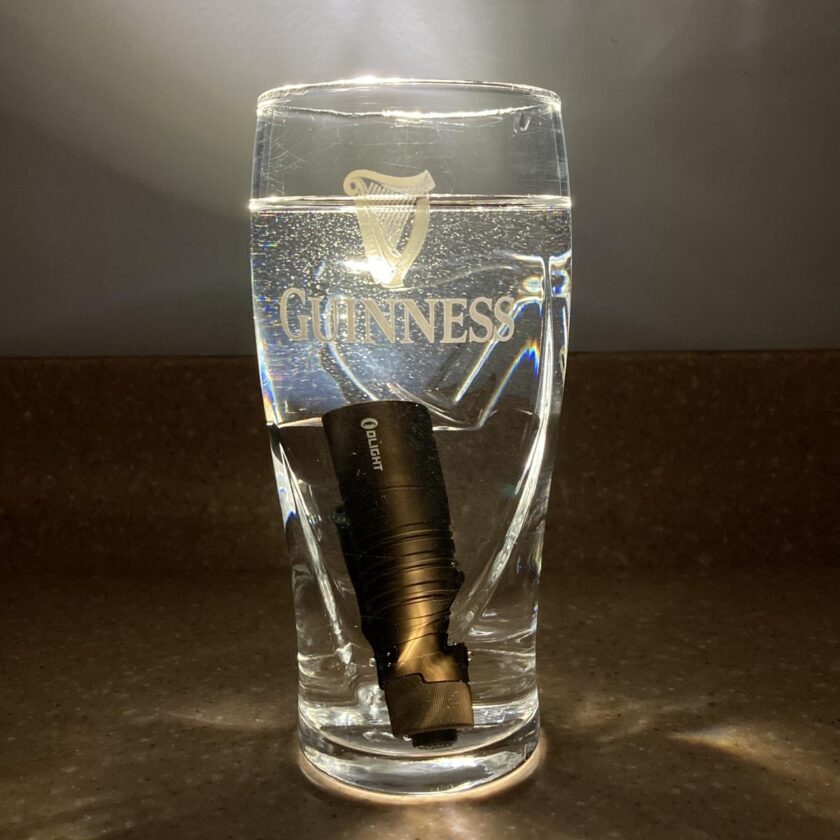 I think I also mentioned that I carried this light on duty for a few shifts. My work life isn't that chaotic and nothing specific jumps out about those shifts, so take that for what it's worth. I will say that the Olight I3T AAA flashlight has held up exceptionally well for me and I don't doubt the bigger one will, too.
Closing Thoughts
In writing this I realize there are quite a few strikes against the I5T. Still, I really enjoyed carrying it. Maybe the simple, uncomplicated nature of the I5T made it appealing to me – it's a very straightforward flashlight.  If you can live with the marks against it (no instant HIGH, no lithium batteries) I'd have no problem recommending it as a utility light or backup. Though it is NOT a tactical light, for workaday stuff you could do much worse than the Olight I5T.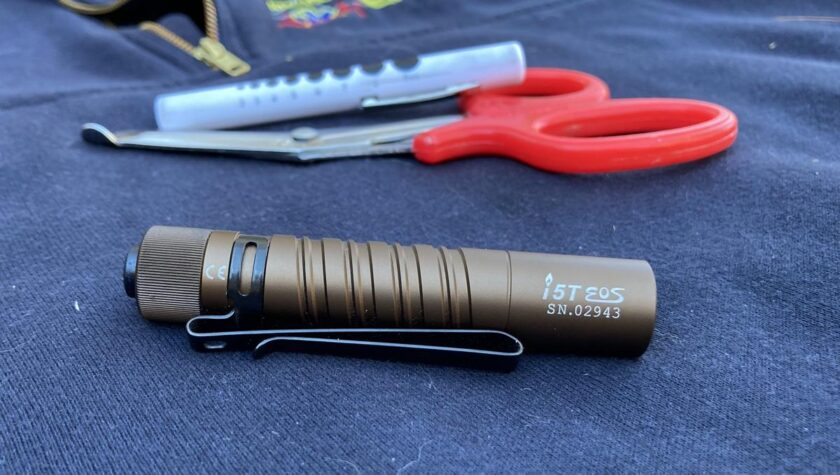 ---