I recently had the chance to spend a few days in New York, New York. This was a personal trip, and I covered a lot of ground. This time, I actually managed to focus on the locks I saw, and I saw some good ones on Lock Safari NYC. I noticed some interesting things about New York's locks.
First, there are a LOT of high-security locks on the street. In Manhattan (LES, SoHo, Midtown, Theatre District) and Brooklyn (including DUMBO and Red Hook), where I spent most of my time, the numbers of high-security and "standard" locks seem almost equal. I also noticed, as expected, a ton of Medeco locks. What surprised me was the huge number of Mul-T-Locks. They probably rivaled the number of Medecos I witnessed. Finally, I did not see the diversity of locks I had hoped to. New Yorkers seem to buy a lot of Medecos or Mul-T-Locks, and little else. With that said, let's look at some hardware!
Lock Safari NYC
Mul-T-Lock: As I mentioned earlier, the famous pin-in-pin lock was everywhere I looked. I saw MTLs in every conceivalbe form-factor including the ones shown here: deadbolts, rim and motise cylinders, KIK cylinders in knobs and levers, and even LFIC cores.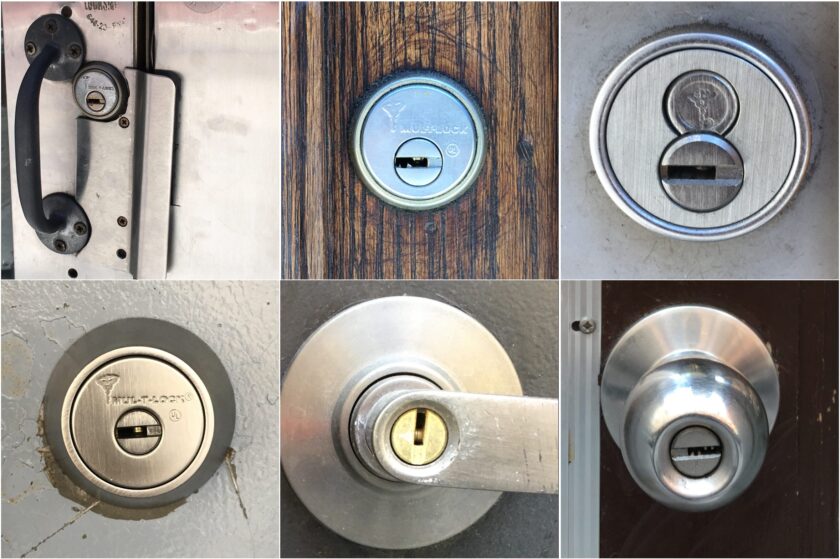 I also saw quite a few Mul-T-Lock Padlocks. The three below are an example each of standard, shrouded-shackle, and puck-style padlocks.

I even saw a sprinkling of Angal Locks. Angal produces locks that are very close copies of Mul-T-Lock. Some reports indicate its quality is decent. These locks are widely available on eBay. And they also offer a Medeco clone.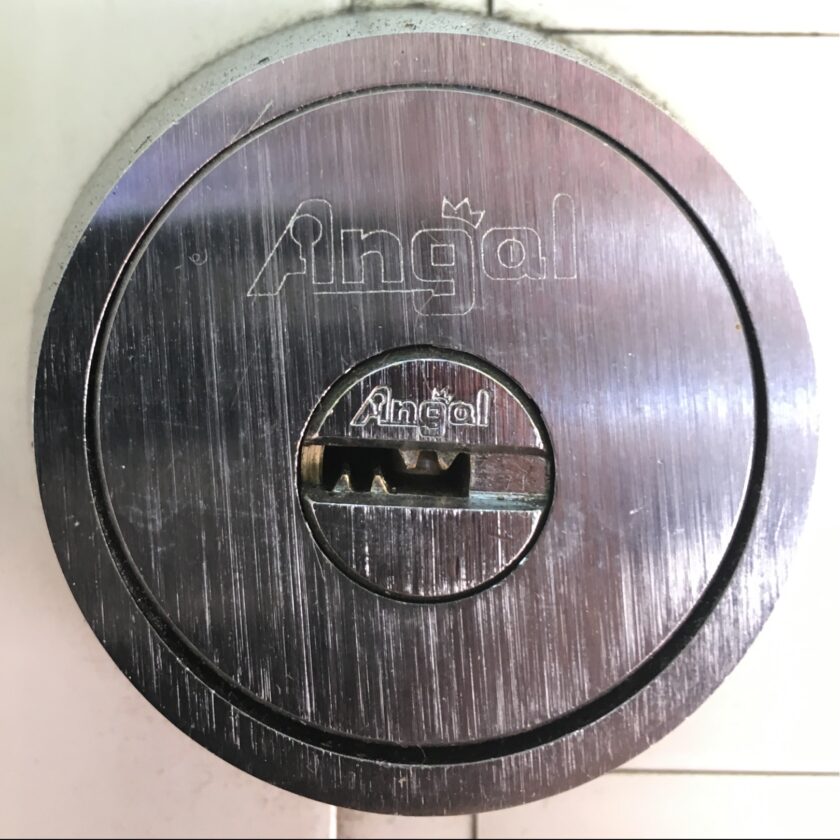 Medeco: As to be expected in any large city, there were plenty of Medecos on offer for Lock Safari NYC. These locks were from the Medeco Original, Biaxial, and m3 generations. What I frequently found more interesting than the locks themselves is how they were deployed. Even though I saw Medecos in a huge variety of form factors, I was really interested in the ones used in conjunction with "jimmy-proof" locks or the "double bar police lock" in the photos below. The lock behind the plate is a Medeco m3.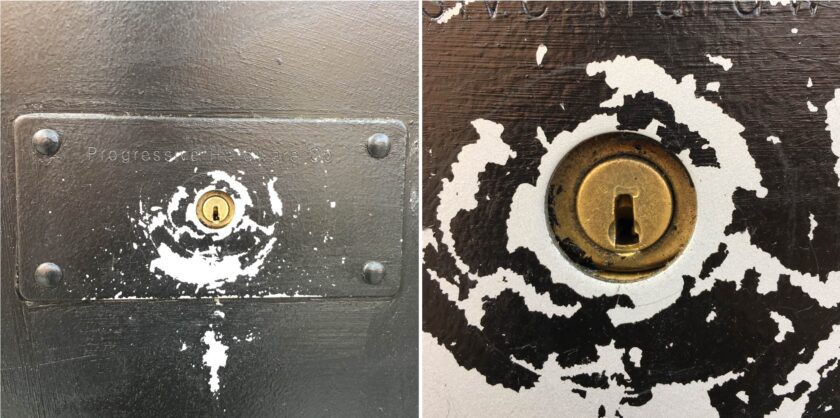 The exemplar below is a Medeco behind a "Bodyguard Plate". These are more commonly seen in residential applications, as was this one. The Bodyguard is a hardened plate that protects the lock from drilling, prying, and other destructive methodologies.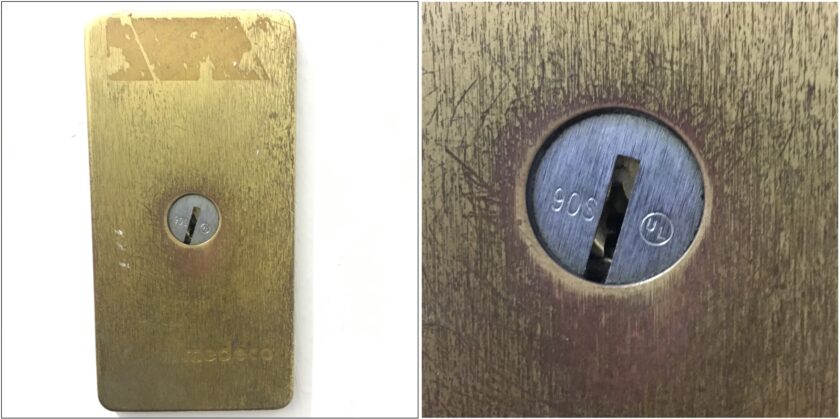 Below are a couple of other Medecos. The Biaxial in the center is from the gift shop at the Top of the Rock at Rockefeller Center. Personally I think this is overkill; a burglar would have to make his or her way through dozens of other security measures to reach the 68th floor…or be a super hero. Just kidding – the gift shop is not necessarily a high-security application and this lock is in place so it works with the rest of the building's master-key system.

Odds and Ends
While Medecos and MTLs made up most of the interestingness I saw, there were plenty of other locks on display. Let's start with the Schlage Primus. The Primus is an excellent design, being the functional equivalent of the ASSA Twin (natch, since both were designed by the same guy – Bo Widén). There were a few of these here and there. The LFIC version on the right (below) was captured at Grand Central Terminal.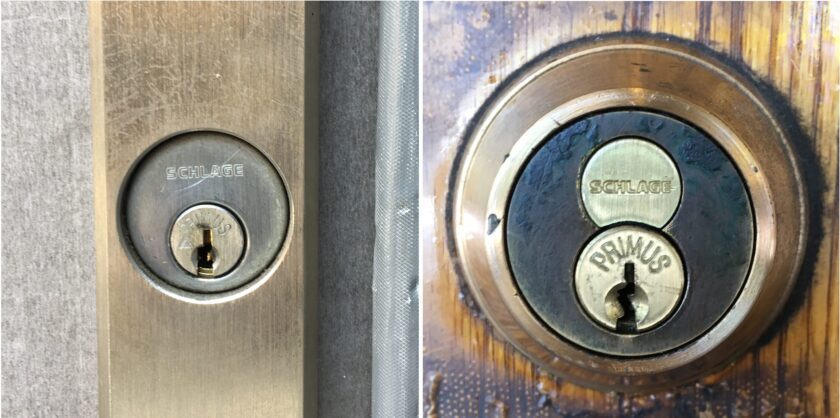 I saw one Sargent and Greenleaf Environmental padlock. This one was located inside a subway station in Midtown.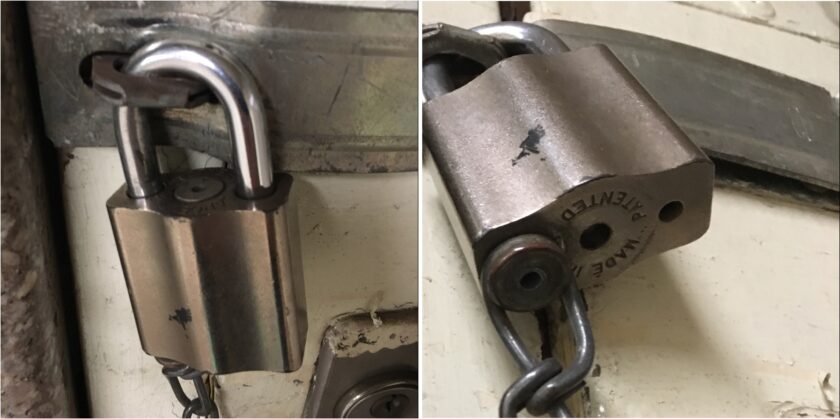 I also ran across these interesting specimens. The lock at left is a beautiful EVVA. EVVA is known for producing some of the finest locks in the world including the MCS and 3KS. Their "standard" pin tumbler locks are without peer, and that keyway should give you an idea why (I wouldn't want to have to pick it). The lock at right is a Corbin. To be honest I'm not sure what it is, but the keyway tells me there is probably something going on there.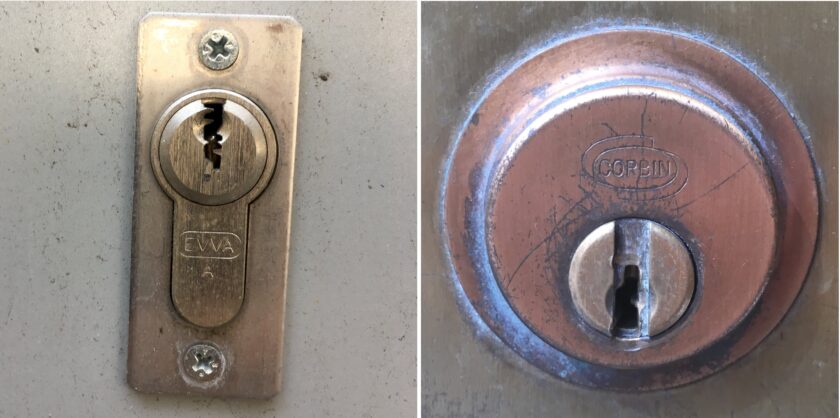 Other interestingness: Check out the American 2000-series puck padlock and American 700 padlock on the newsstand (left). I recommended both of these locks in my Threat Model Based Padlock Selection post. If it's good enough for the mean streets of NYC, it's probably good enough for your toolbox. The center photo was at the back of a coffee shop, near the restroom, but could just as easily be an apartment door. The image on the right is a latch on a city subway car… and I have no idea, other than to say it is probably a warded or (possibly) lever mechanism.

Lock Safari NYC would not be complete without some collections of "love locks". These were all over the Brooklyn Bridge. I find these visually appealing from a distance, but most of the locks that comprise such a setup are uninteresting upon closer inspection. Based on the quality of these locks, most of these relationships are probably already over. I'm not being fatalistic, just mechanically accurate. If you want your love to last, use an Abloy.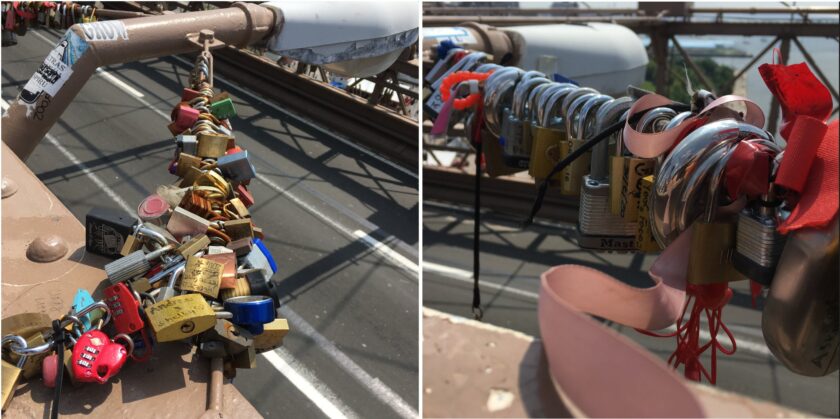 I hope you enjoyed Lock Safari NYC. This was the first Lock Safari yet in which I did not use all of the photos I collected.
---